Our summers and holidays are typically comprised of family road trips and gatherings, so we'd like to share a few tips on how to plan a family vacation, specifically, choosing a resort for these special family events (based on our experience).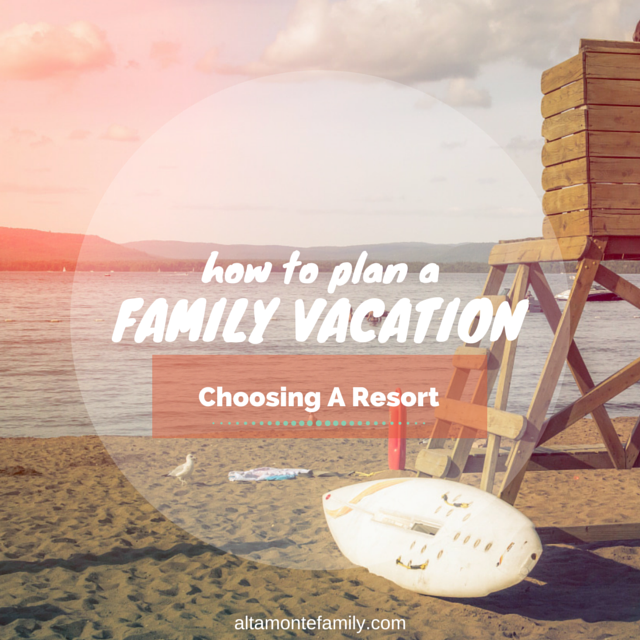 Since our family members are coming from all different places, we usually converge at a resort. We've celebrated many reunions, birthdays, weddings, anniversaries, and holidays at a resort! For us, it's just so much more convenient doing it this way vs. hosting parties at home (big or small). For our guests, this means better proximity to popular travel destinations, better amenities, and best of all, less pressure about having to tidy up. Anything to alleviate the pressures of traveling is well worth it, so we could all focus on spending quality time with one another!
Please note that our tips are based on warm-weather resorts only 🙂 There are a lot of other factors to consider when planning to stay at winter resorts, and we're in the process of getting our fair share of learning when it comes to that topic. Until then, below are 10 (of the many) factors to consider when choosing a resort for your next family vacation / gathering…
How To Plan A Family Vacation: A 10-Item Resort Planning Checklist
We carefully consider the following criteria when choosing a resort for our family vacations, as you may not always be able to find this information upfront when checking out a resort's website, unless you were to explicitly ask the resort staff. As much as possible, it always helps to avoid last-minute surprises ahead of time, because it's never pleasant to wind up in a jam after (barely) surviving a long trip.
Room Layout
Resort / Transportation / Internet Fees
Bell Service vs. Self Service
Resort Amenities and Activities
Towel Service
In-Room Amenities
Kitchen Size, Appliances, and Supply Inventory
Basic Room Supplies
Housekeeping
Dining / Catering
1.  Room Layout
How many bedrooms will you need?
Do you need the bedrooms to all be in one room?
Things to Consider:  Some 2 bedrooms are 2 separate 1 bedroom units adjoined by a common foyer and main entrance that leads to either Unit A or Unit B. There are also 2 bedroom lock-off units that are adjoined by a door in between the 2 units and each unit will have its own entry / exit door leading outside. Both of these arrangements may be ideal for 2 couples traveling together but not for a family with small children.
2.  Resort / Transportation / Internet Fees
Are there any other fees (such as resort / transportation / Internet fees) that you will be responsible for, other than the room rate and taxes, upon check-in?
If there are any resort / transportation fees, will you be responsible for paying for them regardless of whether you'll be availing of the services or not?
Things To Consider: For example, there are resorts here in Central Florida which charge daily / weekly resort and transportation fees because many guests tend to avail of these services when traveling to Walt Disney World. In some cases, these fees apply to all guests, whether they choose to use the services or not.
3.  Bell Service vs. Self Service Luggage Carts
Does the resort offer both bell service as well as self-service luggage carts?
Where are the luggage carts located? Are they located in the main building or will each building (if applicable) have their own supply / storage area for luggage carts?
Things To Consider: In our case, we believe that having both options available is very important. On one occasion, we had to check out very early, only to find ZERO luggage carts available and the resort didn't offer any type of bell service. Then, there was a time when a guest had to follow us to our room and waited outside the door until we were done using the rather flimsy and small luggage cart that we did have. This is very inconvenient, especially when traveling with small children. In contrast, we have always enjoyed the help of courteous bell staff, whether it's to unload / load our vehicle with our luggage or to help us transport our party / event food and supplies from our room to the banquet area (and back). When it comes to catered events, it's nice to be able to enlist the assistance and well-coordinated efforts of catering, bell, and front desk staff (vs. having to work in silos).
4.  Resort Amenities and Activities
What kind of amenities and activities are suitable to your guests?
What kind of amenities and activities would best complement your event theme?
Things To Consider:  Will your guests appreciate a gym, running / walking / biking trail, pool-side movies and activities, on-site movie theater, tennis court, basketball court, pool slides, lazy river, playground, mini-golf, spa, etc? Is the property on a beachfront? Does it have a Tuscan Village or Yacht Club theme, depending on your event's needs?
5.  Towel Service
Does the resort provide unlimited towel exchanges in your room, for free?
Does the resort provide pool towels, for free, or is a deposit required?
Things To Consider: Some resorts may not offer unlimited free towel exchanges in your room and would ask you to launder your own towels, especially if you have a washer / dryer in the unit. As for pool towels, some resorts charge a $25 deposit per pool towel. These resorts often won't have an abundance of "towel stations" near the pool area. Instead, you would have to go to a designated area to pick-up and return your towels at the end of your stay. This could be a major annoyance, especially if you have a lot of people in your party and you somehow end up being the towel warden. Not cool.
6.  In-Room Amenities
How many guests will be in and out of your room during the day and overnight?
How many TVs and DVD players will you need? Will you need one per room and in the living room?
Will you need a large living room area with plenty of seating space?
Will you need a large dining area?
Will you need a patio / lanai for extra seating space?
Will you need your own washer / dryer in the unit?
How many bathrooms will you need?
Things To Consider: The size of the room as well as the in-room amenities will depend on your guest traffic as well as your own needs, preferences, length of stay, and of course… your budget.
7.  Kitchen Size, Appliances, and Supply Inventory
Will you need a fully-equipped kitchen with a refrigerator, microwave, oven, and dishwasher?
How about a toaster, blender, coffee maker (or espresso machine)?
How about at eat-in kitchen / breakfast counter, topped with a formal, separate dining area?
Do you mind if the resort required you to complete a Kitchen Inventory prior to check-out and that you may be responsible to pay for any missing or damaged pieces?
Things To Consider:  Some resorts provide a wide range of kitchenware without the need to take inventory at the end of your stay, however, there are some resorts that do require you to complete a Kitchen Inventory Form to report any missing / damaged pieces. Some may even require you to pay for the damages.
8.  Basic Room Supplies
Does the resort provide unlimited in-room supply replenishment for kitchen, bath, and laundry supplies (like paper towels, dishwashing and laundry detergent, and toiletries)?
Does the resort deliver these supplies to your room or are you expected to pick them up yourself at the front desk (for free or at a cost)?
Things To Consider:  There are resorts that do not offer basic supply replenishment on a daily basis and will charge you upon request. Some even have designated supply replenishment days, depending on the length of your stay.
9.  Housekeeping
Does the resort offer daily, complimentary housekeeping services?
If not, how often will the room be cleaned (and is there an added cost)?
Is there a separate cost for housekeeping services upon check-in?
Things To Consider: Some resorts are not like hotels which provide daily, complimentary housekeeping services. These resorts may or may not have designated cleaning days (full cleaning or simply dust-mop-sweep), depending on the length of your stay. Some resorts may even charge you a separate housekeeping fee upon check-in, so it's always best to find out if there's going to be a separate, required housekeeping fee, upfront.
10.  Dining and Catering
Does the resort have any restaurants on property? If so, what are the restaurant hours?
Do the restaurants offer catering and / or deliver to the room?
Does the resort offer room service? If so, what are the hours?
Does the resort offer Catering Services in-room and in other reserved areas on property?
Can we also bring our own food and decorations to our catered events?
Will our "day guests" be allowed to enjoy the resort amenities during our event?
Things To Consider: In our 10+ years of experience spending family vacations / events at resorts, we have found that the right combination of Catering, Front Desk, and Bell Desk support leads to a very enjoyable (and hassle-free) experience. We have done this locally as well, especially when hosting birthday parties (it doubles-up as a mini staycation after all), as keeping an eye on small children while trying to set up and clean up before / after a POOL party could prove to be quite challenging. This set-up also makes it very convenient for our guests with small children, as they tend to feel better about leaving their belongings in our room while taking their children out to the pool. Since we choose resorts that provide unlimited towel service and basic supply replenishment, all we have to do is call the Front Desk and ask for extra towels and toiletries to be delivered to the room so that our guests can use our bathrooms after having an enjoyable time at the pool. The kids tend to stay a little longer to watch a movie in the living room and eat some party leftovers, before getting ready to go home.
Anyway, that sums up our list for now!
What kind of Family Vacation Planning Checklists do you use? What kind of resorts do you steer clear of? We'd like to hear from you, too! There's always lots to learn and there's always room to share when it comes to learning.
Have an enjoyable time with your family; it's always nice to have a great time with one another (life is short) whether you're just chilling out at home or you're out 'n about traveling around!
Behold, how good and how pleasant it is for brethren to dwell together in unity!

Psalm 133:1 KJV
Disclosure: As of the time of writing this post, AltamonteFamily.com is by no means affiliated with any of the companies or organizations mentioned in this article. AltamonteFamily.com has not been compensated in any way nor has AltamonteFamily.com been influenced to write about these products. This post is a result of the personal observations and independent research of members of AltamonteFamily.com. All opinions solely belong to AltamonteFamily.com.