We started really having fun with our Cricut Explore Air the moment we found out that we could make all kinds of cut files FOR FREE using Google Draw!
This easy li'l trick is really helpful in adding a special touch to gift-giving. For example, you could add on cut-out sentiments to all kinds of giftwrapping; you could even have a cut-out of that person's name…all for FREE and all designed by you!
As an example, here's a Mother's Day gift from our 2-year old son–he picked the gift out himself!!! All of our sons are amazing!!!
Side Note: We love how the flowers are inside the gift bag–and there's water inside! The flowers still look gorgeous and they have been happily sitting on our craft desk for a week as of today!
Anyway, notice how we added the sentiment "Loved" onto the gift bag. We designed that using Google Draw and cut it out using the Cricut Explore Air!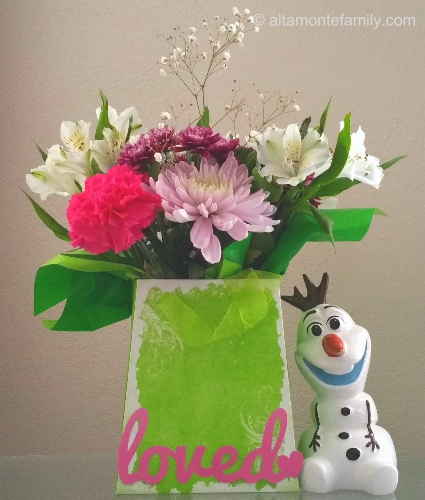 Doesn't a mom just feel soooo LOVED whenever she receives flowers from her son?

Anyway, if you own a Cricut Explore Air or are thinking of purchasing one, consider familiarizing yourself with Google Draw. You'll be surprised at how easily you could create cut files for FREE!
How Did We Make This Cricut Explore Air Project Using Google Draw?
We simply inserted a text box using the "Pacifico" font and added a shape (obviously we chose a "heart").

We rotated the heart just a little bit and positioned it so that it is attached to the word "loved".

We then went to File > Download As > PNG
Then, we followed the Cricut Explore Air instructions on how to upload an image onto Cricut Design Space, inserted the image onto our canvas, and changed the image into a "cut file" (since these PNG images automatically get uploaded as "Print-Then-Cut" files by default).

It's pretty straightforward, and you can always re-size the cut file to match the dimensions of your project.
IMPORTANT:
Be sure to "clean up" your image before finalizing your image upload into Cricut Design Space. We shared a brief tutorial on how to clean up your digital cut file uploads in another post.
Looking for similar Google Draw > Cricut Explore Air tutorials and FREE cut files?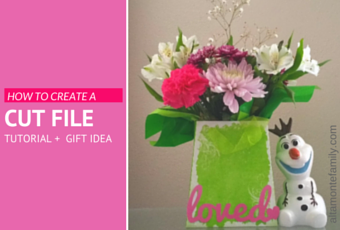 Make someone special feel LOVED today!!!
If you liked our easy little project, we're sharing the love by giving you the link to the FREE download! 
(Update as of July 6, 2015: Unfortunately, we will no longer be offering free downloads directly on our website, for security purposes, to reduce our readers' exposure to vulnerabilities on the Internet. We will be offering these free downloads and printables again via a subscription-only newsletter that will be hosted on another platform. Thank you for your understanding and support.)
Disclosure: As of the time of writing this post, AltamonteFamily.com is by no means affiliated with any of the companies or organizations mentioned in this article. AltamonteFamily.com has not been compensated in any way nor has AltamonteFamily.com been influenced to write about these products. This post is a result of the personal observations and independent research of members of AltamonteFamily.com. All opinions solely belong to AltamonteFamily.com.