This shop has been compensated by Collective Bias, Inc. and its advertiser.
All opinions are mine alone. #SToKColdBrew #cbias #CollectiveBias
---
Inspiration… you know it when you see it, you know it when you feel it. It's even better when you get to make something because of it! I found my inspiration in a bottle that's filled with coffee so strong, it woke my dreams up! I had always wanted to make my own furniture, and a wooden desk to hold my latest vintage and modern finds was a great starting point! Perhaps you'll also be inspired to make your own wooden desk inspired by coffee by the time you're done reading this post–or better yet, start a new hobby!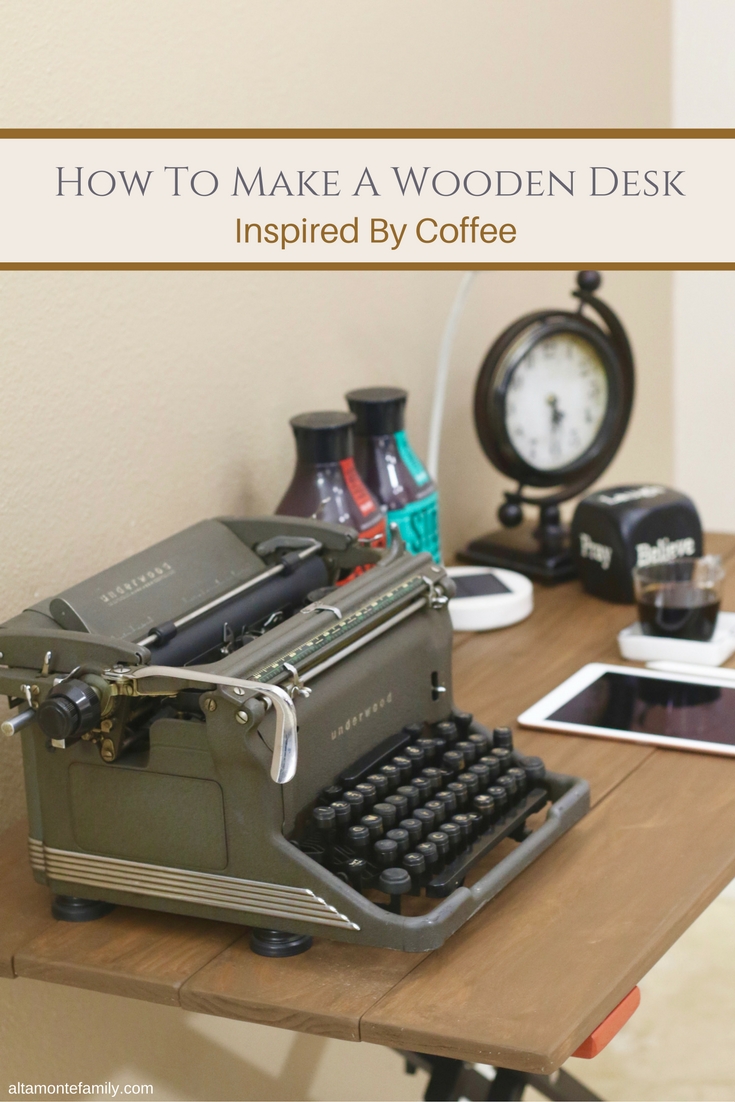 The path to inspiration can be anywhere! Let's just say my creative mind likes to meander along shopping paths (and of course, nature and travel paths). Let me explain…
While shopping at Kroger to look for coffee that's bold and strong enough to get us through our road trip "by any beans necessary", a light bulb turned on to signal my caffeinated heart. Perhaps it's the bold colors of the packaging. Whatever it was, I'm so glad I discovered SToK™ Cold Brew Iced Coffee!
Wait– did I just see the words, "geeked out and caffeinated", on the packaging?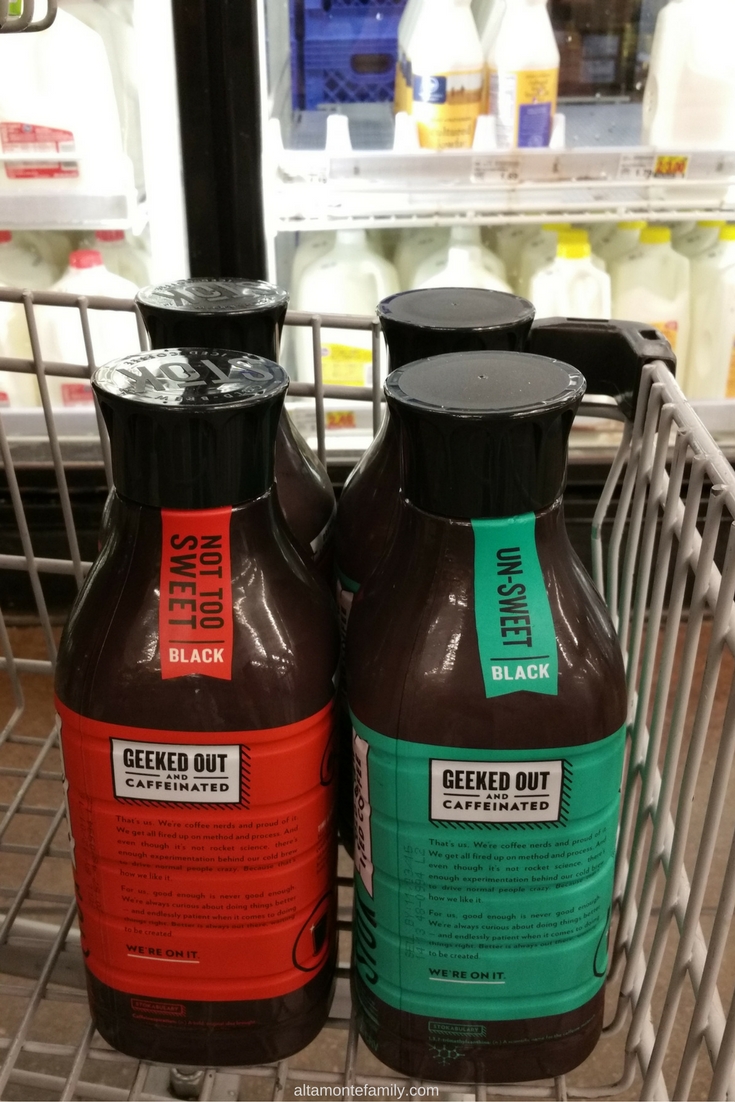 I sure did! Oh, and I'm just loving these colors!
This thoughtfully geeked-out coffee totally speaks my language–so into the shopping cart they went!
Before even trying SToK™ Cold Brew Iced Coffee, I already knew that I had found some high-quality, cold brewed + slow brewed coffee that both my husband and I will love (if you've been following our posts / feed, you'll understand why both varieties–Not Too Sweet and Un-Sweet–are perfect for us).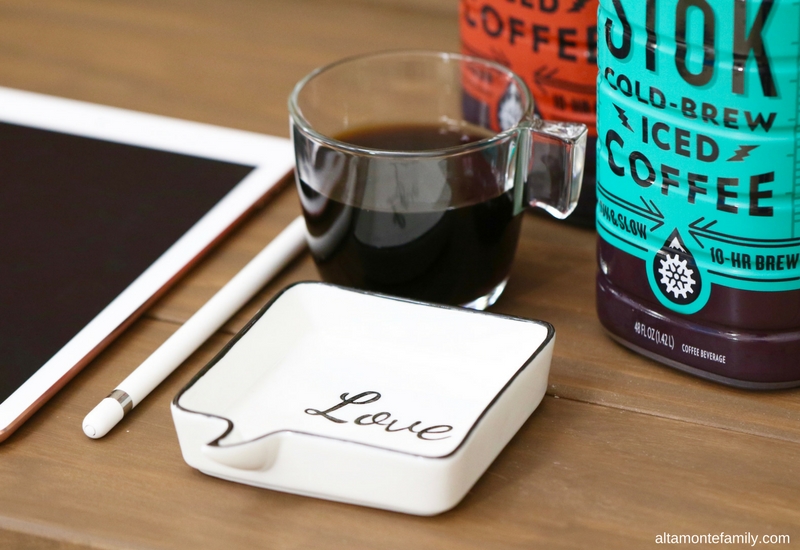 I found myself carefully observing the color theme of my new "inspiration in a bottle" as they were making their way to the cash register at Kroger.
Little did I know that an awesome idea to make a coffee-inspired desk had been slowly brewing on my mind!
Just like how slow-brewed ideas are among my best ideas, slow-brewed coffee–like SToK™–is the best)!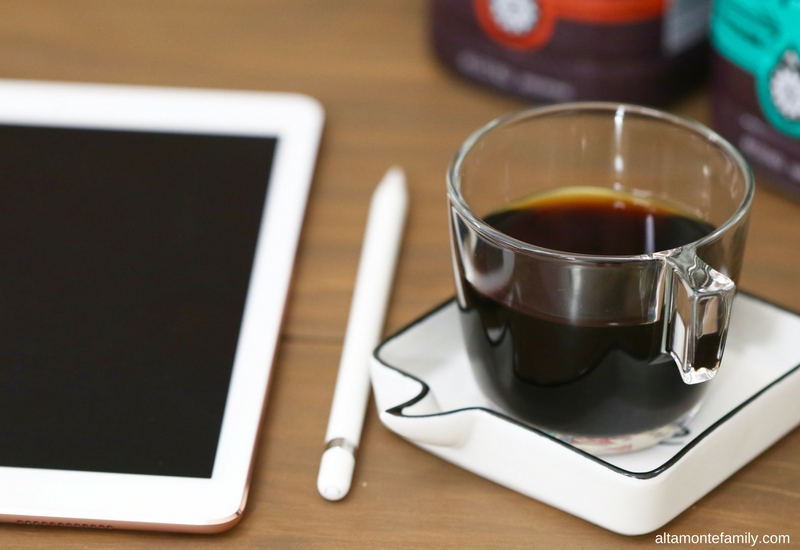 As my husband and I took our first few sips of the SToK™ Cold Brew Iced Coffee while on the road, we decided to make a quick detour into a small, historic town where both of us have never been before. It was then that we discovered our latest and greatest hobby–checking out yard sales in historic towns with hopes to score some awesome antique finds–like a vintage typewriter!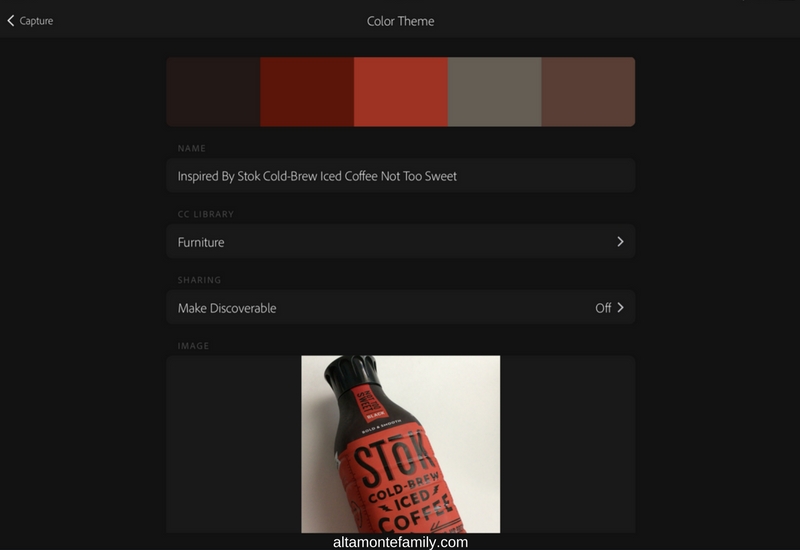 I needed a new home for my new-to-me vintage typewriter, I thought, and I wasn't about to make just another brown wooden desk!
So I took a snapshot of one of the SToK™ Cold Brew Iced Coffee 48 oz bottles in some indirect sunlight and pulled my color inspiration from there.
I'm pretty happy with the results!
A touch of contrasting color on the base trim (the two wooden bars that support the desk on each side) gives it just the right balance between geeked out, creative, and offbeat in the best possible way!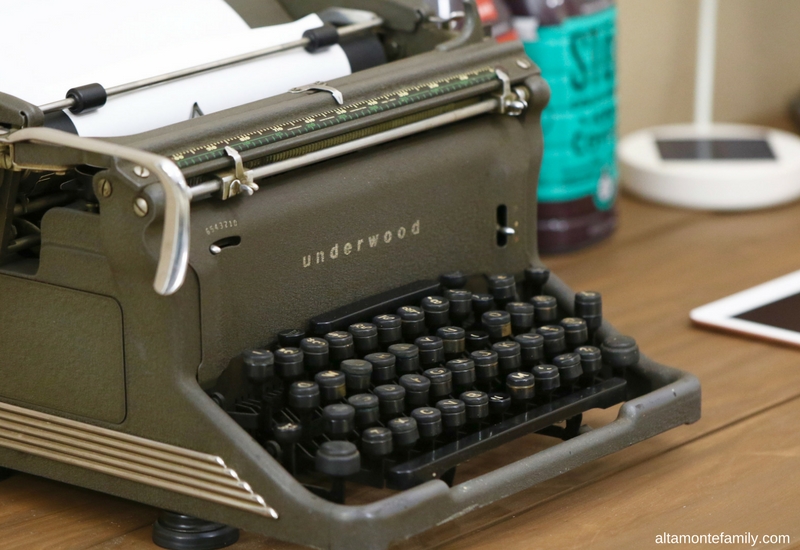 How To Make A Wooden Desk Inspired By Coffee
Now that you know about the inspiration behind our latest creation, grab some SToK™ Cold Brew Iced Coffee from Kroger and let's start making some really incredible things! Let's begin with some power(ful) tools (because we want to be craft-conscious and care about using only the best tools for best results)!
Supplies Needed
Power Sander
2 sawhorse legs
220-grit sandpaper (for the higher-grade pine wood)
120-grit sandpaper (for the lower-grade pine wood)
4 pieces 6″ x 48″ x 1″ (it was more like 0.75″ thick than 1″ thick)–we used "select" pine wood
2 pieces 4″ x 24″ x 1″ (this was also more like 0.75″ thick)–we used the lower grade pine wood
Wood Stain and Finish Cloths (we used walnut)
Paint brush
Paint (we asked for a sample size which cost under $4)
Power drill and/or cordless screwdriver
16 pics 1.25″ screws
Old kitchen towels
Table legs / underframe (we simply repurposed the legs for my digital piano keyboard)
For safety: goggles, gloves, and mask (designed for sanding)
Directions
Step 1.  Prepare your power sander, making sure you have the correct grit of sandpaper (we used 220 grit for the smoother "select" pine wood), and don't forget to attach the dust collector bag (if it comes with one).
Step 2.  Place 6″ x 48″ x 1″ pine wood on sawhorse legs (we were able to fit all 4 of them at once).
Step 3.  Using your power sander, sand pine wood on all four sides, corners, and edges.
Step 4. Wipe off any remaining dust using a damp cloth (we used an old kitchen rag).
Step 5.  Repeats Steps 1 – 4 to sand 4″ x 24″ x 1″ pine wood.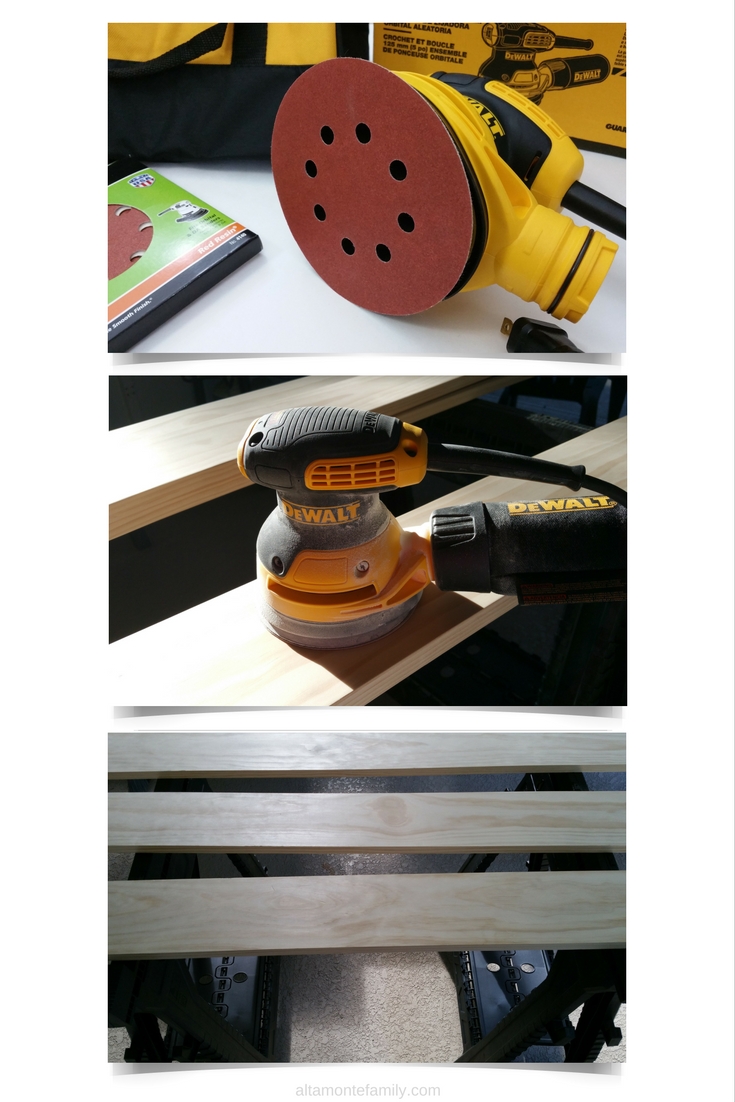 Step 6.  Once clean and dry, apply wood stain and finish cloths onto all 4 pieces of the 6″ x 48″ x 1″ pine (top, bottom, and sides).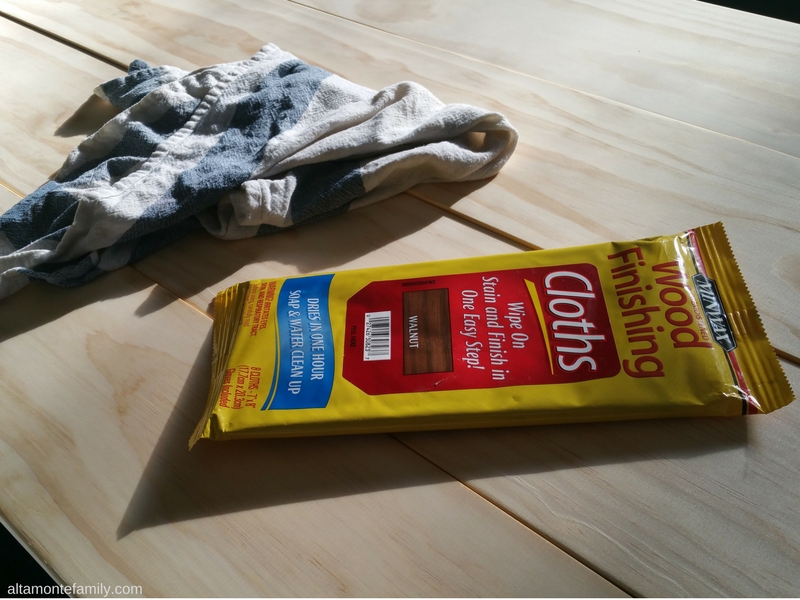 Step 7. Set aside once the wood stain is dry (apply a second coat, if desired, for a darker color).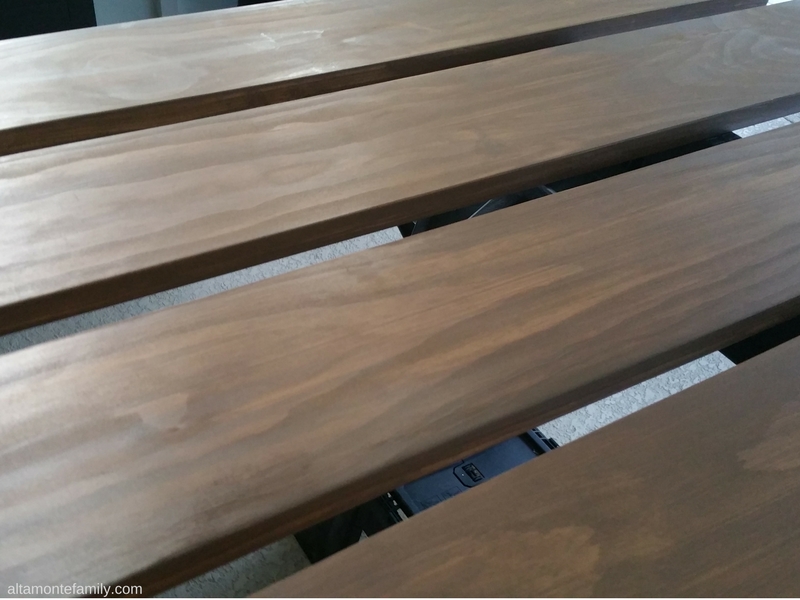 Step 8. Paint the 2 shorter pine wood pieces on all sides (tip: we repurposed an extra styrofoam food container to control paint spills).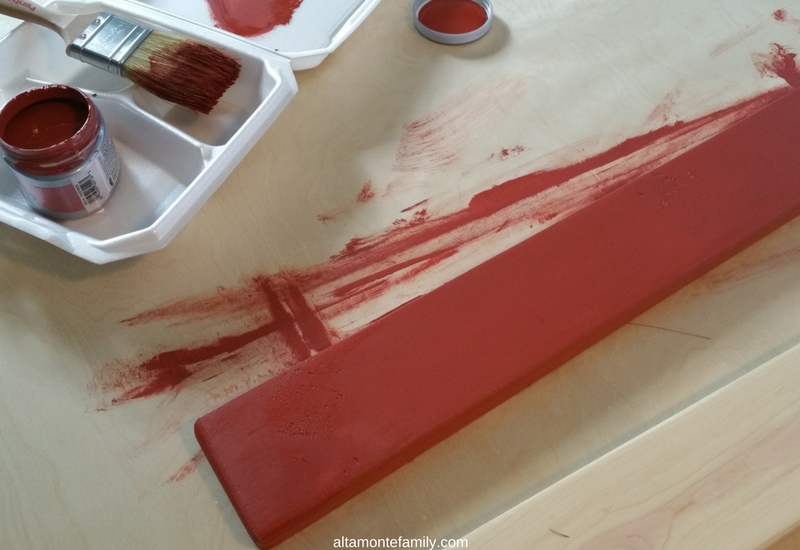 Step 9. On a separate workbench, lay all 4 pieces of the longer pine wood, bottom side up, then place the shorter pieces of pine wood on top on each side (perpendicular to the 4 longer pieces of pinewood and approximately 2 inches away from the edge).
Step 10. Using a power drill and drill bit (I used the smallest drill bit in the box), make 8 pilot holes through the shorter pieces of pine wood, making sure they align with the longer pieces.
Step 11.  Use a cordless screw driver to secure the screws.
Step 12.  Attach table legs or underframe to complete your desk.
DIY Idea: I repurposed my digital piano keyboard's legs and used it for this project!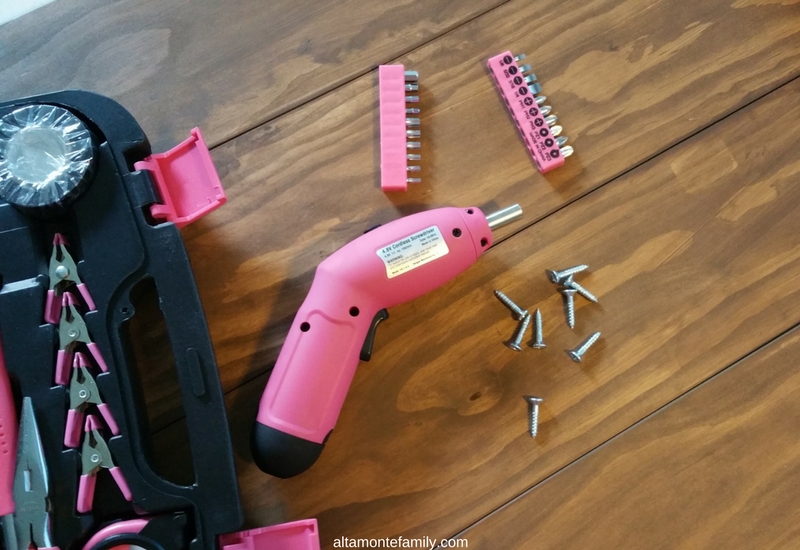 That's it!
I was surprised at how sturdy this desk came out! The vintage typewriter is extremely heavy compared to the newer portable models, yet my newly made desk can hold its own without a strain!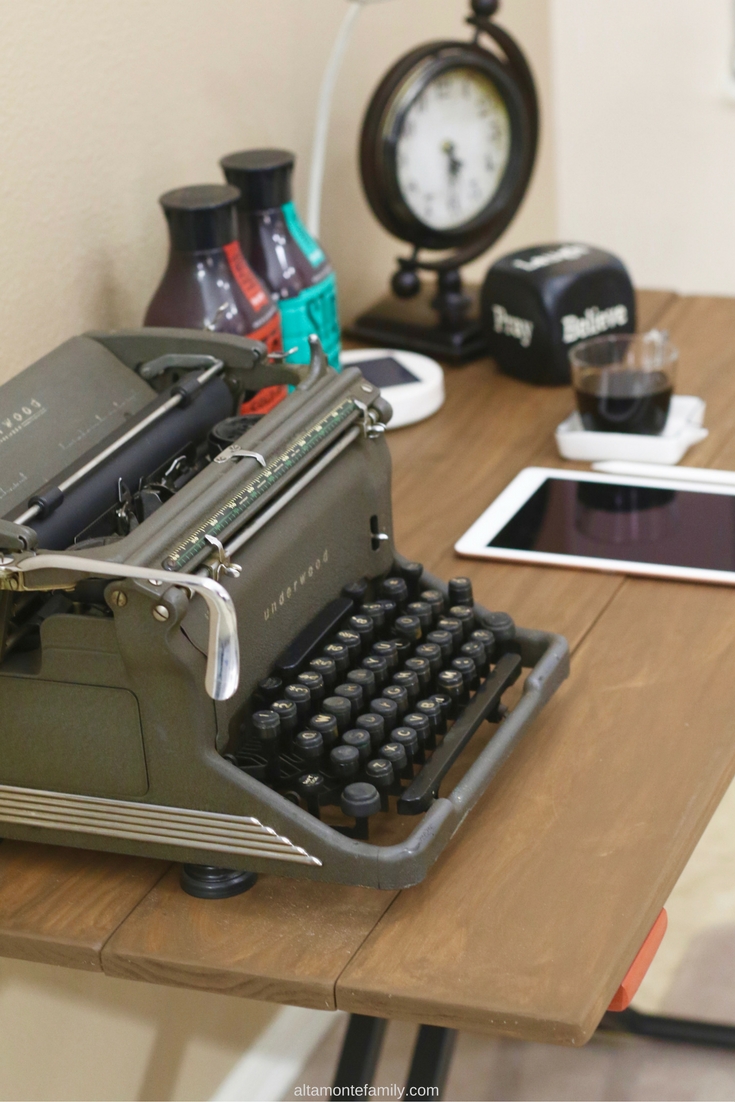 I'm really loving that extra pop of color!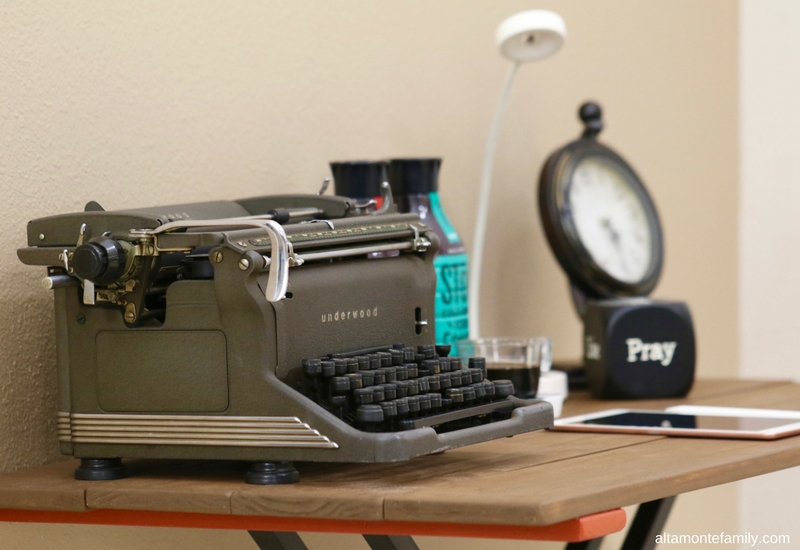 My new desk is now ready to go, and I'm still feeling inspired to work on my next project. It's always nice to have SToK™ Cold Brew Iced Coffee on board–impossible is one late night away!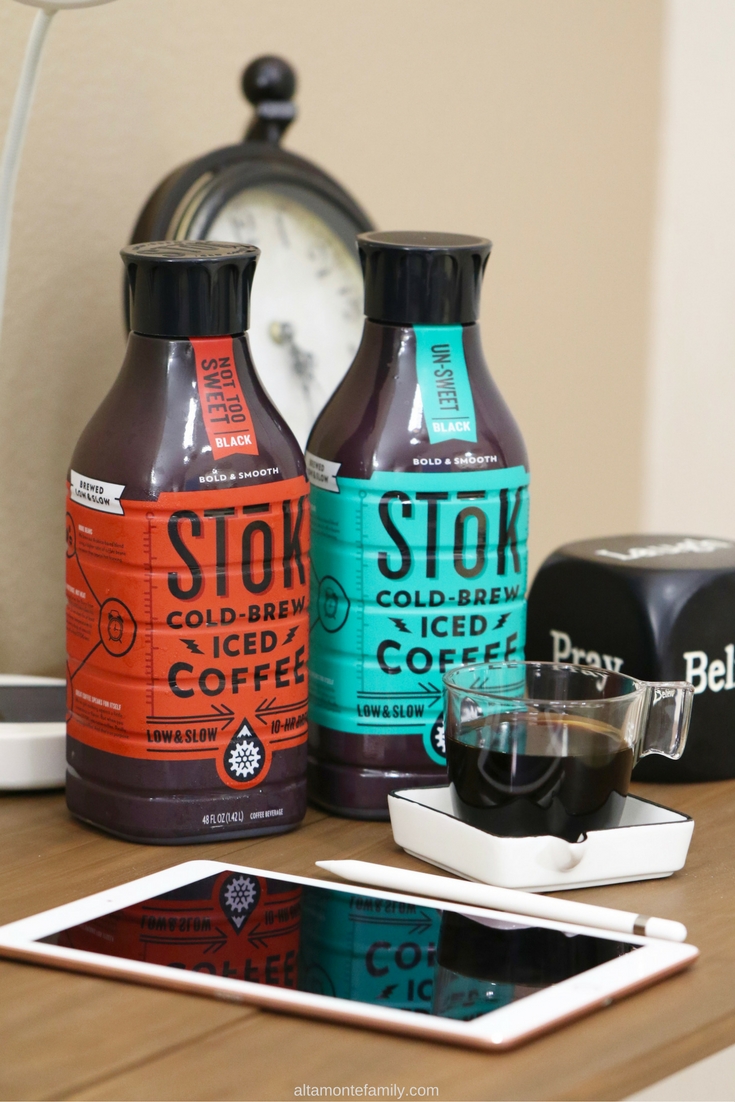 We found SToK™ Cold Brew Iced Coffee in both varieties (Not Too Sweet and Un-Sweet) near the refrigerated dairy section at Kroger.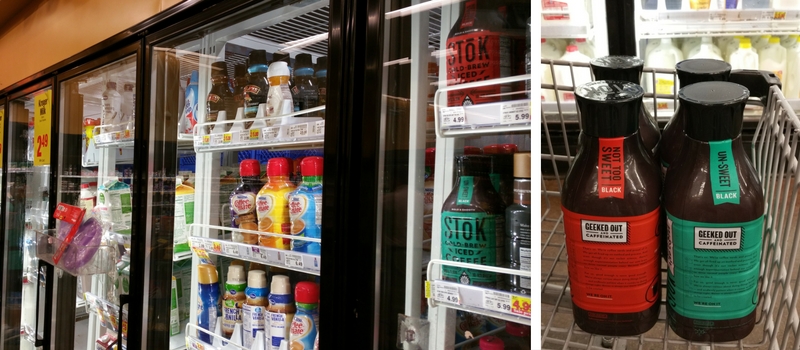 Now, we're curious: what kind of creative projects do you have slowly brewing on your mind? What kind of coffee-inspired projects will you create?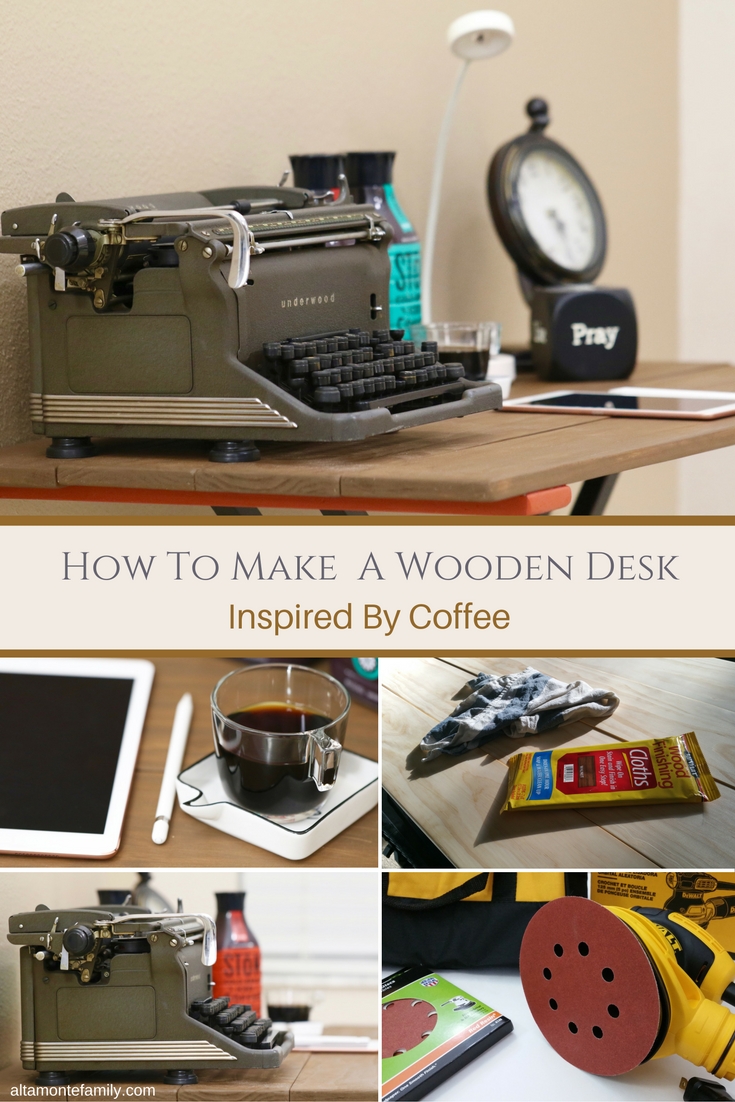 ---
We're Social! If you liked today's post, feel free to share, bookmark, or pin it! Follow us on Pinterest, Facebook, and Instagram for more updates on our latest projects and adventures.