If you have a Blendtec blender with a Twister Jar, you might want to try making your own flax meal! After all, it's much better to consume fresh flax meal and use only what you need (it gets rancid pretty quickly). What's better? We're able to save more money this way! Purchasing raw, organic, golden flax seeds is more cost effective than purchasing it after it has been ground.
We use flax meal for a variety of recipes, including these energy bars–or, we just sprinkle them onto some of our other creations in the kitchen.
Anyway, it only takes 20 seconds to blend the flax seeds in the Blendtec Twister Jar! Our Blendtec came with a recipe book and there's a section for "Grinding Grains" that tells you amount, speed, blending time, and flour yield. Isn't it great?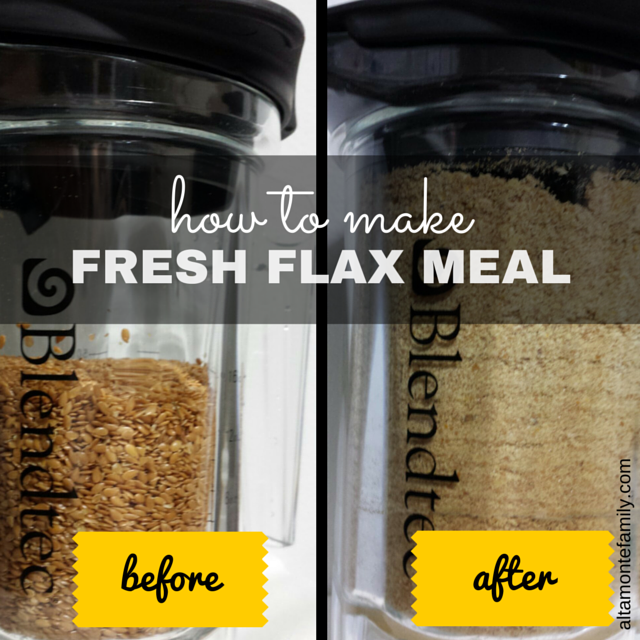 How To Create Your Own Flax Meal (From Flax Seed) Using The Blendtec
This makes 2 cups of fresh flax meal.
What You Will Need
Blendtec blender
Twister Jar
2 cups of raw, organic, golden flax seeds
Directions
Pour the flax seeds into the Blendtec Twister Jar
Set Blendtec to Speed 5
Blend for 20 seconds
Press "Pulse" button to stop
That's it!
Disclosure: As of the time of writing this post, AltamonteFamily.com is by no means affiliated with any of the companies or organizations mentioned in this article. AltamonteFamily.com has not been compensated in any way nor has AltamonteFamily.com been influenced to write about these products. This post is a result of the personal observations and independent research of members of AltamonteFamily.com. All opinions solely belong to AltamonteFamily.com.