A trip to the Philippines could possibly leave you craving for some delectable dishes that are hard to replicate here in the United States. Add an ambience such as a sweeping view of the Taal Volcano (one of the world's smallest volcanoes) in Tagaytay City and you've basically sealed in some good memories associated with food! In our case, we went to a restaurant called RSM Lutong Bahay to try their Bulalo, a popular local dish that resembles beef shank stew. From what we were told, it traditionally takes several hours to cook something to such perfection using a clay pot or palayok. Unfortunately, spending several hours in the kitchen is something that's hard to come by in our busy household, so we decided to make our own version of Bulalo using our Cuchen wellbeing appliance (it's a rice cooker and pressure cooker of some sort). Using the Cuchen, we were able to shave 4 – 5  hours off of our total cooking time.
We never intended to cook Asian (Filipino) food in an Asian (Korean) appliance other than Tamanishiki (Japanese) rice, but our Cuchen has proven that it could do so much more! We've made soups and stews with ease, including Bulalo! We really never did take the time to figure out how to switch the voice prompts (yes, it talks!) from Korean to English (although we can't read, write, or speak Korean).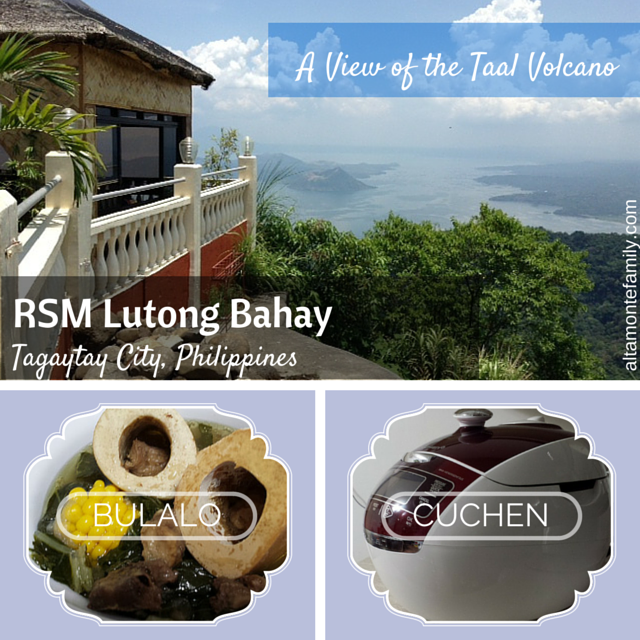 There are several renditions of Bulalo, depending on which ingredients are available by season and location (as well as by preference). Traditionally, Bulalo is made with potatoes, cabbage, and carrots. Since we're controlling our carbohydrate intake due to Gestational Diabetes, we decided to substitute bok choy and corn (a bittersweet balance). The broth is especially soothing when you're not feeling too well (this includes day-to-day pregnancy aches and pains). There's also some literature out there that discusses the health benefits of bone broth (we encourage you to do your own research).
Because we live in Florida, it's not that difficult to find the calamondin or calamansi citrus fruit to add to our dipping sauce that's made of fish sauce or soy sauce (we use organic, gluten-free soy sauce) and a hint of hot chili peppers.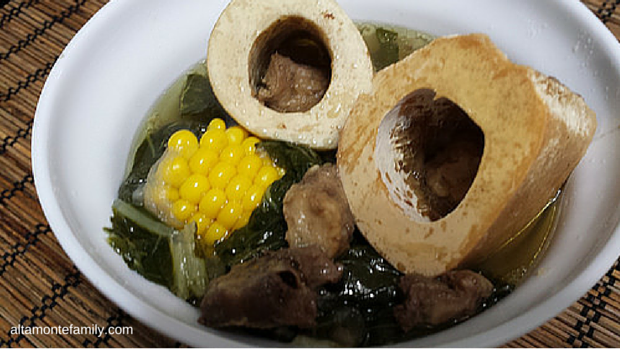 So, onto the recipe…
RECIPE: Low-Carb, Filipino-Style Bulalo (Beef Shank Stew)
Prep Time:  30 Minutes  |  Cook Time:  130 Minutes  |   Total Time:  2 Hours 40 Minutes
Serves: 6
Ingredients
1 lb beef shank (with meat)
2 lb bone marrow
2 onions, quartered
1 whole garlic head, peeled
2 tbs whole black peppercorns
patis (fish sauce) to taste
salt to taste
4 cobs, locally-grown sweet corn
1 bok choy (cut off bottom part and discard)
For the dipping sauce:  a combination of fish or soy sauce, calamondin or calamansi, and hot chili peppers
Directions
Fill large pot with water and bring to boil.
Add in beef shank and bone marrow and return to boil.
Remove beef shank and bone marrow and rinse with cold water to remove scum.
Clean pot and fill with beef shank, bone marrow, onions, garlic, peppercorns, patis (fish sauce), and enough water to cover the contents. Bring to rolling boil. Remove scum as needed.
Reduce heat to low.
Separate beef shank and place in Cuchen pressure cooker. Add in some broth to cover the beef shank. Set pressure cooker to 90 minutes (varies depending on your pressure cooker).
Return beef shank and broth to pot.
Add in corn and bok choy. Increase heat to medium high until it comes to a rolling boil.
Reduce heat to low until bok choy softens. Remove from heat.
If desired, transfer contents to a large bowl and strain the broth to remove peppercorns and any remaining scum. Combine contents and broth.
Feel free to try our recipe, share it, or pin it for future use. Happy cooking!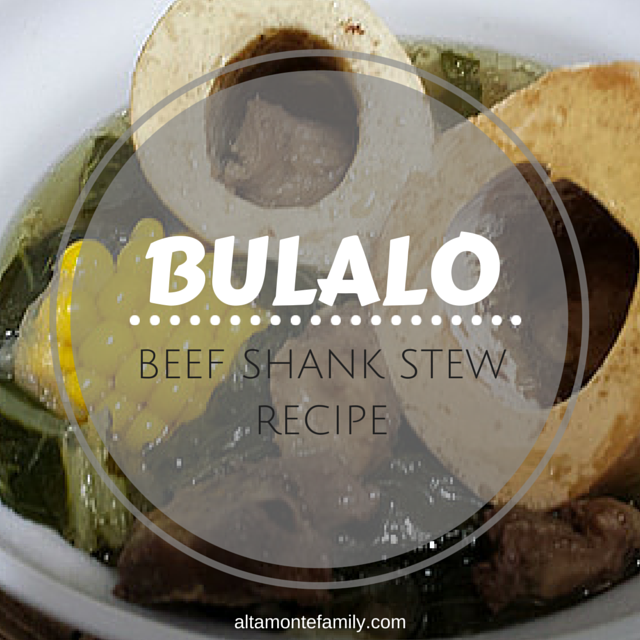 Disclosure: As of the time of writing this post, AltamonteFamily.com is by no means affiliated with any of the companies or organizations mentioned in this article. AltamonteFamily.com has not been compensated in any way nor has AltamonteFamily.com been influenced to write about these products. This post is a result of the personal observations and independent research of members of AltamonteFamily.com. All opinions solely belong to AltamonteFamily.com.