We learned how to harvest plumeria seed pods this year–or at least, our son did! In the last 3 months, he has harvested 2 plumeria seed pods from different cultivars: Kool-Aid and Espinda (we purchased them from Exotic Plumeria in Seffner, Florida). Each seed pod took approximately 10 and 11 months to ripen, respectively. Thankfully, they survived the winter while we were overwintering our potted plumeria in our garage here in Central Florida.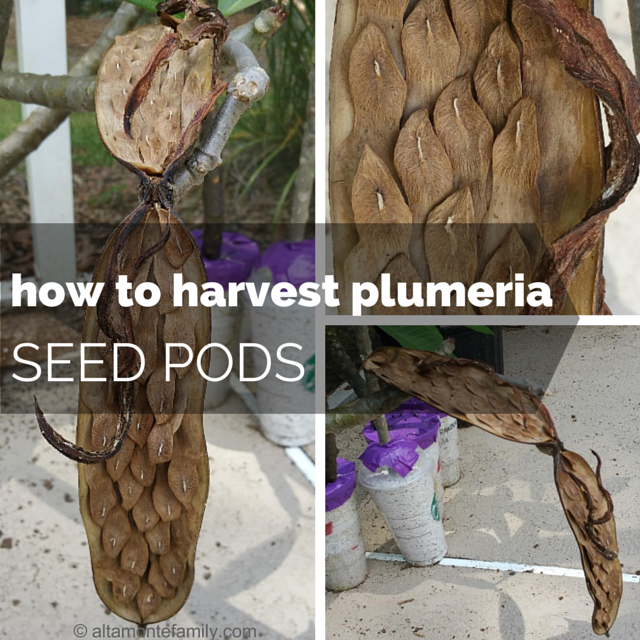 The plumeria seed pod in the above photo is from the Kool-Aid cultivar. It measures approximately 6 inches and it produced over 50 seeds. 30 of them have germinated so far, and we're still waiting on the other 20+ to show some progress since we planted them a little later using a different method. Growing plumeria from seed is fun! We'll be sure to provide an update in a future post.
How To Harvest Plumeria Seed Pods (The Easy Way)
While our technique may not work for everyone, we're humbled and thankful (and quite surprised) that it did for us. It was our first time doing so! Our son simply handpicked the seeds soon after the seed pod opened up. He made sure that the seeds were dry before carefully handpicking each one of them. We wouldn't want for any mold to develop, so it's important to check for any moisture prior to collecting the seeds.
So, this is basically what our son did (please remember, we're not the experts, and this is our first season harvesting plumeria seed pods):
Wait for the plumeria seed pod to fully open up
Carefully handpick each plumeria seed, making sure that each one is thoroughly dry
Place plumeria seeds in seed canister with just a little bit of perlite until you're ready to plant them, making sure to keep them away from moisture
One of the plumeria books we read told us not to water the seeds while trying to germinate them (to avoid mold), so we decided to follow the instructions and left the seeds in the same seed canister with some perlite and left them in a sunny area. We kept them altogether in there for a little over a month, and nothing happened. That same book said that the seeds would normally start germinating after approximately 14 days; that wasn't the case for us.
Although we've read that plumeria seeds can remain viable for up to a year or two, we also read that it's best to plant them sooner. We planted some of the seeds from our seed canister after a month, and 30 of them started to sprout in less than 1 week!
In any case, we hope that the above 3 steps on how to harvest plumeria seeds will work for you. We're constantly experimenting as the information we're finding online and in books tend to vary (perhaps due to location, cultivar, and many other factors), so we encourage you to keep on experimenting as well (since outcomes tend to vary). In case you're wondering, we didn't enclose our seed pods in any loose fabric or bag when they were close to being "full term", neither did we cut off the pods and put them in a paper bag while waiting for them to finish ripening. God allowed us to take advantage of the super hot Florida sunshine to do all the work for us, so all we had to do was patiently wait and see, then harvest the seeds, by hand!
See you at our next update! May God bring in the harvest!!!
Disclosure: As of the time of writing this post, AltamonteFamily.com is by no means affiliated with any of the companies or organizations mentioned in this article. AltamonteFamily.com has not been compensated in any way nor has AltamonteFamily.com been influenced to write about these products. This post is a result of the personal observations and independent research of members of AltamonteFamily.com. All opinions solely belong to AltamonteFamily.com.