Our kids have been having a lot of fun after discovering how to germinate plumeria seeds! For a while, we had thought that the seeds may not have been viable after overwintering the potted plumeria in the garage this past winter and then leaving them in a seed canister for over a month shortly after harvesting them from the seed pod. This is our first year of growing plumeria and the abundance of conflicting information over the internet as well as in well-known plumeria books have caused a little bit of confusion and doubt in our minds. Thankfully, God gave us a son with a green thumb!
Our son read the instructions on how to germinate plumeria seeds based on a popular plumeria book. It recommended placing the plumeria seeds in loose media or perlite and just leaving them in there without watering them (to avoid mold). The book further explained that the plumeria seeds will eventually turn themselves towards the light and that they should germinate over the next 14 days or so. Well, we're here to report that nothing happened to the seeds in the 1 month+ that they were in the canister: no germination progress but no mold, either!
Obviously, we had to try another method for planting and growing plumeria from seed. We really thought that the seeds may have already "died", so at this point, there's nothing to lose and more to gain. It's time to experiment with some very precious plumeria seeds that took 10-11 months to ripen! That's a long time to wait! Growing plumeria is fun, but it sure does take a lot of patience!
"Group-Planting" Plumeria Seeds
As an experiment, our son decided to "group-plant" the plumeria seeds in a seedling starter tray (since we only had 1 tray at the time) using regular (Florida) soil and some perlite. He misted the soil with a little bit of water before planting the plumeria seeds and would slightly re-mist them every so often just to make sure that the soil stays a little moist. He placed the seed starter tray on our concrete pool deck and chose a spot that caught the most sunshine and heat.
To our surprise, the plumeria seeds that once seemed hopeless started shooting some sprouts as they turned their little bodies towards the light! Their growth seem to be faster when there's long periods of sunshine (our second and third batch's progress appear to be slower since it has been raining a lot during the past few days).
The photo shows our plumeria seedlings' development over a course of less than 3 weeks! Our son planted 30 seeds and they have all sprouted. Growing plumeria from seed isn't so bad after all! We're still waiting to report on the progress of the second and third batches as well as an upcoming fourth batch (the seeds that haven't been planted yet). God has blessed us with over 100 seeds from 2 different seed pods in the last 3 months.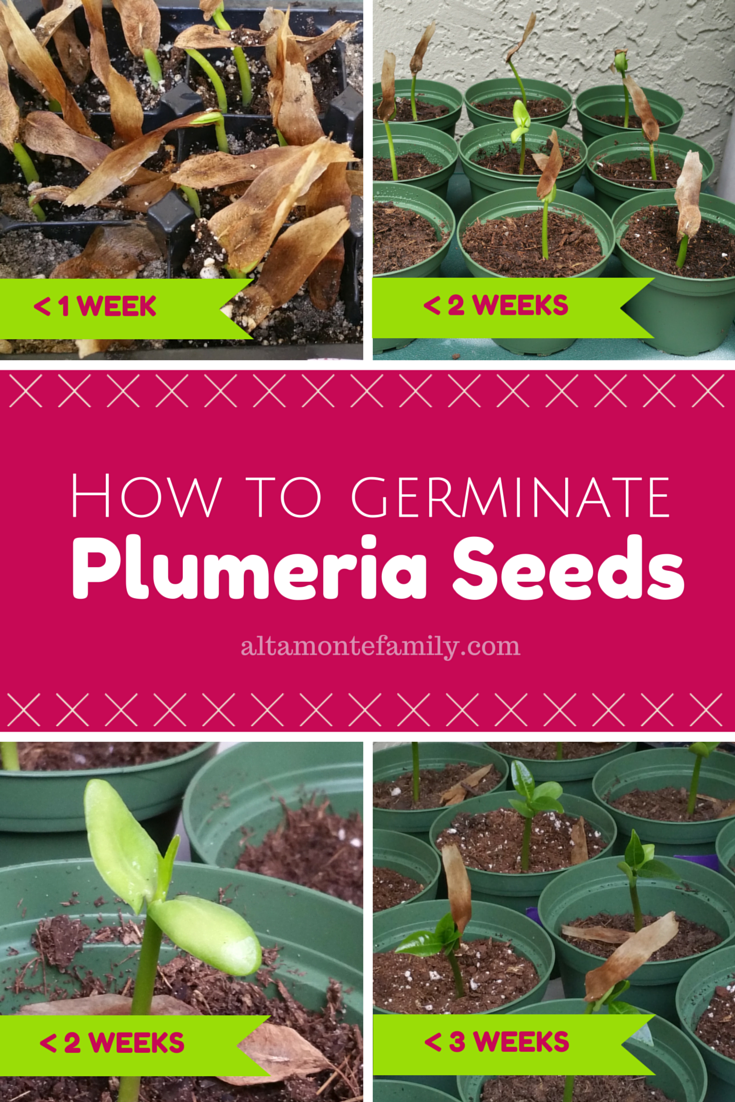 As seen on the top left photo, our son "group-planted" the seeds in 1 seedling starter tray. After 1 week, we decided to move the seedlings into 4-inch plastic pots (1 seedling per pot).  Most of them now have 4 leaves just shy of 3 weeks after sprouting! Their stalk is becoming stronger and their leaf color is changing into a darker shade of green. Can you see the difference between the leaves in just a matter of a week? It's amazing!
How To Germinate Plumeria Seeds (Based On Our Son's Experiment)
To summarize, here's what we did to germinate plumeria seeds based on our son's experiment #1. Please remember that we're not experts at growing plumeria in any way; as mentioned before, this is our very first year of doing this.
Group-plant the plumeria seeds in a seedling starter tray using moist soil and perlite
Place seedling starter tray in a sunny area
Once sprouted, transfer the seedlings into a small plastic pot (we used a 4-inch plastic pot) filled with moist soil and perlite
Keep the soil slightly misted (do not overwater)
Place plastic pot in a sunny area
We're experimenting with the other batches of plumeria seeds by skipping the group-planting process and planting each seed directly into a small plastic pot. Today marks the first week of that experiment and none of them have sprouted yet–perhaps because it has been heavily raining for many days and we haven't seen much sunshine lately (please keep checking back for our next progress report). With that said, we're thankful for the Central Florida sunshine that God has blessed us with, as its heat and light have certainly been instrumental in germinating these plumeria seeds in such a short amount of time!
Until next post!
Disclosure: As of the time of writing this post, AltamonteFamily.com is by no means affiliated with any of the companies or organizations mentioned in this article. AltamonteFamily.com has not been compensated in any way nor has AltamonteFamily.com been influenced to write about these products. This post is a result of the personal observations and independent research of members of AltamonteFamily.com. All opinions solely belong to AltamonteFamily.com.