This shop has been compensated by Collective Bias, Inc. and its advertiser.
All opinions are mine alone. #SpringIntoClean #CollectiveBias
---
Did you know that the Spring and Summer are among the busiest seasons in real estate? We've even got a housewarming party coming up (not ours, though)! Our brother and his wife just purchased a new home, and we can't wait to see it when they're all settled in! If you're in the same situation as us, you're probably thinking about two things at once: what to give as a housewarming gift and ways to help someone plan a housewarming party. We hope to inspire you with this super easy, super practical housewarming gift bucket idea–it's perfect for Spring cleaning! Plus, we're sharing some practical entertaining tips to help you get started.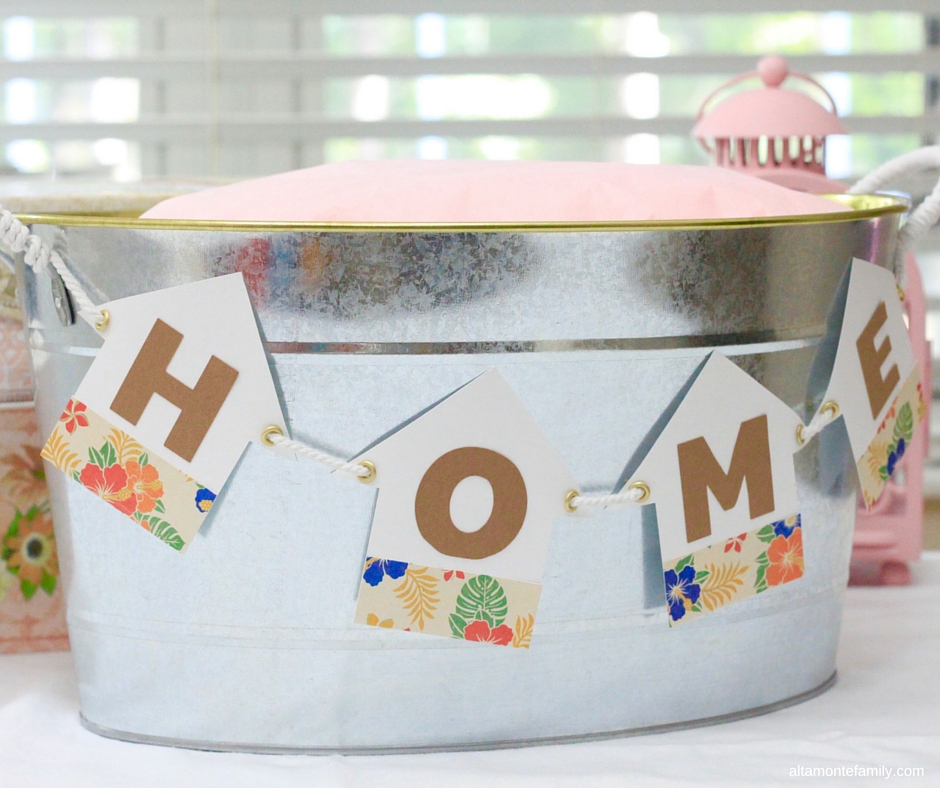 When Thoughtful Meets Practical
Sometimes, it gets tricky to choose a housewarming gift for someone, especially since each of us have our own unique taste and preferences in home decor, small appliances, etc. This is when "thoughtful meets practical". Here's an idea that makes a great housewarming gift by itself or when combined with gift cards or cash.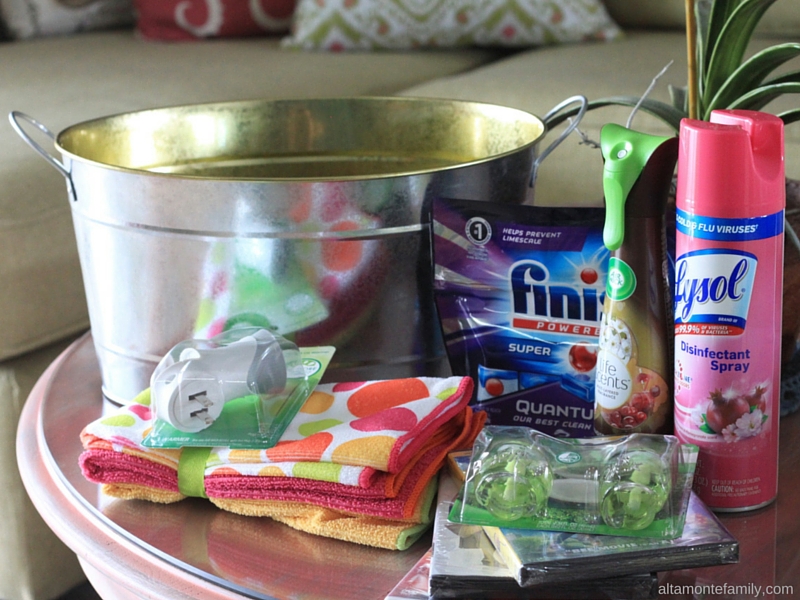 Housewarming Gift Bucket
Gift baskets are nice, but… there's just something about gift buckets that strikes our fancy. Perhaps it's because of the practicality and relative ease of giftwrapping? It's as easy as placing all of the items into the bucket and then covering the top bucket with tissue paper that's been sized to fit.
Embellishing the Housewarming Gift Bucket
We decided to embellish the housewarming gift bucket with something that can be re-purposed–a party bunting! It's a wonderful addition to any housewarming party decorations!
Freebie Alert: We included a free template / pattern for the H-O-M-E bunting at the bottom of this post. Feel free to change the size / dimensions as needed for your project.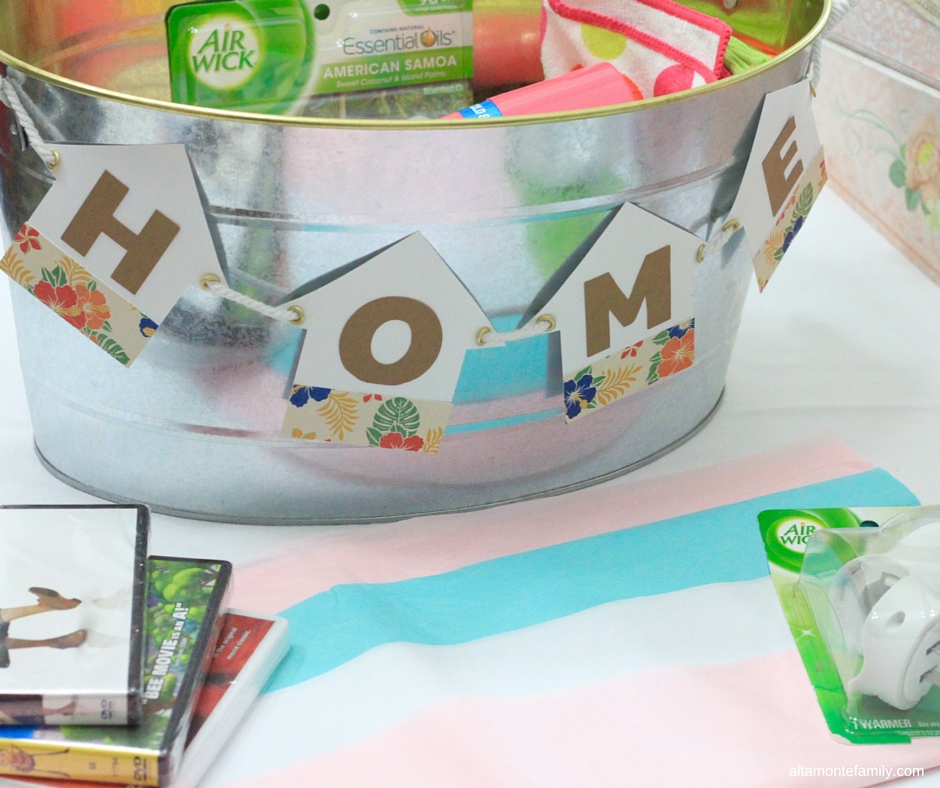 A gift wouldn't be complete without a gift tag, so we created one (to match) using 2 circle punches in different sizes. We also used our big eyelet setter (you can use any eyelet setter) for that finishing gold touch!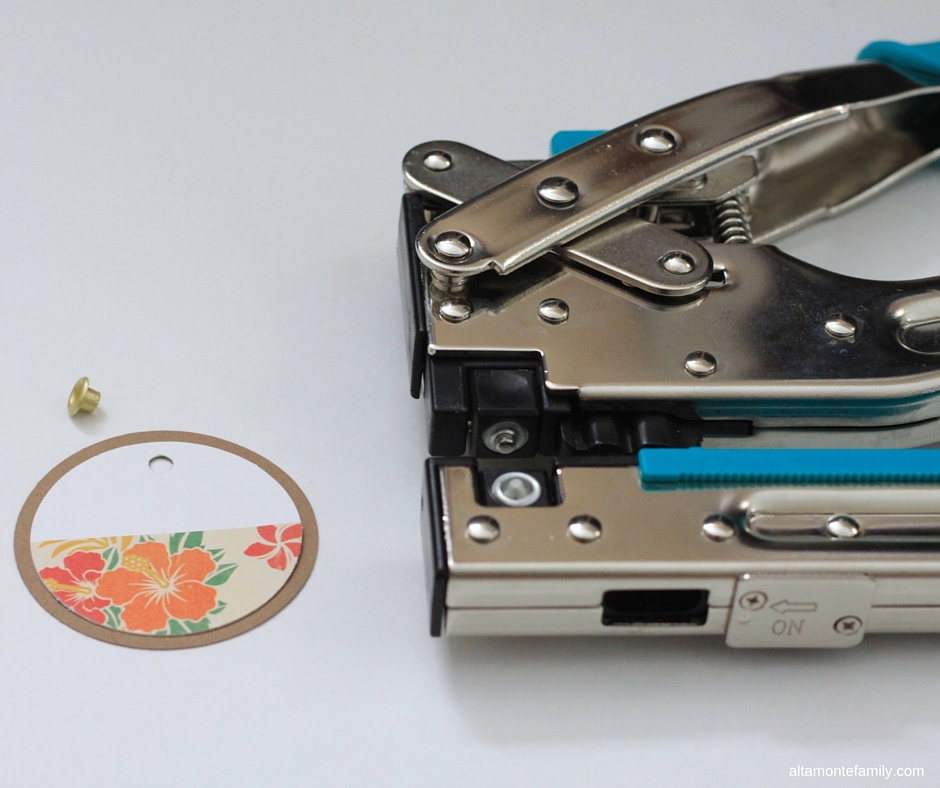 Practical items to include in a housewarming gift bucket:
Party cooler bucket
Lysol Disinfectant Spray (Cherry Blossom & Pomegranate Scent)
Air Wick® Scented Oil Warmer
Air Wick® Scented Oil for Electrical Plug Diffuser (American Samoa)
Air Wick® Life ScentsTM Room Mist (Paradise Retreat)
Finish Powerball Super Charged Quantum MaxTM
Colorful microfiber rags
Family-friendly movies
Savings Alert: We purchased the cleaning products, party cooler bucket, and DVDs at Target and found some awesome deasl!
– Buy 3, get 1 free on Lysol product: Offer valid 3/27 – 5/14/16
– Target Cartwheel Offer for 10% off all Lysol Cleaning Products: Running 3/27-5/14
– Target Cartwheel Offer for 5% off all Air Wick Products: Running 3/27-5/14
– Target Cartwheel Offer for 5% off all Finish Products: Running 3/27-5/14
Housewarming Party Tips
Here are a few tips that we like to keep at the forefront of our minds when planning a housewarming party. This list barely scratches the surface, so please feel free to add your own notes to make it your own.
Tip #1: Set the date, but don't rush.
While some may say to have the party within the first 3 weeks of moving in, don't pressure out–especially if you have little children. There's no harm in sending out invitations by the end of the third week or so, given your situation.
Tip #2: Think clean surfaces, spaces, and scents.
Cleaning can be daunting especially when you don't know where to start. Psssttt—the bathroom is a great starting point! It's probably going to be the most visited space in your home!
Stock up: Make sure you've stocked up on cleaning supplies and large trash bags. You're going to need these before and after your housewarming party (or any party).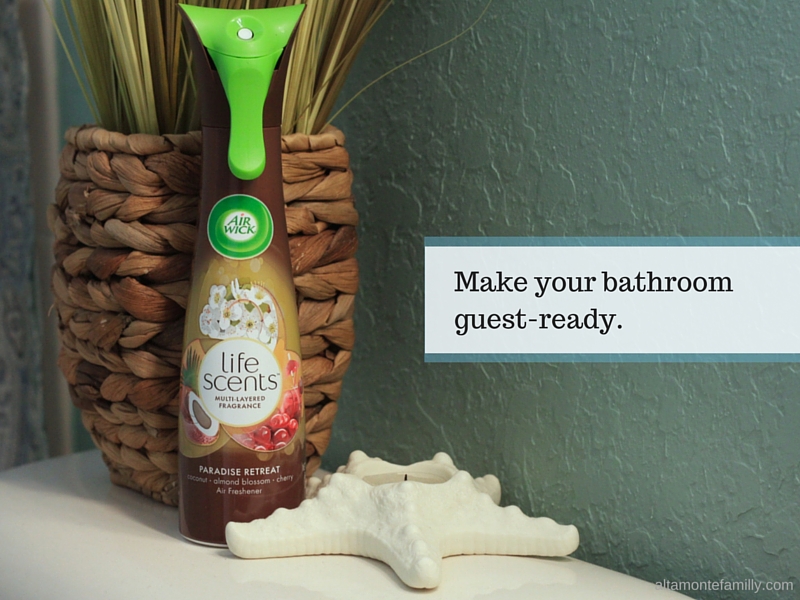 We just love how this can of Air Wick Life ScentsTM Room Mist can match the home decor!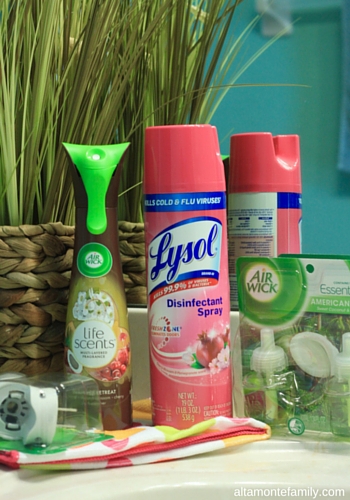 Besides eliminating odors, it's fast acting and it's the first instant spray with constantly changing fragrance! It pairs well with Air Wick® Scented Oil Warmer to define the home's fragrance personality in any room up to 124 sq ft. We chose a combination of spring, paradise, and island scents (we're from Hawaii).
By the way, we're just loving the Spring-inspired scent of this Lysol Disinfectant Spray. What's not to love about cherry blossom and pomegranate? Not only does this stuff smell good, you can trust Lysol for all of your cleaning needs–both in and out of the bowl. It kills 99.9% of viruses and bacteria and is quite effective in disinfecting surfaces, sinks, door knobs, handles, taming trash, and all kinds of spaces beyond the bathroom and kitchen.
Tip #3: Prepare the guest room.
While you may not be planning on having guests overnight, making sure you have a clean and ready guest room can always come in handy. For example, nursing mothers will thank you for letting them use a clean and beautiful room to take care of some business.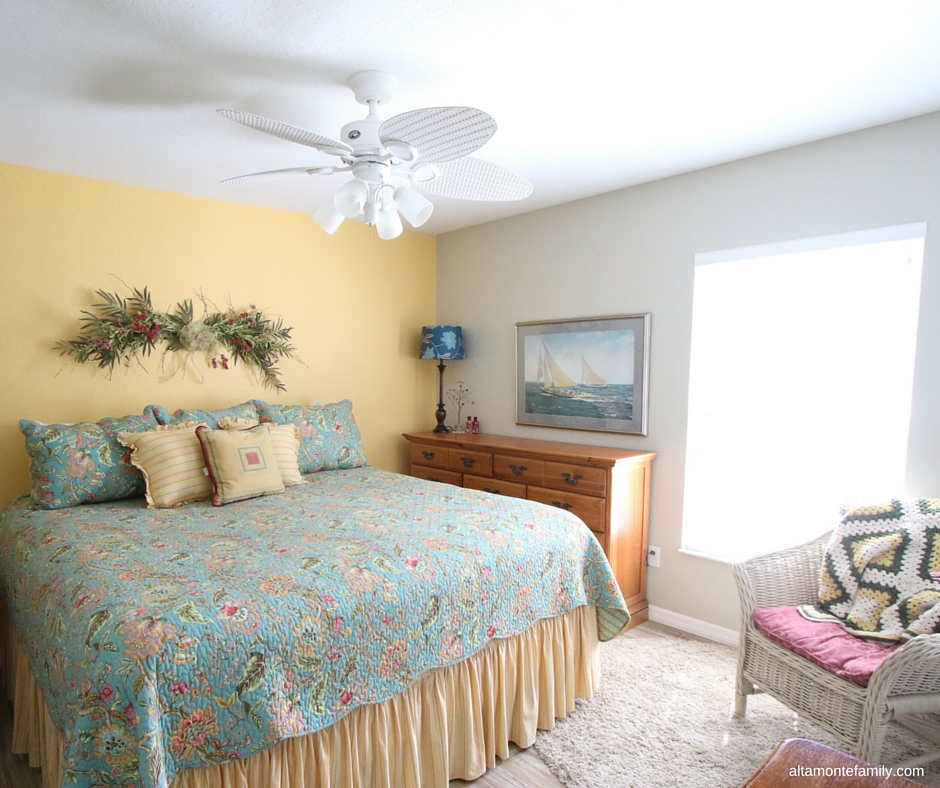 To keep bedrooms consistently smelling fresh and clean, we use Air Wick Scented Oil Warmers. These lovelies can now last up to 45 days in its lowest setting (vs the previous ones) and provide consistent, long-lasting fragrance. With 8x more fragrance control, you can easily control fragrance levels.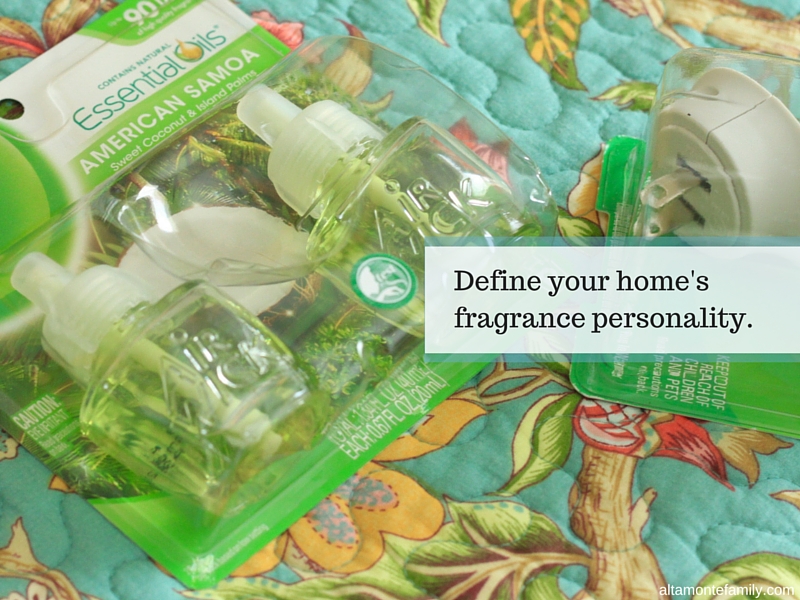 Tip #4: Brighten up your living room.
Consider rearranging your furniture (or even opening up the sliding door to your patio) to make more room (yay for more seating!) and brighten up your space. Keep the clutter under control: keeping your home decor on the "lighter" side will allow more natural light to come in, giving it a pleasant and airy feel (warning: your guests may end up not wanting to leave).
Fragrance Tip: Add a touch of fragrance to go along with your comfy living room space as you tell your unique story. If you're deciding on an Air Wick Scented Oil Warmer fragrance that's right for you, here's a quick tip: a spicy or gourmet scent can make large rooms feel cozy, while fresh, floral or fruity scents can make small spaces feel more airy.
Tip #5: Provide driving directions and parking instructions.
To minimize phone calls for directions and parking instructions on the day of the party, it helps to provide this information ahead of time.
Tip #6: Let's talk food!
Finger foods are an easy go-to for housewarming parties, and they keep things simple for you. Do keep the little ones in mind when it comes to food and family-friendly beverages, and ask about any food allergies or restrictions ahead of time. If finger foods aren't your thing, then maybe it's time to fire up that grill! Yeah!
Tip #7: Be prepared with some activities, if needed.
If you're feeling up to it, setting up a simple photo booth with props is a fun way to get people to relax and mingle as they arrive–and it kinda serves as your guest book, too! How about choosing a theme? You might want to let them know ahead of time about the photo booth, though!
Tip #8: Don't forget about the kids!
Have something ready for kids in different age ranges. While movies are good, encourage them to mingle, too. Board games, puzzles, crafts, or even outdoor activities can help with breaking the ice. If you're going to offer crayons, consider the washable variety. You're welcome.
Tip #9: Give your guests a little something to to take back home.
As a kind gesture, give your guests some simple homemade or store-bought goodies to take back home with them.
Homemade Gift Idea: Homemade cookies presented inside a mini loaf pan make for very easy, inexpensive, but delightful homemade gifts.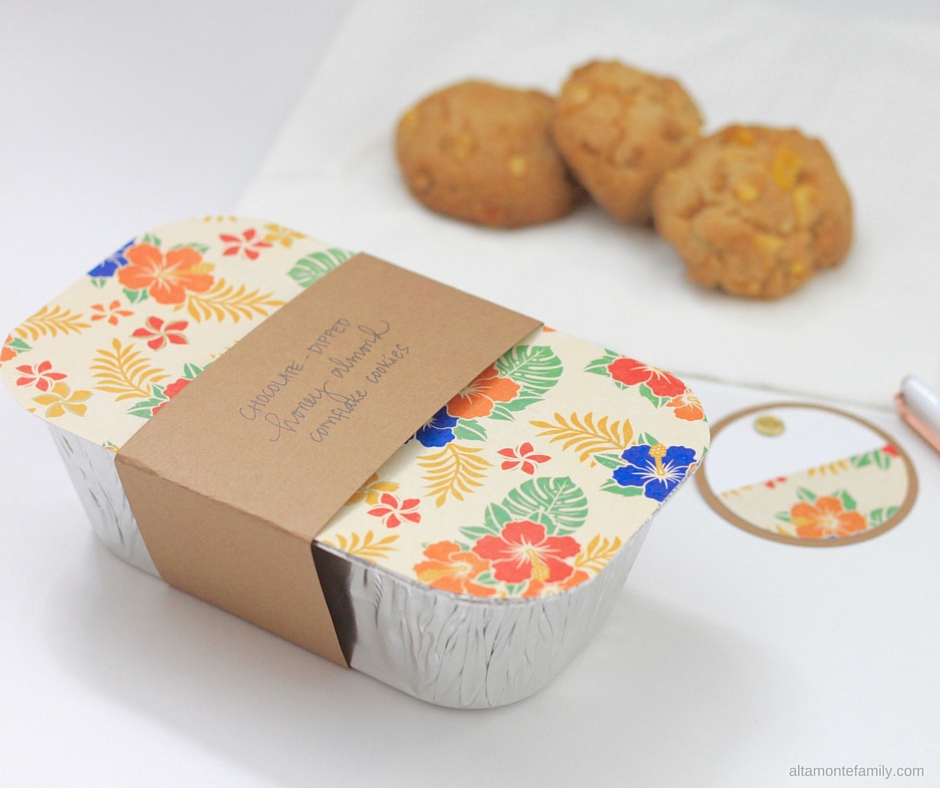 Tip #10: Mail a handwritten thank-you note to your guests.
This one goes without saying. If you're worried that you're not much of a wordsmith–remember that photo booth idea? Enclose one of those photos knowing that "a picture's worth a thousand words"! Oh, a line or two wouldn't hurt, right?
---
We hope we've inspired you with some ideas for your next housewarming event. Head over to Target for some amazing deals and check out what other bloggers are doing to spring into clean!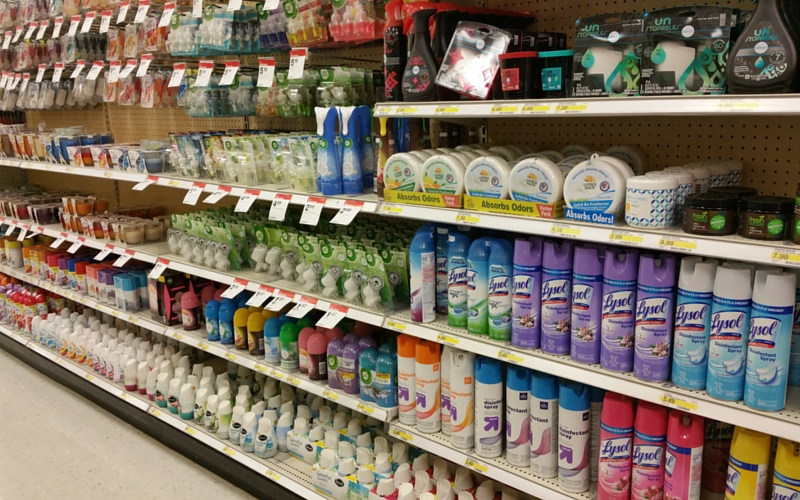 Free H-O-M-E Bunting Template
If you would like to get the free template for our H-O-M-E bunting, click on the button below.
For Personal Use Only: We created this free template / pattern for your personal, non-commercial use only. Please do not alter in any way. Kindly read our full Terms of Use.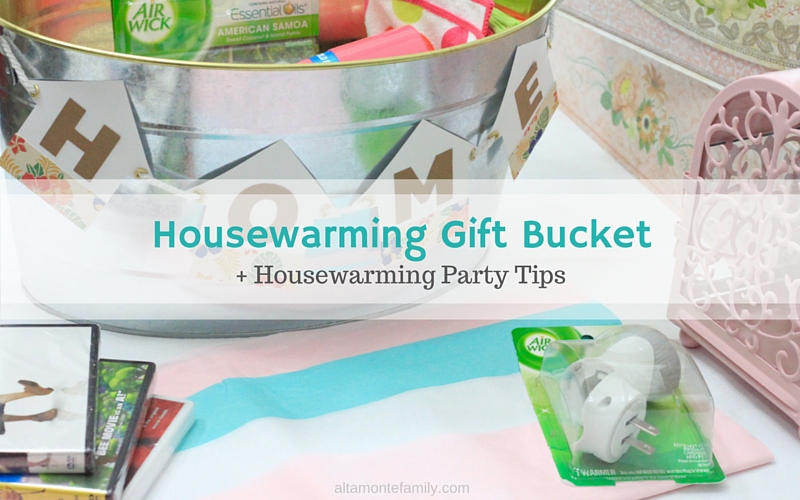 ---
We're Social! If you liked today's post, feel free to share, bookmark, or pin it! Follow us on Pinterest, Facebook, and Instagram for more updates on our latest projects and adventures.