This shop has been compensated by Collective Bias, Inc. and its advertiser.
All opinions are mine alone. #EmergenCRecipes #CollectiveBias
---
I can hear festive music playing in my head as I write this post, because we're super excited about how our Very Merry Holiday Waffle Bar turned out! Waffles in three different colors totally set the mood and cheery beverages in bright 'n bold colors beautifully complemented the decor (and the season)! Keep on reading to see how we used natural elements–including fresh produce–to elevate our holiday entertaining decor! Plus, we're sharing a delightfully refreshing recipe for Citrus Punch made with Emergen-C®!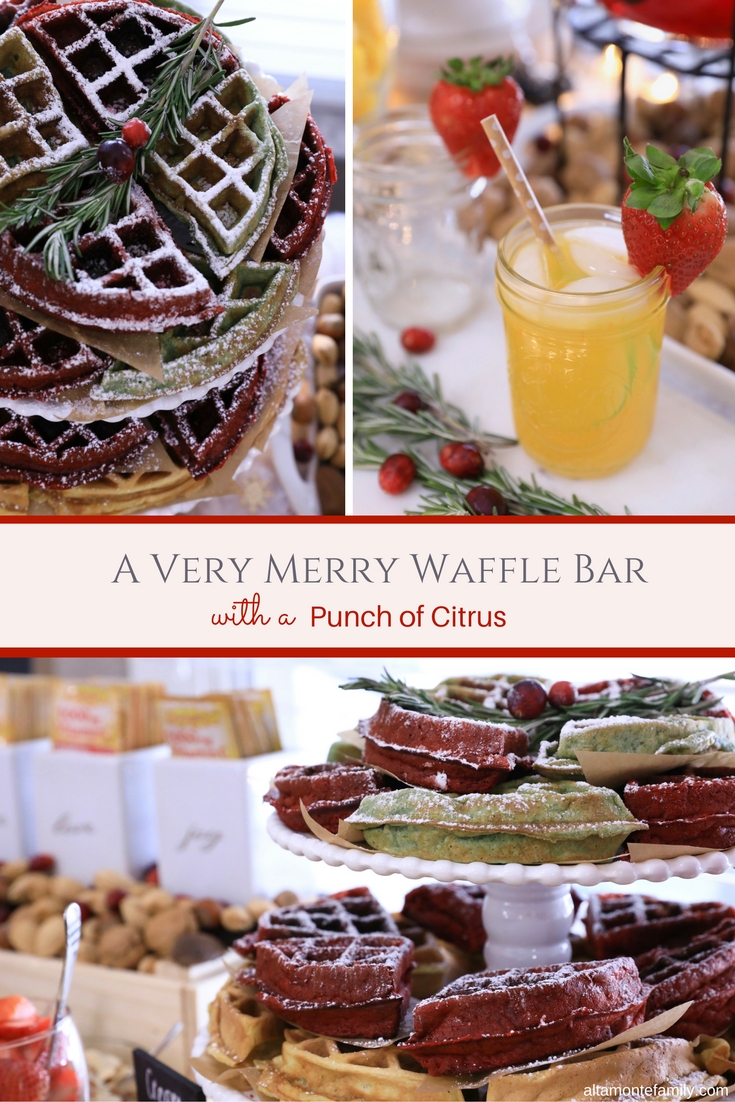 I don't know about you but any sort of eastbound travel (like, traveling from Hawai'i to the East Coast) feels more tiring than traveling westbound. The thought of "losing time" takes a toll on my body as well as my mind! So, I certainly feel for our holiday guests traveling eastbound to see us (we feel for you, too, our fellow East Coast friends). Traveling in general can be quite exhausting, no matter the duration… and we all know how the busy holiday season can contribute to hectic travels.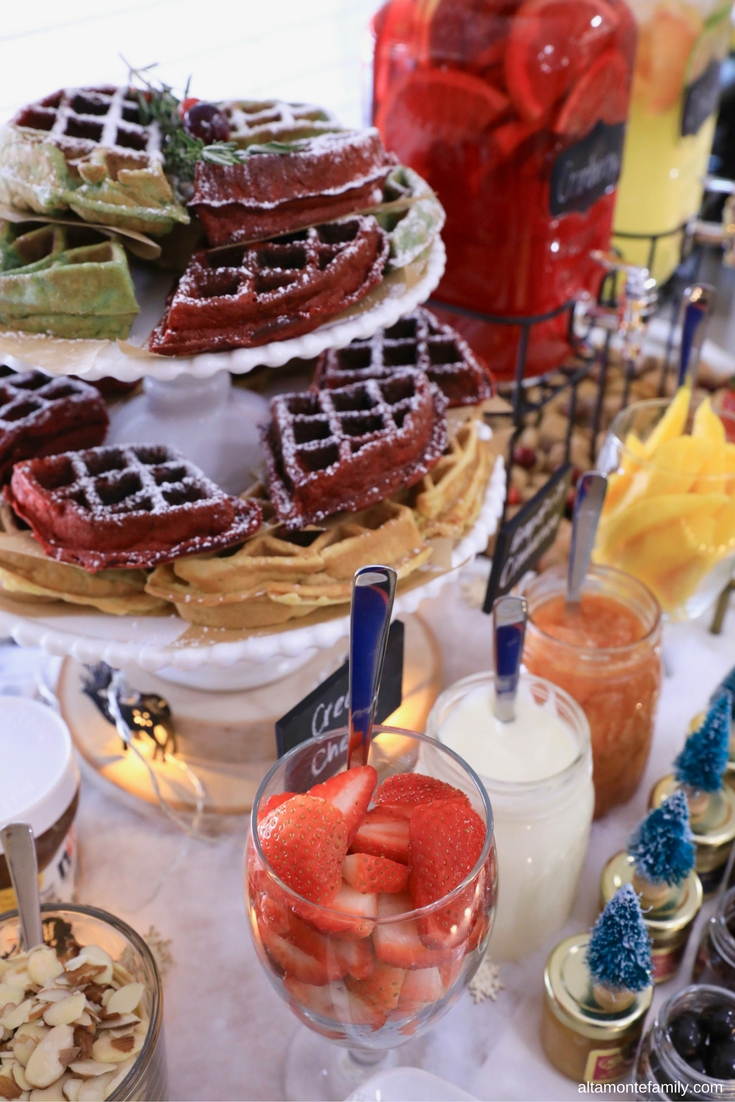 With all that said, we do our best to make our guests feel right at home–not just upon arrival but also when they wake up the next morning ready to conquer their itinerary and celebrate this special season with us!
What better way to wake up after a tiring trip than with a Very Merry Holiday Waffle Bar?
Our Holiday Waffle Bar: The Details
Our holiday waffle bar isn't only visually appetizing–it's oh so delicious and refreshing, especially when you get to try our Citrus Punch to go along with those mouthwatering waffles! This drink has B Vitamins which enhance energy naturally* without caffeine! I'll get to the recipe in a sec 😉
For now, just imagine having a morning like this…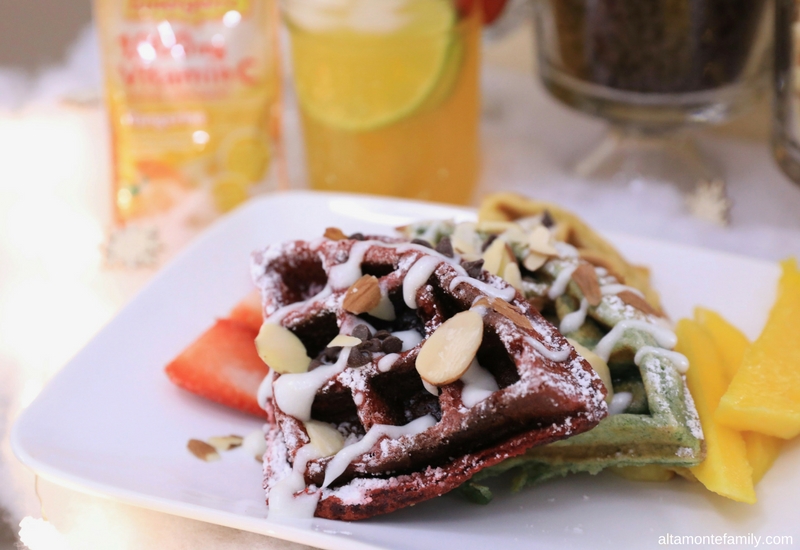 Waffles in red, yellow, and green!
Red velvet waffles…
Gluten-free coconut flour waffles…
Big Island Spirulina waffles…
And then there's the sweet aroma of hazelnuts, walnuts, and almonds roasting in the oven!
Add to that fresh fruit toppings like organic, locally grown strawberries and mangoes + almond slivers, mini dark chocolate chips, and toasted coconut. For those with dietary restrictions (and requests), we also served alternative toppings like honey granola, organic raw cacao nibs, organic dried cranberries, and dark-chocolate-covered espresso beans (we like to think / pretend that a coffee affinity can be considered a "dietary restriction") 😉
Oh, and let's not forget about the other good stuff like homemade cream cheese sauce (they go really well with the red velvet waffles), homemade grapefruit cinnamon agave syrup, chocolate hazelnut spread, and specialty honey and fruit butters that we picked up during a recent trip to the Big Island of Hawai'i.
Did you know?  It's been heavily snowing in Maua Kea and Mauna Loa lately! In the spirit of celebrating "snow in Hawai'i", we attached snow-capped miniature pine trees on top of the Big Island honey and fruit butter lids! We just couldn't resist (we secretly wish that it'd snow a little bit over here, too)!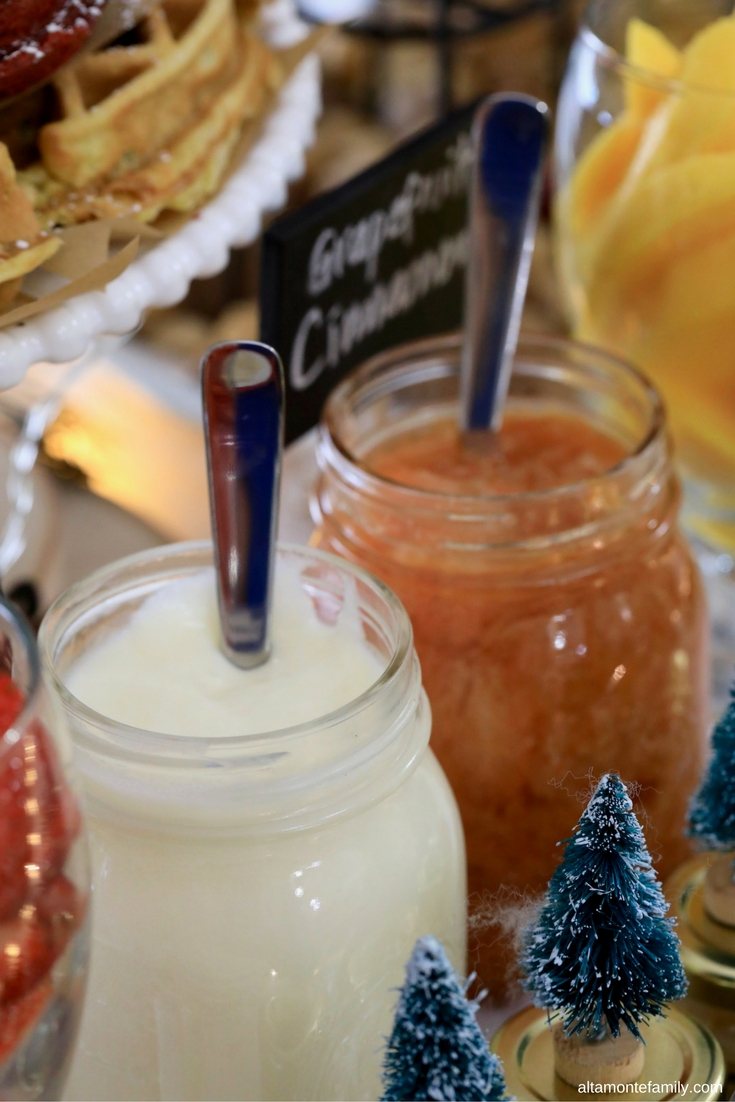 So, here's a glimpse of our kitchen cart turned Holiday Waffle Bar!
Look!  Those colorful waffles almost look like a two-tier cake 😉 Almost. And those drink dispensers make you feel as if you're in a hotel lobby!
Crazy, isn't it?  When choosing a hotel, we look for at-home creature comforts. When we're home, we look for hotel-like creature comforts – like a nice breakfast buffet spread! Room service would be nice (nevermind… back to reality).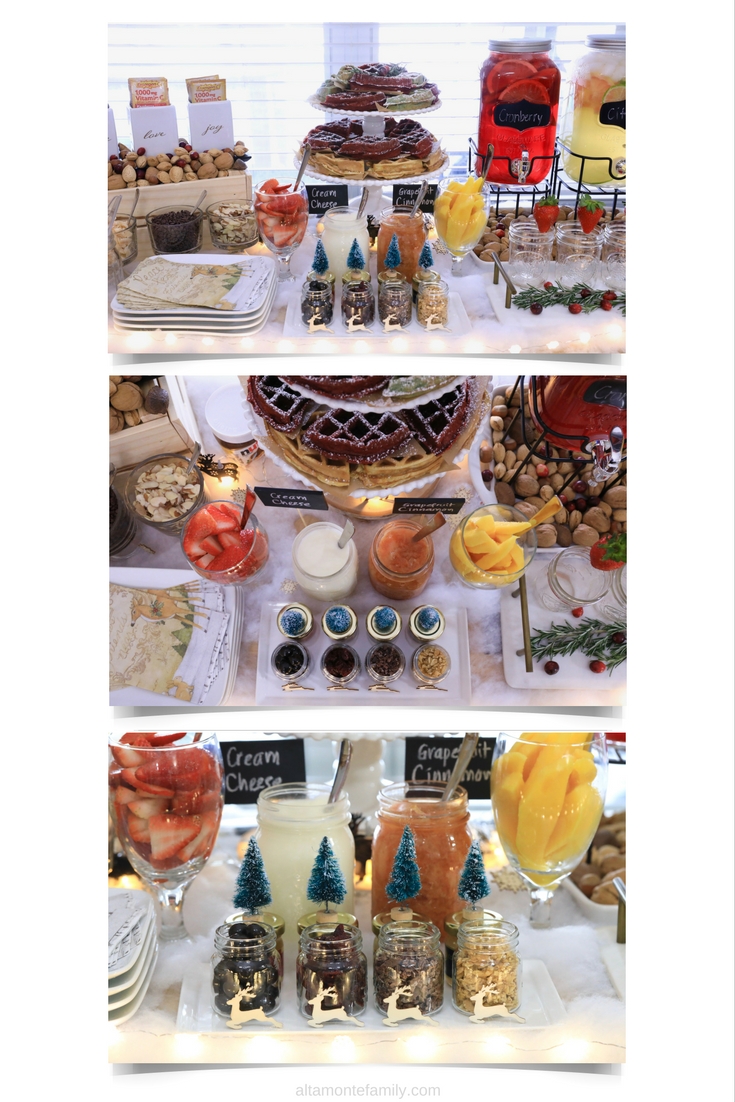 Okay, now that we're back to Earth, let's talk about the drinks…
The Drinks
You may have noticed the two drink dispensers: one of them is Diet Cranberry (with only 2 grams of carbs per serving) and the other is our homemade citrus juice medley made from freshly squeezed grapefruit and lime + store-bought passion fruit juice (in Hawai'i we call passion fruit "lilikoi").
Our guests like to make it their own by combining the cranberry with the citrus juice (tastes like fruit punch), adding agave nectar to the citrus juice to add a touch of sweetness, or mixing in Emergen-C® with the citrus juice. Then, there are those who just like to mix their choice of Emergen-C® flavor with water.
We offered the following three flavors of Emergen-C®:
Super Orange
Tangerine
Raspberry
… Because who doesn't love options?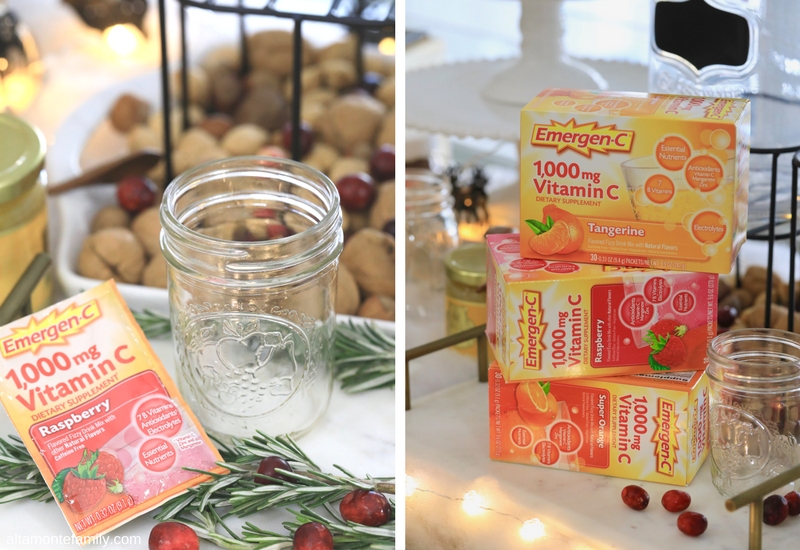 Love how we get to share our positive approach to health and wellness with our guests! For me, Emergen-C® complements my healthy lifestyle, plus it's an easy and delicious way to take vitamins, especially during the busy, holiday season and winter months. It's good to have it on hand when we need it!
To keep things organized, we repurposed a plain, white, ceramic utensil dispenser to hold the three different flavors of Emergen-C®. In the spirit of the season, we used our Cricut Machine to make these gold vinyl cut-outs. Now, they don't look so plain, anymore!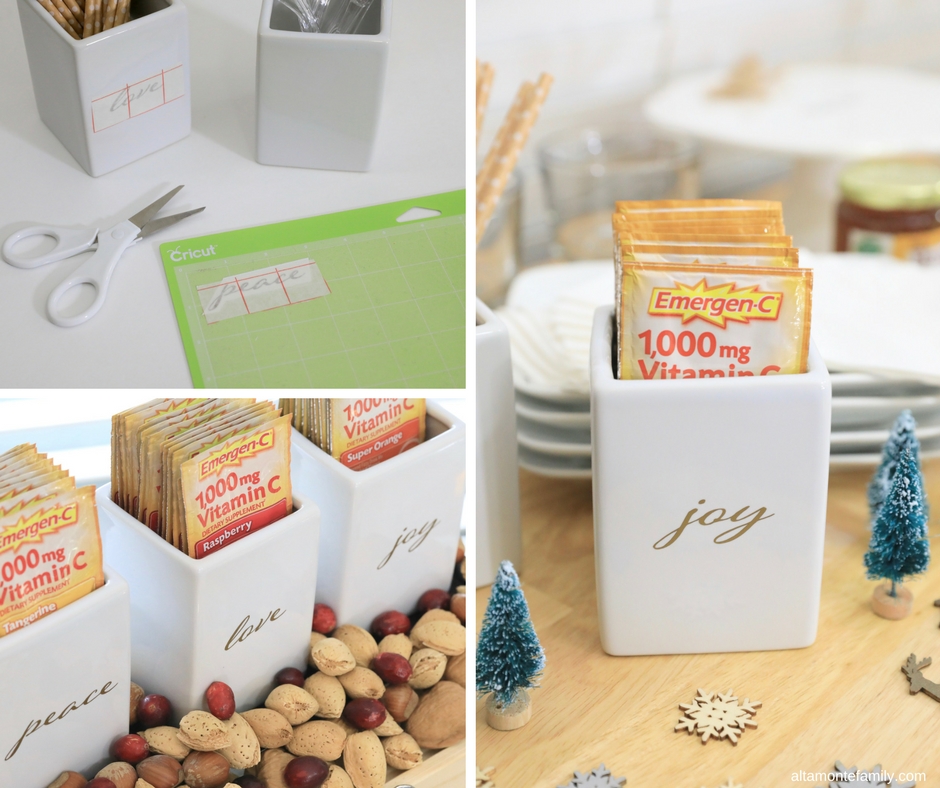 Now that we've got them organized, let's talk about our Emergen-C® recipe!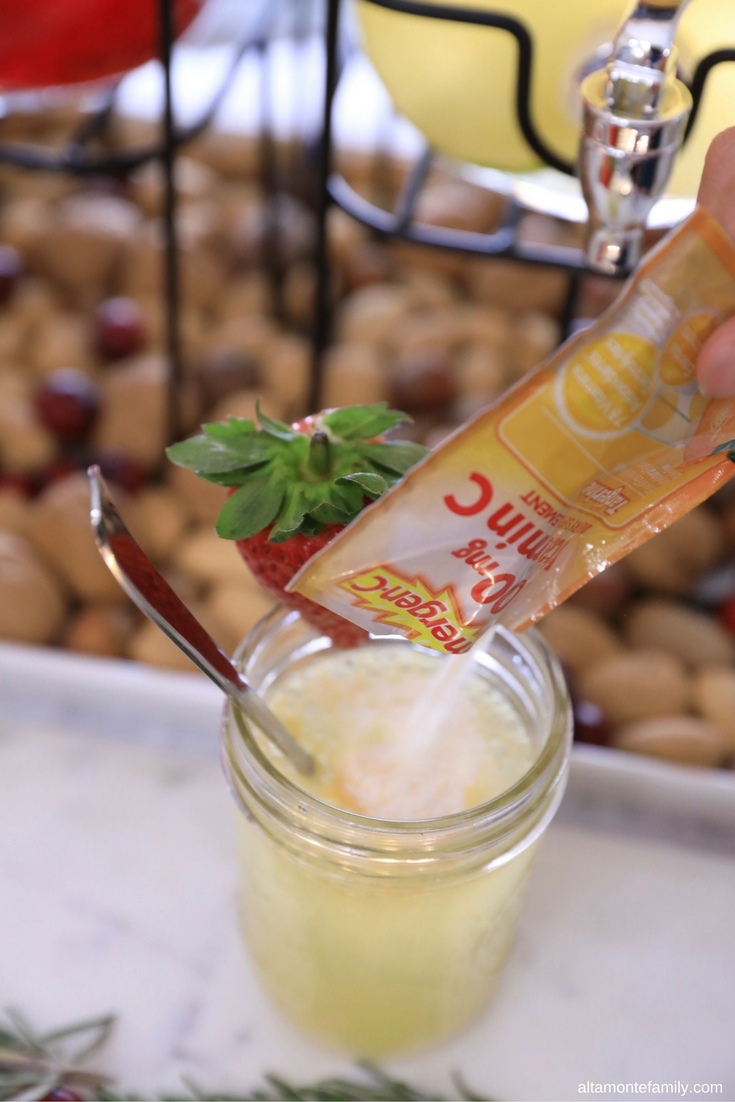 Recipe: Refreshing Citrus Punch
Yield:               1  6-8oz drink
Prep Time:     Less than 5 minutes
Total Time:    Less than 5 minutes
Ingredients
1 part freshly squeezed grapefruit juice
1 part freshly squeezed lime juice
1 part store-bought passion fruit juice
1 part water
1 packet Emergen-C® Tangerine
Optional:  Agave nectar / sweetener
Directions
Mix the first four ingredients well, then pour in the Emergen-C® Tangerine. Mix well. Add agave / sweetener, if desired.
Boom!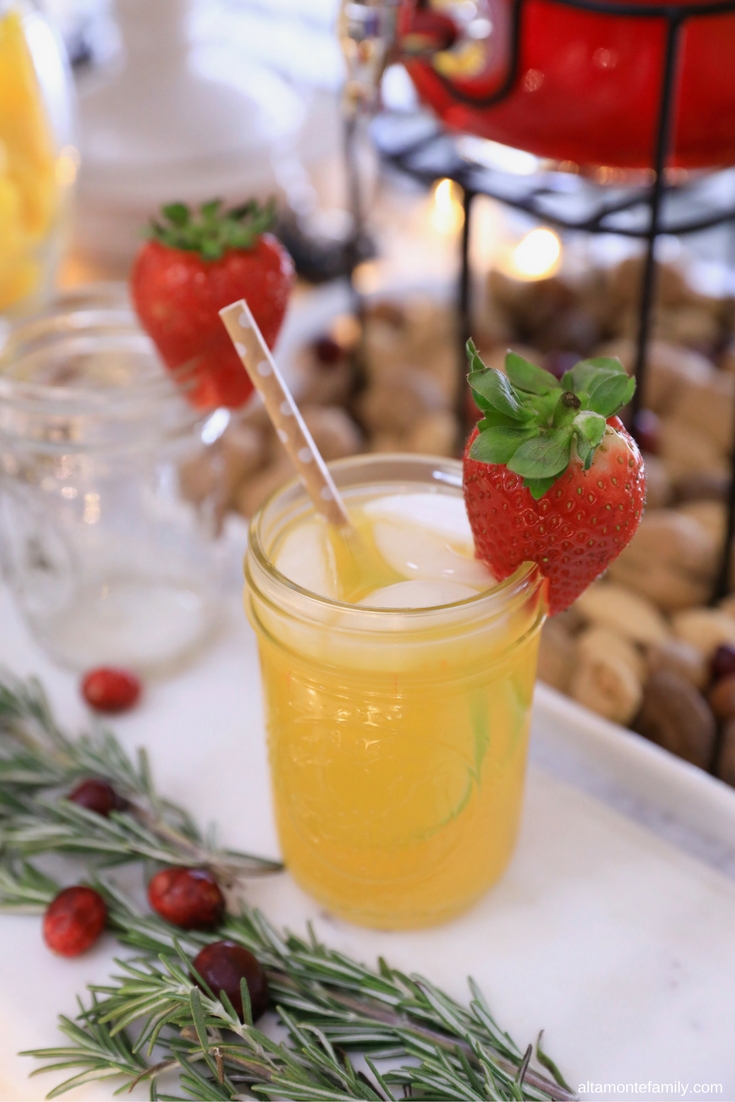 TIP:  If you are hosting a group, feel free to make the citrus juice medley ahead of time like we did, so that all your guests will need to do is add the Emergen-C® Tangerine to the mix.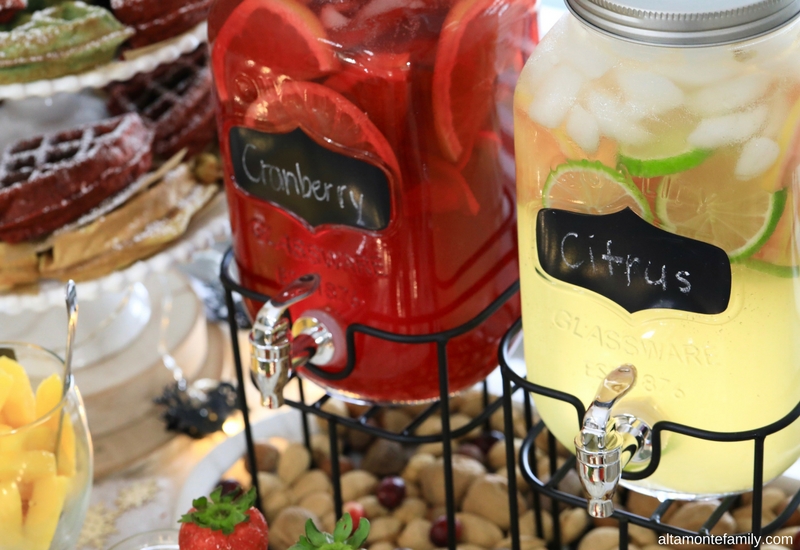 The Waffles – 3 Different Colors!
The waffles in holiday colors are so cute, it hurts!
In case you missed it, we served three different types: red velvet waffles, gluten-free coconut flour waffles, and Spirulina (green) waffles.
To make the red velvet waffles, we simply used a box of red velvet cake mix and combined it with 4 eggs and 2 cups of milk. The cake mix batter is slightly stickier than the typical waffle batter that we're used to; our cast iron waffle pan didn't quite do the trick! So, we had to turn to our flip waffle maker–we set it to medium and followed its light prompts.
To make the gluten-free coconut flour waffles, check out this diabetic-friendly waffle recipe.
To make the spirulina waffles, simply follow the same recipe as the gluten-free coconut flour waffles and add one teaspoon of spirulina powder (we use the one sourced from the Big Island of Hawai'i). Feel free to browse our other spirulina recipes!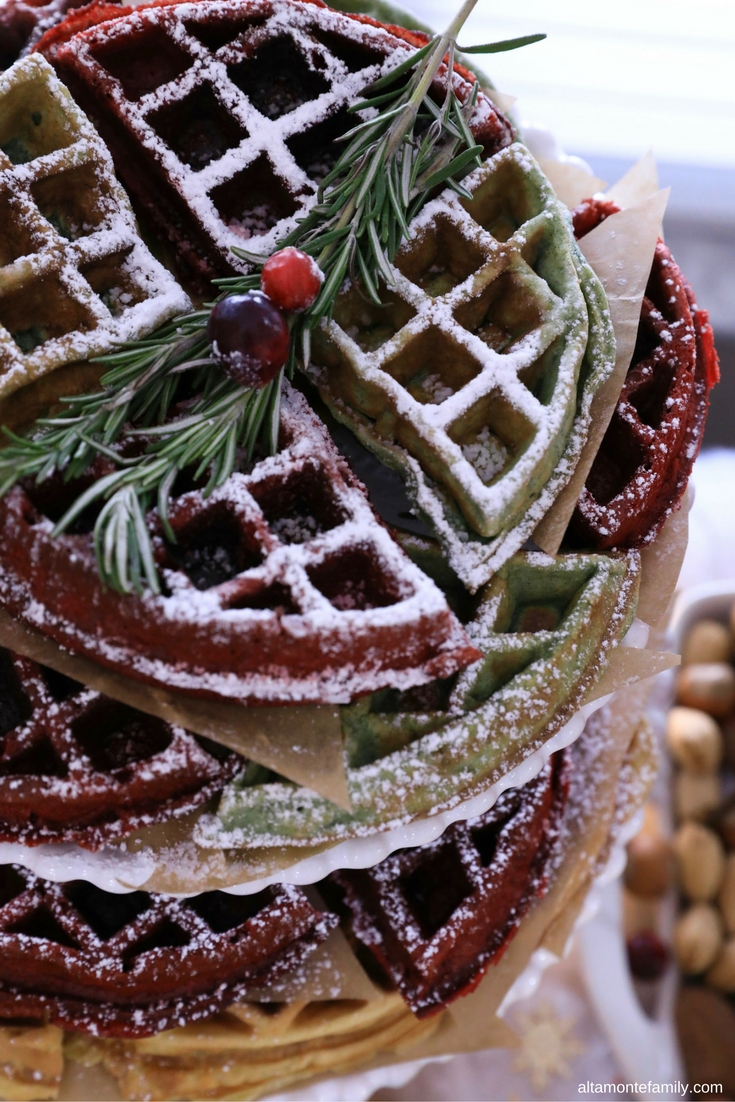 Let's chat real quick about what makes these waffles visually appealing and appetizing!
The addition of powdered sugar, rosemary, and fresh cranberries give the waffles that dreamy holiday look! Plus, the unbleached parchment paper gives a natural touch, adding to its rustic charm.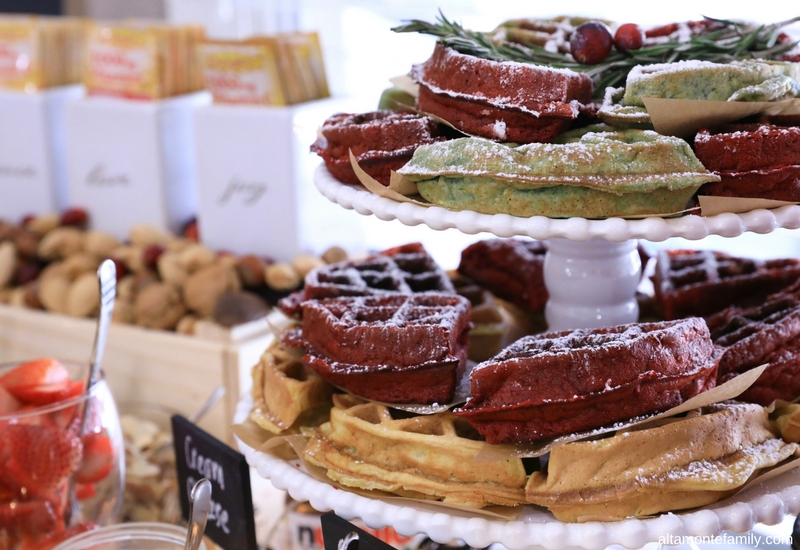 Just. Lovin. All. The. Layers.
Besides stacking the waffles, we also stacked two cake stands on top of each other (the bottom cake stand being slightly larger than the one on top).
Meanwhile, the bottom cake stand rests on two wood slices stacked on top of each other (you'll find some battery-operated reindeer lights gracing these wood slices). It's all in the details!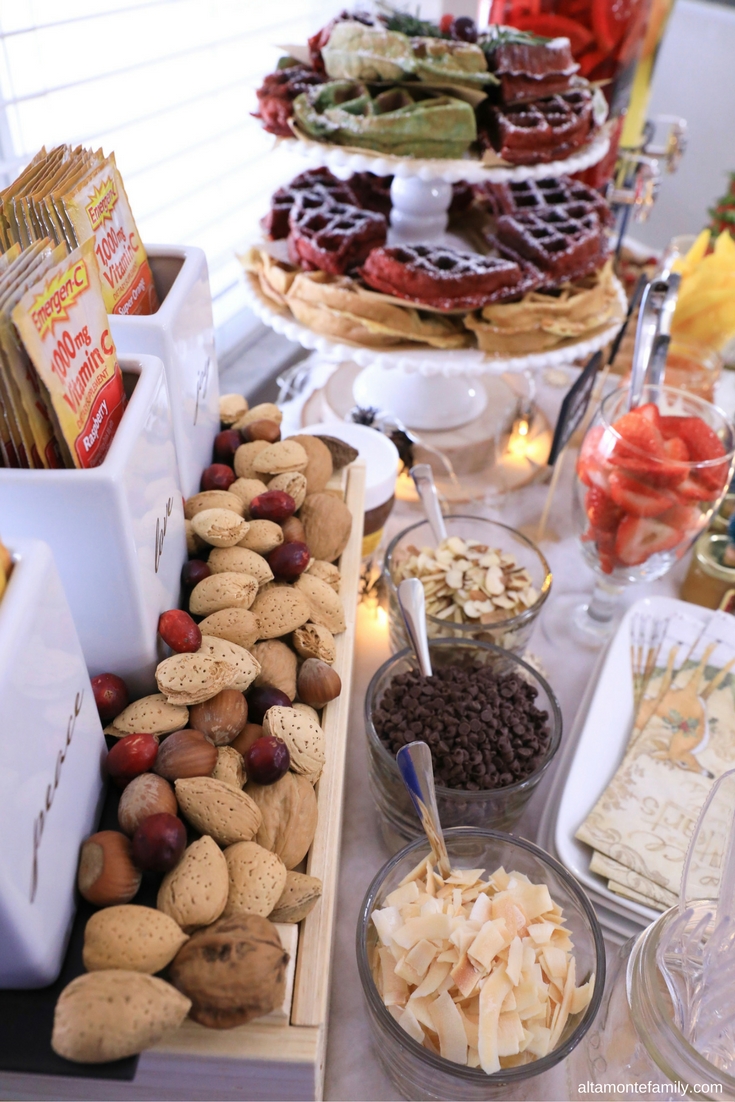 Anyway, we already talked about the toppings that we used earlier. It's awesome how we can be creative with these! We like to use in-season, local produce whenever possible.
Other Decor Details
We kept a neutral tone in our decor choices so they don't clash with waffles and fresh produce colors (those are fun and colorful enough)!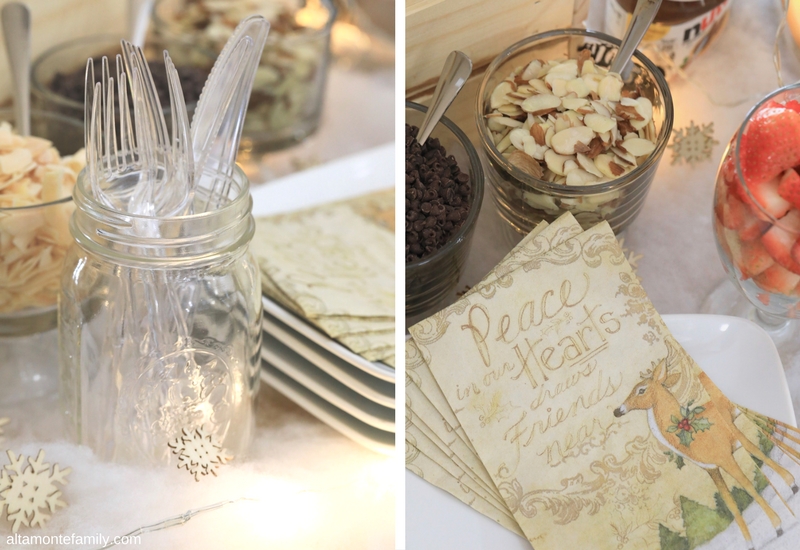 To stay organized, we use trays, platters, and cake stands–it's amazing how things can quickly get out of control!
For example, take a look at the tray under the two beverage dispensers. This aids in "drip control". Meanwhile, the fruit and nuts resting on the tray not only add a decorative element, they're also there to conceal any drips /moisture.
We were shooting for a winter feel, so we added a layer of buffalo snow. It was practical as much as it was decorative! It protected the kitchen cart surface and caught any powdered sugar / toppings from falling on the floor.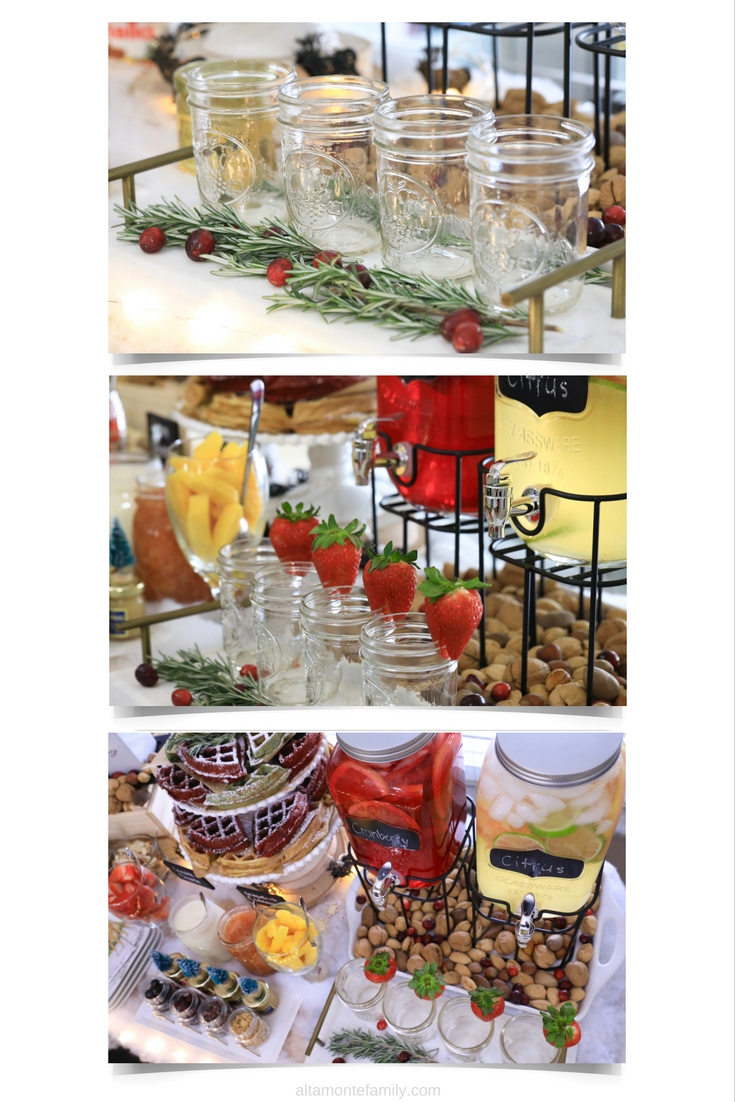 Ready to plan your holiday brunch?
We hope we've inspired you with our Very Merry Holiday Waffle Bar! We'd love for you to share, pin, save, or bookmark this post!
Do share your holiday waffle bar posts, ideas, or photos in the comments! It's always inspiring to exchange ideas! It keeps the creativity going!
While doing your holiday shopping, don't forget to stock up on Emergen-C® at Walmart to feel restored and refreshed during this hectic season! Oh, and pick up some grapefruit and lime from the fresh produce section to try our Citrus Punch! After all, it's citrus season!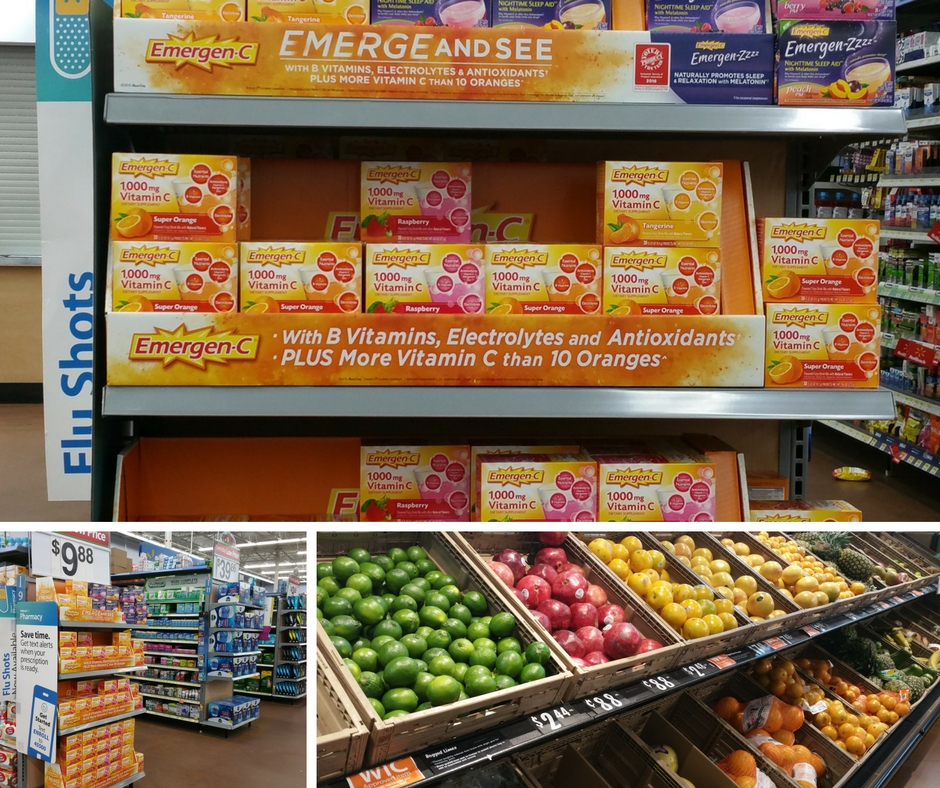 Happy shopping!
*Disclaimer: These statements have not been evaluated by the Food and Drug Administration. These products are not intended to diagnose, treat, cure or prevent any disease.
---
We're Social! If you liked today's post, feel free to share, bookmark, or pin it! Follow us on Pinterest, Facebook, and Instagram for more updates on our latest projects and adventures.