This shop has been compensated by Collective Bias, Inc. and its advertiser.
All opinions are mine alone. #EasyHolidayEats #CollectiveBias
---
We miss going to Hawaiian luau parties back when we used to live in Hawaii. Close your eyes and think of the sunset, the ocean breeze, the tiki torches, the food, and all that local Hawaiian decor. Okay, it's time to wake up–we don't live there, anymore! Thankfully, we can replicate some of the experience over here in Florida during the holidays (especially since it doesn't snow over here). With all of the nostalgia going on, we couldn't help but throw a handmade ornament exchange luau this year!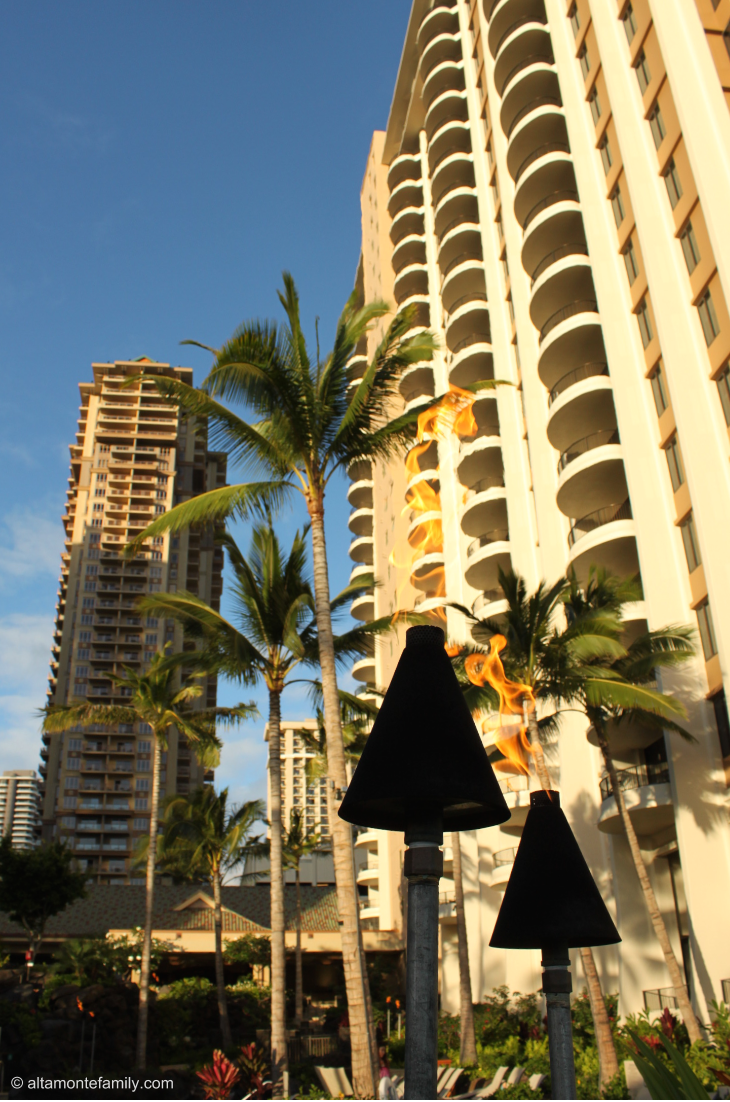 How To Throw A Handmade Ornament Exchange Luau
Now that we're done daydreaming (are we?), let's talk about how to throw a handmade ornament exchange luau. It's one of the easiest parties to host and a really fun and memorable one to boot! It's always great to get to know a little bit more about your guests not just through food but also through handmade crafts. We love spending this time to share stories of how God has blessed our families in the past year.
Tip #1:  Make a guest list.
We just had our 4th baby in the late summer so we decided to keep our party list small this time (no more than 5 participants and their families). Like our other parties this year, we wanted to have the time to get to know our guests a little better since we're still new-ish to the area.
Tip #2:  Choose a theme.
You probably would've guessed our theme by now 🙂 Feel free to use our handmade ornament exchange luau theme or use any other luau theme according to your heart's desire.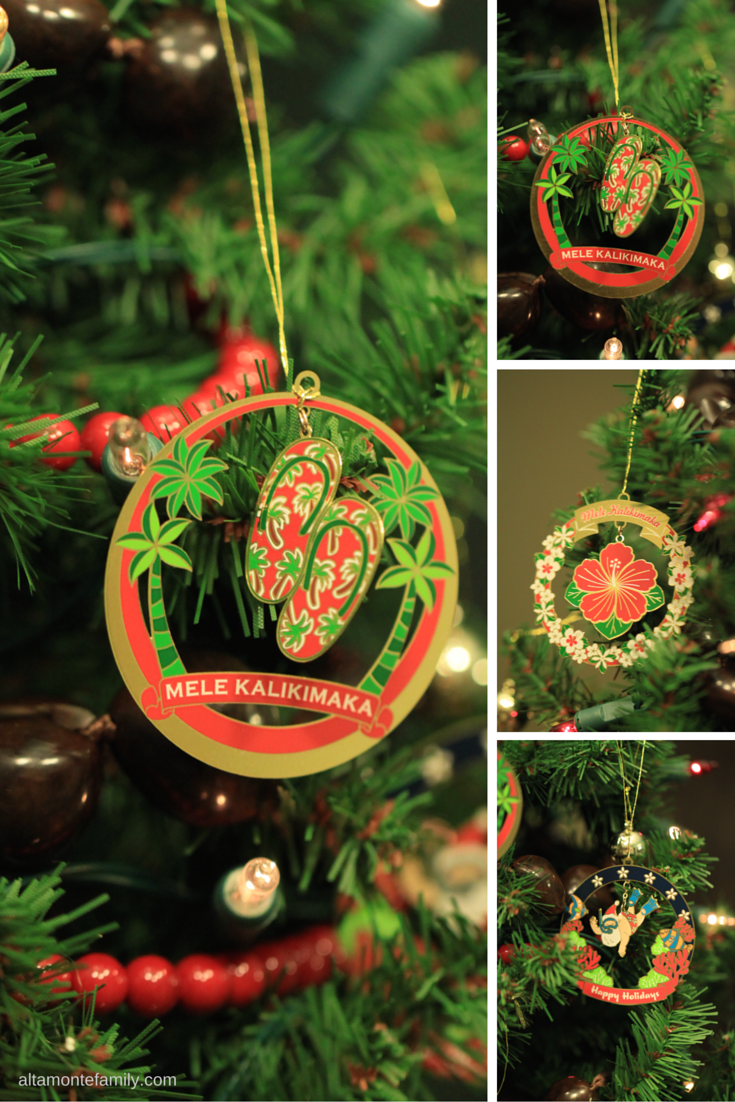 Tip #3:  Set the ornament exchange rules and specs.
For our party, we asked each guest to bring one wrapped, handmade ornament–one that tells a story about their roots. This is a great conversation starter and provides the opportunity for each guest to get to know more about each other. We also specified a price range of $5 – $10. Using an adhesive label, we attached a number to each ornament package as each guest arrived and then gave each guest a different number. Each guest opened the package that corresponded to their number.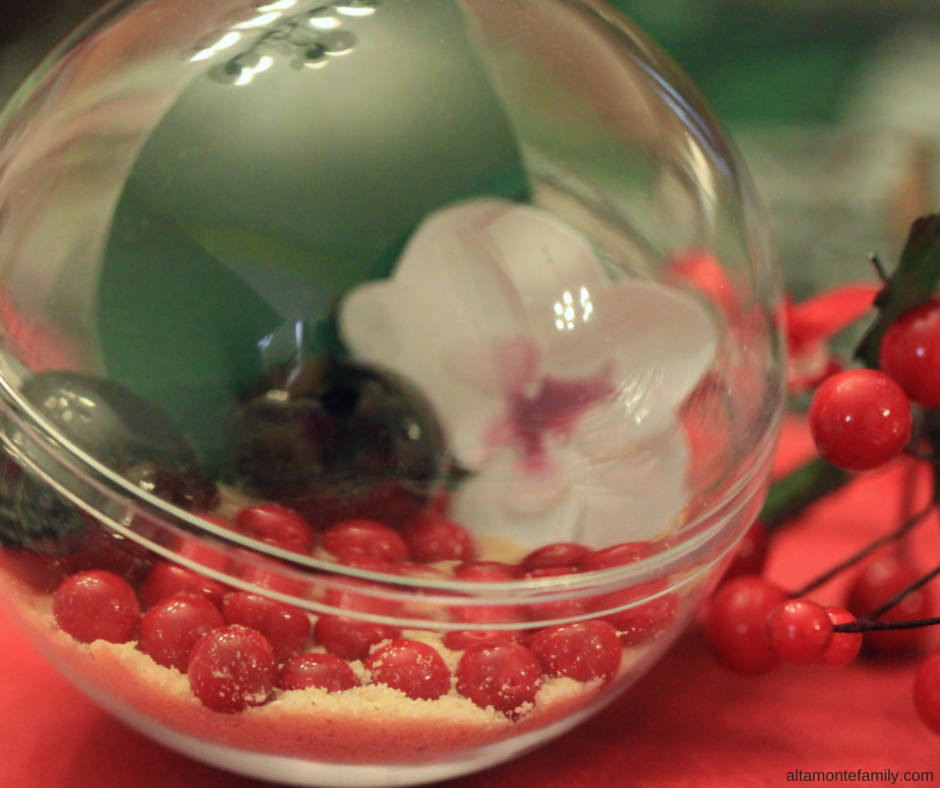 Tip #4: Decide on the location.
Will you be hosting your party indoors or outdoors? At home or somewhere else? For the last 10 years, we have been hosting most of our Christmas parties in a three- to four-bedroom suite at a resort. This spares us the clean-up hassle that happens before and after the party. We choose a resort based on the destination that our guests will appreciate the most (in this case, Orlando–our traveling visitors are eager to see the Mouse for the holidays).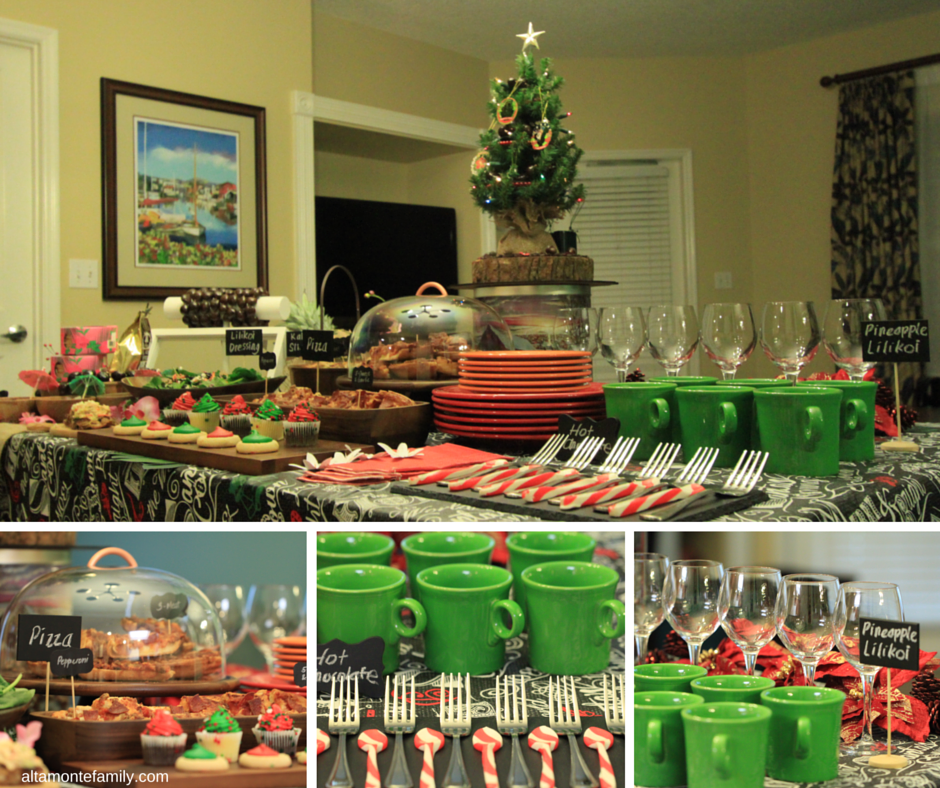 Tip #5:  Don't forget the party essentials.
Traditionally, we would use Hawaiian Koa wood for our bowls and other party essentials. Since we couldn't find any of those locally, we used other types of wooden bowls and platters that we already had on hand. We also infused some festive colors by including colorful ceramic dishes and peppermint spoons to add to a cup of hot chocolate. How fun!
Tip #6:  Decorate according to your theme.
We decorated our luau table with a variety of silk and paper flowers (including the purple-white-gold paper lilikoi flower that we designed in Google Draw and cut using our Cricut Machine).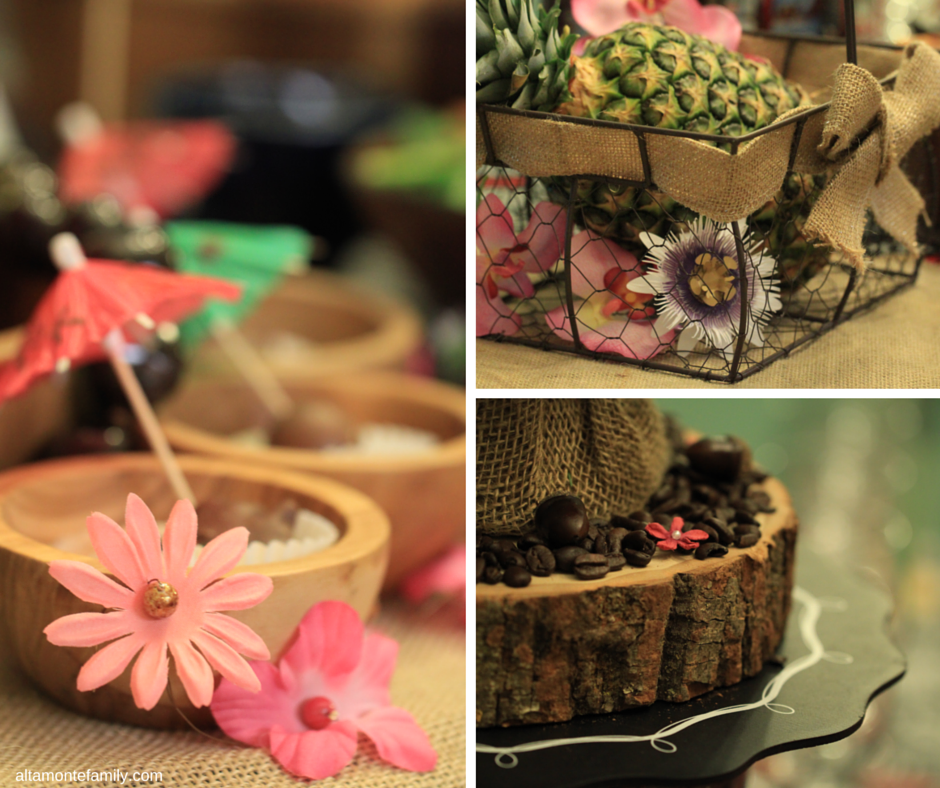 As seen in the above photo, we decorated the base of our tabletop Christmas tree with coffee beans (reminiscent of our drives along the coffee farms towards the North Shore of Oahu), acorns, and red paper flowers. In the photo below, you'll see kukui nut leis, handmade paper ornaments in gold and red metallic paper, and desserts in wooden bowls "sunbathing" on a bed of edible sand (made by the hubby using our high-powered blender).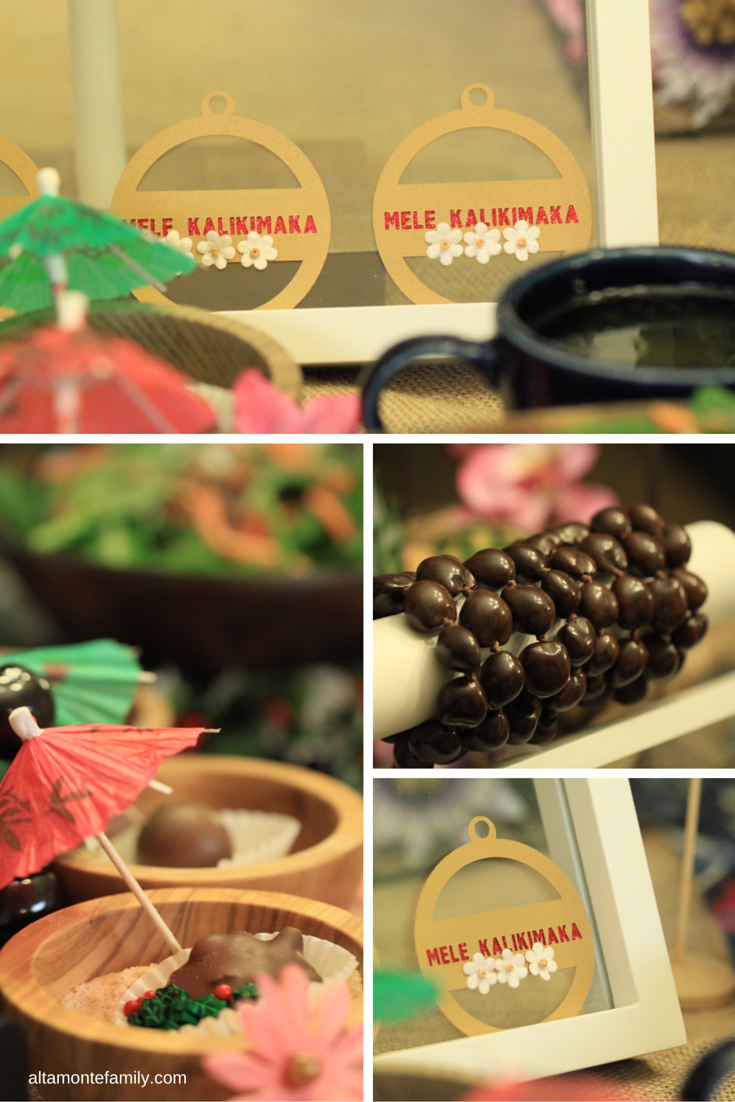 Tip #7:  Choose delicious and easy-to-prepare party food.
We like to keep our party food selection simple, easy, and delicious–and something that we can easily make more of–on the spot, if needed (think last-minute guests, kids, etc.). For this party, we chose Red Baron pizzas as our easy go-to appetizer, snack, or meal (yes, these hearty French Bread Pizza Singles on a perfectly crispy crust can be any of those three on our luau buffet table).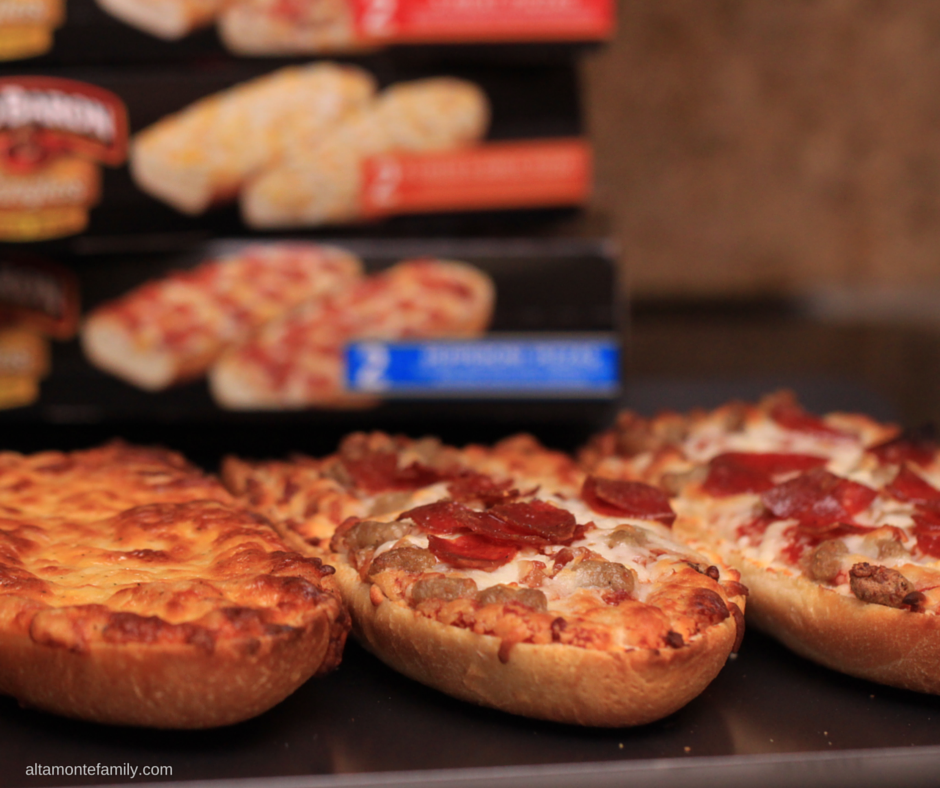 We chose to serve the 3 different varieties of pizza to provide more options for our guests:
Red Baron® 3-Meat French Bread Pizza Singles (our kids' favorite)
Red Baron® Pepperoni French Bread Pizza Singles
Red Baron® 5 Cheese & Garlic French Bread Pizza Singles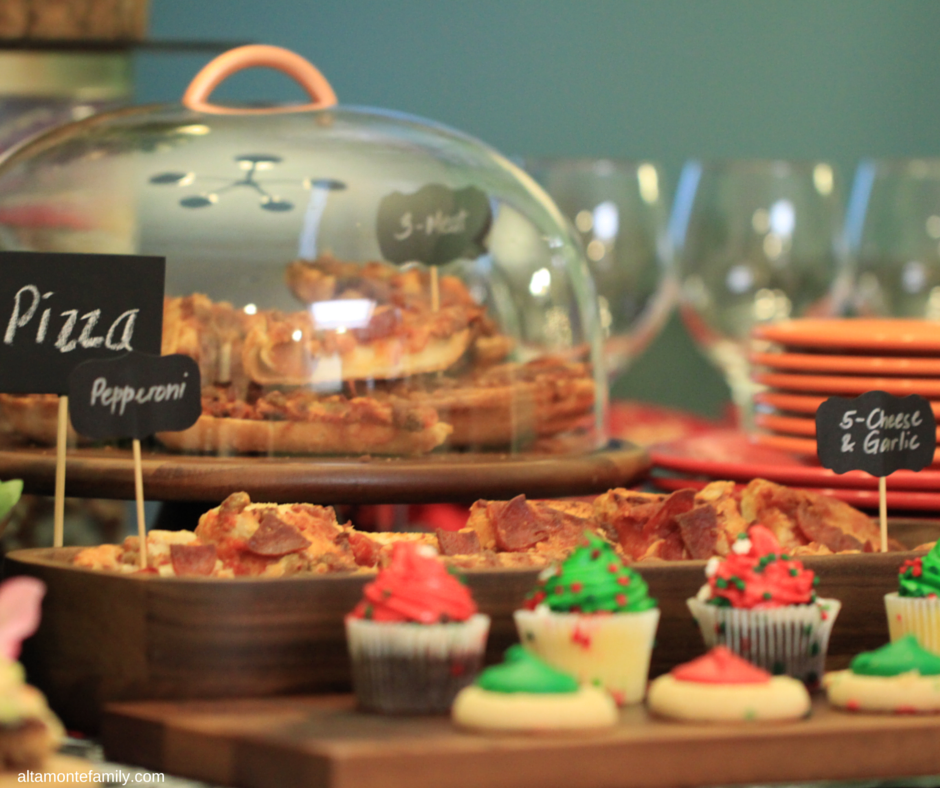 We made some local Hawaiian food to pair with our yummy french bread pizzas, and we'll share the recipe for the tropical salad dressing that's super easy to make!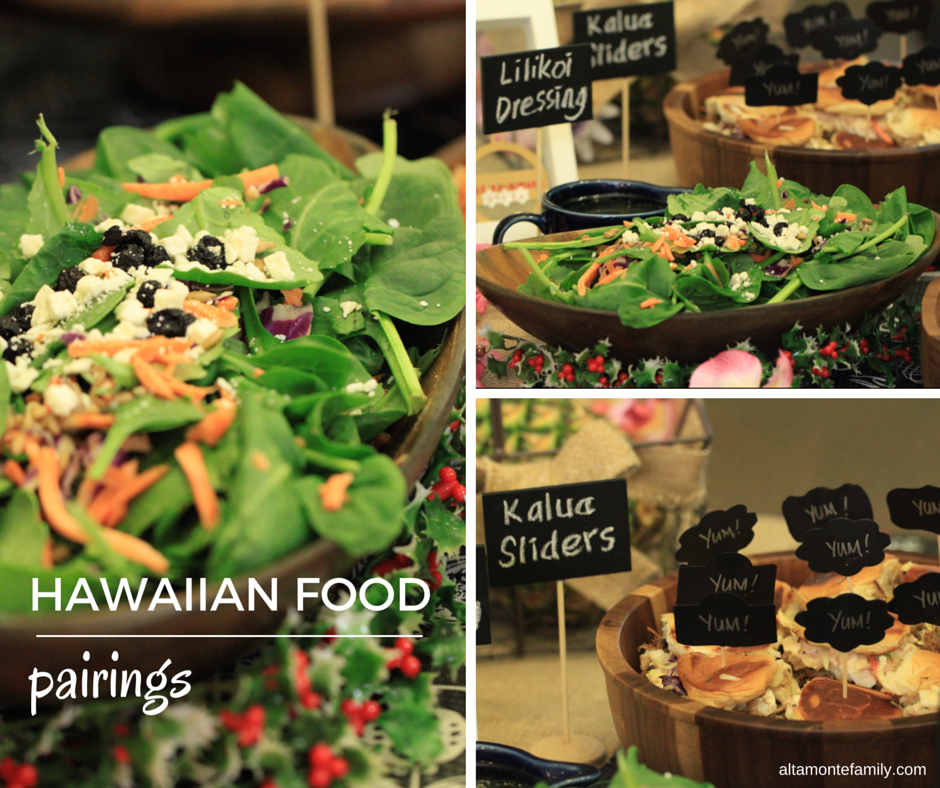 We made some make-ahead crockpot kalua pork the night before and we simply combined it with other ingredients to make butter-toasted Kalua pork sliders with spicy lilikoi slaw and crumbled feta cheese.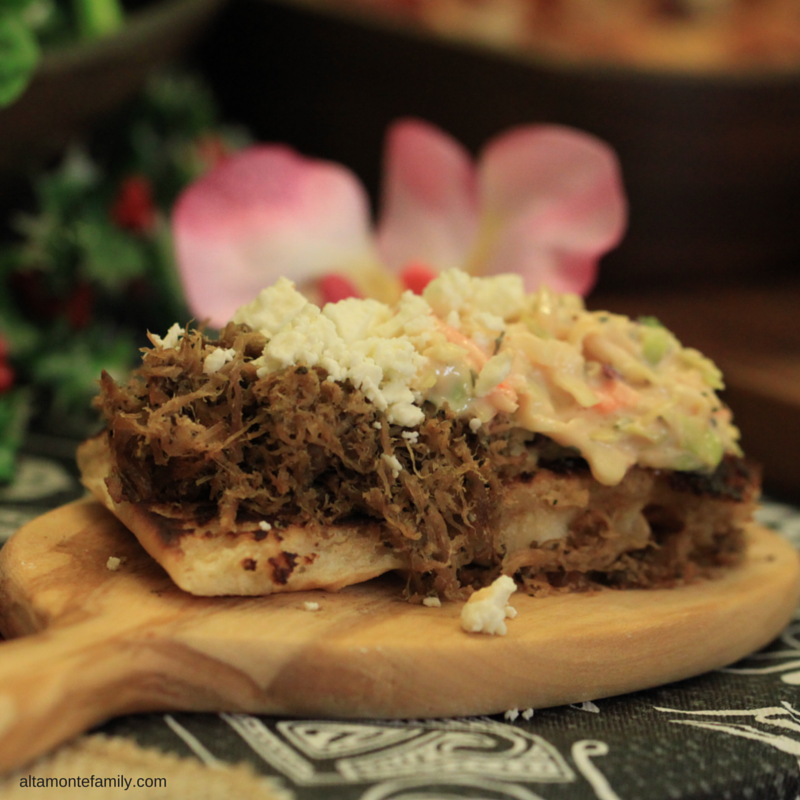 We went with store-bought desserts: the cute little pink boxes contain Hawaiian Coconut tea cookies that we also used as party favors, the chocolate "Mele Kaliki-mac-nuts" have a cluster of macadamia nuts covered in milk chocolate (we put them in a bed of holly baking sprinkles), the chocolate truffles have super yummy coconut filling inside, and the mini cupcakes and cookies add so much festive color and fanfare to our table.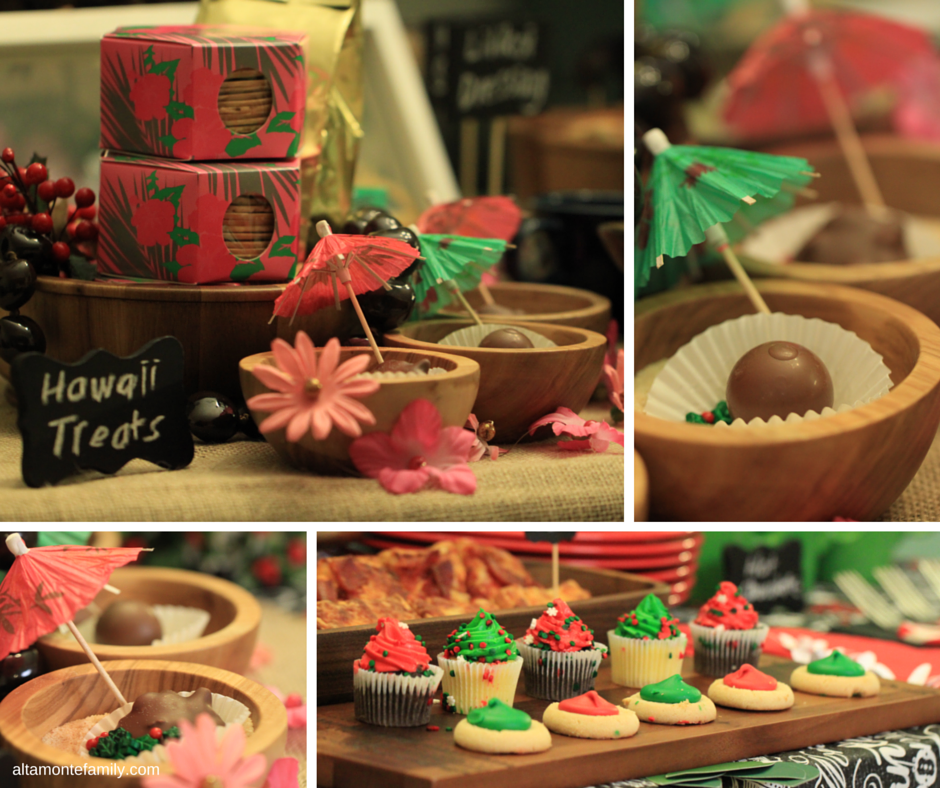 Recipe: Lilikoi Vinaigrette Dressing
As promised, here's the recipe for that yummy tropical dressing that we mentioned earlier. We refer to passion fruit as "lilikoi" in Hawaii and if you hang out in Hawaii long enough, you'll find a bunch of lilikoi-infused local treats that would leave your mouth watering and begging for another trip back to the islands.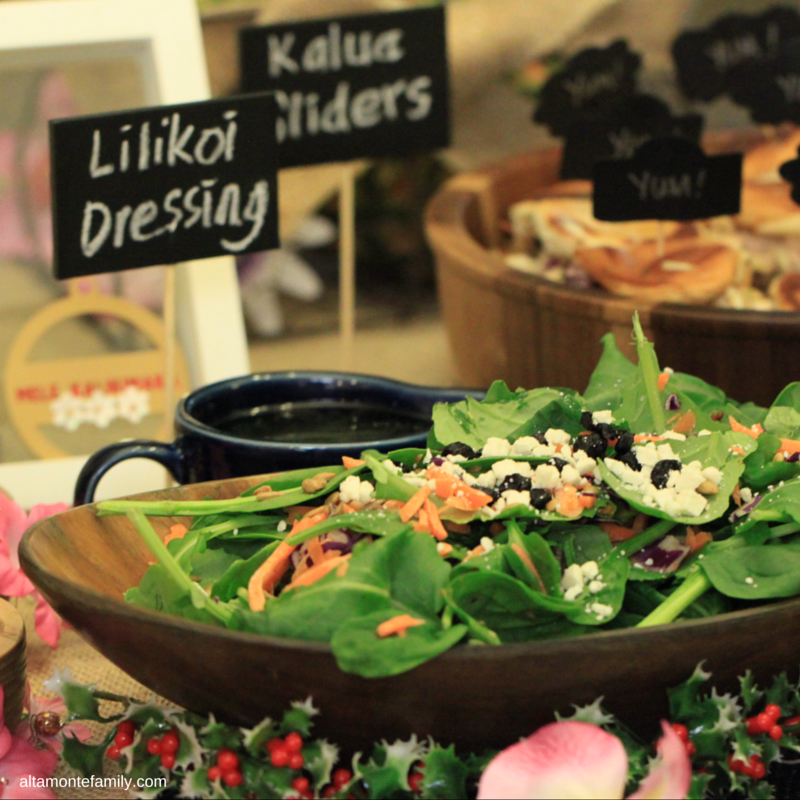 Servings: 4 – 6
Active Time: 10 – 15 minutes
Inactive Time: 4 hours
Total Time: 4 hours 15 minutes
Ingredients:
1 cup Passion Fruit Juice
1 cup Balsamic Vinegar
1/4 cup Extra Virgin Olive Oil
1/2 cup Agave Nectar
Pinch of salt and pepper
Pinch of dried oregano
Pinch of dried sweet basil
Instructions:
Combine all ingredients and stir.
Chill in the refrigerator for 4 hours or overnight.
That's it! It's super easy! Now, you just have to add it to the salad mix of your choice. We picked up the Anti-oxidant salad mix from Walmart, added the toppings that came in the bag, and then we added some feta cheese crumbles. Super easy and delicious!
Tip #8: Prepare some fun activities for everyone to enjoy.
We knew right off the bat that we invited a bunch of creatives so we put together a small ornament crafting station (like a mini craft bar) so we could make even more handmade ornaments. Yay!
Tip #9: Don't forget about the kids!
If you decided earlier on in the party planning phase that the guests can bring their kids along, don't forget to have a simple set-up just for them. The kids and their parents will thank you 🙂
Tip #10: Send your guests home with edible party favors.
Back in Hawaii, guests would hardly ever go home empty handed. There's always loads and loads of food to go around during and after the party! We made a slight change to that tradition especially since we're hosting this party away from home (we planned it so that we don't bring / prepare too much food since we wouldn't want to leave the leftovers at the resort and let them go to waste). Instead of take-along leftovers, we gave away edible party favors in the form of coconut tea cookies (wafer thins)! We had these mailed from Hawaii ahead of time because we wanted to make sure that our guests got to try one of our favorite flavors from our childhood.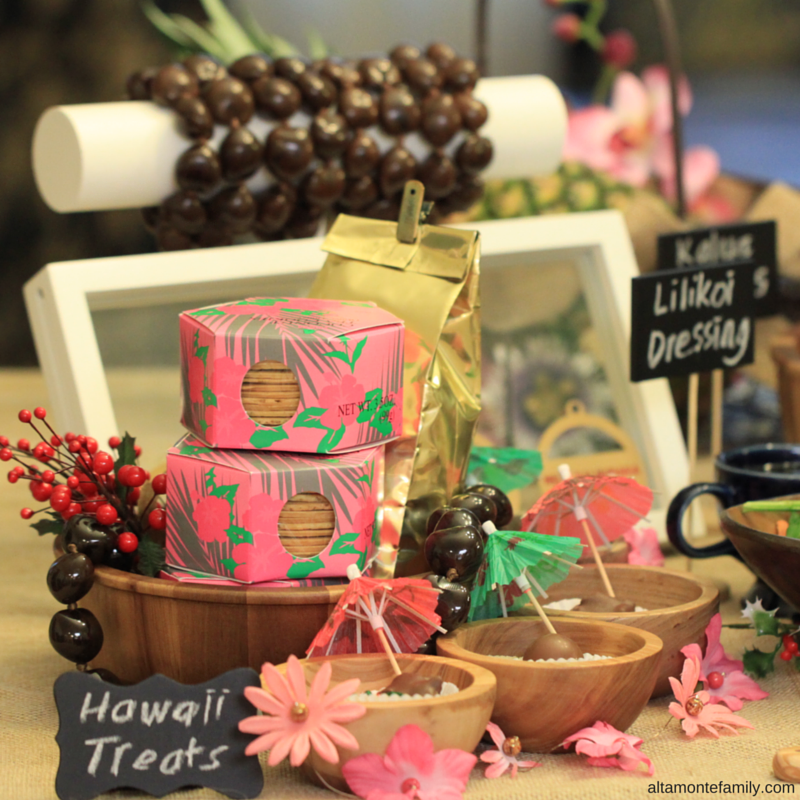 Anyway, Walmart is a great one-stop-shop for easy holiday entertaining. We've been able to pick up party food and supplies–or even plan a quick party–in just one trip. We headed out over there to purchase most of our holiday entertaining food and supplies (the rest were stuff that we already had), like the vinyl table cover, napkins, Christmas tin, peppermint spoons, holiday cookies, mini-cupcakes, chocolate coconut truffles, pineapple, garden salad mix, all of the lilikoi vinaigrette ingredients, and the 3 different varieties of Red Baron pizzas (if you're thinking of purchasing more of a certain variety, there's always the six pack option, particularly for Red Baron® Pepperoni French Bread Pizza Singles and our favorite Red Baron® 3-Meat French Bread Pizza Singles).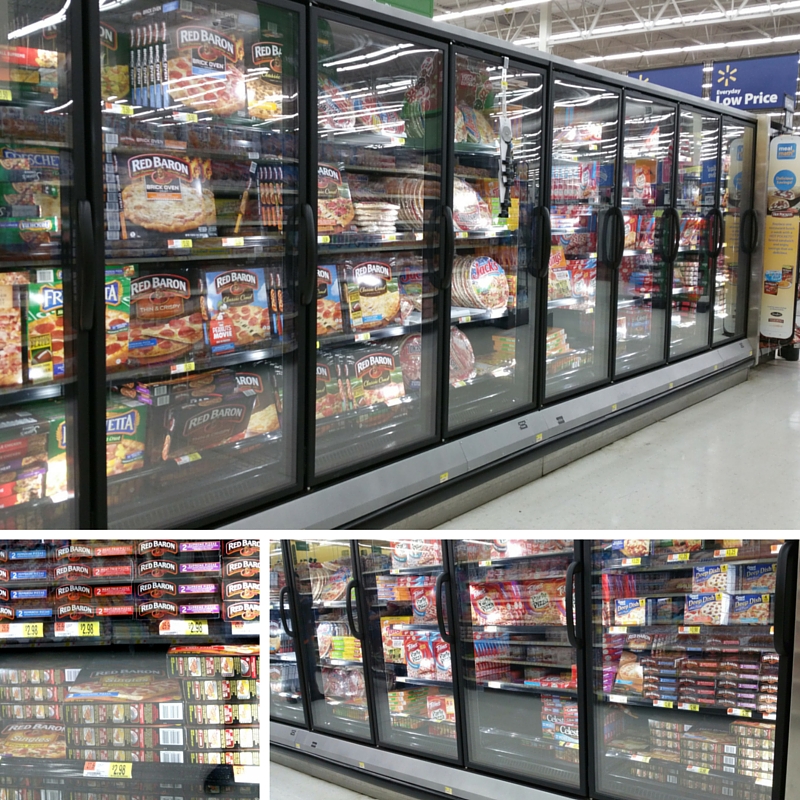 So, are you ready to throw a handmade ornament exchange luau? What kind of food will you be serving on your luau table?
Mele Kalikimaka to you and yours!