This Guest Bathroom Summer Refresh has been compensated by Collective Bias, Inc. and its advertiser. All opinions are mine alone. #MegaSummerRefresh #CollectiveBias
---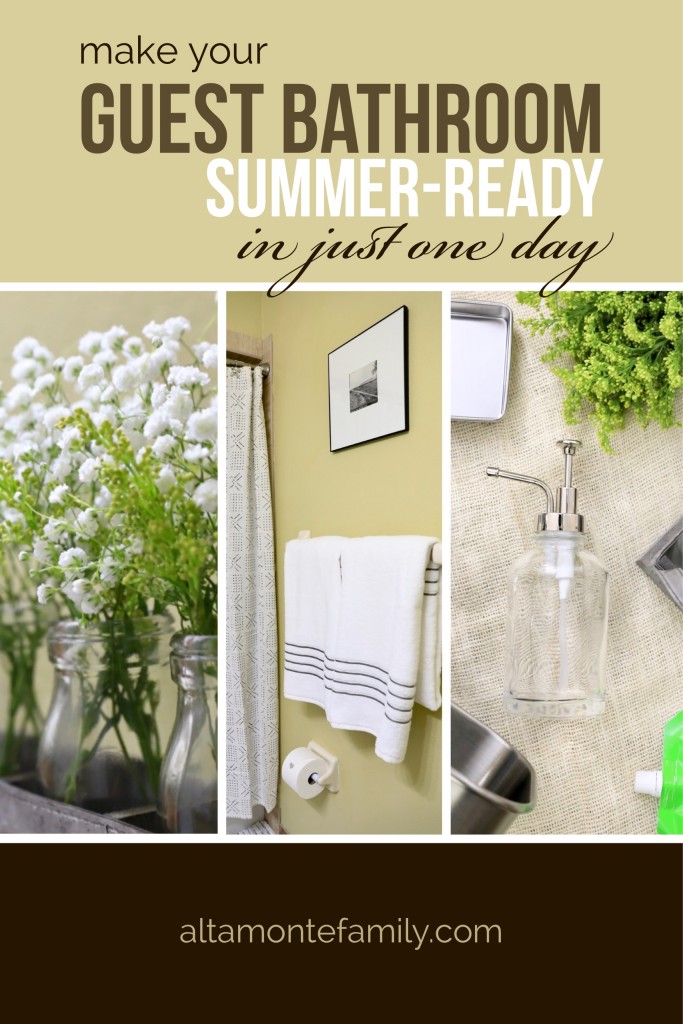 Updating the Guest Bathroom In A Day
Decorating the guest bathroom has quickly become one of our favorite home decor projects–after all, it's the smallest room in the house (next to the half bath and laundry room). By pulling together a few key elements, you, too, can easily transform the look and feel of the room in just one day (or less). And… with Summer (and all the festivities that come with it) just a day away, there's no time like the present to give our guest bath a mega summer refresh with a mega impact!
Guest Bathroom Summer Refresh Shopping List
Yup! We're sharing a glimpse of our guest bathroom summer refresh *shopping haul* from Target! Using a careful selection of complementary accessories, accents, and–of course–basics, you'll see how we combined function, design, and comfort, without sinking in too much time on the project.
NOTE: Please note that this is more of a home decor type of shopping list, because this assumes that you already have your bathroom cleaning essentials under the sink! 😉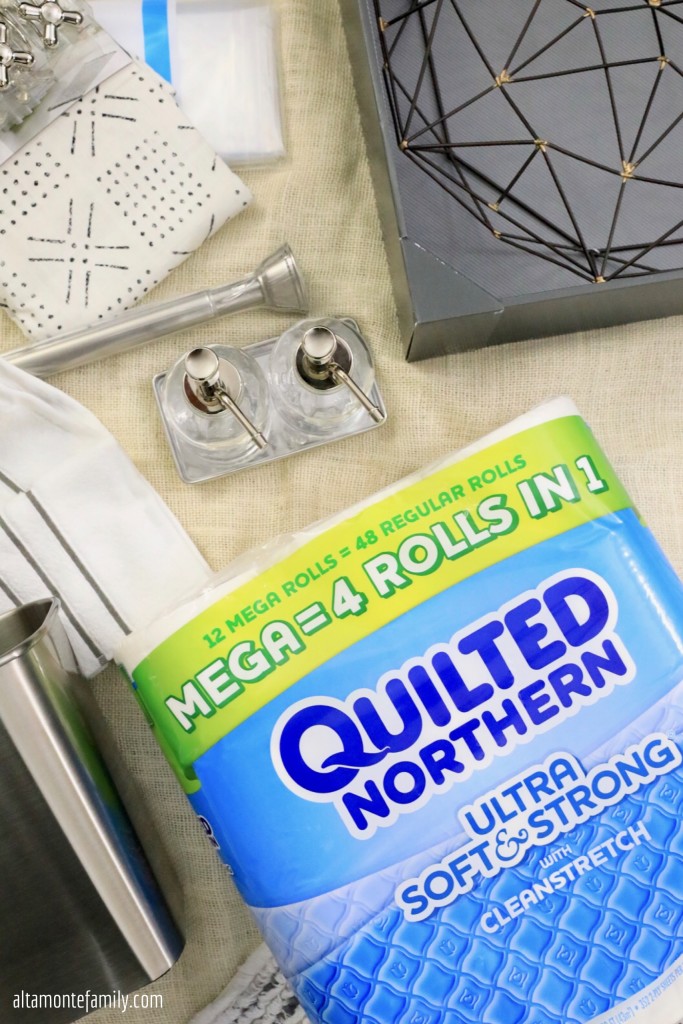 What We Purchased From Target
Hand soap refill
Shower curtain
Shower curtain liner
Shower curtain rod
Shower curtain rings
Hand towels
Bath towels
Soap dispenser set
Waste basket
Geometric wall decor
Bath / accent rug
Part of getting the bathroom summer- and guest-ready includes stocking up on the essentials, like toilet paper. We can't afford to run out of toilet paper, especially when the guests are around!
When it comes to our choice of toilet paper, we need something more, we need something mega!
With lots of entertaining and hosting on the horizon, Quilted Northern Ultra Soft & Strong® Mega Rolls are perfect for meeting the demands of our busy household. They last longer, the roll looks fuller, and the best part? It's like having four toilet paper rolls in one!
Savings Alert:  If you have the Target Cartwheel app downloaded on your phone, you can use the app to save 10% off Quilted Northern® Mega Rolls from 6/20/2017 -7/8/2017.
$5 Target Gift Card:  Buy 3 Packs of Quilted Northern® Mega Rolls and get a $5 Target Gift Card (valid 6/18/17 – 6/24/17).
Sweepstakes:  Vote on your favorite Quilted Northern character-inspired bathroom [Daddy Gator, Little Miss Puffy Tail & Sir Froggy] for a chance to win a $1,000 Grand Prize or $250 Target GiftCard! Sweepstakes runs from 6/19/17 -8/1/17. Scroll down to the bottom of the post to enter!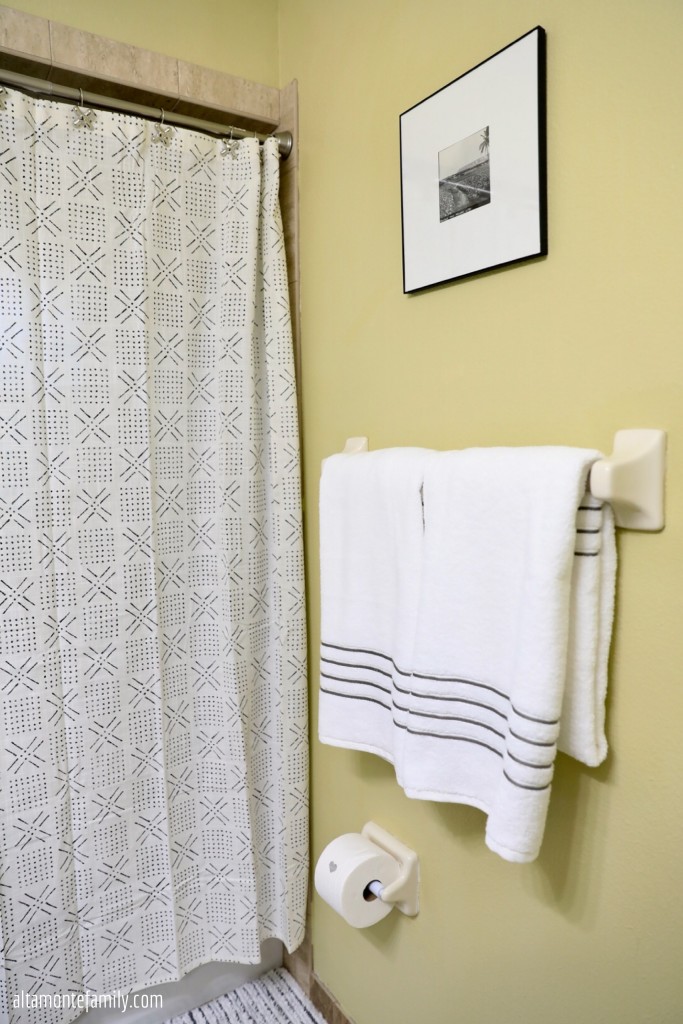 A Simple Plan Of Attack
Our plan was simple:  organize and accessorize.
This included the following actions:
De-clutter and purge
Replenish
Replace
Revive
De-clutter and Purge
First, we cleared the counter space of any old, unused (or hardly ever used) items. Then, we purged remaining surfaces, cabinets, and drawers of these unnecessary odds and ends (unwanted scented soap, lotion, candles, etc.). Once we had an idea of which items to keep, we started the cleaning and sanitizing process (let's not forget about the dust collecting on the baseboards and trim)!
Replenish
Now that we've cleared up some much needed space, it's time to replenish where it matters. Toilet paper and hand soap seem to be high in demand in our home during the busy Summer months. We cleared up the vanity drawers to make room for some backup toilet paper rolls. Thankfully, we don't have to change each toilet paper roll as often as before, because we use Quilted Northern® Mega Rolls, available in:
Quilted Northern Ultra Soft & Strong® Mega Rolls (blue package)
Quilted Northern Ultra Plush® Mega Rolls (purple package)
To give our guest bath a hotel-like feel, we folded the ends of the toilet paper roll and secured it with a sticker.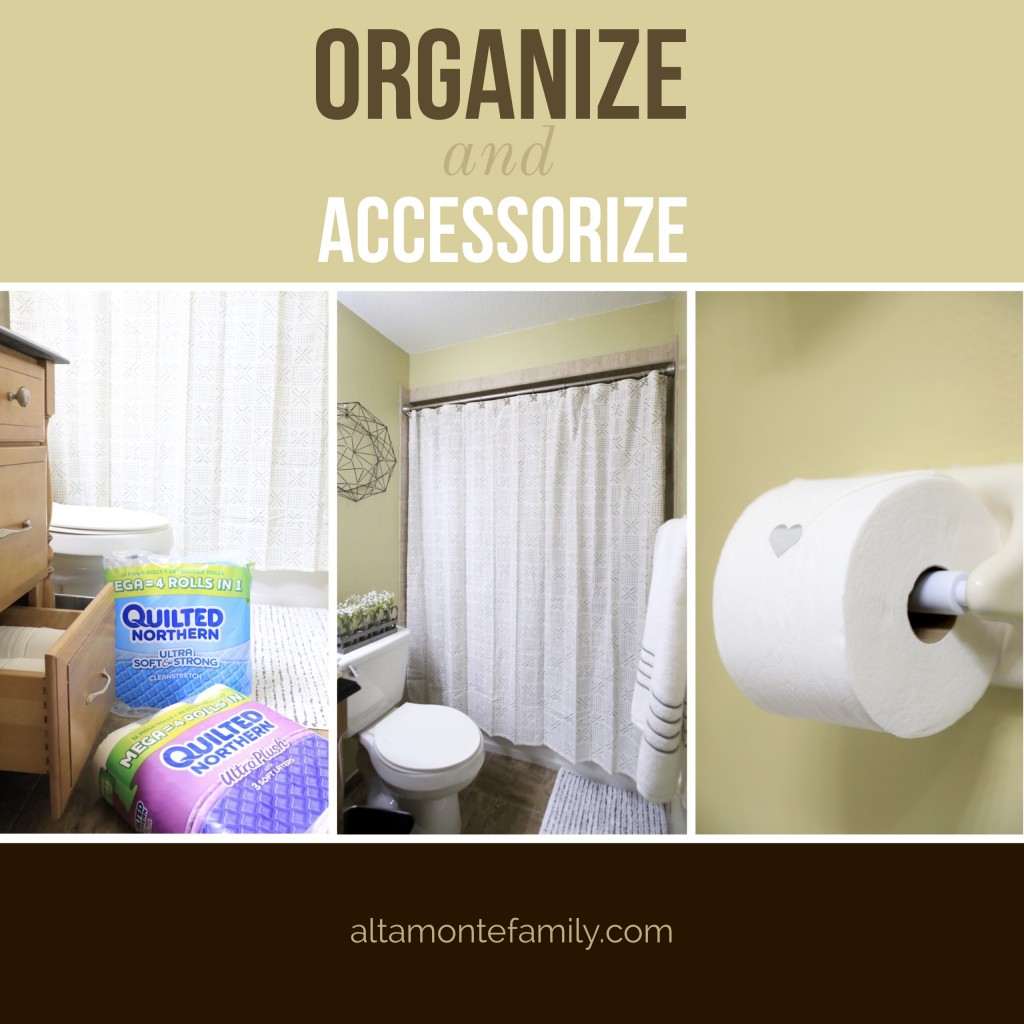 Replace
If your home is like ours, you'll probably agree that accessories (like soap dish sets and waste baskets) take a beating during the busy school months. Summer is a great time to reset: out with the old, in with the new! Some old items are just not worth saving. It helps to take a deep breath and accept the fact that it's time to move on 😉 That's what we did, resulting in a new soap dish set, waste basket to match, shower curtain rod, shower curtain rings, shower curtain, shower curtain liner, towels, and a bath / accent rug–all of which are functional and decorative.
Revive
Plain walls as well as plain surfaces sometimes need a little CPR. We added some interest by purchasing a piece of geometric wall art from Target and hung it up on our plain yellow wall.  To breathe some life into the space, just add some greenery! Floral fillers are simple, sweet, and to the point!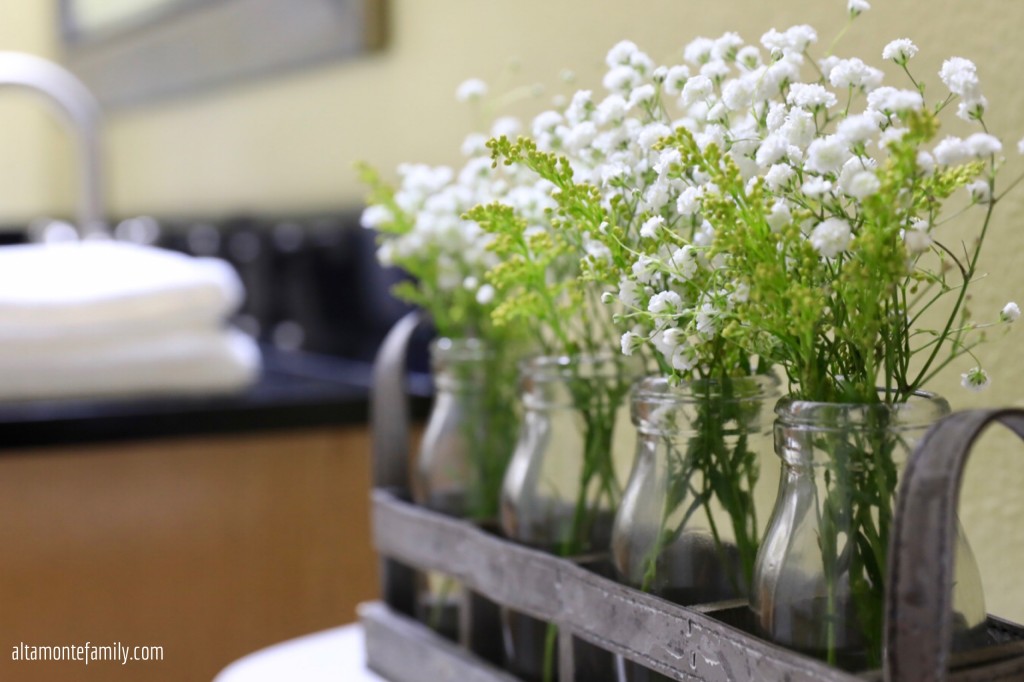 Ready for a Guest Bathroom Summer Refresh?
Now, it's your turn to tell us how you will be updating your guest bathroom! What will you be purging / replenishing / replacing / reviving to make a mega impact this Summer? What items will you be picking up at Target?
Don't forget about the savings we shared with you above!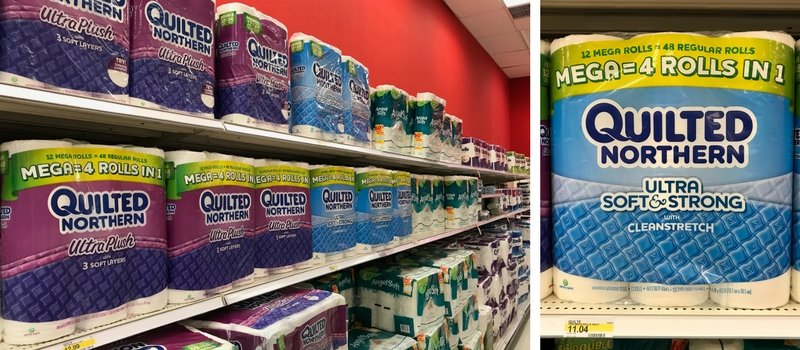 … and here's how you can enter the sweepstakes we told you about earlier in this post (for a chance to win a $1,000 Grand Prize or $250 Target GiftCard)!
#MegaSummerRefresh #Sweepstakes (6/19 to 7/31)
Looking for mega inspiration?
Click here to find more inspiration for your Summer bathroom refresh!
Have a wonderfully refreshing Summer!