It's grilling season here in America! When I used to live in Southeast Asia, let me just share that grilling was something that seemed to be done regularly, year-round. Quite a few leap years ago (or as far as I can possibly remember), I remember missing homemade, oven-baked goodness. Fast forward to what-our-kids-would-call-my-middle-aged-years, I now miss those everyday charcoal grilling moments of anything and everything my brother and I could think of (yes, I have tried grilling guavas as a kid and it wasn't for eating… it was for "ammo"… please don't tell the kids). We had also grilled cashew nuts still in their shell (we may or may not have been warned that the fumes are toxic–not sure if that's a myth or a fact–but I can tell you that the sap sure did a number on my fingers, but I didn't seem to mind… it was so worth the blisters). Anyway, let's jump back to the "grilling in America" topic… I had been craving for some Asian fusion vegetarian grilling goodness and came up with our version of Grilled 'Shroomburgers with Kimchi Slaw. While I miss my childhood version of char-grilled burgers and hotdogs, this new kid on the block has certainly left a lasting impression on our taste buds.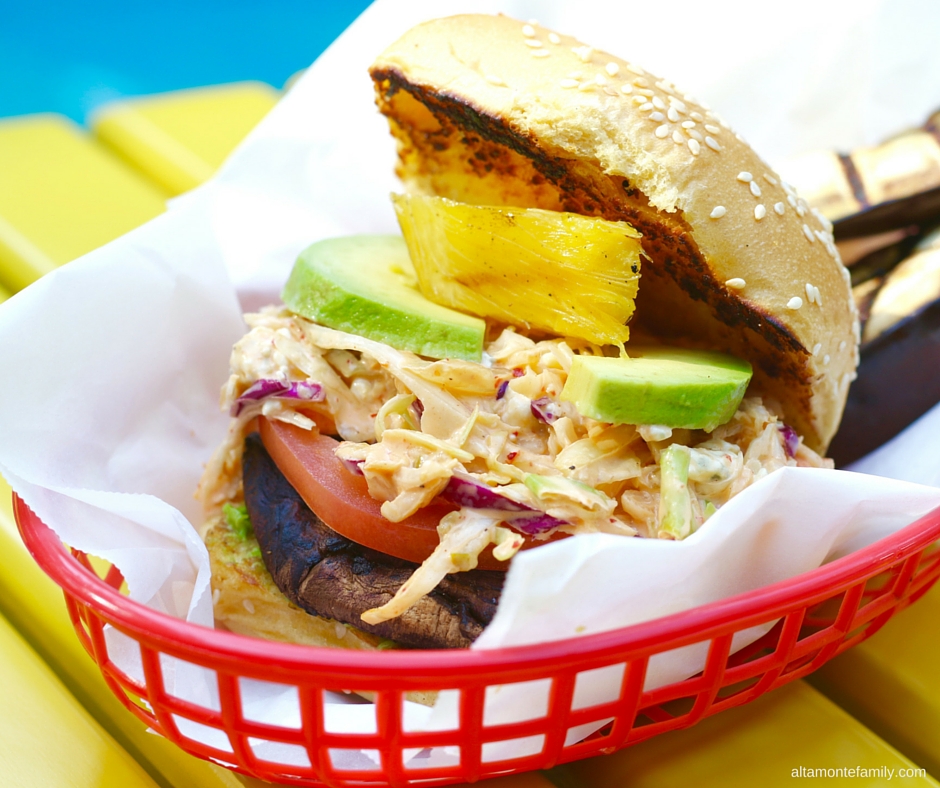 Recipe: Grilled 'Shroomburgers With Kimchi Slaw
To save time, we made the Kimchi Slaw the night before. We personally think it tastes better after it's been chilled in the refrigerator overnight.
Servings:      6 – 8
Prep Time:  10 minutes
Idle Time:    2 hours (overnight is best)
Total Time:  2 hours 10 minutes
Ingredients
For the Kimchi Slaw:
1 14 oz bag Classic Coleslaw Mix
1/2 cup Sriracha Mayo
1/2 cup Kimchi
1/4 cup yellow mustard
1/4 cup agave nectar
2 tbs sesame oil
Pinch of salt and pepper, to taste
For the topping: 1/4 cup blue cheese crumbles
For the 'Shroomburger:
2 packages Portobello mushrooms (8 whole pieces)
Pinch of salt and pepper, to taste
8 sesame hamburger buns, toasted
Optional: avocado slices, tomato slices, and grilled pineapple wedges
Directions
In a large mixing bowl, combine all kimchi slaw ingredients (except for the blue cheese topping)
Cover and chill for 2-4 hours (or overnight)
Top with blue cheese crumbles before serving
Preheat grill to High
Lay the mushrooms on the grill and sprinkle with salt and pepper
Grill mushrooms for 7-10 minutes on each side, closing the lid in between
Serve on toasted hamburger buns and top with kimchi slaw and other condiments of choice
Enjoy!
---
We're Social! If you liked today's post, feel free to share, bookmark, or pin it! Follow us on Pinterest, Facebook, and Instagram for more updates on our latest projects and adventures.