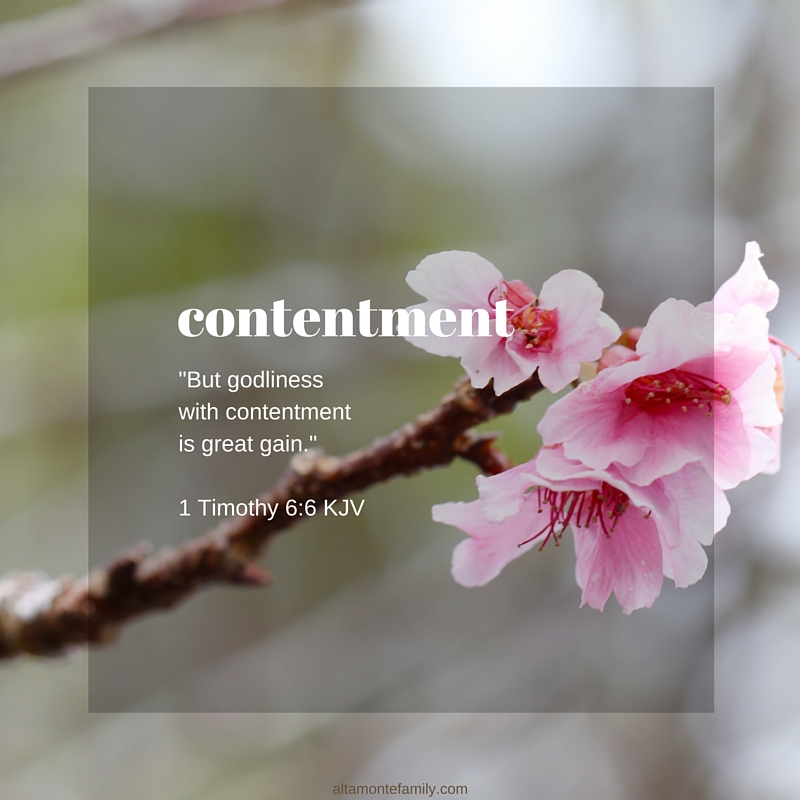 It's Monday–what a beautiful day that the Lord has made! It's nice to be back to doing the devotions after taking a week off due to health issues. I'm still waiting on the LORD to heal me, however, I am thankful that my MRI from last week (my first one, ever) came back normal. I thank God for those who prayed for me–for relief as well as for a normal MRI–as all of those prayers have been answered. The LORD is good!
This week, I will be focusing my devotions on contentment.
Scripture says that we have a lot to gain with godliness and contentment! It sounds like the very opposite of what the world and consumerism are teaching us today.
But godliness with contentment is great gain. For we brought nothing into this world, and it is certain we can carry nothing out. And having food and raiment let us be therewith content.

1 Timothy 6:6-8 KJV
There's nothing wrong with being rich per se, however, if we follow after the love of money and the things money can buy, then we, my friends, are in trouble, because we cannot serve two masters. We cannot serve God and money.
No man can serve two masters: for either he will hate the one, and love the other; or else he will hold to the one, and despise the other. Ye cannot serve God and mammon.

Matthew 6:24 KJV
Today's Scripture reading in 1 Timothy 6 also reminded me to be careful with what I ask for–including something that seems seemingly harmless, like a more comfortable lifestyle… unless He deems that it would be well-pleasing in His sight. I must check my heart, my  motivation, each time I pray.
The Bible tells us that "having more" subjects us to more temptation. I've heard and read of many stories of the rich who later realized that their lives were sweeter when they had less, because they had sadly given in to the temptations that came with having more money.
But they that will be rich fall into temptation and a snare, and into many foolish and hurtful lusts, which drown men in destruction and perdition. For the love of money is the root of all evil: which while some coveted after, they have erred from the faith, and pierced themselves through with many sorrows.

1 Timothy 6:9-10 KJV
Thankfully, the Bible also provides guidance in what we should focus on:
But thou, O man of God, flee these things; and follow after righteousness, godliness, faith, love, patience, meekness. Fight the good fight of faith, lay hold on eternal life, whereunto thou art also called, and hast professed a good profession before many witnesses.

1 Timothy 6:11-12 KJV
Let's remember to uphold our testimony for Christ's sake, for His glory–not for our own. He will give the increase, in His time. In the meantime, let us not grow weary in well doing–in doing what He has called us to do.
And let us not be weary in well doing: for in due season we shall reap, if we faint not.

Galatians 6:9 KJV
---
Take action: Let's remember to be thankful for what we do have. Let's not neglect them in our search to get what we don't have. Let's not neglect the gift of salvation that God has given us, the gift of His Son. Let's spend some time with Him today with a grateful heart, thanking Him for what He has already given us. If you haven't yet accepted God's wonderful gift oft salvation, this page tells you how you can take care of that today.