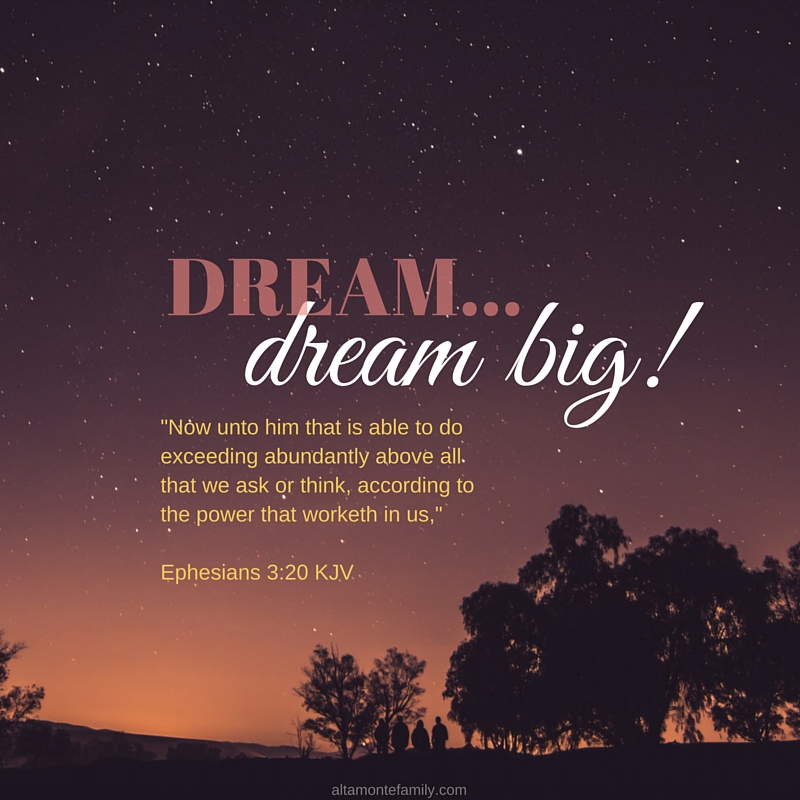 Have you ever wondered about what God can do in your life?
No dream is too big for God. So, don't be afraid to dream. Dream big! Dream as big as you can! More importantly, dream big for God!
Now unto him that is able to do exceeding abundantly above all that we ask or think, according to the power that worketh in us, Unto him be glory in the church by Christ Jesus throughout all ages, world without end. Amen.

Ephesians 3:20-21 KJV
What God Can Do
I have 2 stories to share with you: one is from a missionary couple and another is from a celebrity HGTV couple!
What God Has Done For A Missionary Couple
God blessed us with the opportunity to have missionaries over at our house today. We were encouraged to hear their story as to how God has faithfully provided for their needs every single step of the way. The missionary / evangelist shared how God has enabled them to send millions of New Testament Bible translations and over 80 million gospel tracts to the host country.
Over the years, they had faced numerous challenges, including debilitating health issues. The missionary's wife shared her experience on fighting for her life while in the hospital. With a respirator and all, she said she could still remember hearing God's still, small voice. He told her to trust Him and that she'll be okay. Then, He asked her, "Have you prayed for anyone else today?" She recalled the peace that she felt as soon as she placed her focus on Him, first, and then on others, and away from herself.
Anyway, to make the long story short, her medical case is the first in the US: her kidneys had already shut down, she couldn't breathe on her own… until God made a way and provided a miracle. By God's grace, both of her kidneys are now fully functional and she survived to tell the story of how God had delivered her!
What God Has Done For A Celebrity HGTV Couple
Here's a video of Joanna Gaines' story of what God has done for their family, including her testimony of God speaking to her about closing down her store–her dream–and finding peace about it amid the situation. If you've been following their shows on HGTV, their situation is so much different now, and it only came after she followed God's leading. God's timing. God's way.
The Gathering Testimony: Joanna Gaines from Antioch Community Church on Vimeo.
---
Application
It's been amazing to see, hear, and read about what God has done in other people's lives. Let's be excited about what God can do in ours!
 Take action: If you haven't read the full chapter of Ephesians 3, why not check it out and learn about the Apostle Paul's testimony about what God had done through him? If you would like to get to know God personally and see how He can work in your life, this page tells you how to take care of that today.
---
Never hesitate to dream big for God!