This post was sponsored by Honey Bunches of Oats Chocolate as part of an Influencer Activation
for Influence Central. I received complimentary products to facilitate my review.
---
With Spring Break and Summertime fast approaching, many of us are already thinking up the next best family road trip vacation since ___________ (yes, go on and fill in that blank… for us, it was our 6-week road trip from Florida to Vancouver, BC, and back). Today, we're sharing some gluten-free road trip snack ideas. Why gluten-free? Since some of us have a range of food allergies, packing gluten-free snacks has become the "common ground" for our family. In addition, winging a road trip snack menu could put the best of us on the fast track to weight gain. Lesson learned? Plan ahead.
10 Gluten-Free Road Trip Snack Ideas
Here are 10 gluten-free road trip snack ideas (plus a delicious no-bake chocolaty snack recipe!) to inspire you.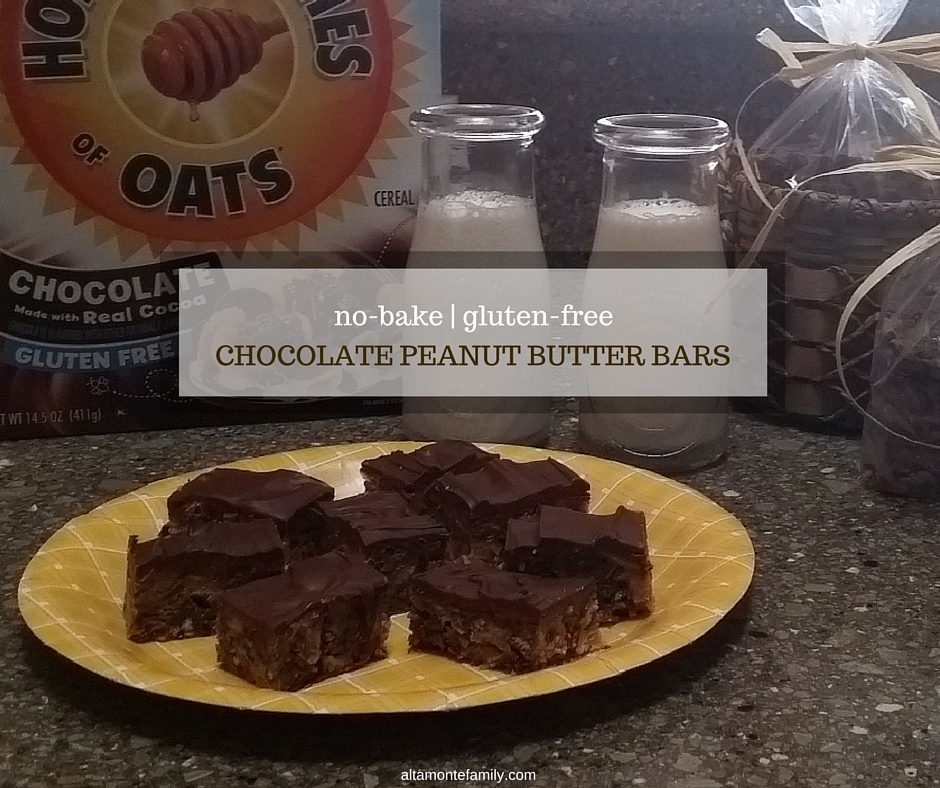 Combine store-bought + make-ahead snacks to make the best curated gluten-free snack menu for your next family road trip!
1. Gluten-Free Cereal
We like to bring creature comforts along, and there's nothing like having one of your favorite cereals to munch on while watching the sunrise from your vehicle. How about planning your route so you could park your vehicle at a scenic spot just in time for sunrise? Don't forget to keep safety in mind, of course.
Gluten-free cereal like Honey Bunches of Oats Chocolate is a delicious option for those avoiding gluten in their diet. If you love chocolate, you'll enjoy each spoonful of Honey Bunches of Oats Chocolate–think crispy flakes, crunchy bunches, and now the yumminess of REAL cocoa. We think it's pretty good with or with out milk (dairy-free or otherwise).
Beyond "Just Cereal": We also tried using Honey Bunches of Oats Chocolate as an ingredient for making gluten-free baked (or no-bake) goods and can see ourselves making a variety of these goodies to make more exciting road trip snacks in the near future. We shared one of the recipes at the bottom of this post.
2. Fresh Fruit
Fresh fruit like grapes, bananas, oranges, clementines, apples, and avocados have held up really nicely during our road trip adventures (we double-check our selection against this foods-to-buy-organic list). We prefer to keep the grapes chilled in our cooler. Other travelers freeze the grapes ahead of time and use them in the place of ice packs to keep their other perishables cool, crisp, and fresh.
3. Dried Fruit
Our favorites include dried organic coconut slices, dried mangoes, dried cranberries, and mixed dried fruit varieties. We munch on these in moderation since they have a lot of sugar and calories.
4. Raw, Organic Nuts and Seeds
We like to pack cashews, almonds, sunflower seeds, and pumpkin seeds. Brazil nuts are good, too.
5. Homemade Trail Mix
Our kids love to help with making homemade trail mix! You can't go wrong with combining dried fruit, nuts, seeds, and something sweet. Our favorite combo is this: dried coconut slices, chocolate-covered macadamia nuts, dried cranberries, toasted oats (with honey), and almonds. We store them in small, resealable baggies in quarter-cup serving sizes.
6. Raw Veggie Snack Bags
While there are options for store-bought, prepackaged, travel-size vegetable packs, we often DIY it to save money. We prepackage organic raw veggies ahead of time and store them in small, resealable baggies. We enjoy carrots and cherry / grape tomatoes the best, among many others (after checking against this foods-to-buy-organic list).
7. Hummus
For some added protein, we dip our raw veggies in hummus. Some stores carry the small, single-serving cups which are convenient for traveling!
8. Hard-Boiled Eggs
For yet another protein boost, we prepare and peel hard boiled eggs ahead of time and pack them individually (with some salt) in small, resealable baggies.
9. Popcorn
Popcorn is gluten-free and comes in a variety of fun flavors. Buy them prepackaged at the store to save time or make ahead at home and add some other good stuff to make your own "popcorn fiesta"!
10. Gluten-Free Chocolate Peanut Butter Bars
If there's one gluten-free recipe that tops our list for easy make-ahead road trip snacks (or one that can be easily made in a hotel kitchenette), it's this one! The secret behind making this is… Honey Bunches of Oats Chocolate! It helps with curbing our cravings for chocolaty treats, especially while driving on some of the longest roads which appear to have unchanging scenery as far as the eye can see (or as long as you can keep your eyes open). No need to stop at a service station to frantically search for gluten-free chocolaty treats.
Recipe: No-Bake Gluten-Free Chocolate Peanut Butter Bars
We used one of our favorite gluten-free cereal flavors for this recipe! Our family loves Honey Bunches of Oats, and they've been "dedicated to delicious" from day one. This new chocolate flavor maintains that same tradition: big flavor, same great texture that everyone in the family can enjoy (except for our baby, of course).
Servings: Approx. 48 mini bars
Cook time: 10 minutes
Inactive Time: 1 hour
Total Time: 1 hour 10 minutes
Ingredients:
1 cup Agave nectar
1 cup white sugar*
1 1/2 cups peanut butter**
6 cups Honey Bunches of Oats Chocolate
* Optional, feel free to omit the sugar for reduced calories.
**Feel free to substitute with other nut butters if you have peanut allergies.
For the topping:
6 oz chocolate chips
6 oz butterscotch chips
Instructions:
Over medium heat stir Agave, sugar and peanut butter until smooth
Add Honey Bunches of Oats Chocolate and mix until coated
Pour into a 9×13 pan and let cool

For the topping, melt chips in a microwave-safe bowl, 30 seconds at a time (stirring between)
Spread over cereal mixture
Let cool completely then cut into bars

From time to time, we like to dress up our own road trip snack packaging to make things more exciting! Packaging these gluten-free chocolate peanut butter bars in goodie bags topped with brightly-colored flowers make for a delightful road trip picnic waiting to happen! They also make the cutest homemade mini gift baskets (as shown in above photo). Presentation makes a difference!
Do you have any gluten-free snack ideas that are perfect for family road trips?
Happy travels!
---
Disclaimer: While Honey Bunches of Oats Chocolate complies with FDA Gluten Free labeling requirements, it is not manufactured in a dedicated facility. All ingredients, ingredient suppliers and production lines are thoroughly tested at multiple levels of production and evaluated to assure there is no risk of cross-contact contamination. As gluten intolerances and sensitivities vary from person to person, we encourage you to use your best discretion when choosing foods safe for you. Honey Bunches of Oats Chocolate aims to provide a delicious cereal for all members of the family to enjoy, including those with gluten sensitivities or allergies. Enjoy!