Christmas is just around the corner, so we're going to keep this post short and sweet! The nice thing is, planning this last-minute Christmas giftwrapping party was also super easy and sweet! Over the years, we've learned that throwing parties doesn't have to be complicated, intimidating, and time-consuming. We'll share a few tips on how we were able to pull this one off (by God's grace) amid our crazy holiday schedule by simply having just a few (but fun) Christmas giftwrapping essentials, including a Gift Box Punch Board by We R Memory Keepers!
Tip #1: Potluck parties are just as fun!
We didn't have time to really plan for this party so we all agreed to make it a potluck! In the photo above, we shared one of the yummy goodies that we got to enjoy while happily wrapping these tiny cute boxes using the Gift Box Punch Board.
Tip #2: Mr. Snowman can have some hot chocolate, too!
We simply supplied other simple desserts and beverages, including hot chocolate! Even Mr. Snowman couldn't resist having some hot chocolate of his own! Thankfully, this snowman didn't turn into a puddle 😉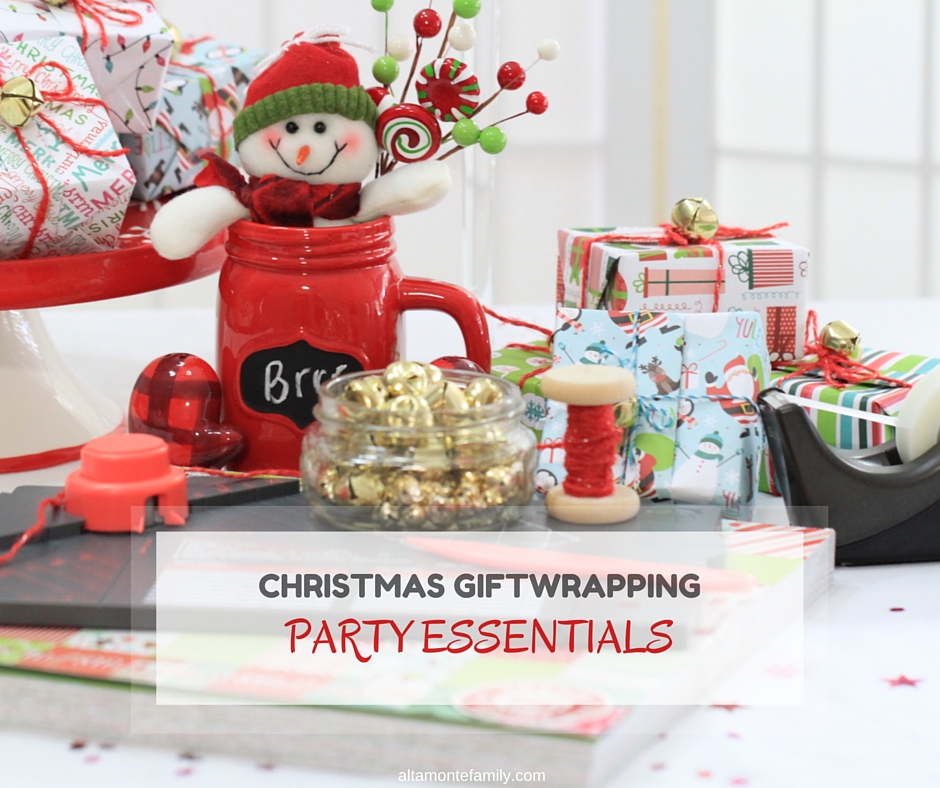 Tip #3: Keep it simple and systematic (K-I-S-S)!
It's especially helpful to know when to keep things simple (and systematic) during the holidays. Keep in mind, simple doesn't necessarily mean dull and boring. As a matter of fact, we were pleased how this last-minute party turned out to be quite the opposite–bright, cheery, and festive! We had so much fun, and all we had were a few basic giftwrapping supplies.
Christmas Giftwrapping Party Basic Essentials
Our goal for this party was to wrap a bunch of stocking stuffers, mostly for the hubby's coworkers. Now that we've established that, we decided to standardize our giftwrapping process while maintaining the special handcrafted-with-love elements.
Basic Giftwrapping Supplies:
We R Memory Keepers Gift Box Punch Board
8 x 8 card stock in any color (to make the box)
12 x 6 Christmas-themed scrapbooking paper (for the wrapper)
Tape
Twine
Jingle Bells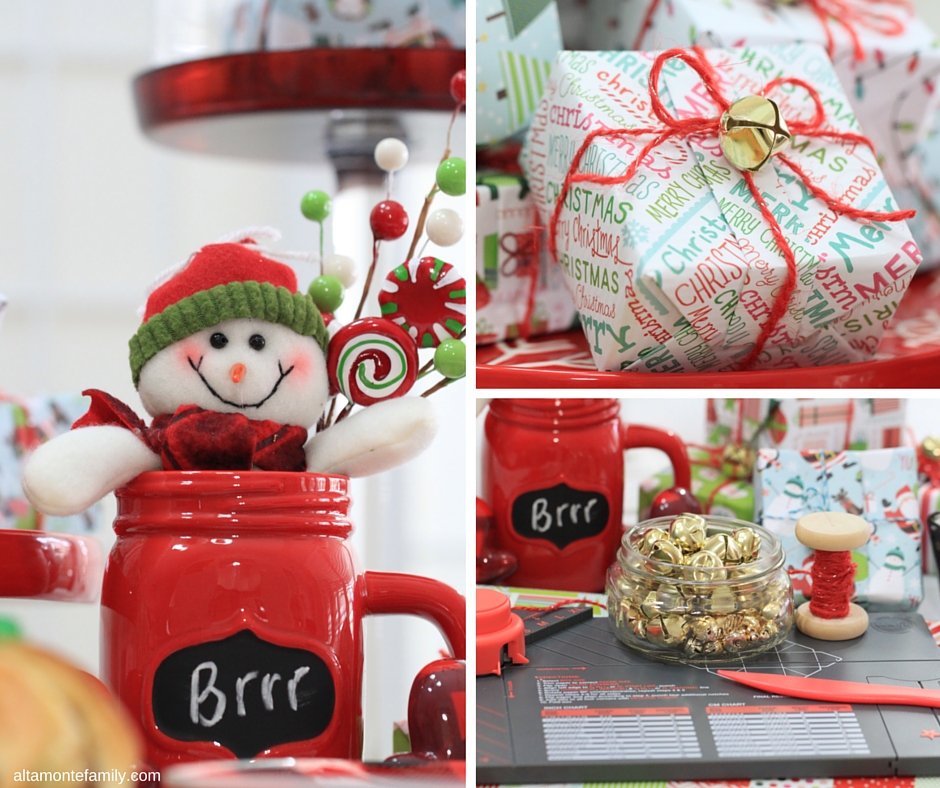 Since we had to deliver these stocking stuffers before going on our family vacation, we didn't have much time to deviate from our plan (or giftwrapping style). We methodically crafted an assembly-line type of process where each of us sat next to and across from each other, with the following key roles and responsibilities:
Create gift box templates using the Gift Box Punch Board and the 8 x 8 cardstock
Assemble gift boxes
Cut tissue paper down to size
Wrap holiday chocolate mini packages in 2 different colors of tissue paper
Place tissue-wrapped packages inside gift box then secure the gift box
Wrap gift box in Christmas-themed scrapbooking paper then tape where needed
Wrap twine around wrapped gift box and top with a jingle bell
Deliver the gifts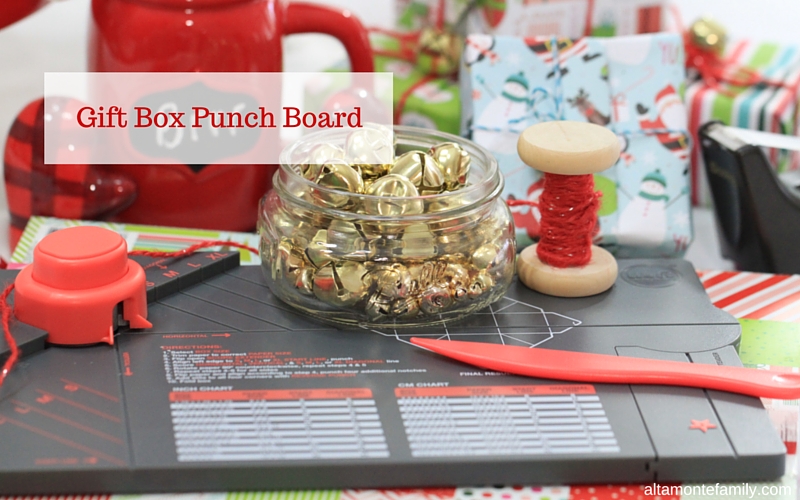 Using The Gift Box Punch Board
If you're not familiar with the Gift Box Punch Board by We R Memory Keepers, it's an easy tool for making small boxes in a variety of sizes. The tool itself has a size chart as well as a set of instructions.
What We Love:
We love how we don't need to use any tape or glue to put these boxes together! We could've skipped a step from the list above by using Christmas-themed card stock. Here's the thing: we don't have any of them readily available at home, so we went with what we had: white card stock and Christmas-themed scrapbooking paper.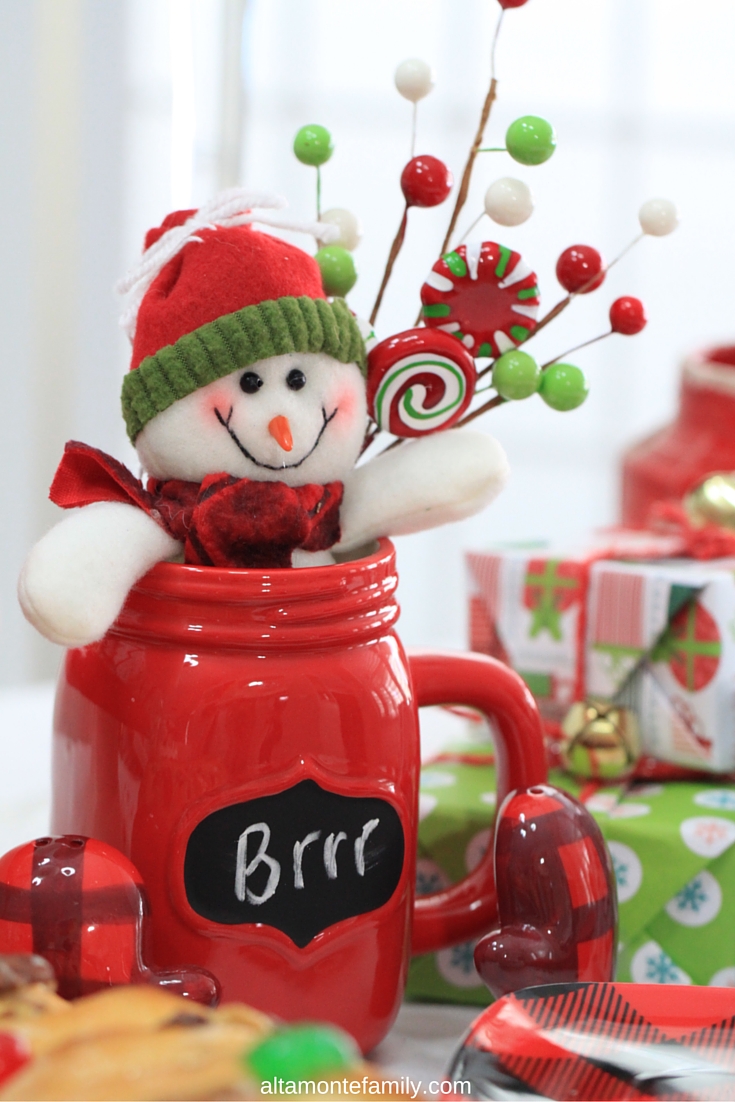 Anyway, we did promise that we'd keep this one short…so…until then, dear friends! Have a blessed Christmas! Enjoy the blessings from our Father above!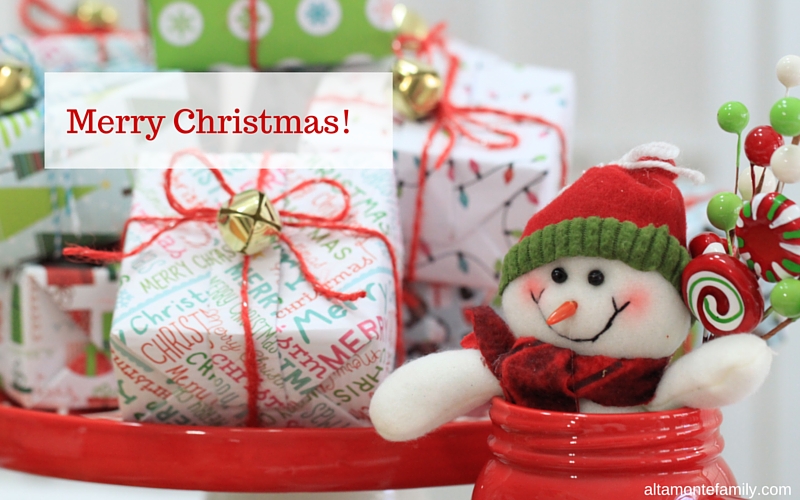 Follow Us On Social Media: Keep checking back for all kinds of inspiration! Follow us on Pinterest, Facebook, and Instagram for updates.