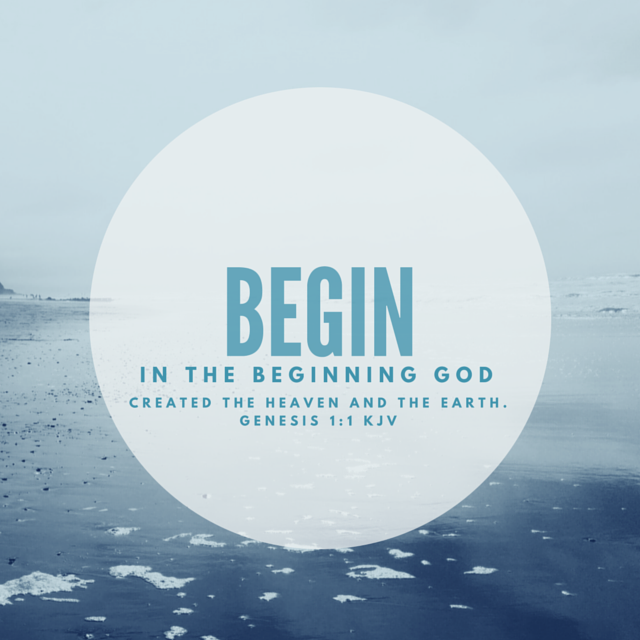 In the beginning was the Word, and the Word was with God, and the Word was God.

John 1:1 KJV
Using substitution, the Author is actually saying,
In the beginning was God and God was with God and God was God.
Wow! What a statement!
God eternal! Amen!
Something else I realized through this statement: God is the only Being in the Bible Who does not have a beginning.
Hallelujah! He is the end for all Christians!
This weekend was another gift from God. Our children seem to be turning away from their flesh and turning toward God. This is always an encouraging thing for a parent to witness! It provides more testimony to God's many gifts to us as Christians: Grace, Mercy, and Charity.
The weekend events made me think of the Old Testament and prompted me to turn back to these great books. I had been spending most of my time last week reading the New Testament to witness the events when God dealt directly with man. It is remarkable what you discover when you journey back to the beginning and revisit the past! God revealed His perfect consistent pattern of Grace, Mercy and Charity through His written Word.
Does this make God predictable… ? Why do the seemingly same events repeat themselves over and over again?
In my opinion, the answer is: It is man's sin that's predictable. In essence, we keep committing the same sin over and over again–repeatedly–never learning and never changing our behavior pattern (pattern of sin) despite the lessons from our predecessors. Even after Adam committed the first sin and condemned us all to this fallen world, we still haven't learned that obedience is what God wants and sin is what He abhors.
In the beginning, there was no sin, and everything was made perfect for us as servants to God.
Last Week's Daily Devotionals
In case you missed it, here are last week's devotionals gleaned from Daily In The Word by Dr. Paul Chappell for the week of July 6 – July 12, 2015:
Disclosure: As of the time of writing this post, AltamonteFamily.com is by no means affiliated with any of the companies or organizations mentioned in this article. AltamonteFamily.com has not been compensated in any way nor has AltamonteFamily.com been influenced to write about these products. This post is a result of the personal observations and independent research of members of AltamonteFamily.com. All opinions solely belong to AltamonteFamily.com.