This shop has been compensated by Collective Bias, Inc. and its advertiser.
All opinions are mine alone. #AllStarSnackBar #CollectiveBias
---
Are you as excited about 2017 as we are?! We're only 10 days in, and we've already put away our Christmas decorations and replaced them with Game Day party decor (if you haven't yet put away your Christmas tree–don't worry, we won't judge). Expect to see multiple variations of this setup all the way through the Big Game next month (and then, there's Valentine's Day… of course). Keep on reading to see how we created our Game Day Popcorn Stadium with a Fondue Halftime Show (this includes two recipes for Fondue Popcorn Squares)!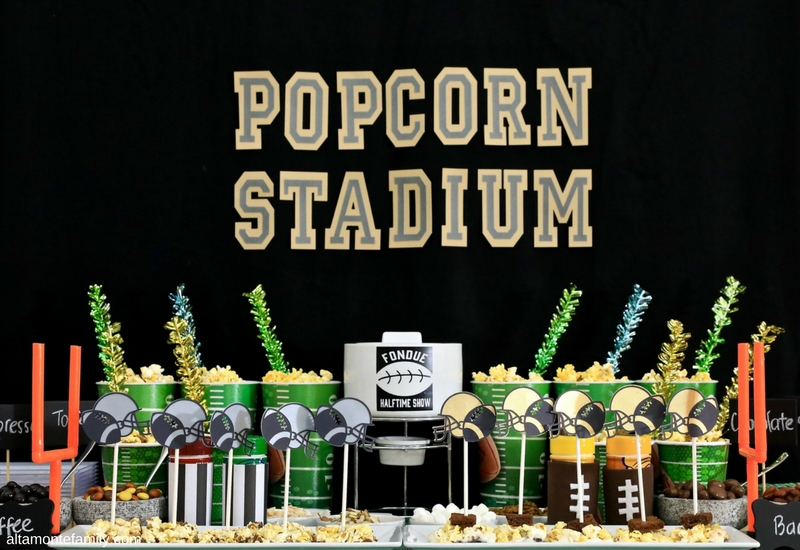 It's quite obvious that we're a popcorn-lovin' family! Family movie nights wouldn't be the same without our favorite Orville Redenbacher® popcorn! This year, we decided to take our love for popcorn up a notch–so, how 'bout that Popcorn Stadium we've been dreaming about? This is no ordinary popcorn bar, you guys! The added "Fondue Halftime Show" is just what our favorite football fans ordered!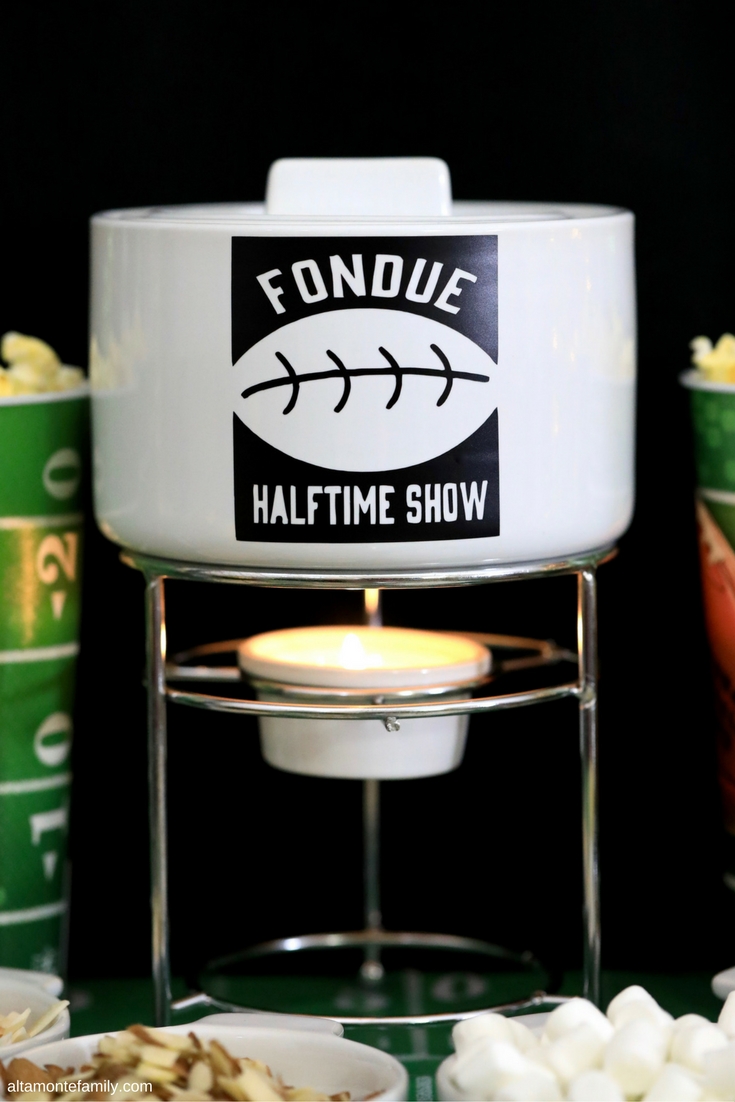 Sharing popcorn with our favorite people is fun, exciting, and enriching, especially when you combine our love for popcorn and our love for the upcoming "The Big Game". The add-ins people choose to include in their popcorn or "fondue masterpiece" never cease to amaze us.
Of course, there will be purists who add absolutely nothing to their popcorn (because it's so good already).
We use Orville Redenbacher® Movie Theater Butter Classic Bag (because, who wouldn't 'want to use only the best quality popcorn for their most cherished occasions?).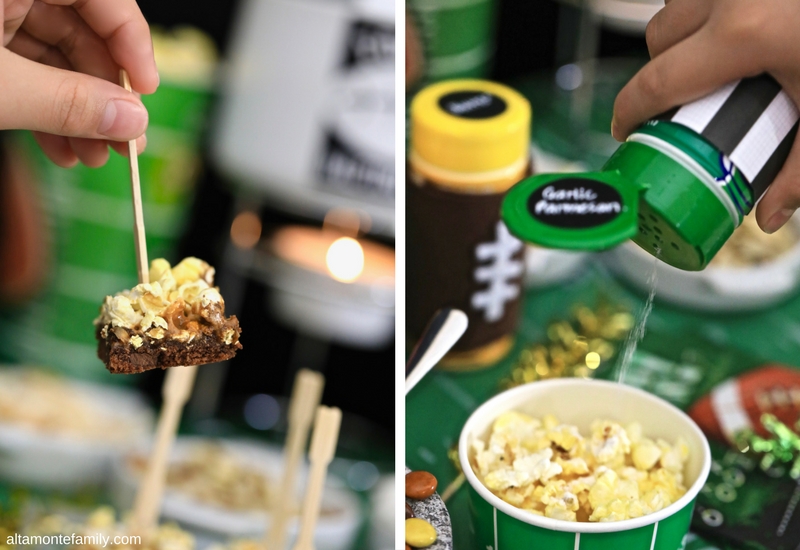 2 Fondue Halftime Show Recipes
The same delicious popcorn goes into our favorite popcorn desserts! Everything in our Popcorn Stadium is simple to prepare and enjoy–and this includes our 2 fondue halftime show recipes:
Fondue popcorn squares (with a coffee cookie crust)
Maple bacon popcorn squares
We created these recipes to address the competition heating up between coffee vs. bacon.
Which side are you on?
Recipe: Fondue Popcorn Squares with Coffee Cookie Crust
Our Fondue Popcorn Squares have a delicious double chocolate chunk cookie crust topped with caramel marshmallows, coffee, and popcorn. It's sweet, caffeinated, and crunchy all in one! Dip these little squares in your favorite fondue, and you'll discover a game-changing treat for sure!
Yield:              12 – 15 medium to large squares
Prep Time:    10 minutes
Cook Time:   30 – 40 minutes
Total Time:   50 minutes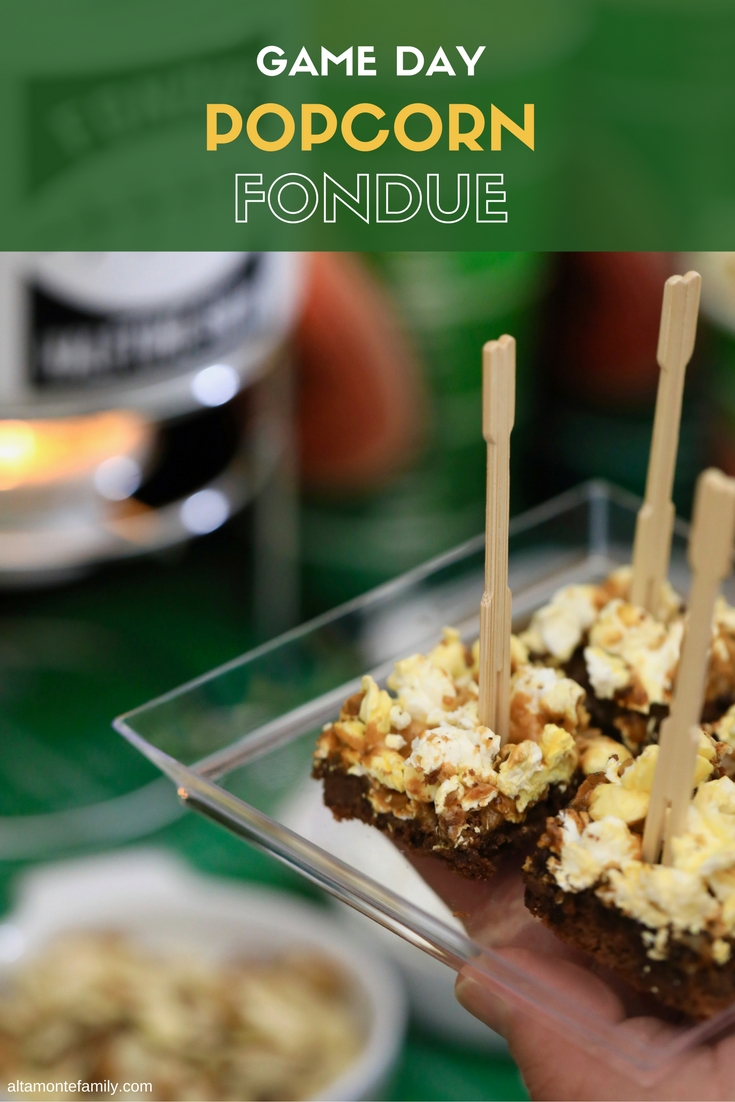 Ingredients
1/3 bag of popcorn, popped (we use Orville Redenbacher® Movie Theater Butter Classic Bag)
1 box Double Chocolate Chunk Cookie Mix + ingredients following package instructions–ours were 1 egg, 1/4 cup vegetable oil, and 2 tbs water)
1 package jumbo caramel marshmallows
1 oz instant coffee*
Coconut oil or butter spray
*We chose the iced coffee flavor vs. the sweeter varieties since the chocolate fondue will add just the right sweetness to these popcorn squares.
Directions
Preheat oven to 350 degrees Fahrenheit, then prepare cookie mix according to package instructions and transfer to a 9 x 9 baking pan
Bake for 12 – 15 minutes (depending on your oven)
Top cookie crust with marshmallows then coat with coconut oil or butter spray
Bake for 10 – 12 minutes (or until marshmallows are slightly melted on the outside)
Sprinkle coffee mix on top of marshmallows then add another coat of coconut oil or butter spray
Using a spatula, carefully top the marshmallows with popcorn (bake for another 5 – 10 minutes, if desired)
Once the pan has cooled down (approx. 30 minutes), you're good to go! Cut them up into little squares, top with food picks, and take them to the Fondue Halftime Show!
Tip: We like to serve them in big and small sizes–the smaller ones seem to be best for dipping!
Tip: You'll want to add just enough popcorn that the marshmallows can handle. Anything extra won't stick (the marshmallows are your binding agent).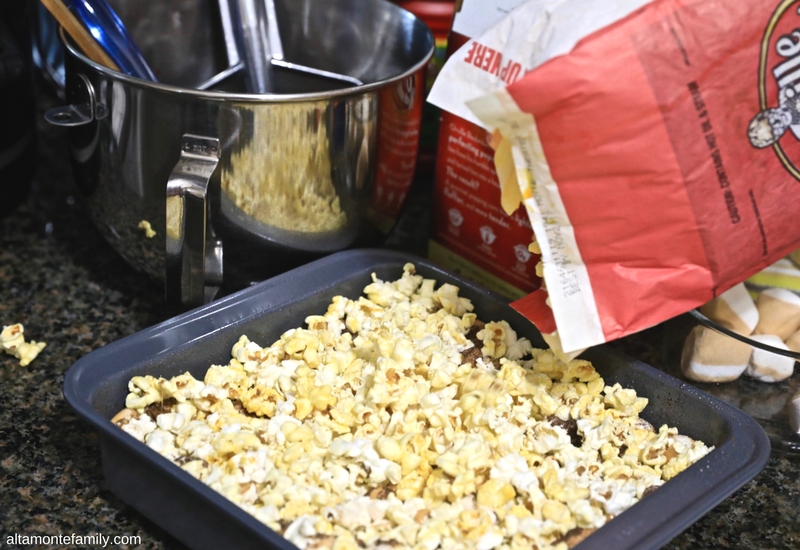 Wait, we're not done just yet! We have a second popcorn recipe for ya!
Recipe: Maple Bacon Popcorn Squares
This recipe is very similar to the one above.
Basically, you will use the same cookie crust, but before you throw in the marshmallows (we used small, plain marshmallows for this recipe), add in some chopped up maple bacon strips (we always try to make them the same size as the popcorn squares). Then, just skip the coffee step and top with delicious popcorn (we used Orville Redenbacher® Movie Theater Butter Classic Bag, of course).
Those marshmallows look oh so inviting when toasted just right, and they look even better when you add the popcorn! By the way, we prefer this layered method over the "mixing method". We try to avoid handling sticky marshmallows (hence the use of coconut oil or butter spray).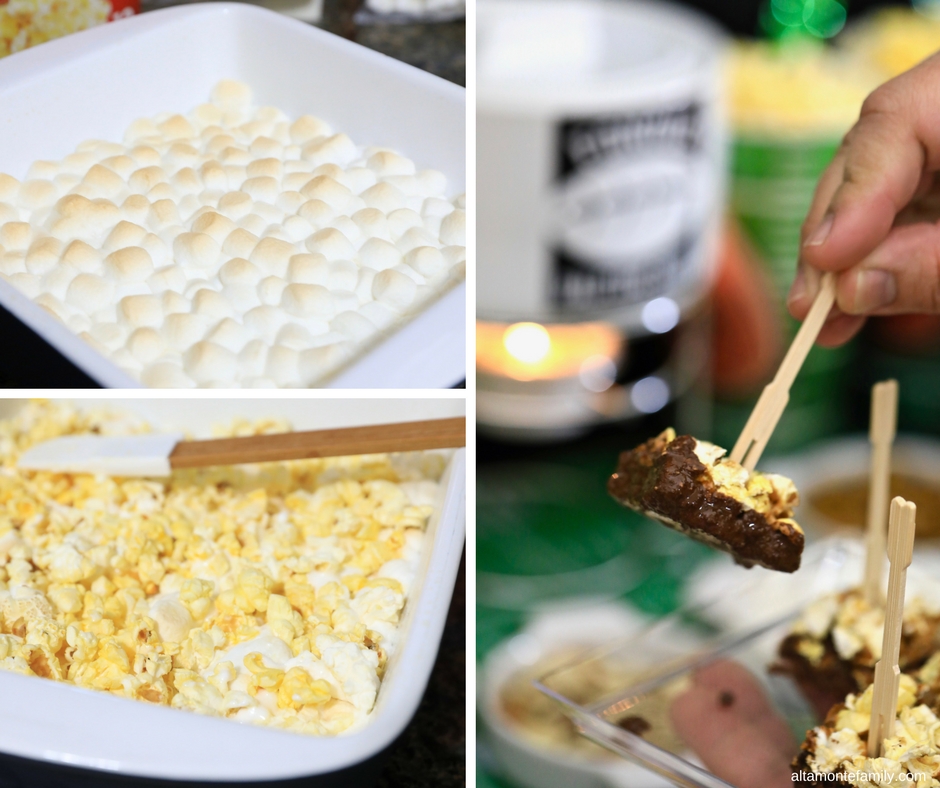 You could get really creative with this layered method for making fondue popcorn squares! If you could think of other variations, we'd love to know about it!
Note: The fondue popcorn squares do end up looking kind of the same once they're ready to go. To lessen the confusion, we either use different food toppers and/or we add an extra topping to distinguish one from the other.
Styling Our Game Day Popcorn Stadium
To keep things manageable, we like to use a combination of DIY and purchased party supplies + homemade and store-bought snacks and appetizers.
By the way, if you're on Pinterest, feel free to pin the image below for later! 😉

Tip #1:  Cover up your party table (and wall, if desired) with football-themed plastic table cloth / fabric.
We chose this particular plastic table cloth design to make the surface look like a football field. We used washi tape to secure the sides and corners (it's like giftwrapping!).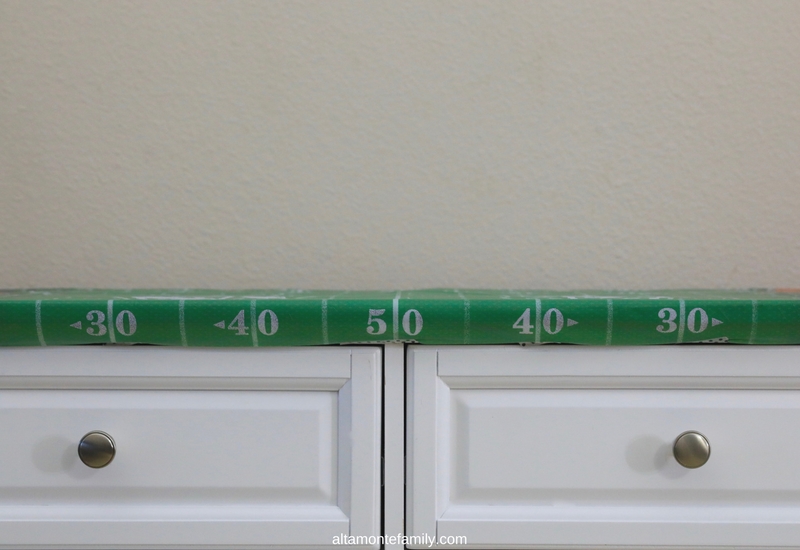 Tip #2:  Decorate bottles / condiments to add some game day spirit!
If you have some felt paper and/or scrapbooking paper lying around in your craft room (or craft box), they're great for decorating bottles, soda cans, and condiments!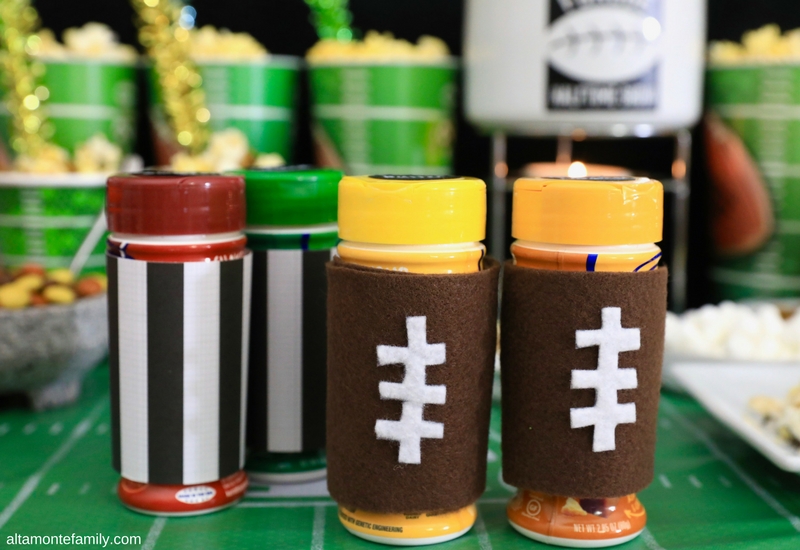 Tip #3:  Don't forget about the essentials!
Small plates, utensils / food picks, and party napkins are always helpful. We like to keep a stash at home–so stock up, if you can!
We used tall and short football-themed party cups to create the appearance of tiered stadium bleachers.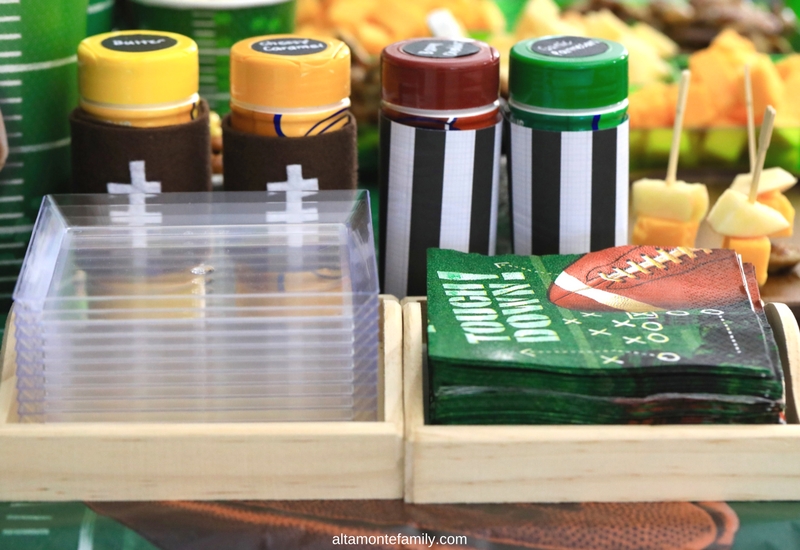 Tip #4:  Stock up on high quality popcorn!
We picked up our value size box of Orville Redenbacher® Movie Theater Butter Classic Bag from Walmart. They're also available in 6-pack boxes (and we used only 6 bags for this party, refills included)!
Tip #5:  Toppings are fun – have lots of toppings for loads of fun!
Here's a list of the toppings we used (of course, you can always make it your own):
Japanese rice crackers
Organic toasted coconut flakes (fancy grade)
Slivered almonds (fancy grade)
Mini marshmallows
Espresso chocolate-covered coffee beans
Habanero almonds
Chocolate toffee candy bits
Chocolate-covered almonds
Powders: Bacon Cheddar, Garlic Parmesan, Butter, Cheesy Caramel
Fondue: Milk Chocolate Candy Melts (melt according to package instructions)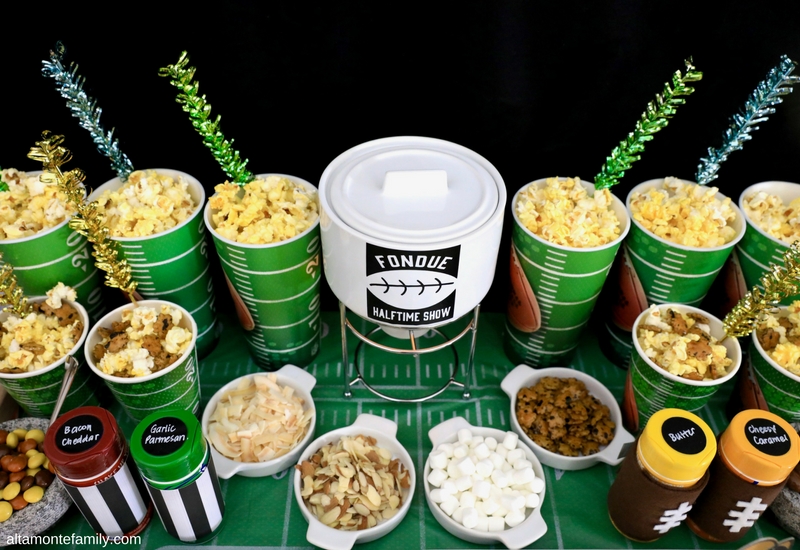 Some of our guests nibbled on the toppings while "grazing". The espresso chocolate-covered coffee beans were a crowd fave, next to the popcorn.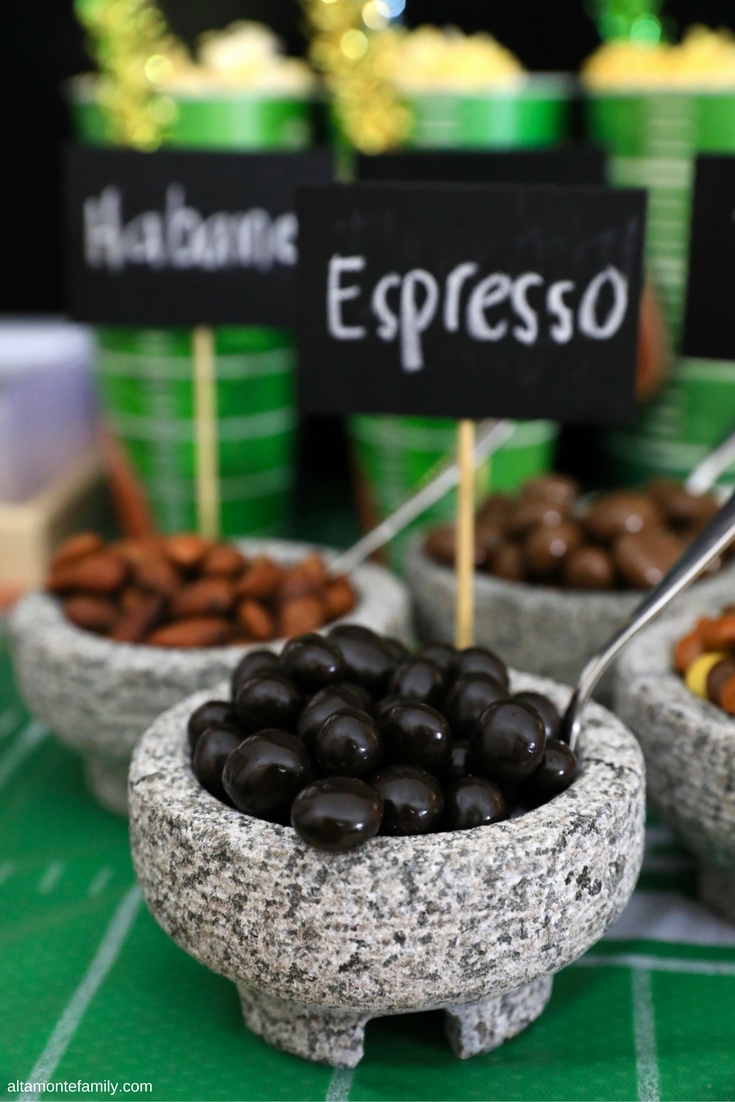 Tip #6:  Keep the food coming!
Somehow, it seems so easy to burn off calories while rooting for your favorite team. To keep energy levels up, we like to replenish our food and snack supply.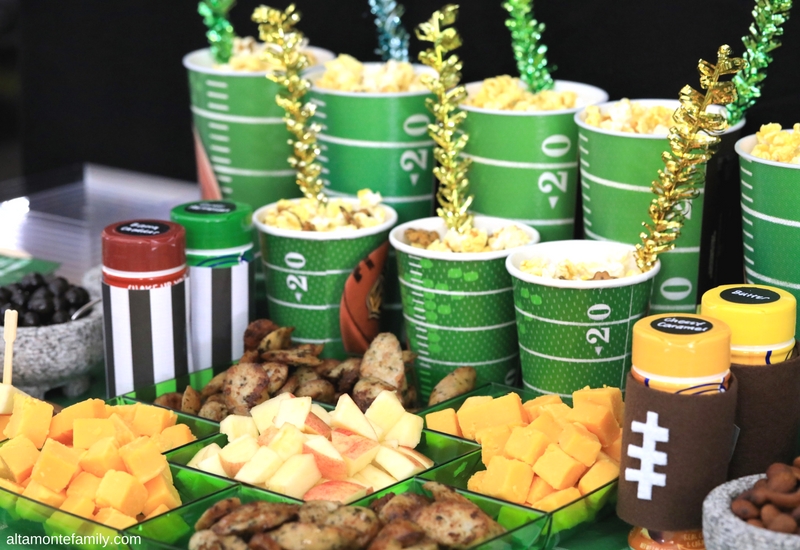 Replenishing the popcorn is a cinch, of course.
A sausage-cheese-fruit tray combo is also super simple to prepare!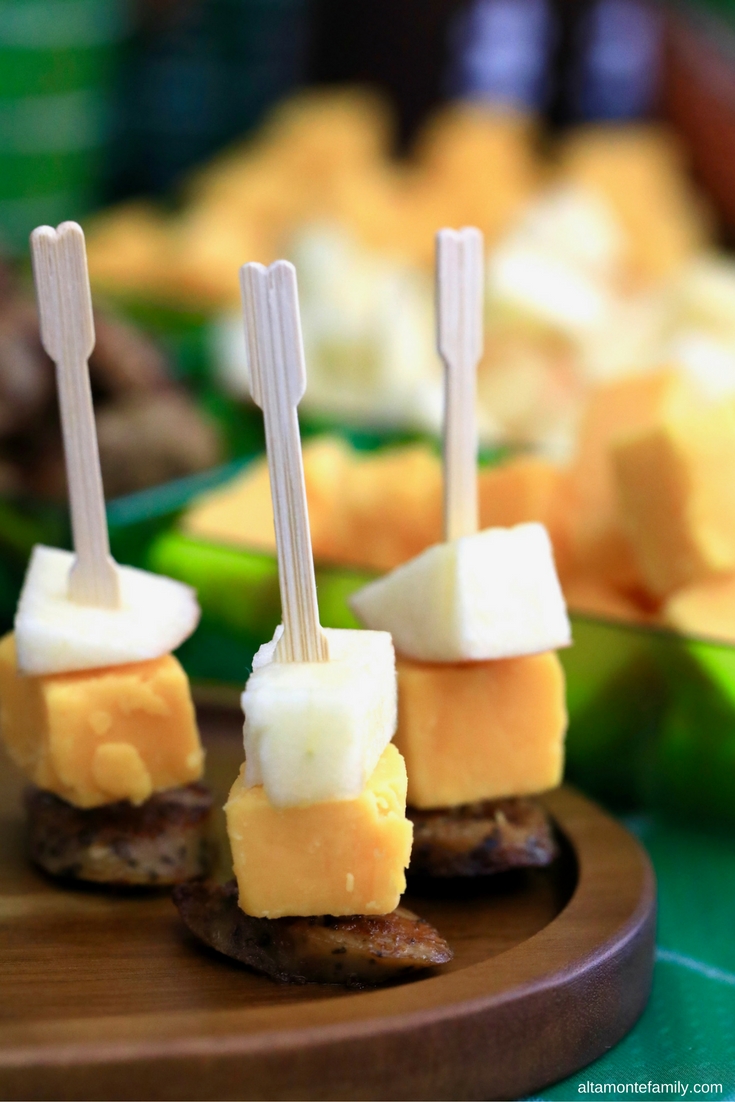 Tip #7:  Delegate!
When inviting guests over for game day, we tell them ahead of time what kind of food we'll be serving. There are times when we would ask friends or family to bring drinks / pizza / chicken wings (or to make things easier, we call a delivery service).
Tip #8: Have a stash of make-ahead DIY Game Day Party Decorations on the ready!
As time permits, we like to make some game day party decorations before football season starts. Some of the detail work can be time-consuming but if you like to craft, it can be therapeutic. Given our schedule, I wouldn't dare make all of these just days before our party (but of course, that's up to you).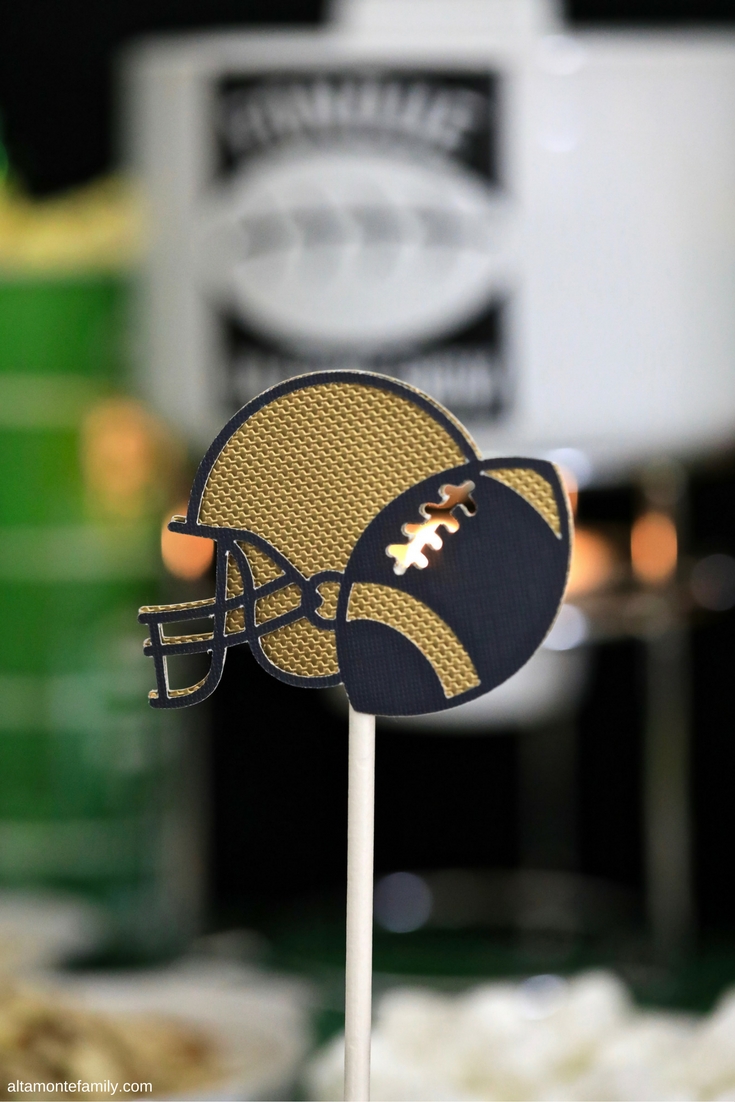 We used our Cricut Machine to make the paper helmets, "popcorn stadium" letter cut-outs, and vinyl "fondue halftime show" sign.
The first two DIY projects came from a cartridge that we had previously purchased. The good news is, we're sharing the free cut file for the "fondue halftime show" that we designed ourselves!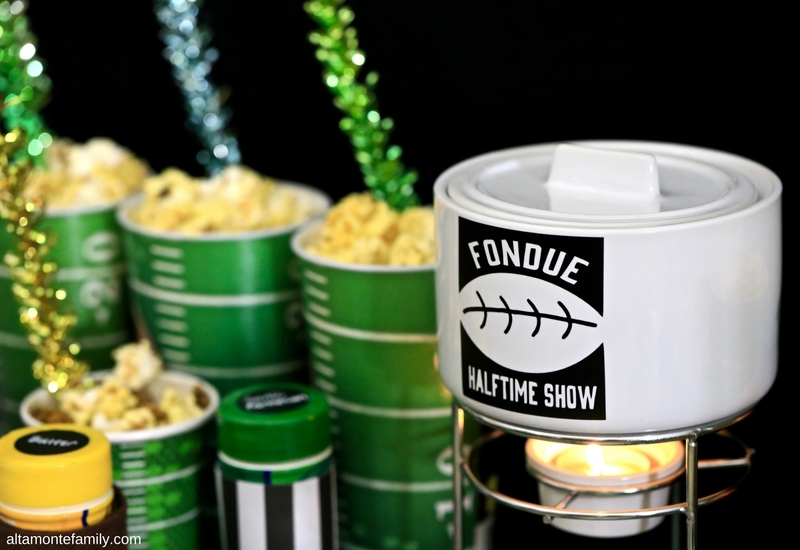 Free Game Day Digital Cut File
If you're thinking of creating a Game Day Popcorn Stadium with a Fondue Halftime Show for your next game day party, feel free to grab our free digital cut file! Please note that you will be downloading a PNG image file (not SVG).
For Personal Use Only: We created these free cut files for your personal, non-commercial use only. Please do not alter in any way. Kindly read our full Terms of Use.
Find more Game Day inspiration!
We hope you've enjoyed hanging out at our Game Day Popcorn Stadium!
Click here to enjoy browsing all of the other exciting Game Day party ideas and recipes to inspire your next party!
Have fun!
---
We're Social! If you liked today's post, feel free to share, bookmark, or pin it! Follow us on Pinterest, Facebook, and Instagram for more updates on our latest projects and adventures.