This shop has been compensated by Collective Bias, Inc. and its advertiser.
All opinions are mine alone. #NoTakeOutNeeded #CollectiveBias
---
If you're like us, you're probably constantly struggling to bring the family together at the dinner table. There's always so much going on–errands, homework, chores, fussy children… Then, there are those supermoms and superdads who have managed to get dinner time down to a science. While we don't possess any superhero genes, we could at least pretend to be secret agents on a mission to make dinner time fun–which includes bringing some excitement to boring meals and getting dinner ready in less than 20 minutes! We hope you'll enjoy these fun family dinner activities and free printables just as much as we did!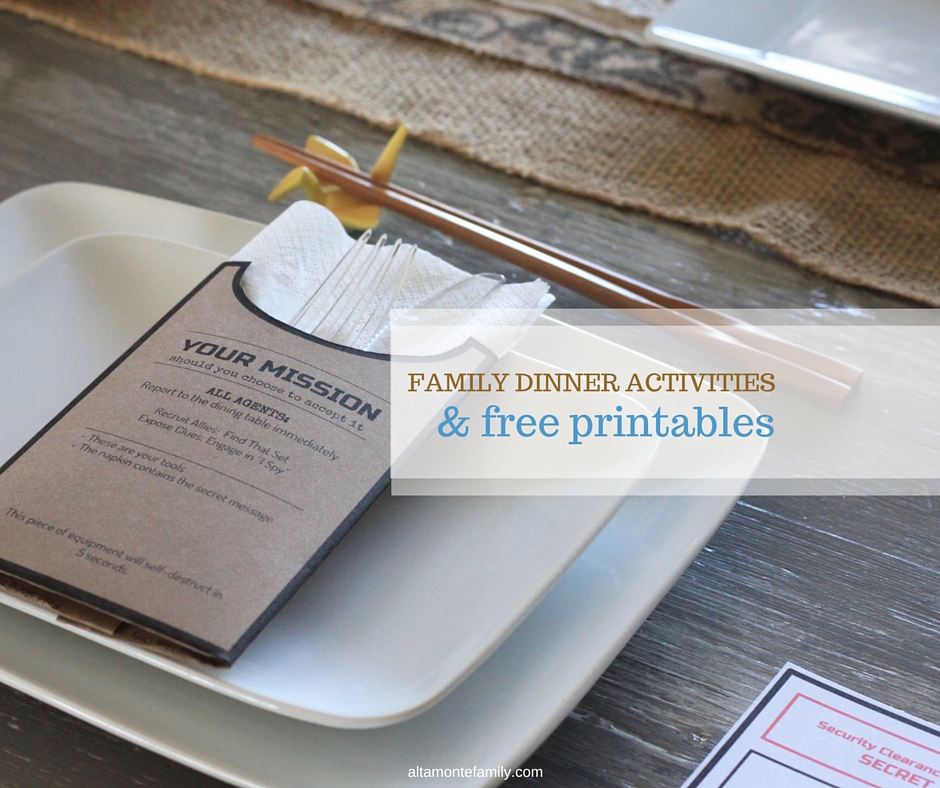 Making Dinner Prep Simple and Easy
If you're already doing meal planning, how about choosing a day throughout the week to keep things simple in the kitchen? On crazy-busy days, we've simplified dinner prep with the help of InnovAsian Frozen Cuisine. The food tastes just as good as take-out! Unlike the competition, their sauces are bold and more flavorful and not watered-down. InnovAsian uses better-for-you ingredients: all white-meat chicken that's lightly tempura-battered, and no MSG! Here's a coupon ($2 off one InnovAsian Entree) to help you get started!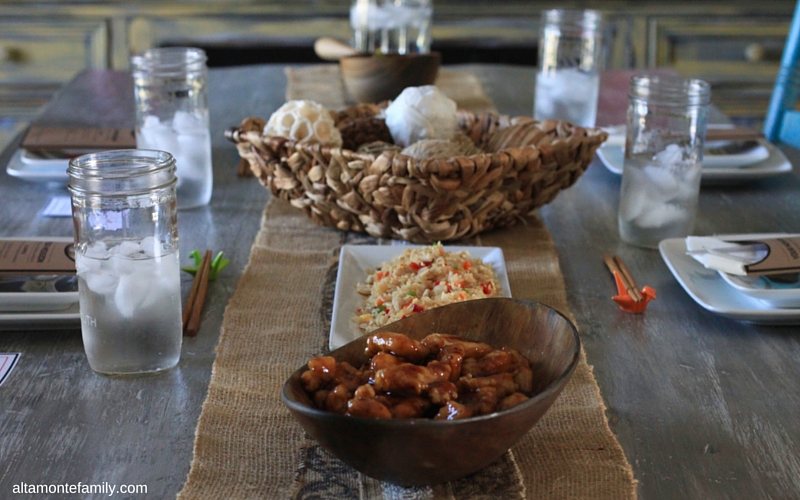 If you have a big family like we do, or if you're interested in more savings, check out the InnovAsian rewards program.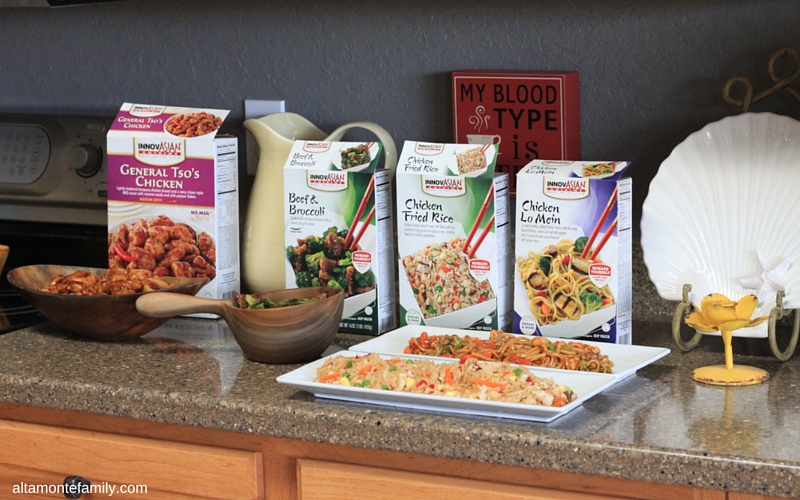 6 Fun Family Dinner Activities
It's always a blessing when we're able to get together at the dinner table to enjoy God's gift–our family. With dinner prep being a breeze, our family can focus more on having fun together! On that note, here are 6 fun ideas that we hope will inspire your next family dinner…
Idea #1: Find a fun theme to make setting the table a fun activity with the kids.
We all know that chores aren't always fun, especially if they've become routine. The good news is, with a few changes, setting the table can–and will–become fun again! Choose a theme that will resonate with everyone. Recently, we all decided on being secret agents for the day. We had a blast!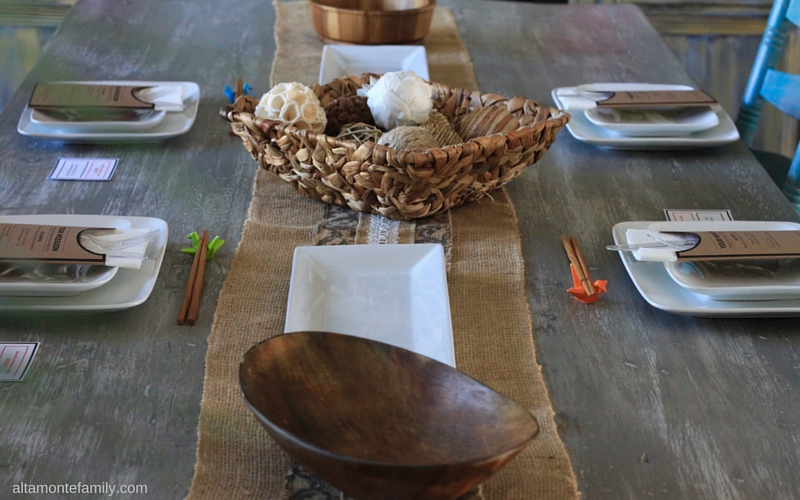 Idea #2: Make interactive utensil holders.
With a few, basic supplies and a printer, anyone can make these interactive utensil holders! It's always great when we can find a secondary purpose for practical things. Best of all, no glue is required! We simply used a piece of tape after some basic cutting and folding. We'll share the link to the free printable utensil holder with you at the bottom of this post (we've included simple instructions on the printable).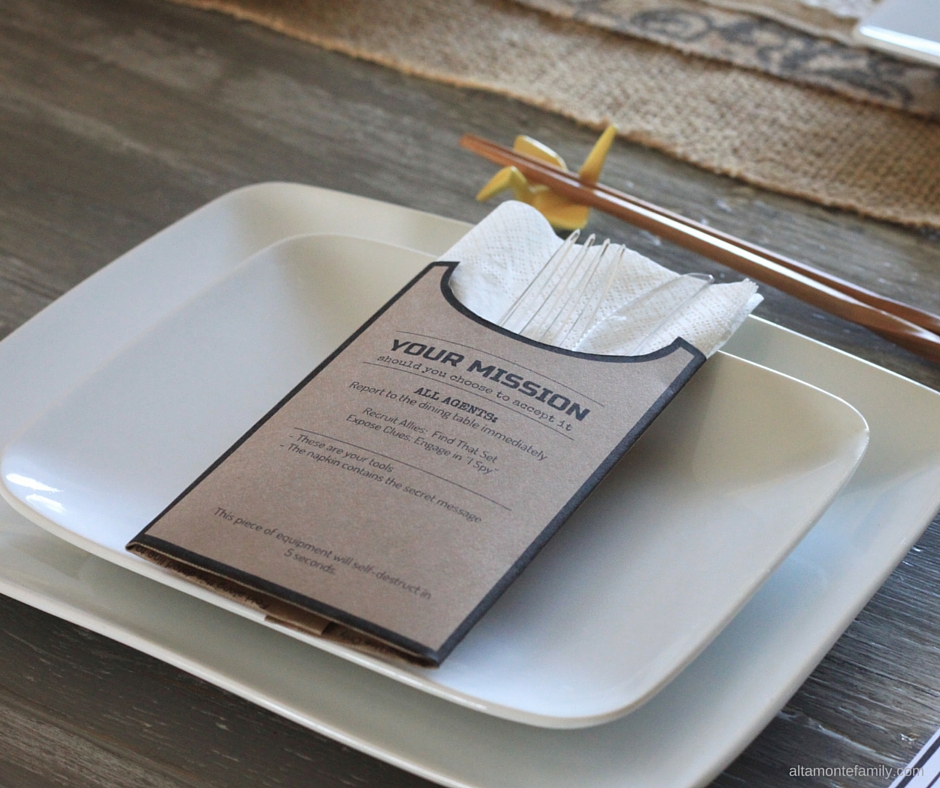 Idea #3: Make chores fun with a secret message-in-a-napkin.
As if the interactive utensil holders weren't enough, we couldn't help but include a secret message inside the napkins. Remember the thought of making chores fun again? How about making a set of these secret message inserts and reshuffling them before setting the table? Someone got the Undercover Dishwasher role while another got a free pass and gladly accepted to be the Undercover Couch Potato for the day.
Provisions / Clauses / Contingencies
If someone gets stuck with having the same undercover job over and over again, he or she can make a request, appeal, or just plain beg, by convincing everyone to play a game of "Go Fish". Everyone would then have to turn in their card and throw it in a "fish bowl" pile so that everyone can be reassigned. You can also add in more fun by making up your own Wild Card. Fun times!
By the way, we've got you covered with our free printable secret messages (link at the bottom of this post).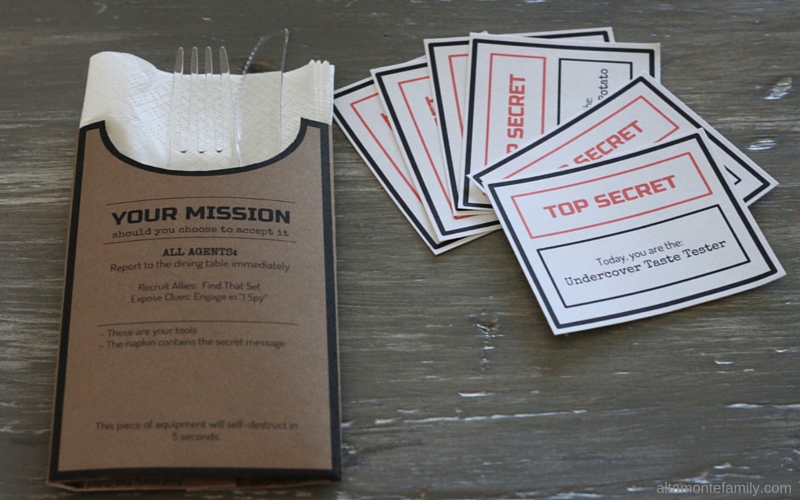 Idea #4: Finding things (in sets) on the dinner table can be fun, too!
Part of our mission as secret agents was to recruit as many allies as possible. Who doesn't need good allies? The "job" was to look for "sets" on the dinner table. Have you spotted our set of colorful crane chopstick rests? Or, our set of bamboo chopsticks?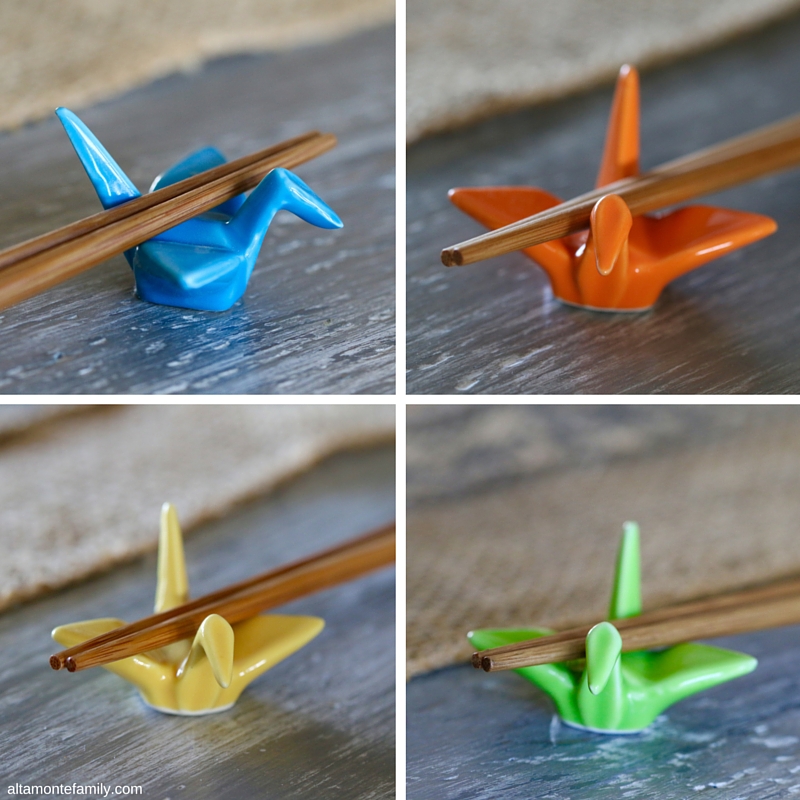 How about this set of white, rectangular serving platters with fresh tasting, crispy vegetables from your choice of InnovAsian side items like Chicken Lo Mein or Chicken Fried Rice?
Just a heads-up: Some family members might choose the "creative" path by making up their own sets of green peas or chopped carrots on their plate. You can always stipulate that "sets" of leftovers will not be encouraged in order to win.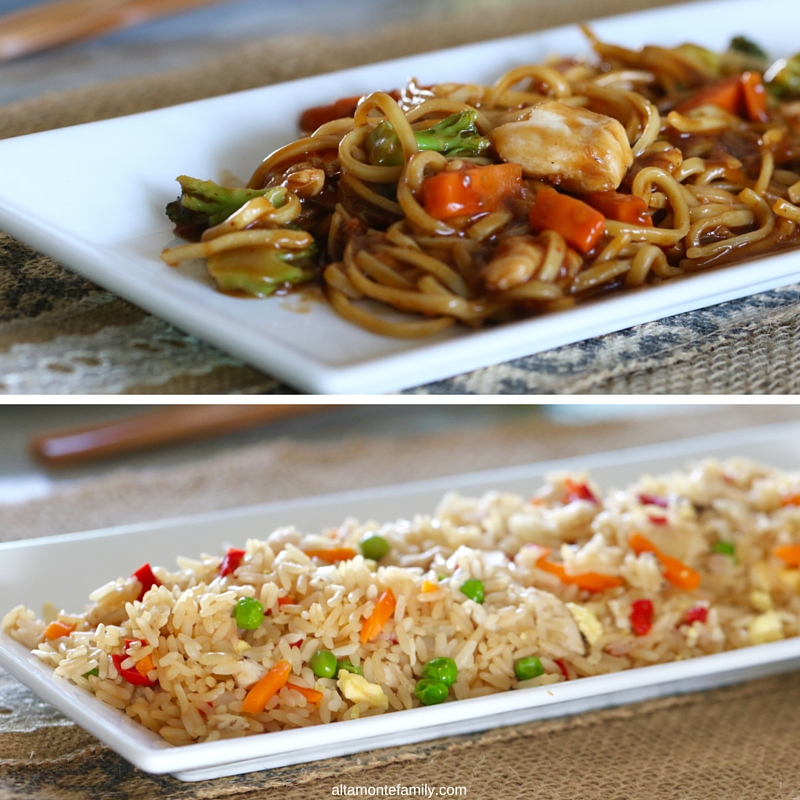 Idea #5: Encourage the younger secret agents to play a game of "I Spy".
Newer agents who are just learning the ropes of covert operations may undergo a rigorous training process most commonly known to the masses as "I Spy".  For example, InnovAsian's General Tso's Chicken can be observed as "something tasty".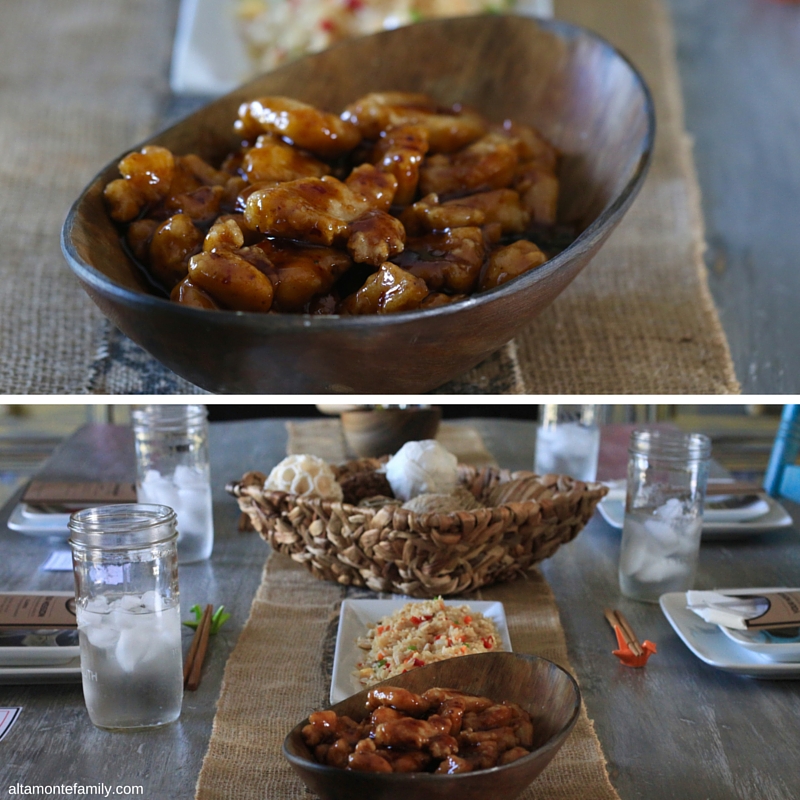 The green crane chopstick rest… or even the broccoli florets in the InnovAsian Beef & Broccoli or Chicken Lo Mein can be "something green".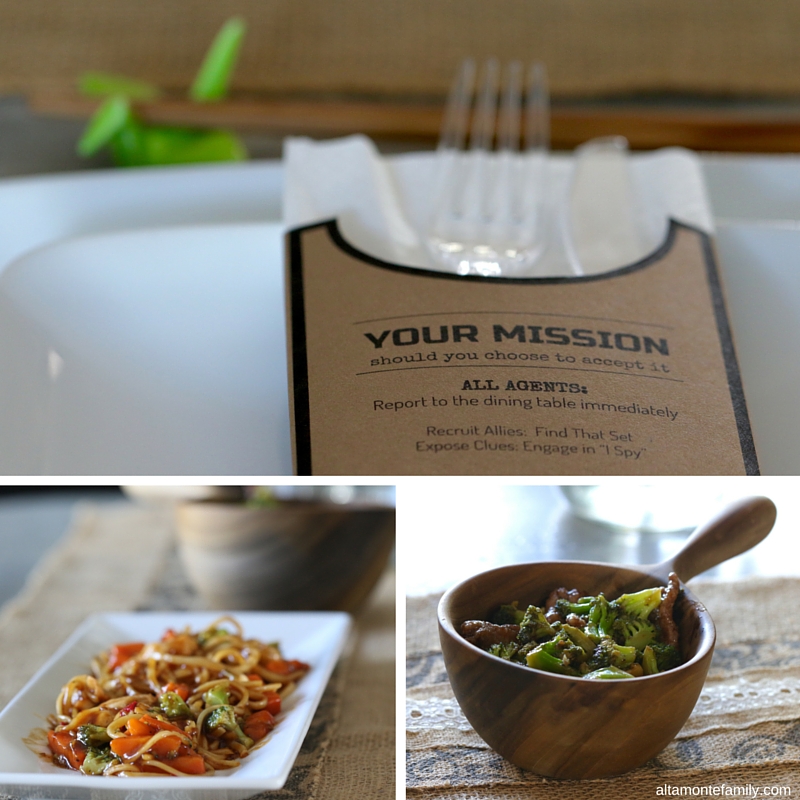 Can you spy "something orange"?
Idea #6: Go beyond the "How was your day?"
All agents, new or seasoned, can always use a new angle when sharing classified information behind closed doors. Proceed with caution. Someone else could always be listening 😉
In case you're wondering, we've got some free printable conversation starters to share with you. It's your call to make your dinner meeting classified or unclassified.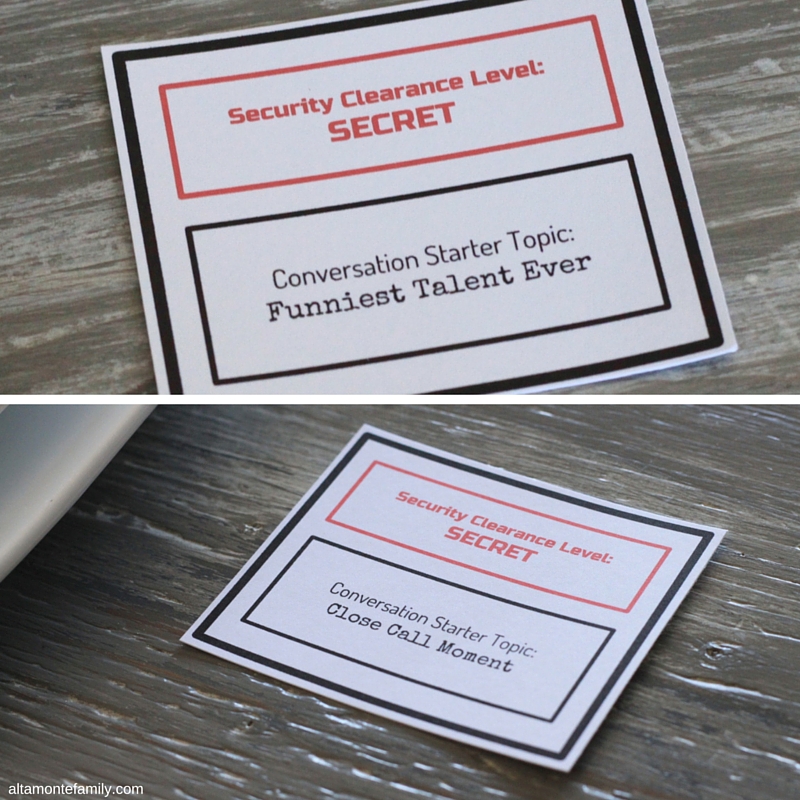 Start planning…
Ready to have some fun with the family? Let's start planning! If you're on Pinterest, feel free to pin the image below to save for later.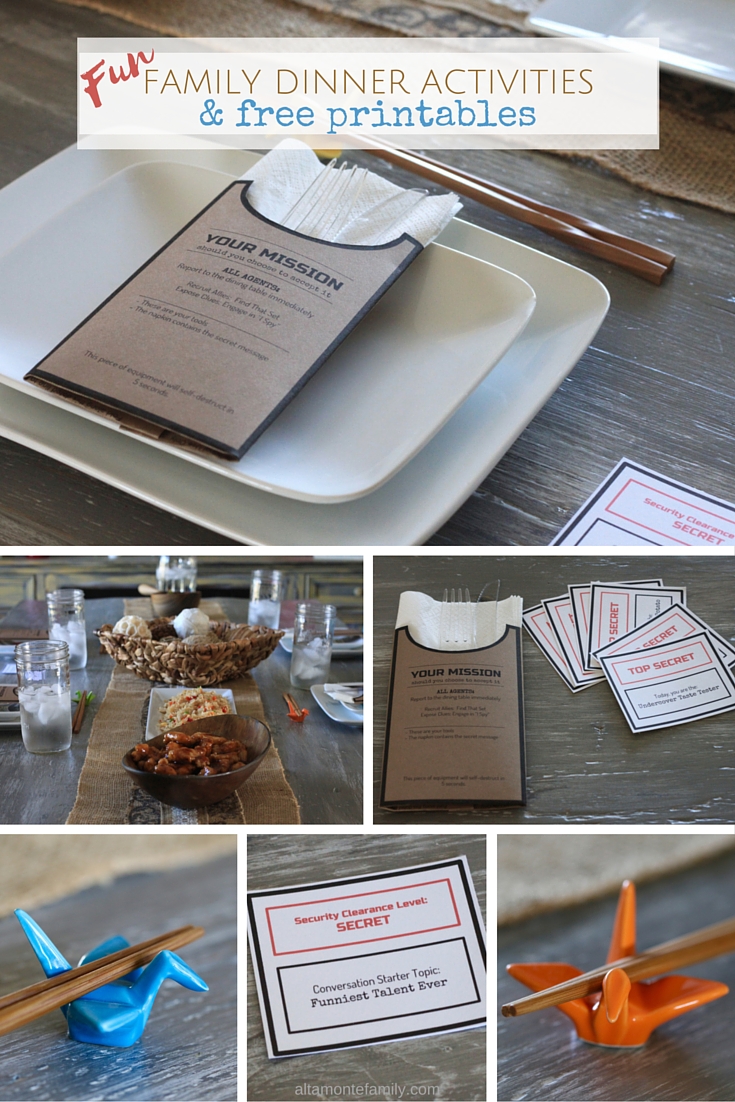 Next, make a list of easy-to-prepare InnovAsian meals. We chose InnovAsian General Tso's chicken, Beef & Broccoli, Chicken Fried Rice, and Chicken Lo Mein.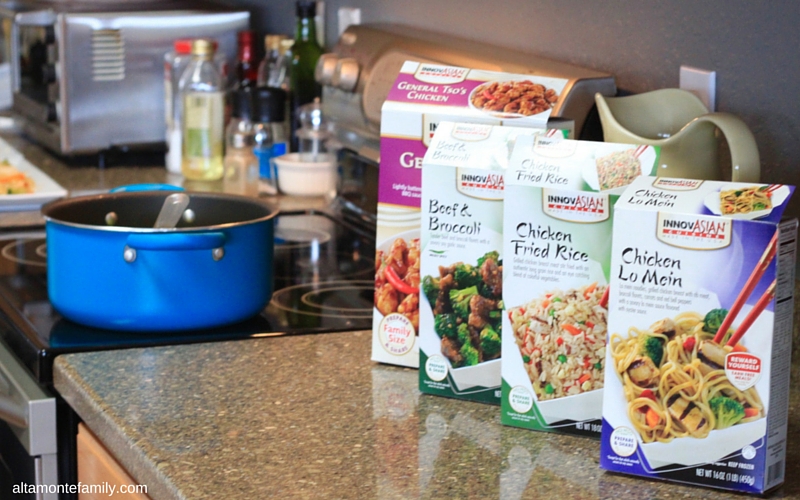 We picked them up at Walmart in the freezer section (you can find the entrees and sides together in the entree section in most cases).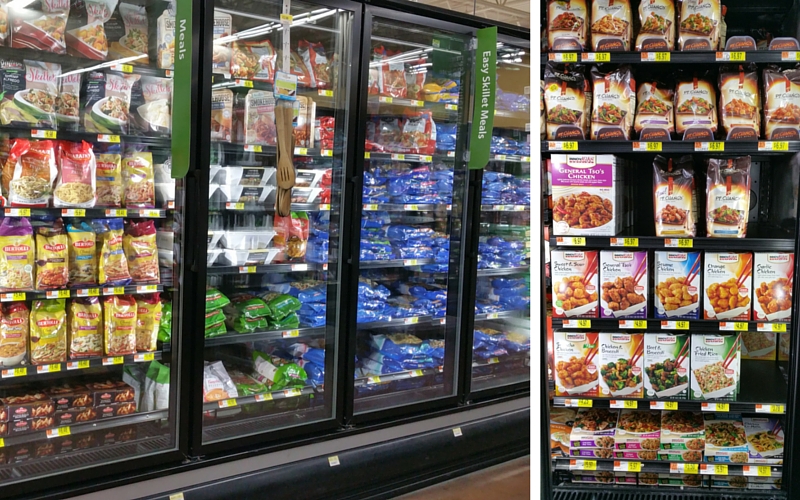 Gear up with the special tools and equipment
Ready to engage in your secret mission (whether it be possible or impossible)?
Any skilled agent will need to be equipped with the right set of tools and equipment.
As a reminder, always remember to maintain diplomacy.
About your special tools and equipment
All of these projects require 8.5 x 11 paper (for best results, use natural-colored card stock) and a pair of scissors. You will need a piece of tape to secure the back of each paper utensil holder. Click on any of the buttons below to get the free printable(s) of your choice.
Free Printable Utensil Holders
Free Printable Secret Message-in-a-Napkin Inserts
Free Printable Conversation Starters
---
Can you think of other fun family dinner activities to go with easy-to-prepare InnovAsian meals?
Share your excitement with us in the comments!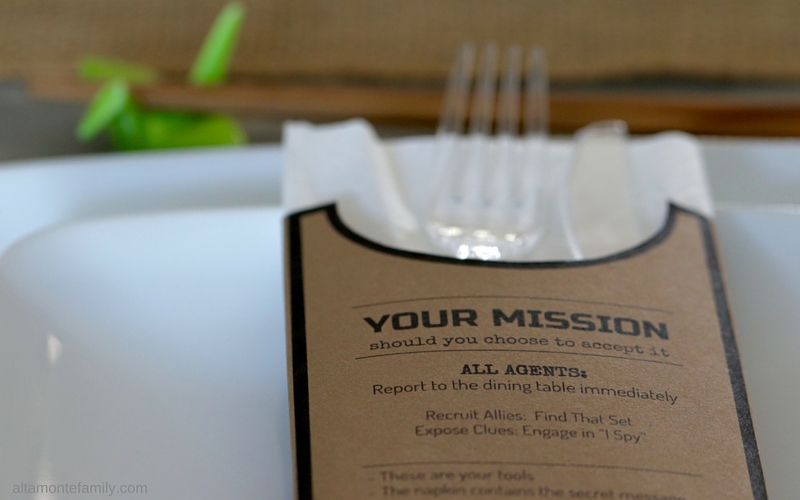 ---
We're Social! If you liked today's post, feel free to share, bookmark, or pin it! Follow us on Pinterest, Facebook, and Instagram for more updates on our latest projects and adventures.