We haven't stopped working on our kids' spiritual and academic development just because the Summer is here and school is out! Our older kids enjoy doing their daily devotions (we're subscribed to Daily In The Word by Dr. Paul Chappell) and sharing with us what they have learned. In the process, there's a part of us as parents that desires to coach them into becoming better communicators. The "sharing time" has become a great opportunity to further develop our children's presentation skills. Today took a different turn, however. Given that we're ready to give birth to our 4th child at any moment, the false alarms and pregnancy complications have become more pronounced, resulting in the need to break away, take lots of deep breaths, and catch as many shut-eyes as possible. "Sharing time", however, has become quite solidified in our family and we certainly wouldn't want it to fall by the wayside. The solution? How about creating a Daily Devotional Worksheet for our kids? We could absolutely work on their written communication skills in the interim while "sharing time" is temporarily placed on hold. We'd like to encourage you to do the same thing, too, so we're sharing the free printable devotional worksheet with you!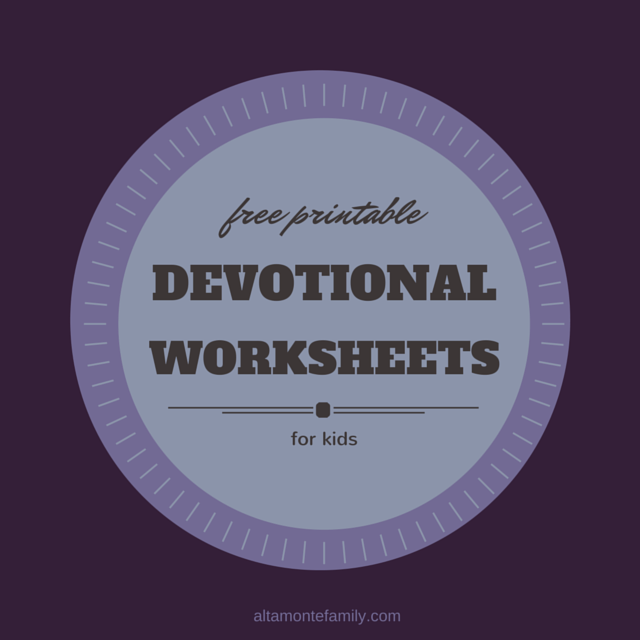 Parts of the Free Printable Devotional Worksheet for Kids
Actually, we call it the Daily Devotion Report, since their reporting / presentation style follows a certain format.  We teach our children to share what they've learned in such a way that's clear, concise, coherent, and convicting.  Yes, we added that 4th "C" in there! The free printable devotional worksheet is divided into the following 5 parts:
Title and [Scripture] Reference
Main Point (a.k.a. the main idea)
Supporting Information
Application
Conclusion
We explained to our children how each part of the worksheet is nested and how each one supports every single unit as well as the whole. During "sharing time", they work hard to make sure that their points are well-crafted and that each one of them ties back in to the main point (or main idea).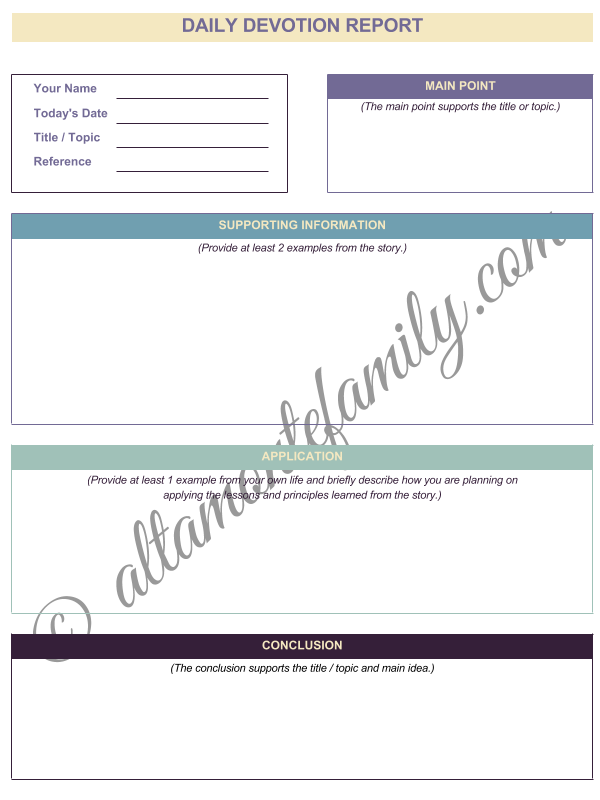 While we certainly wouldn't want to dampen our children's interest in doing their daily devotions by making things overly structured, we'd like to maintain balance and promote the idea that all important things must be done thoughtfully and purposefully.
Let all things be done decently and in order.

1 Corinthians 14:40 KJV
Anyway, if you would like to get our free printable devotional worksheet, click here to get the PDF file!
For Personal Use Only: We created these free printables for your personal, non-commercial use only. Please do not alter them in any way. Kindly read our full Terms of Use.
Have a blessed Summer!
Disclosure: As of the time of writing this post, AltamonteFamily.com is by no means affiliated with any of the companies or organizations mentioned in this article. AltamonteFamily.com has not been compensated in any way nor has AltamonteFamily.com been influenced to write about these products. This post is a result of the personal observations and independent research of members of AltamonteFamily.com. All opinions solely belong to AltamonteFamily.com.