We've experienced soooo many changes over the last 6 months, and quite frankly, I've deeply missed posting our devotions up here on our blog. For that, I sincerely apologize. For months, I had waited on the LORD and prayed about what I'd be posting next. Then again, I believe He was the One who had been waiting on me all along! Oh, what a gracious and merciful God! Fast forward to the beginning of the year, He allowed us to become the proud parents of three Goldendoodle puppies! It's a big change to our lifestyle–in a good way! It has allowed us to slow down more, pause more–and with that, "Paws And Pray" was born. This marks the beginning of a series of devotional tools that we will be sharing with you. Our very first "fruit" is this Free Printable Devotion Sheet For Pet Lovers!
I pray that God would use our "Paws And Pray" printables to help encourage you to study your Bible more–even bit by bit. Lately, I've been finding that, the more I drill down on a specific passage, verse, or phrase, the more I'm able to understand what God is revealing to me.
Earlier this week, I specifically prayed that He would provide a way for me to post a devotion on this blog. He led me to Romans 12, since our pastor recently preached a message from that chapter. I could've easily breezed / skimmed through the first verse since it's one of those "popular verses" that we got to memorize at church, at school, and at home! Instead, God got a hold of my heart and caused me to "pause".
So, I paused… and never quite finished the verse… at least, not yet.
I beseech you therefore, brethren, by the mercies of God, that ye present your bodies a living sacrifice, holy, acceptable unto God, which is your reasonable service.

Romans 12: 1 KJV
"… holy, acceptable unto God…"
Acceptable…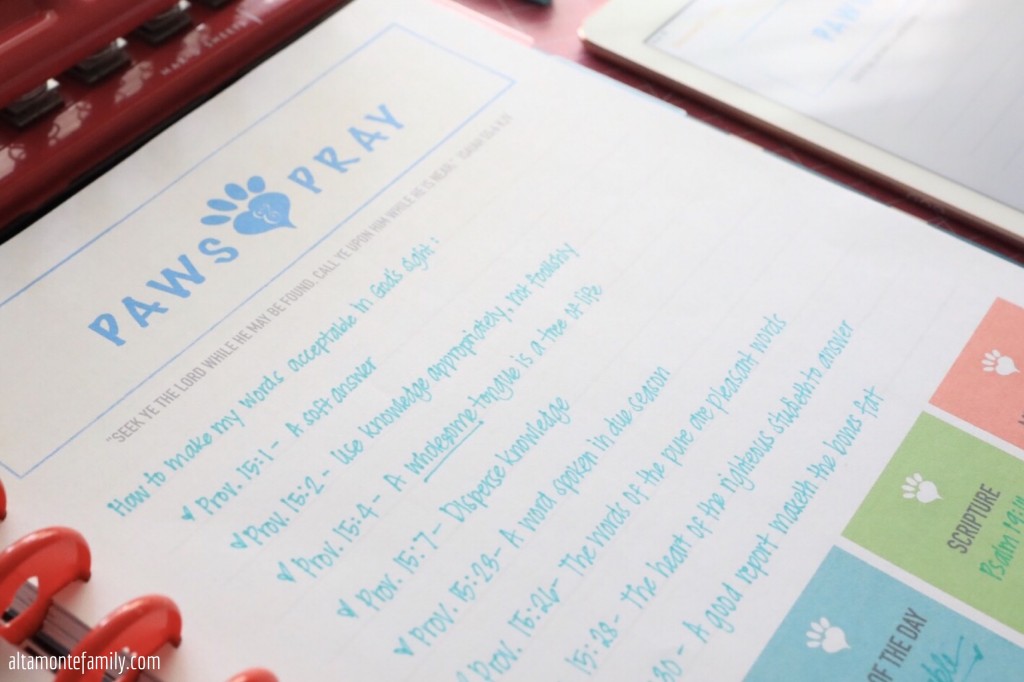 "Acceptable" has become my word of the day. So far, it's looking like, word of the week… if not longer.
A quick word search on "acceptable" online pointed me to many verses, showing me how the word was used in the Bible.
Now, I'm going through each of those verses (in the search results). From there, I'm cross-referencing other passages in the Bible to support those verses, starting from…
Let the words of my mouth, and the meditation of my heart, be acceptable in thy sight, O Lord, my strength, and my redeemer.

Psalm 19:14 KJV
I now found myself expanding the word "acceptable" to "acceptable words", based on this verse. I'll be tackling "acceptable meditation of my heart", next.
The thought that challenged me then was:
How can I make my words acceptable to God?
The first verse that came to mind was,
A soft answer turneth away wrath: but grievous words stir up anger.

Proverbs 15:1 KJV
I read the entire chapter and found myself needing to take down notes to remind me of the verses (in this case, from Proverbs 15, alone) that speak to "acceptable words".
I paused (or "paws'd) for a moment…
I paws'd and prayed…
… and the prayer produced this free printable devotion sheet!
You'll find Isaiah 55:6 KJV printed on it, along with boxes on the bottom for:
Today's Date
Word of the Day
Scripture
Memory Verse
Free Printable Devotion Sheet For Pet Lovers
This free printable devotion sheet for pet lovers measures 8.5 x 11 inches and is perfect for use with a 3-ring binder, folder, or The Big Happy Planner (typically available at your big box craft store, as of the time of this post).
A side note on The Happy Planner: I purchased a planner + a matching 11-hole puncher (the pink one) so that I can create and use my own planner printables and make them seamlessly fit into The Big Happy Planner. If you're interested in learning more about The Happy Planner, feel free to leave a comment–maybe we could write a tutorial, sometime 😉
Get our Free Planner Printable for Pet Lovers!
Click on the button below to get the PDF version of our Free Printable Devotion Sheet For Pet Lovers!
For Personal Use Only: We created this free printable for your personal, non-commercial use only. Please do not alter in any way. Kindly read our full Terms of Use.