Somehow, the pregnancy brain has chosen to overstay its welcome–even postpartum–so, in an effort to stay proactive about remembering which foods to buy organic (especially when it comes to making baby food at home), we decided to create our own "cheat sheets" based on the Environmental Working Group's 2015 lists: The Dirty Dozen and the Clean Fifteen
We will be taking various forms of these "cheat sheets" with us from now on, each time we visit the grocery store. It's alarming how apples have topped the EWG's Dirty Dozen list for 5 years in a row, which leads us to question:
Are these the same non-organic apples that go into our store-bought applesauce?
Are these the same non-organic apples that are in our store-bought apple juice?
Are these the same non-organic apples that are in our store-bought baby food?

Why We're Buying Organic Whenever Possible
For the purposes of this post, we're keying in on one word: Organophosphates
The EWG shared a link to a recent study that compared the levels of organophosphate insecticides measured between people who buy organic vs those who buy conventional fruits and vegetables. The results? People who bought organic produce had lower levels of organophosphate insecticides measured in their bodies.
Organophosphates… say, what?
According to the United States Environmental Protection Agency (EPA) website,
Organophosphates (OPs) are a group of closely related pesticides used in agriculture and non-agricultural sites that affect functioning of the nervous system. They are among the Agency's first priority group of pesticides to be reviewed under the Food Quality Protection Act.
Sounds pretty serious. Although we personally don't know (we're not the experts) how much is too much in order for OPs to wreak havoc in our systems, knowing that we've been allowing these OPs to enter into our system by way of certain mainstay foods is quite disheartening.
Chemical Warfare Agents… say, what?
According to the United States Centers for Disease Control and Prevention (CDC) website,
Nerve agents are chemical warfare agents that have the same mechanism of action as OP organophosphate pesticides insecticides. They are potent inhibitors of acetylcholinesterase . Inhibition of acetylcholinesterase leads , thereby leading to an accumulation of acetylcholine in the central and peripheral nervous system. Excess acetylcholine produces a predictable cholinergic syndrome consisting of copious respiratory and oral secretions, diarrhea and vomiting, sweating, altered mental status, autonomic instability, and generalized weakness that can progress to paralysis and respiratory arrest.
Pesticide Poisoning Affects 50,000 Children (Below 6 Years) Per Year
According to the University of Washington website,
More than half (57%) of all reported pesticide poisonings in the US occur in children younger than 6 years (nearly 50,000 children per year). The number of pesticide poisonings is thought to be grossly under-estimated due to a lack of national surveillance efforts, a lack of trained health care providers, and problems with access to care for at-risk populations (e.g. farm workers).
Organophosphates Blamed For Killing 25 Children In India
According to a National Geographic article,
The pesticides blamed for killing at least 25 children in India are widely used around the world, including in the United States, and health experts have raised safety concerns about this class of chemicals in the past. Known as organophosphates, the pesticides were developed in Germany in the 1940s and soon became an important defense against agricultural pests.

…The Indian children, aged four to 12, fell ill on Tuesday after eating a lunch consisting of rice, soybeans, and lentils in the village of Mashrakh in the eastern state of Bihar.
The Dangers Of Chronic, Low-Level Exposure
The same National Geographic article provided some insight regarding the dangers of chronic, low-level exposure to OPs:
…The risk of death depends on the amount of exposure and the age of the victim. The symptoms tend to be more severe in young children.

…While high-level exposure to organophosphates can lead to death in the short term, several studies have suggested that chronic low-level exposure can also have serious health consequences, especially for infants and young children.

…According to Jay Feldman, executive director of the nonprofit advocacy group Beyond Pesticides, the United States and many other countries do a good job of evaluating the health risks of short-term exposure to pesticides such as organophosphates, but not the potential dangers of chronic exposure.
We just can't look at apples and all the other fruits and vegetables on the EWG's Dirty Dozen list the same way, now that we've unearthed a little bit about OPs. If only we had some sort of "X-ray vision" that would tell us the toxicity levels of these foods while we're doing our grocery shopping, we'd probably pass out.
Well, we can't make or purchase "X-ray vision" but we can certainly create a Foods To Buy Organic "cheat sheet" to carry along with us (in different forms) each time we go grocery shopping!
12 Foods To Buy Organic Whenever Possible
If you haven't done so already, check out the EWG's Dirty Dozen List for 2015–better yet, consider making a $10 donation (as of the time of this post) on their website to get your free bag tag!
We created our own bag tags since we have a large family and will be needing more than 1 free bag tag set from the EWG. We also saved it on our phone, in case we forget the tags at home and we're in a spot where we can't access the Internet.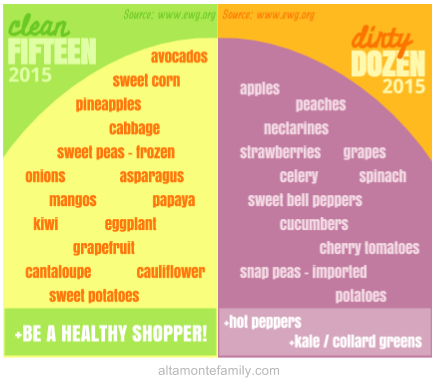 As you can see, we included the EWG's Clean Fifteen list on the left, just in case we had any doubts while grocery shopping.
We also incorporated the same design on our Grocery List pads. No excuses, right? This is true, especially when we're going to be making our own baby food at home!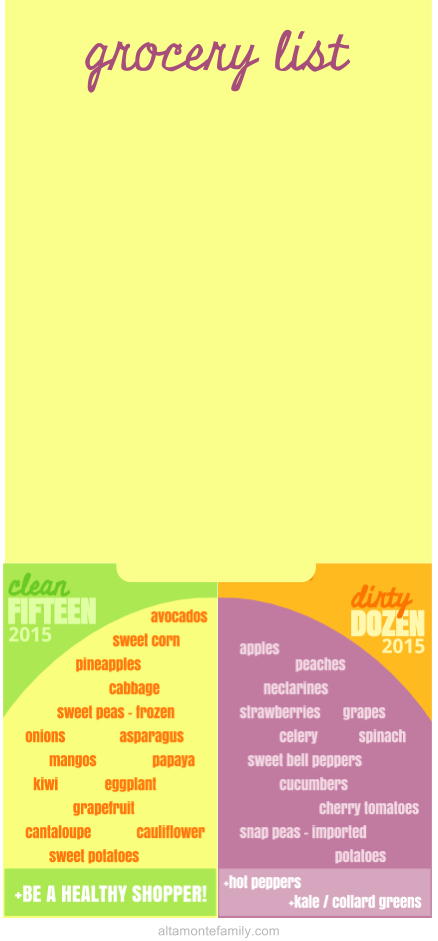 NOTE:  We're not including a free printable of our bag tag (or grocery list) since we wouldn't want to discourage you from getting the original bag tag directly from the EWG to support their cause. We're simply sharing what we're doing to be healthy shoppers and would love to encourage you to do the same or share with us what you're already doing 🙂
Which foods do you buy organic as much as possible? Do you include other items that are not on the EWG's Dirty Dozen list?
Disclosure: As of the time of writing this post, AltamonteFamily.com is by no means affiliated with any of the companies or organizations mentioned in this article. AltamonteFamily.com has not been compensated in any way nor has AltamonteFamily.com been influenced to write about these products. This post is a result of the personal observations and independent research of members of AltamonteFamily.com. All opinions solely belong to AltamonteFamily.com.