We just celebrated our son's first birthday party and we're here to share all of the details with you if you'd like to get the look! We decided on a surfer theme since he's a summer baby–and he loves the pool! So whether you're thinking of a simple celebration or a big bash, we've got some party decoration ideas to inspire your next special occasion!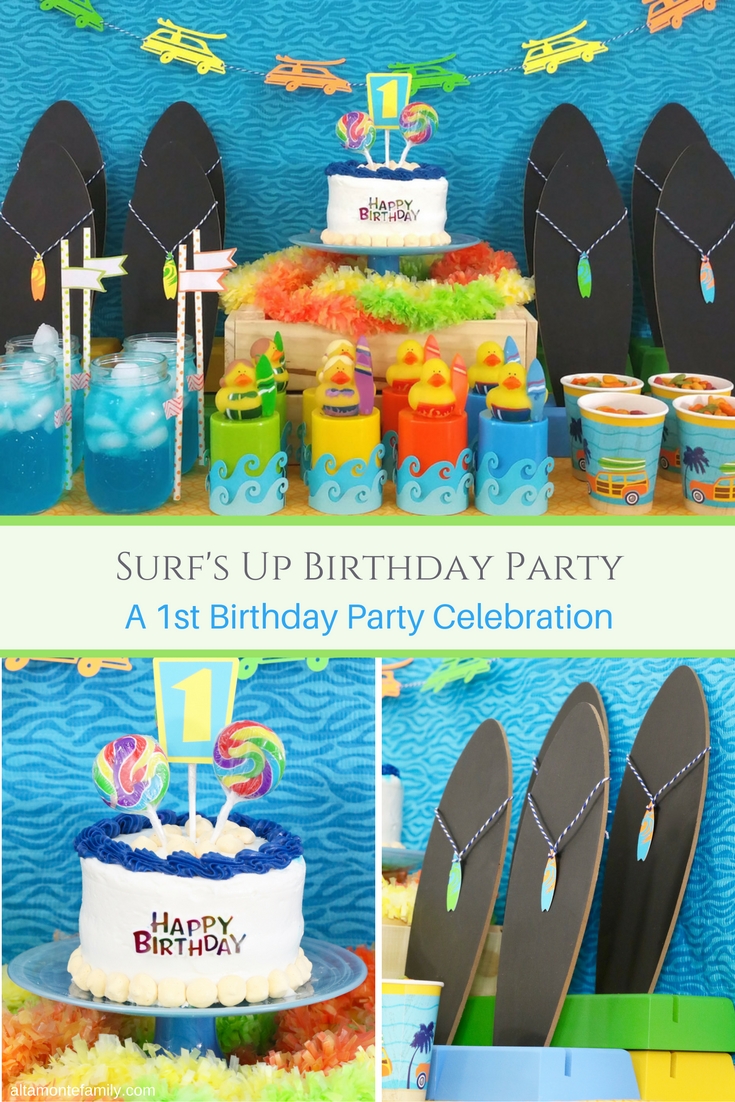 Our color scheme is inspired by the surfer-themed party supplies that Oriental Trading* sent us. These chalkboard surf boards come in a pretty nice size and were the perfect decorations (as well as party favors) for our little celebration. They come in green, yellow, blue, and fuchsia (we didn't use the fuchsia for this party but they sure would make the cutest addition to any girl's birthday party or luau).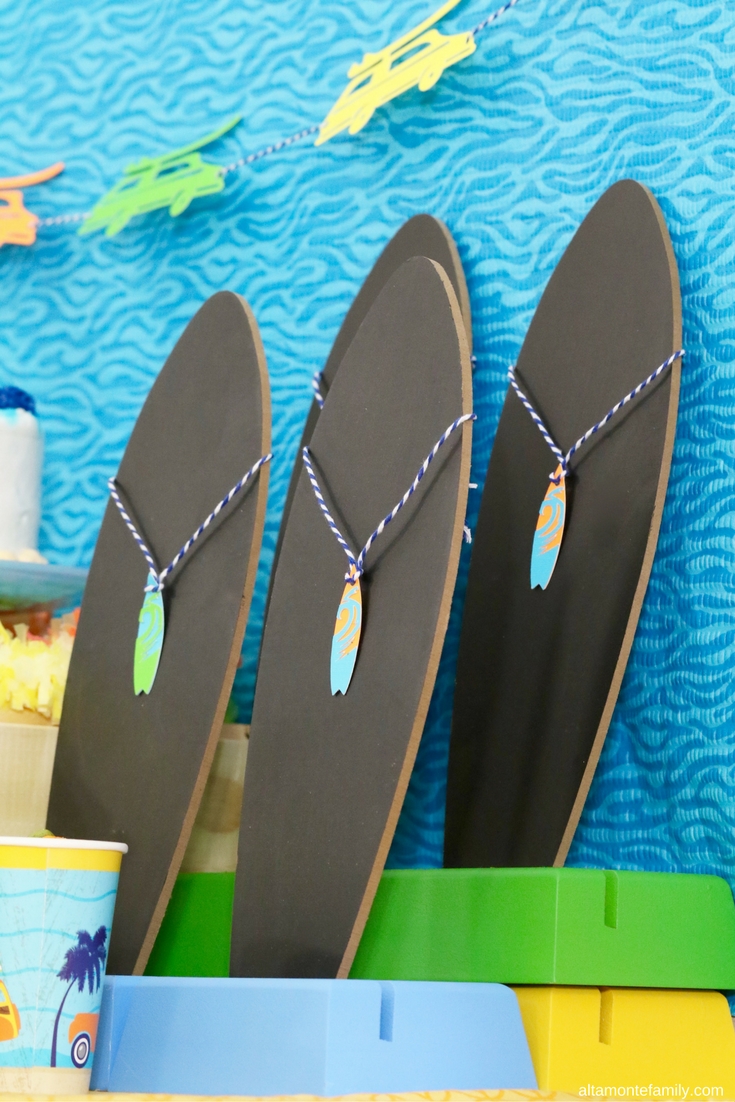 We embellished the surf boards with what looks like paper surf board necklaces that we cut out using our Cricut Machine (we purchased the image in Cricut Design Space for $0.99–but you can certainly make your own surf board cut-outs and add the designs by hand). We used blue baker's twine and hung them around each surf board (please note that these are only decorative and are not intended to be used as jewelry).
We used the same card stock paper colors and baker's twine to make this adorable bunting (we also made them using our Cricut Explore).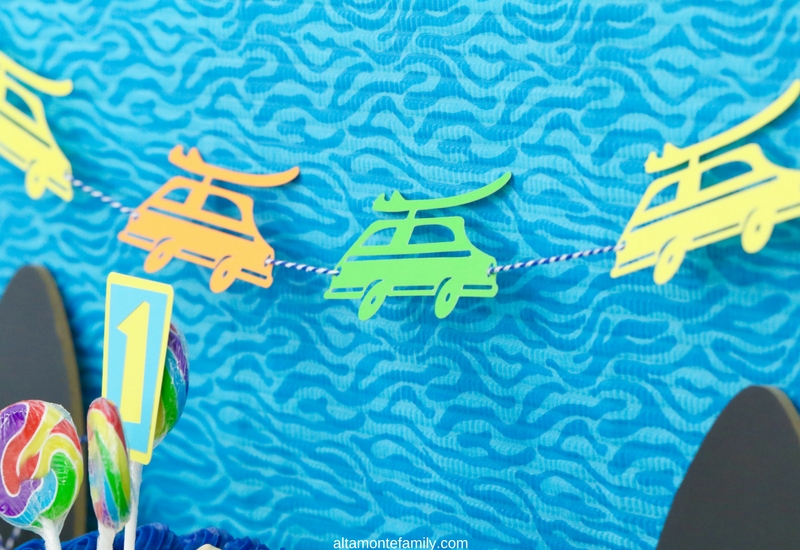 Let's talk about the mini birthday cake: we simply purchased one from the bakery section of a nearby grocery store and decorated it ourselves with lollipops, a paper cut-out on a lollipop stick, a "Happy Birthday" topper, and our son's favorite yogurt melts. Our blue alabaster mini cake stand blended in with the color scheme nicely! We also wrapped three leis around the base of the cake stand for that extra pop of color.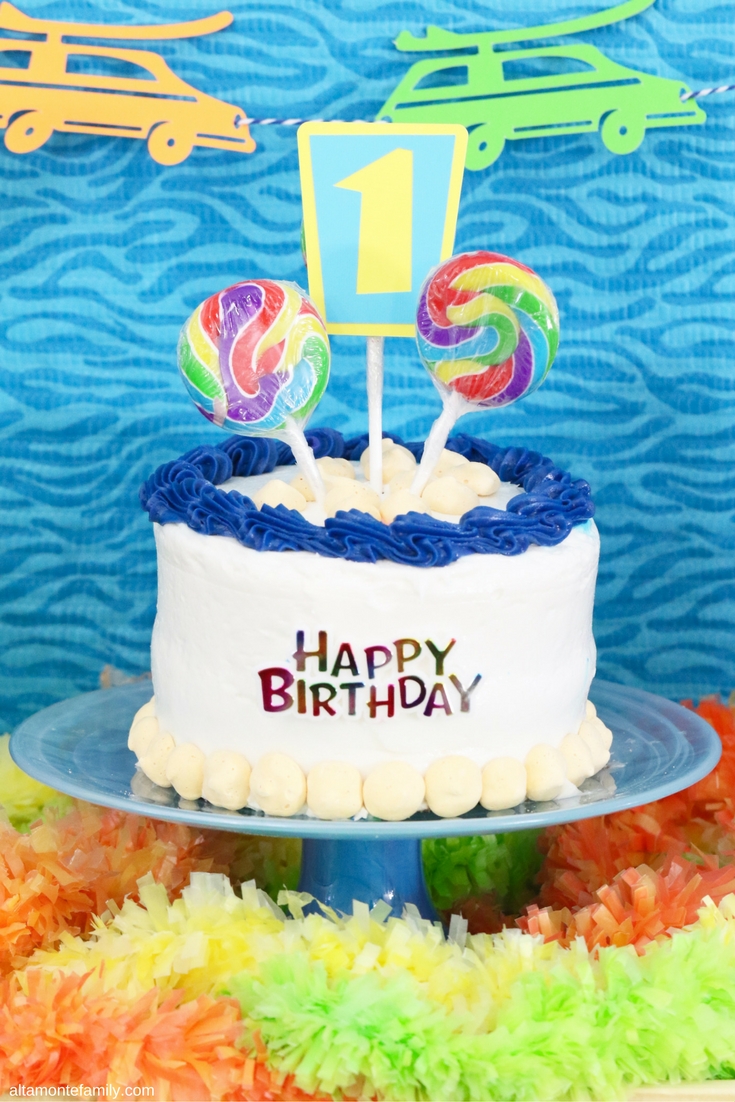 Aren't these surfer-themed paper cups the cutest? Now you know where we got our inspiration for our bunting! Simply fill them up with colorful crackers or drinks!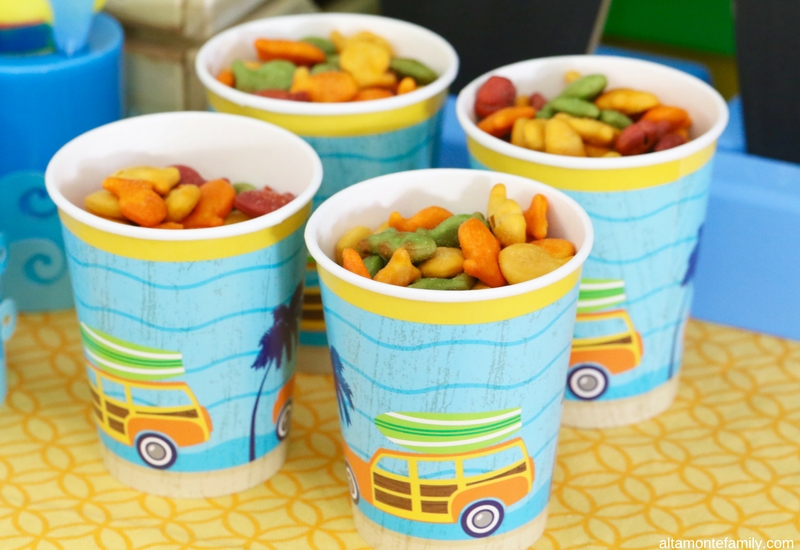 These pint mason jars are great for ocean-inspired blue drinks (whether you decide to fill them up with blue fruit punch or blue power drinks for parents is up to you 😉 ) We used washi tape to attach the paper straws onto the side of each mason jar.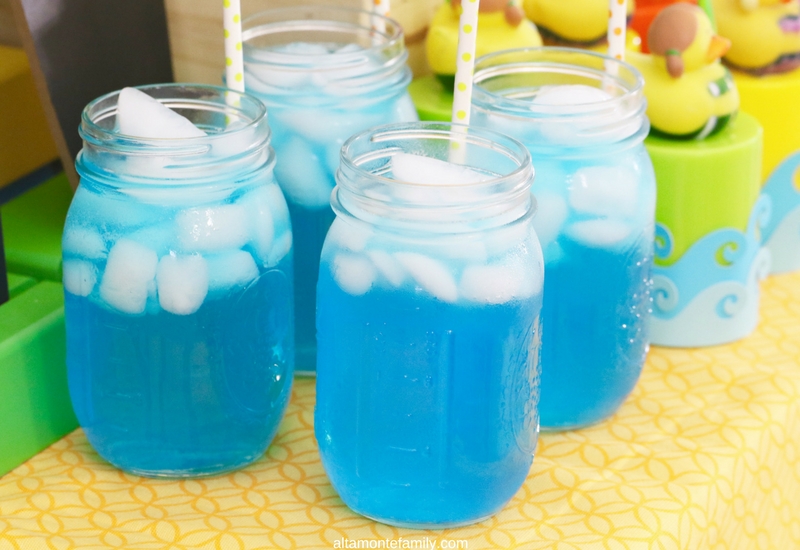 Now let's talk about the surfer rubber duckies that got the little ones excited! We placed a rubber ducky on top of these plastic (but sturdy) storage cups. We added paper wave cut-outs in two different layers (and different shades of blue) to pull it altogether. We used our Cricut Explore to make them, but–again–you can easily cut the waves by hand. We're pretty happy with how they turned out! Most importantly, they're kid-approved!
Party Favor Idea: If you're thinking of giving these rubber duckies away as party favors, you can easily write down your little guests' names on washi tape and attach them onto the storage cups!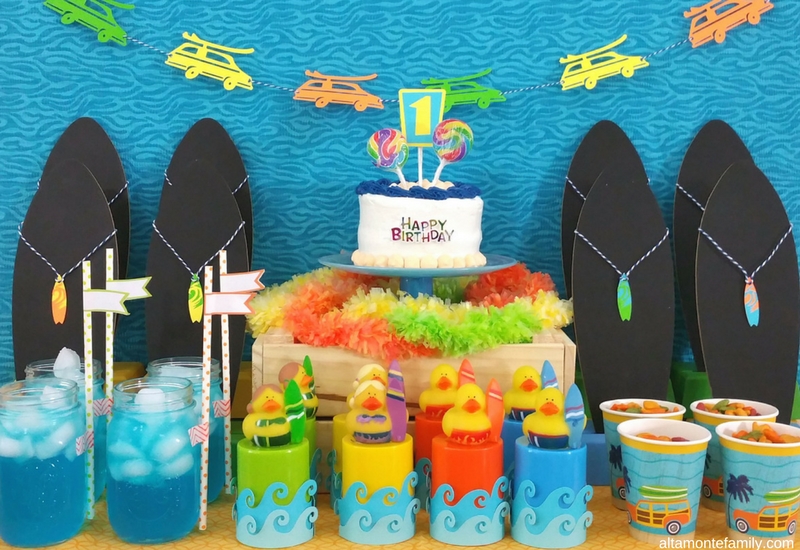 First Birthday Party – Surfer Theme Supply List
Here's our First Birthday Party Supply List if you'd like to get the look:
Cricut Machine or a pair of scissors (for the bunting and surf board pendants)
Card stock – brights (green, yellow, orange, blue, and light blue)
Leis (green, yellow, orange)
Paper straws with flags – polka dot design in lime green and orange
Cake decorations (Happy Birthday topper, lollipops, paper cut-out or candle, and yogurt melts)
Blue alabaster mini cake stand
Small wooden crate (to add extra height to the mini cake stand)
Blue fabric backdrop (Tutti Frutti fabric collection)
Yellow fabric table cloth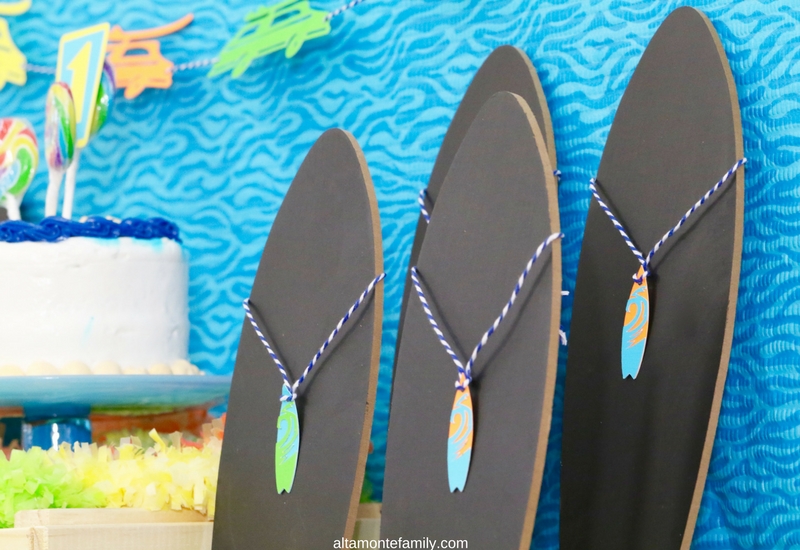 We hope we've inspired you with our first birthday party idea! Feel free to check out our other party ideas or drop us a note in the comments if you have any questions! We're always happy to hear from you!

*Special thanks to Oriental Trading for providing us sample products free of charge in exchange for our honest review. No other type of compensation was received. All opinions are my own.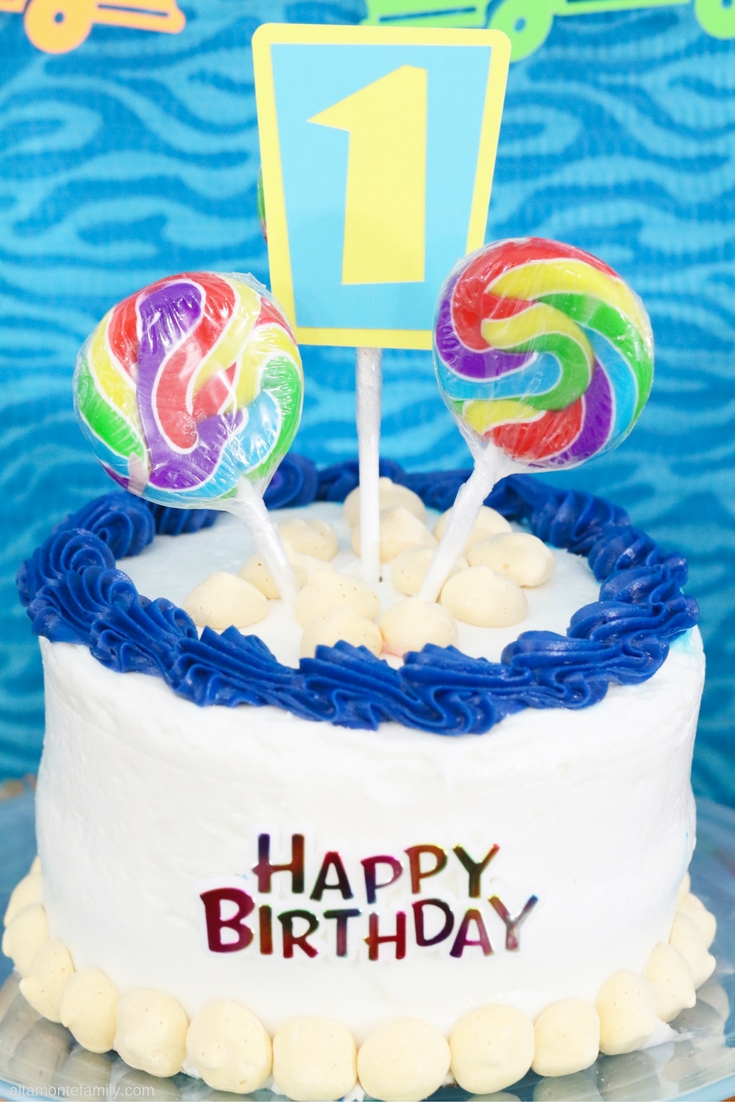 ---
We're Social! If you liked today's post, feel free to share, bookmark, or pin it! Follow us on Pinterest, Facebook, and Instagram for more updates on our latest projects and adventures.