This shop has been compensated by Collective Bias, Inc. and Conagra Brands.
All opinions are mine alone. #31DaysWithRotel #CollectiveBias
---
It's only the second day of May and we've hosted two parties in our home, already! Olé!  One was planned and the other wasn't. Thankfully, we had the right fiesta party essentials in our pantry so that we can fiesta like there's no mañana!  Check out how we styled this Fiesta Crostini Bar for our Ladies' Brunch get-together! This is also great for Mother's Day, and perhaps, a bridal shower!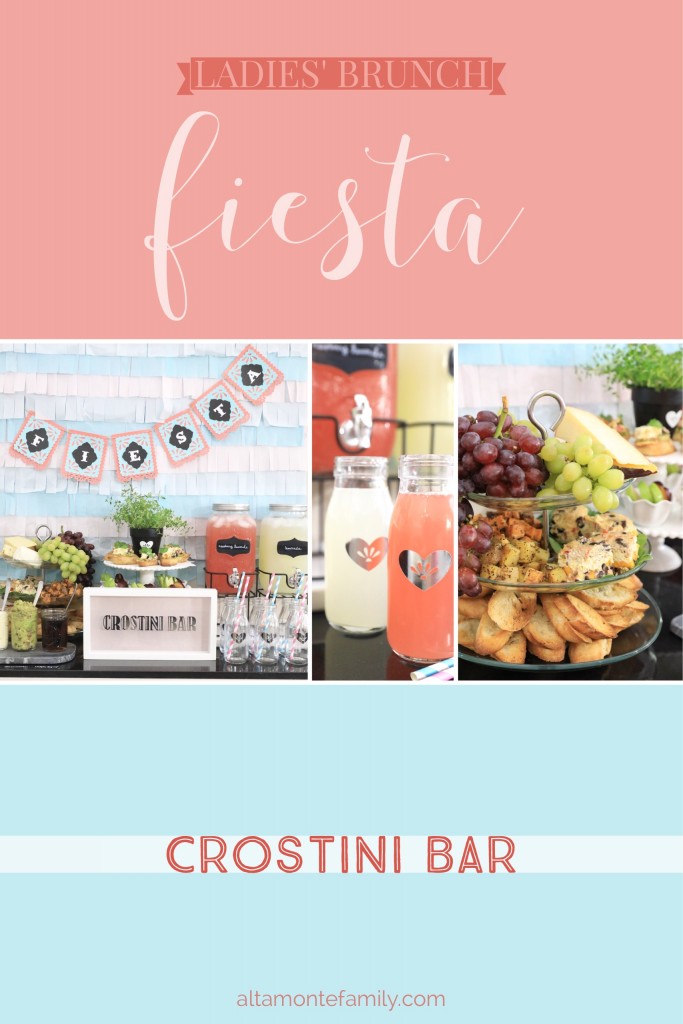 With RO*TEL, bakery bread, and some fruit and veggies, you can easily throw a fiesta party that satisfies both sweet and savory preferences.
Since May is full of party potential, you might want to stock up on some RO*TEL to fiesta-fy  your party spread–banish the bland and bring in the bold! Why not take a bold break from your everyday routine and add a spicy spin to your signature dish? Breakfast, lunch, dinner, or snack–fiesta on!
***We'll tell you in a sec how you can follow the fiesta with us for all 31 days in May!***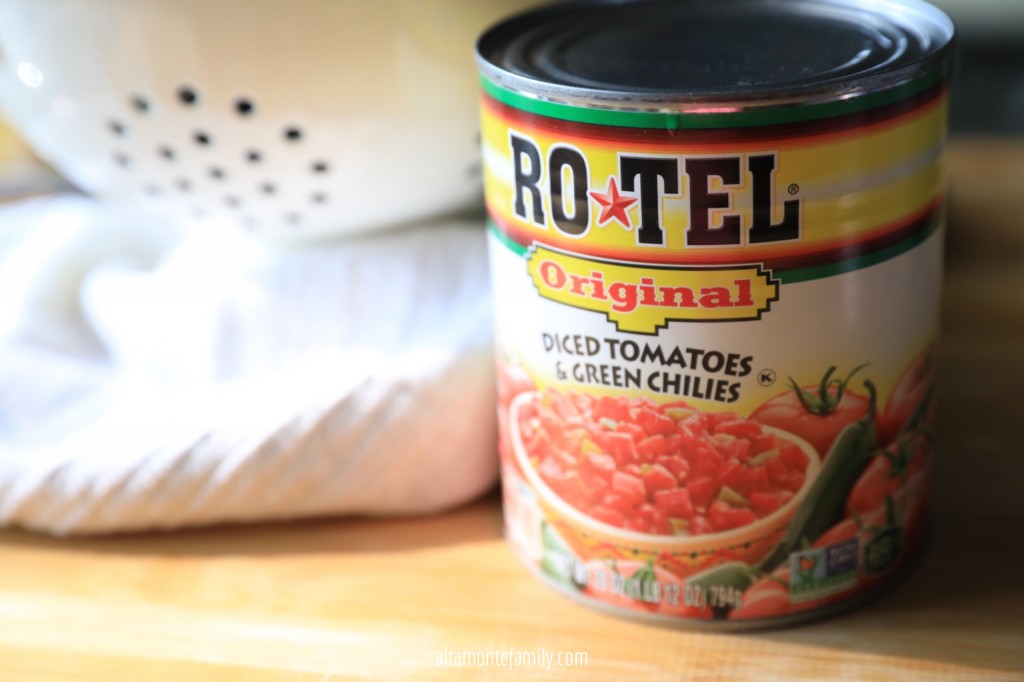 Speaking of snack… we used a traditional snack (or appetizer, to be exact)–the crostini–for breakfast / brunch! Since we're a multicultural family, we can't help but celebrate our fiestas with a nod to an Italian classic (the crostini). Besides, it's the perfect blank canvas for delicious, easy-to-make sweet and savory fiesta toppings!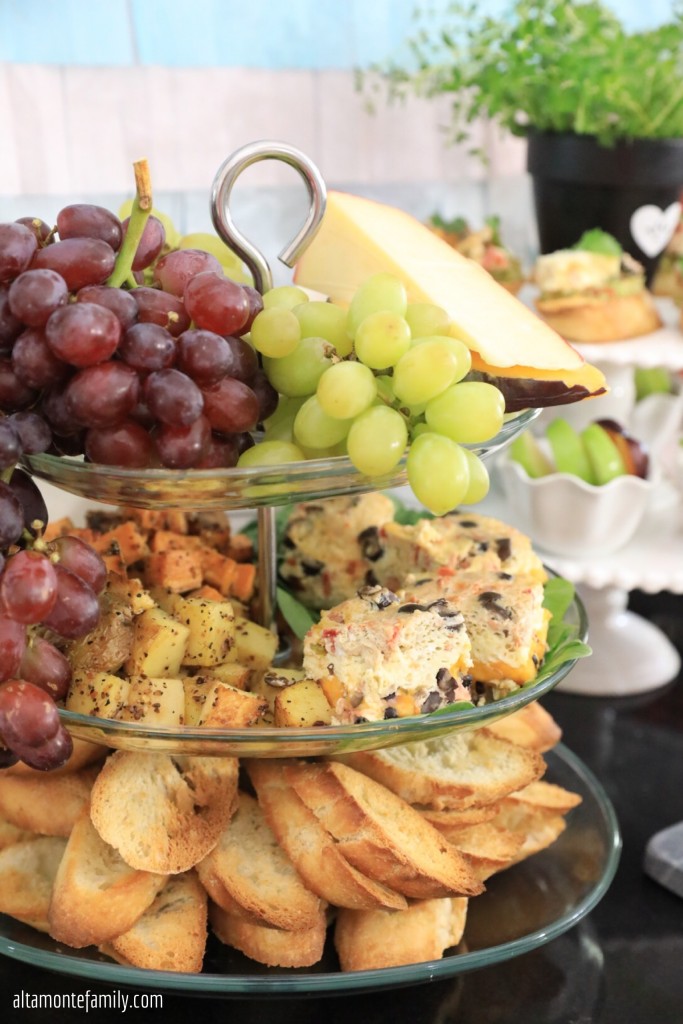 Mmmmm…. we see layers upon layers of goodness right here!
Recipe:  Slow Cooker Black Bean & Cheese Breakfast Casserole
Using our slow cooker, we made a no-fuss breakfast / brunch for a crowd with just a few ingredients, without trading off on health! Our Slow Cooker Black Bean & Cheese Breakfast Casserole uses black beans instead of pork sausage, coconut milk instead of half-and-half, organic cheese… oh, and we totally nixed the hash browns! Well, we did sauté  some potatoes and sweet potatoes on the side, for those who prefer to include them as a topping.
Servings:      12 – 15
Prep Time:   5 minutes
Cook Time:  3 hours (high setting) / 6 hours (low setting)
Total Time:  3 hours, 5 minutes (high setting) / 6 hours, 5 minutes (low setting)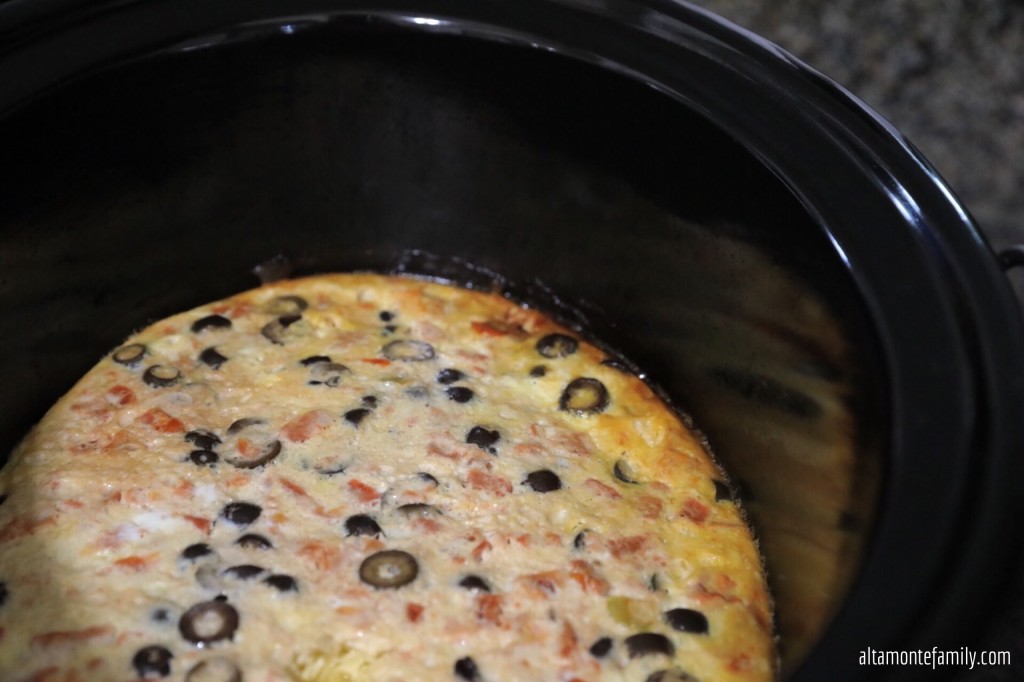 Ingredients
12 cage-free, organic eggs
3/4 cup organic coconut milk
14 oz RO*TEL diced tomatoes and green chilies, drained (we used the 28-oz can and saved the rest to make guacamole)
15.5 oz can black beans, drained and rinsed
3.8 oz can sliced black olives
1 pound organic Colby and Monterey Jack cheese cubes (or shredded cheese)
Optional garnish:  guacamole, creme fraiche (or sour cream), and fresh cilantro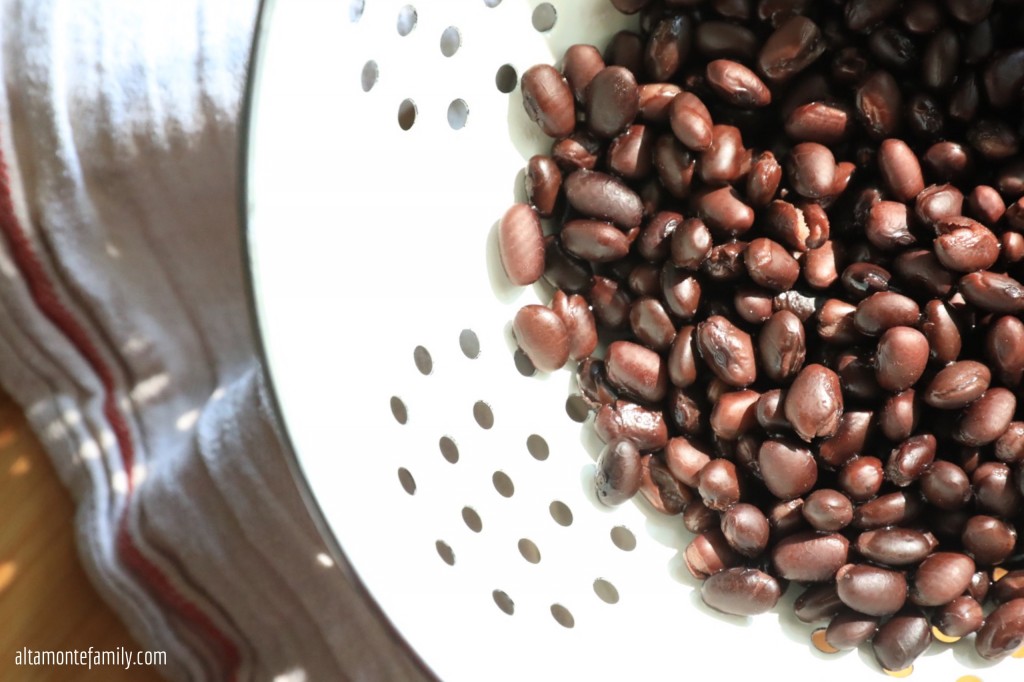 Directions
Combine black beans, RO*TEL, cheese, and olives and pour into lightly greased slow cooker
Whisk eggs and coconut milk and pour over black bean mixture
Cook on high for 3 hours (or 6 hours on low)
That's it!
We didn't have to season our recipe because RO*TEL has enough zest to kick it up a notch (or two)! Plus, we didn't want any extra spices to compete with the other toppings that our guests will be adding to their crostini.
We also used organic cheese cubes vs. shredded cheese. We prefer chunks of cheese in our recipe (plus, they seem to be a better bang for your buck… and great to have in stock for entertaining)! Of course, that's up to you… 😉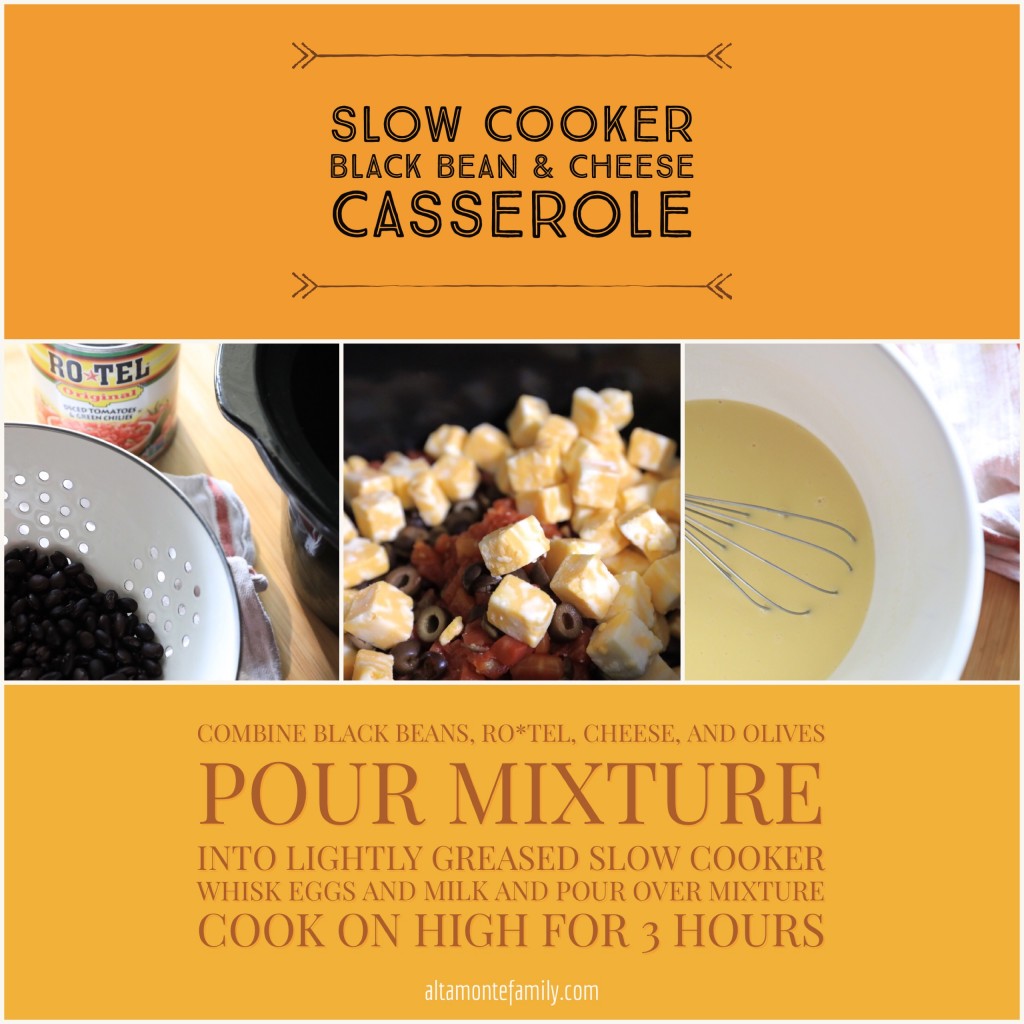 We divided the breakfast casserole into cubes and served them on a bed of organic spinach so our guests can use them as toppings or enjoy as is–with or without garnish. Our favorite garnish for this = guacamole, creme fraiche, and fresh cilantro!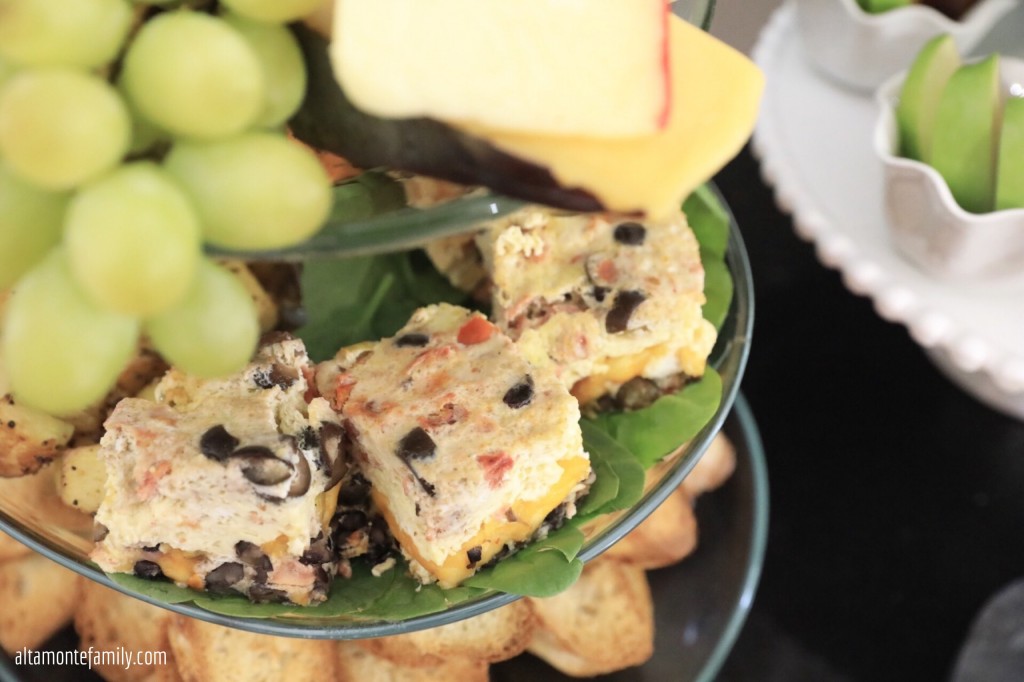 Psstt…. we made the guacamole with the leftover RO*TEL from the 28-oz can. Did you know that an easy way to make chunky guacamole is with a potato masher? Then, just kick it up with some RO*TEL, diced onions, and lime juice…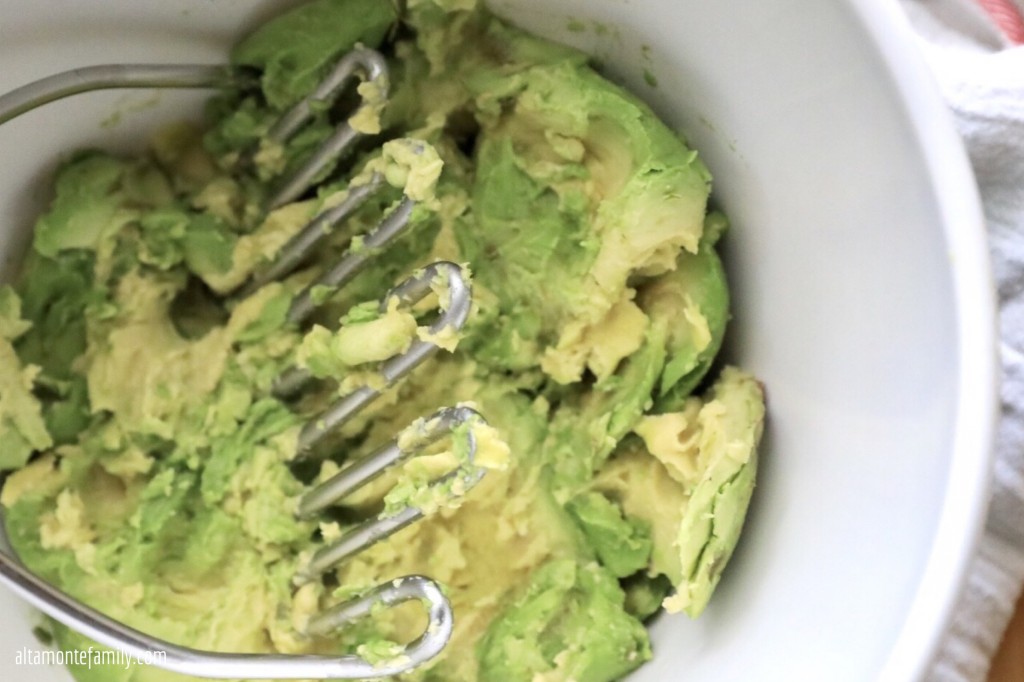 We just love the versatility of RO*TEL! They really come in handy for these parties as well as for everyday dishes (think omelets, frittatas, tacos, nachos, burritos, quesadillas, beef stew, soups, dips, and more)!!!
Oh, and these Savory Breakfast Crostini topped with guacamole, our Black Bean & Cheese Breakfast Casserole, creme fraiche, and fresh cilantro, are like a fiesta to your palate!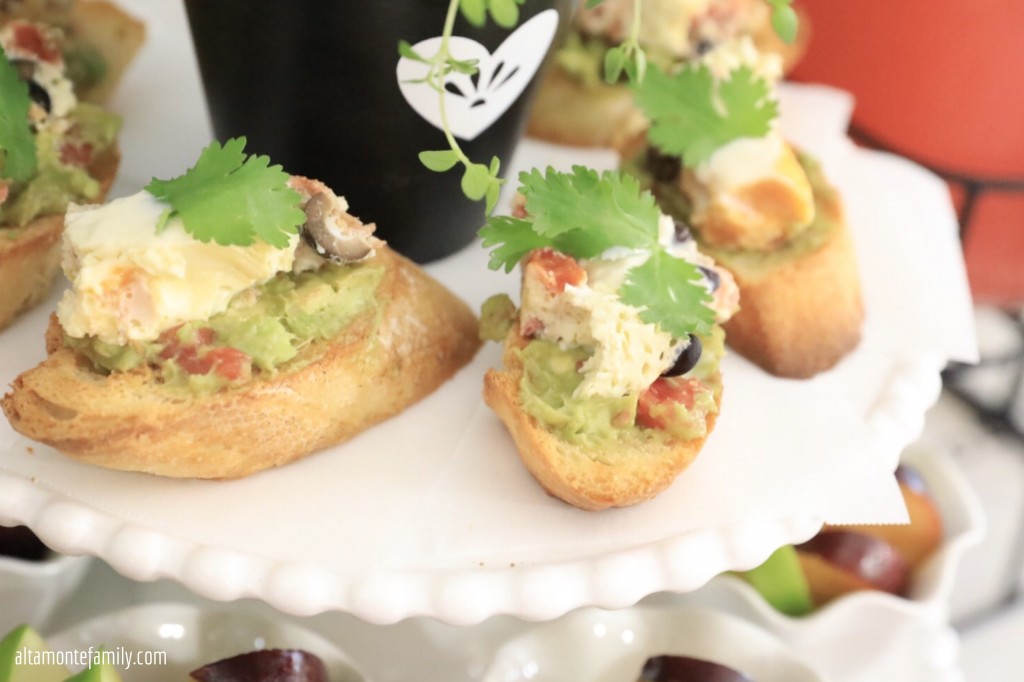 Speaking of fiesta… let's talk about the rest of our party details!
Fiesta Crostini Bar Party Details
We broke away from the traditional fiesta colors and chose a pastel color palette. Take it as our lightened up version of a Fiesta Crostini Bar–both in color and on the menu!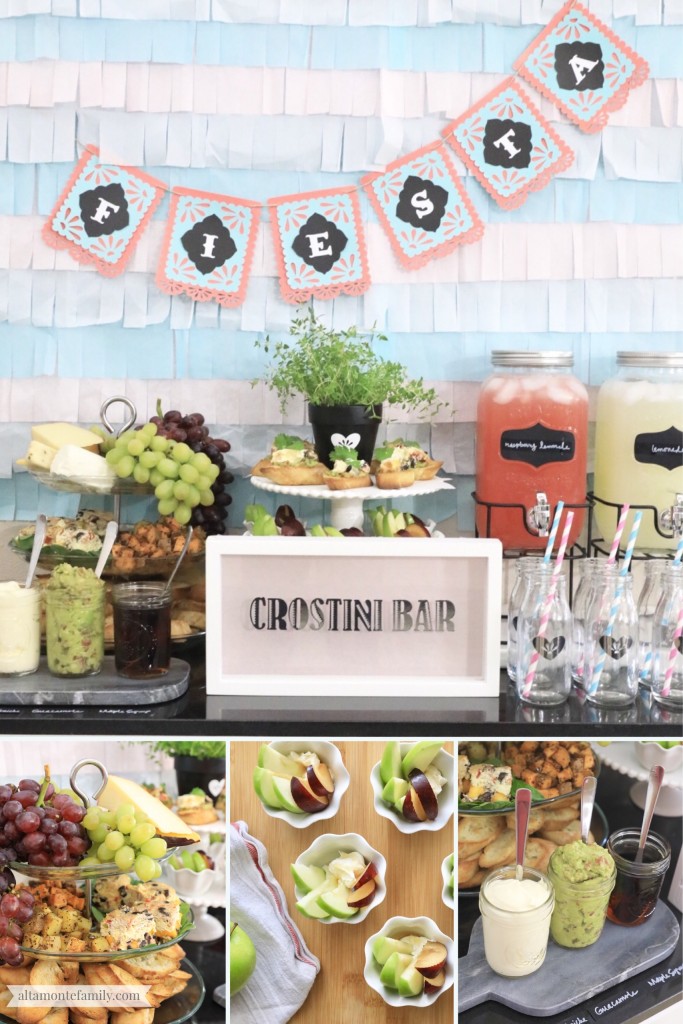 We're highlighting the key elements of this party so you can easily replicate / modify parts or all of it, as you see fit…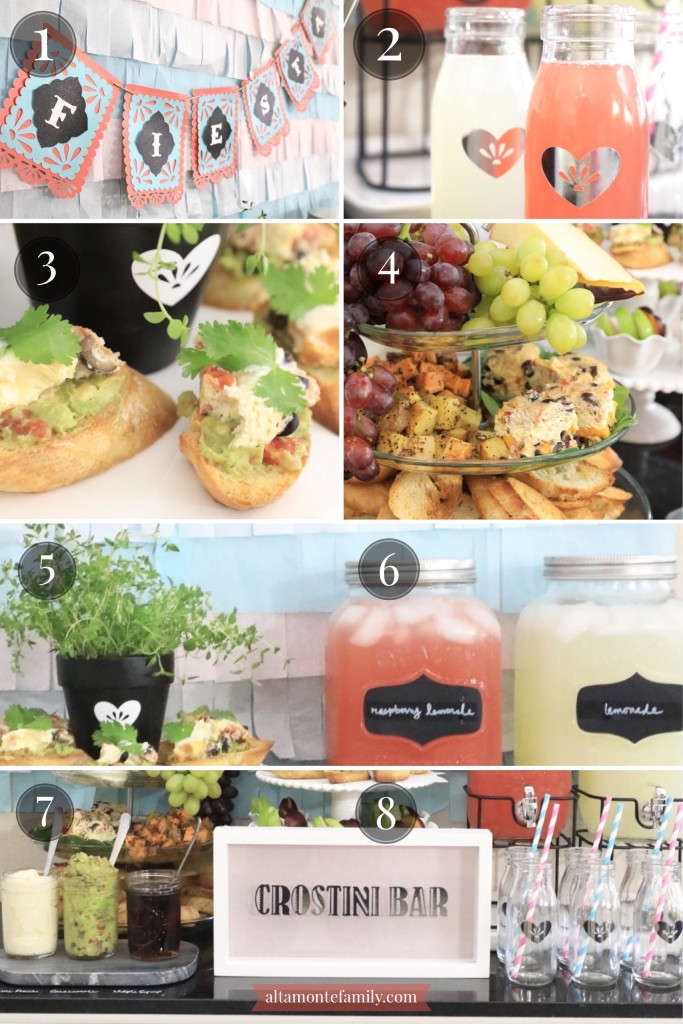 DIY paper fiesta bunting and fringe backdrop
Silver foil fiesta heart decals
Easy crostini recipe
Sweet and savory toppings
DIY herb centerpiece
Beverages
Sweet and savory spreads
Crostini Bar sign
DIY paper fiesta bunting
We made our DIY paper fiesta bunting using chalkboard paper and our electronic die cutting machine. The fringe backdrop is made out of tissue paper (in 3 different colors) taped onto a large foam board. We hung the "fringified" foam board onto the wall using damage-free hanging strips. It's like our very own piñata  wall art!
Silver foil fiesta heart decals
To jazz up our clear milk bottles, we carried over design elements from the fiesta bunting and incorporated them into these fiesta heart decals. We used our electronic die cutting machine to cut them out.
Easy crostini recipe
Using bakery bread of your choice (Cuban, French, Italian, baguette), simply slice the bread, toss them in a baking pan, and lightly drizzle with oil (we used avocado oil). Bake at 350 degrees for about 10 minutes (or longer, if desired).
Savory and sweet toppings
Our toppings include…
Savory: Artisan cheeses, homestyle potatoes, homestyle sweet potatoes, and Black Bean & Cheese Breakfast Casserole
Sweet: Grapes, fresh fruit slices on a bed of mascarpone and agave nectar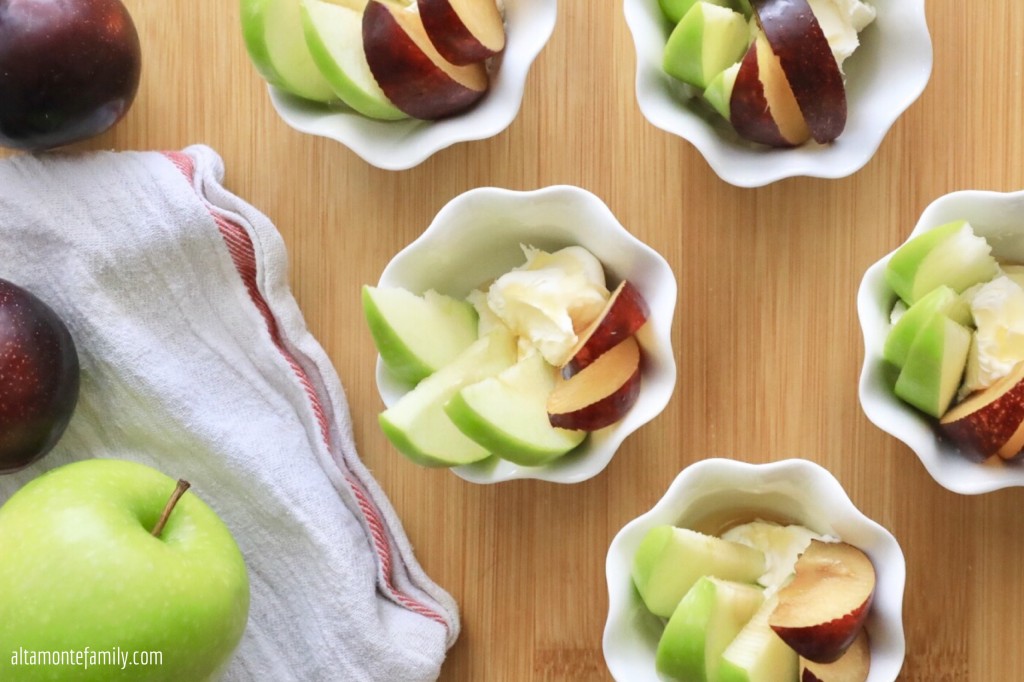 DIY herb centerpiece
We chose a chalkboard flower pot (with no drainage hole = no mess on our food!) and added a white fiesta heart decal on it, to match the theme. We found a small, organic thyme plant and transferred it into the chalkboard flower pot. Love the look and love the fragrance!
Beverages
A few minutes in a freezer-safe container has helped to keep these beverages nice and cold for much longer! We served store-bought natural lemonade and raspberry lemonade (they match the pastel decor!). We also used chalkboard washi tape and a permanent chalk marker to label each beverage dispenser (we're not fans of using real chalk near food, anymore… because, chalk dust).
Sweet and savory spreads
Besides the homemade chunky guacamole that we described above, we also served creme fraiche and organic maple syrup.
Crostini Bar sign
Using a shadow box picture frame, tissue paper (as the backdrop), silver foil vinyl, and our electronic die cutting machine, we were able to create a simple Crostini Bar sign that pops! The silver foil doesn't show too well in photos (because of the reflections) but it's quite classy in person!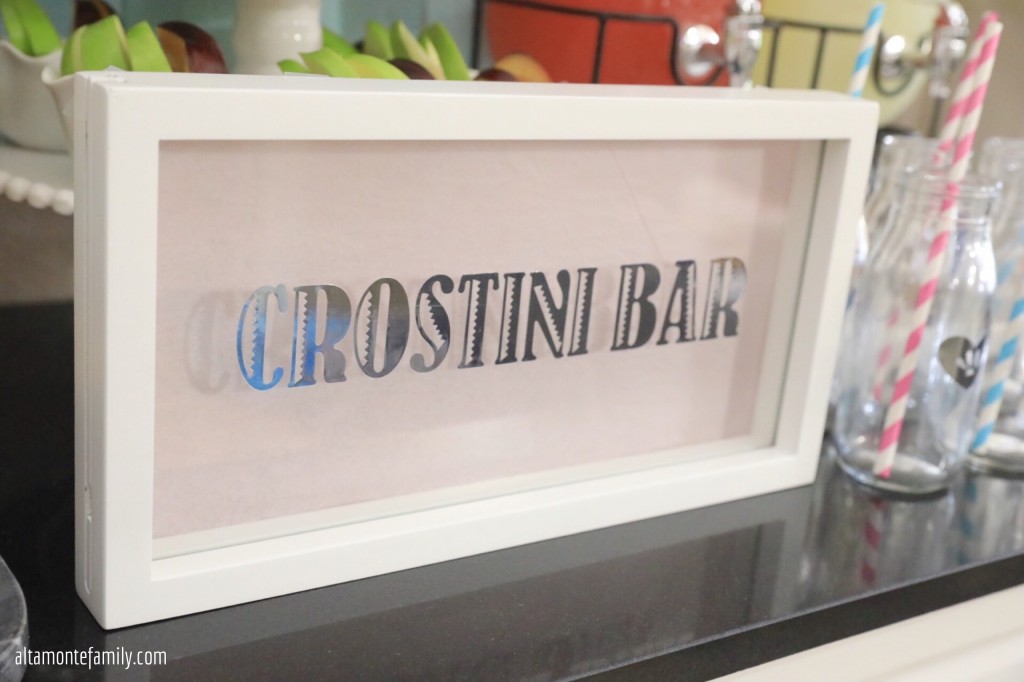 Ready to get your fiesta on?
Get your fiesta on and grab a few cans of RO*TEL at Walmart!
Click here to follow the fiesta all month long and to find more exciting fiesta inspiration!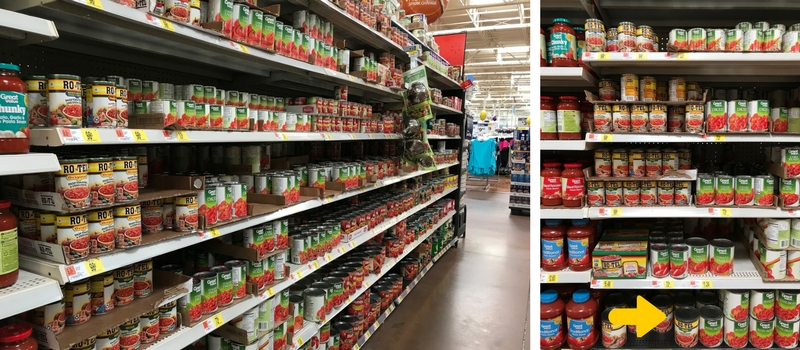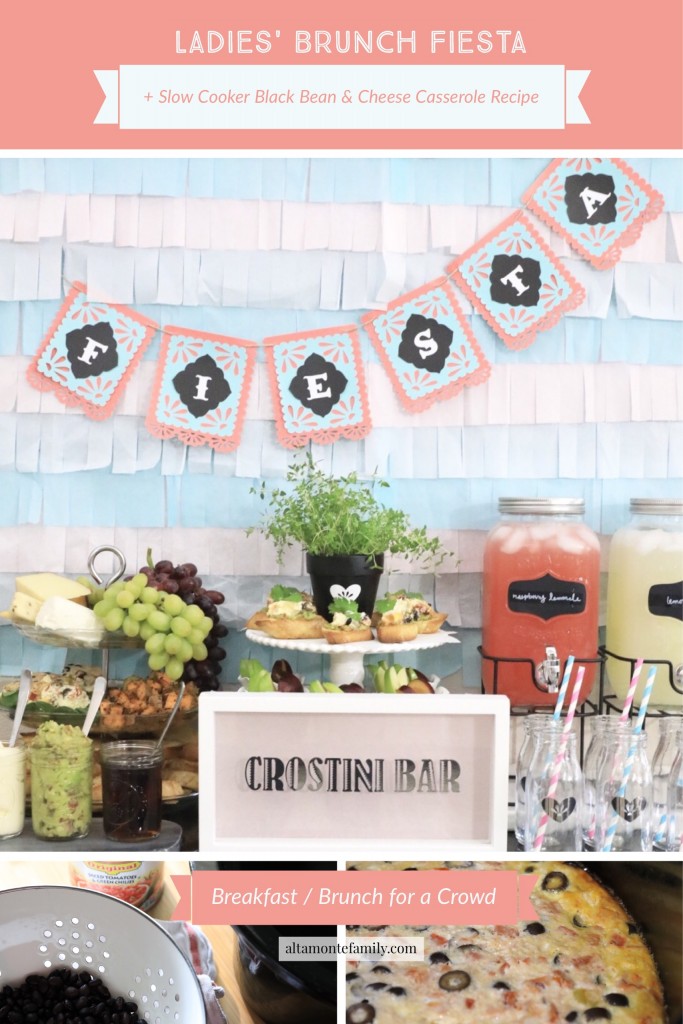 ---
We're Social! If you liked today's post, feel free to share, bookmark, or pin it! Follow us on Pinterest, Facebook, and Instagram for more updates on our latest projects and adventures.