We were feeling inspired by the local Farmer's Markets this weekend and decided to kick back in the patio, fire up the grill, and enjoy a Just-Because Farm To Table Appetizer Bar! We were super pleased with how all of it came together–quite frankly, we would've never thought that potted organic herbs, local honey, and fresh produce would make wonderful party decorations. We are in love with the natural, down-to-earth feel of this setup. Best of all, they're edible and can be consumed all throughout the party! Edible party decorations! Hey, looks like we're onto something here.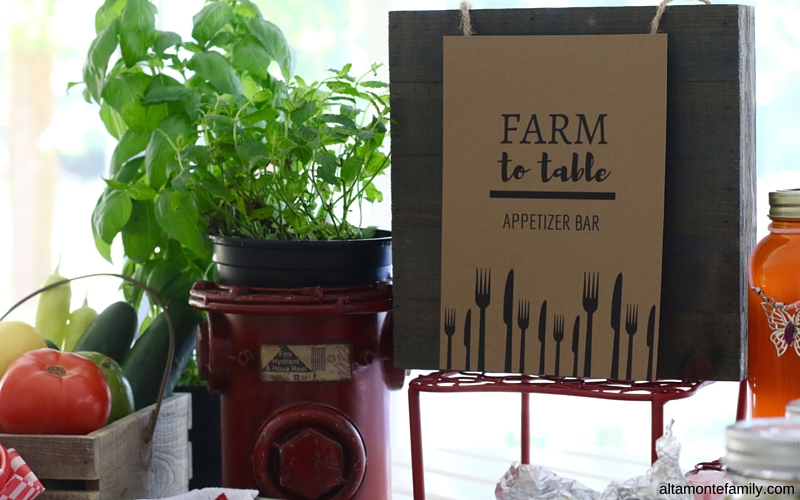 The inspiration came from the mason jars and red diner baskets from Oriental Trading* + our tabletop fire hydrant home decor. Thoughts of "rustic" and "country" came to mind and they quickly reminded us of our leisurely drives along the countryside. We grabbed one of our wooden baskets and added some fresh, locally grown produce that gave it a "fresh-picked produce" feel. Soon, we were thinking of our trips to the Farmer's Market. Local raw honey (the upcycled aluminum butterfly necklace came with it). Potted organic herbs. This is really coming together nicely.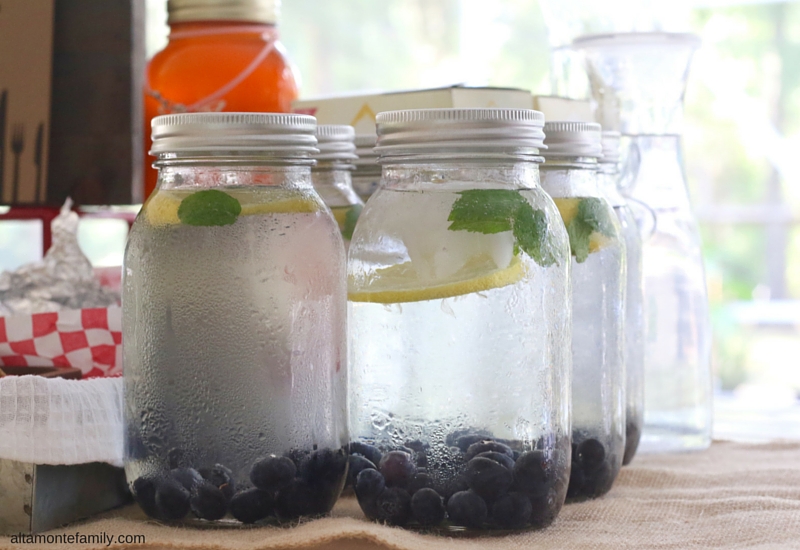 We looked up which local fruits and veggies are in season and added them to our party spread. Blueberries were one of them. Who could resist beautifully infused water in mason jars on a hot summer (well, almost) day?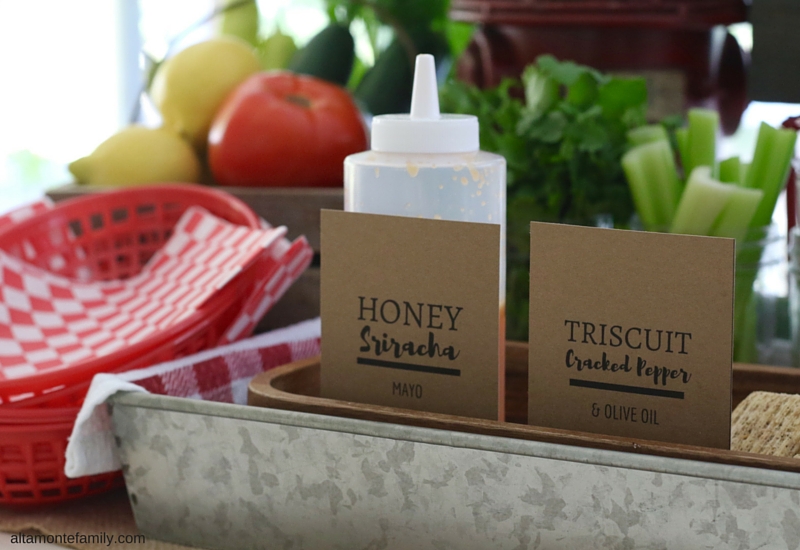 The red trays and checkered wax sheets are so reminiscent of seafood restaurants by the bay. We grilled some fresh, sustainable seafood, and used them as toppers for our Farm To Table Appetizer Bar. Think grilled salmon, grilled shrimp, and all other kinds of delicious options. Grilled fruit and veggies are also nice.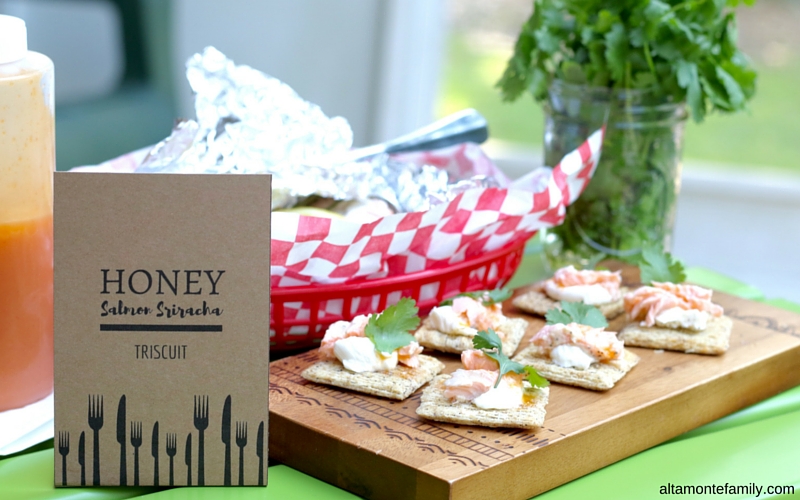 A simple Farm To Table sign completed the theme, along with some themed place cards. We shared the free printables (including blank ones) at the bottom of this post, so you can easily replicate this setup on your patio or picnic table… or even on your picnic blanket! It does help to have a tray lined with a checkered tea towel to keep things portable and sitting in one place (keeping things neat and orderly is important). We used a wooden bread bowl for the crackers and a beautiful wooden cheeseboard for the Honey Salmon Sriracha TRISCUIT crackers. Don't forget about the squeeze bottle for the Honey Sriracha Mayo and some small mason jars to hold fresh herbs, vegetables, and cream cheese packets. These little conveniences are great for outdoor entertaining–and make for an easier cleanup, after the party.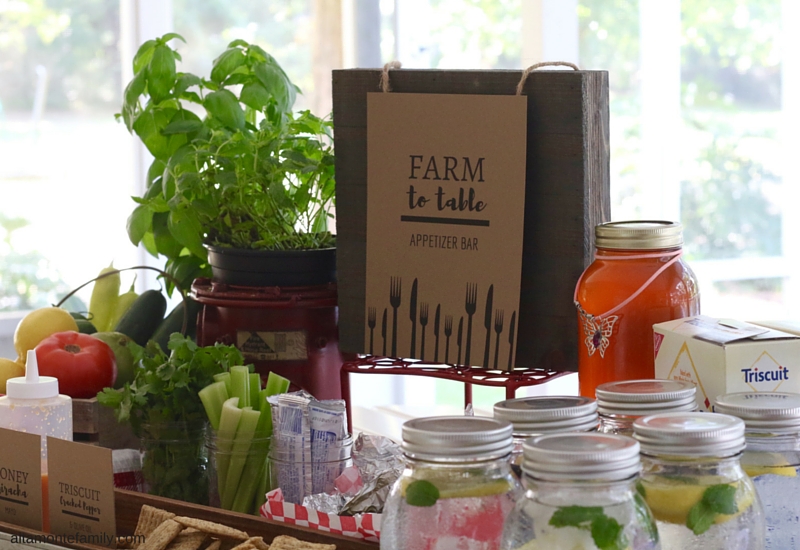 Farm To Table Appetizer Bar Essentials
Ready to start putting together some party supplies? Here's our list of what's on our party table:
Red Diner Baskets and checkered wax sheets
Mason Jars (for the infused water)
Small mason jars (for the fresh herbs, veggies, and cream cheese packets)
10 x 10 wood plank (for the Farm To Table sign)
Wooden bread bowl (for the crackers)
Small wooden cheese board (for the Honey Salmon Sriracha Appetizers)
Squeeze bottle (for the Honey Sriracha Mayo)
Galvanized metal tray (to keep things portable and orderly)
Wooden basket (for the fresh produce)
Checkered tea towel (to line the metal tray)
Dessert stands, small and medium
Decorative tabletop fire hydrant
Potted organic herbs – mint and basil
Local raw honey (with upcycled aluminum butterfly necklace)
Fresh, locally-grown produce
A variety of crackers and toppings
Napkins
Utensils
Printable Farm To Table Sign and Place Cards (free printable links, below)
*Special thanks to Oriental Trading for providing these sample products free of charge in exchange for my honest review. No other type of compensation was received. All ideas and opinions are my own.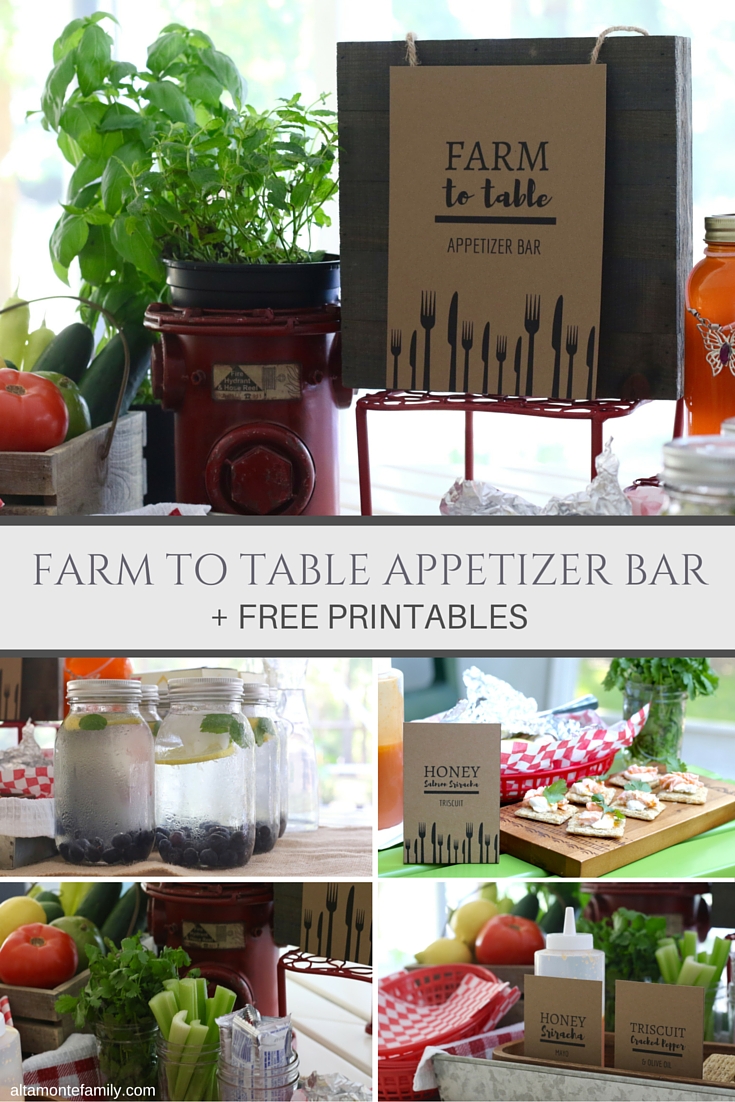 Get Our Free Printables
Choose from the following free printables and get a head start on your summer entertaining in no time!
For Personal Use Only: We created this free template / pattern for your personal, non-commercial use only. Please do not alter in any way. Kindly read our full Terms of Use.
Free Printable Farm To Table – Appetizer Bar Sign
Free Printable Farm To Table Place Cards
Free Printable Farm To Table Place Cards – Blank
---
We're Social! If you liked today's post, feel free to share, bookmark, or pin it! Follow us on Pinterest, Facebook, and Instagram for more updates on our latest projects and adventures.