This shop has been compensated by Collective Bias, Inc. and its advertiser.
All opinions are mine alone. #SweetenTheSeason #CollectiveBias
---
Thanksgiving is just around the corner and we're soooo looking forward to it (along with our long-awaited time-off from work)! For us, holidays + time away from work = more time in the kitchen. We're not sure who's saying "Hooray!" with more excitement–us or our kids? Either way, we're just super happy that the holidays are near here! One of our favorite family activities includes whipping up some quick and easy yummy desserts to enjoy with our guests. So, are you ready to take a peak at what we made today using our favorite chocolate-caramel-pumpkin flavors?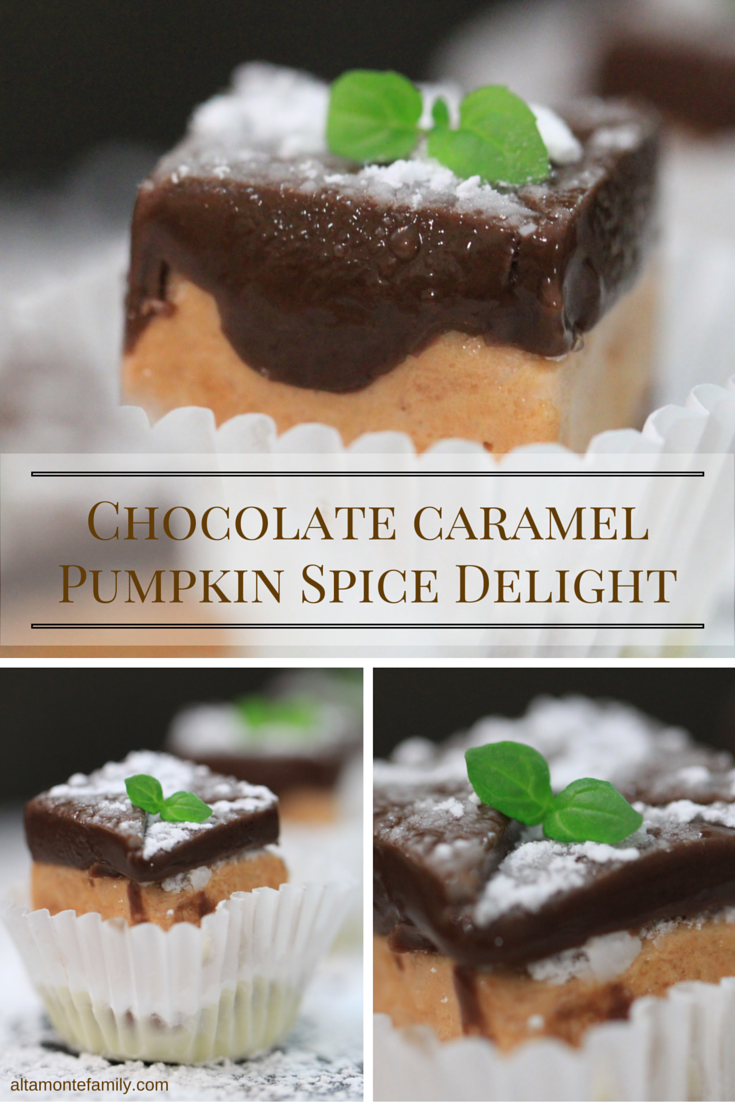 Before we share the recipe, we would like to interrupt your regular programming with some gorgeous caramel bits which remind us of the harvest…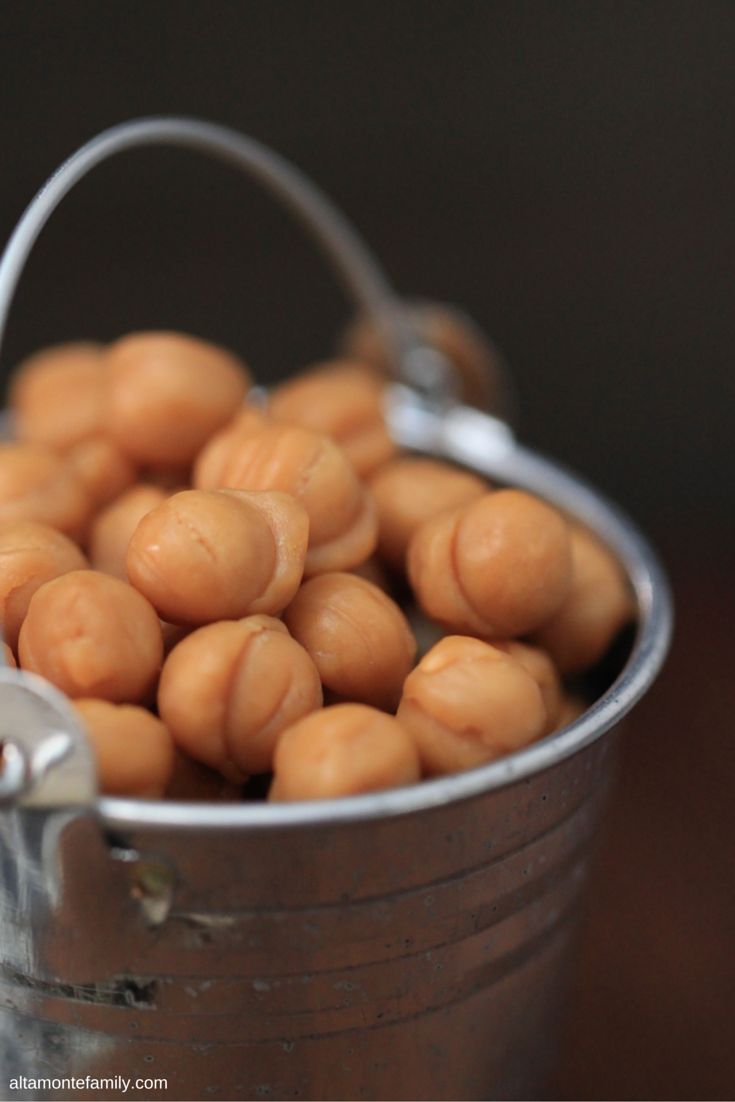 Thanksgiving is such a great time to celebrate and look back at the blessings God has poured into our lives. If you've been following our posts, you'll notice that we like to do our own family's "year-in-review" as we gather at the Thanksgiving table. It's also a time to recount our entries in our 30-Day Thanksgiving Journal.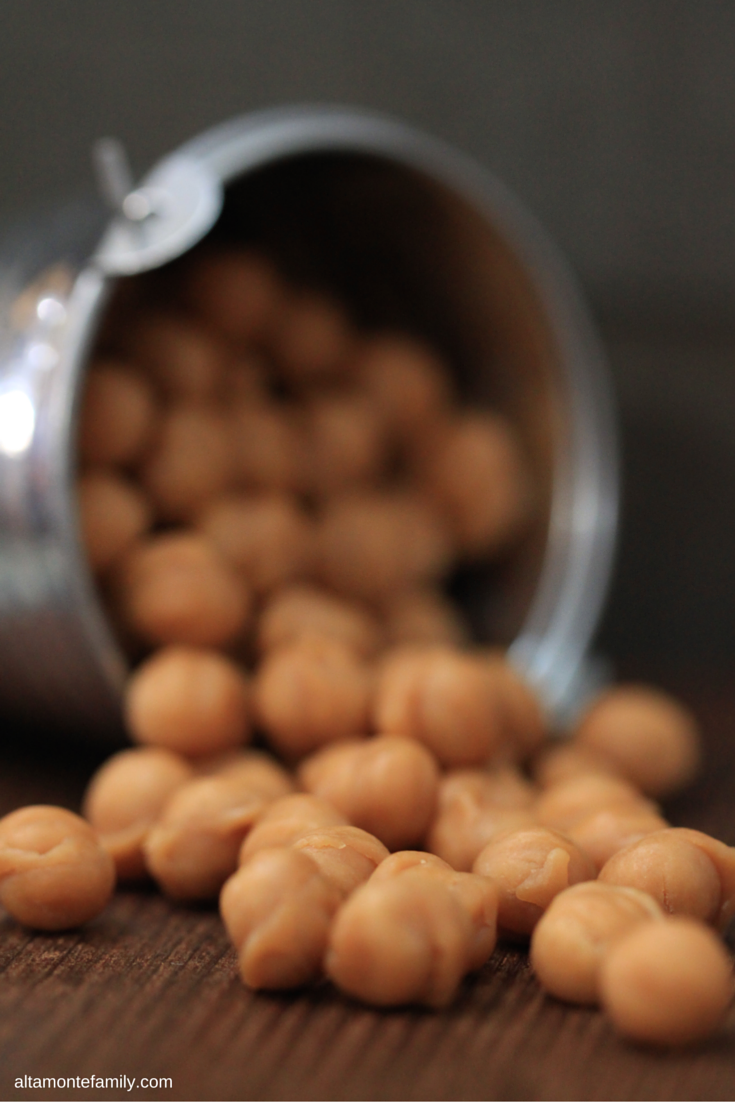 Okay, now that we've given the caramel bits a lot of love, let's take a look at the rest of the key characters in our beautiful Fall "basket of ingredients".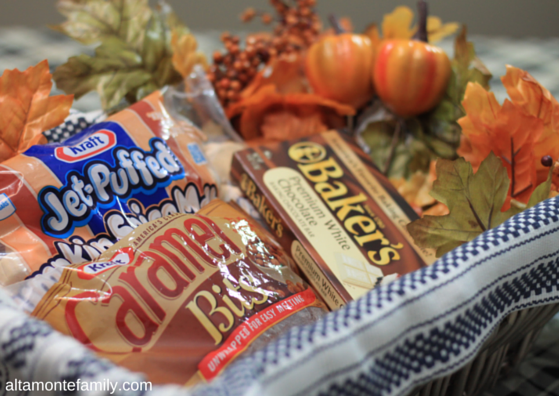 Yup, just 3 simple, budget-friendly key ingredients:
JET-PUFFED Pumpkin Spice Mallows
BAKER'S White Chocolate
KRAFT Caramel Bits
So, here's a question for you: If you had these 3 key ingredients in your pantry (or basket), what special holiday dessert would you make?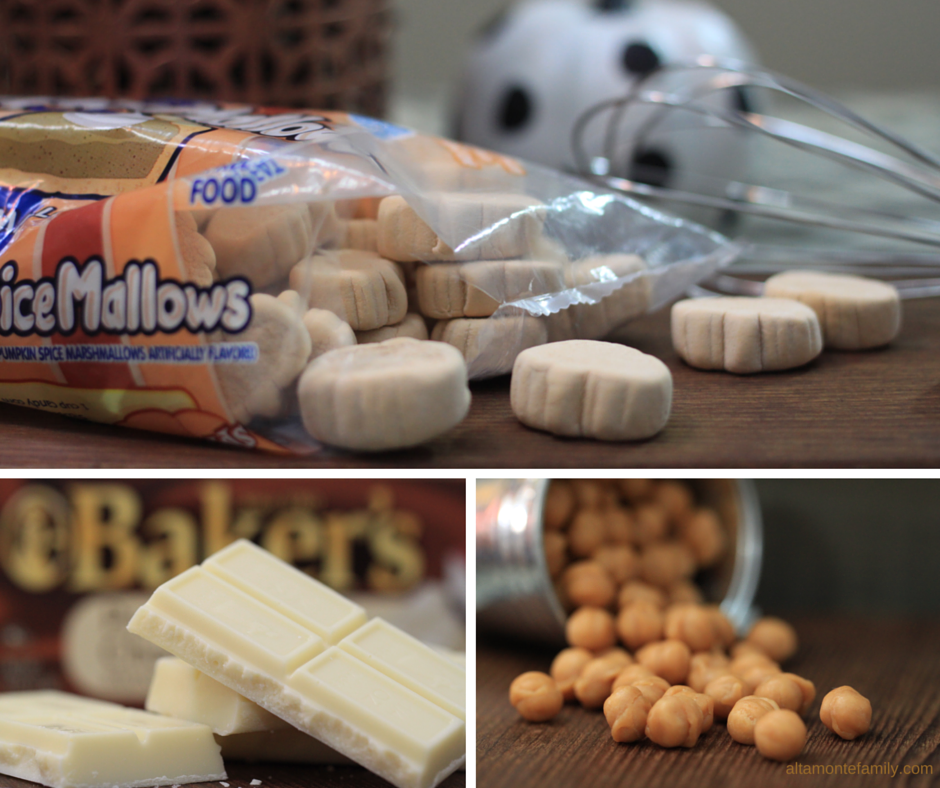 Aren't they the cutest ingredients?
Before they melted in our mouth, they each melted in the microwave, first.
Melting and re-shaping marshmallows, the easy way
Do you wanna know a secret?
One of the easiest ways to melt and re-shape marshmallows is by using a candy mold! A silicone, microwave-safe candy mold!
Okay, guess it's no longer a secret 😉 Bet most of you probably already know about this "secret" (or short cut)!
Here's the best part: By using a candy mold, you wouldn't need to use any knives to re-shape your marshmallows and/or cut them down to 1-inch cubes after you remove them from the microwave.
We also like that we can easily gauge how many marshmallows we'll be needing–in this case, we used 1 marshmallow for each candy mold cavity. We wanted to make 6 pieces of these tasty treats, so we simply knew to use only 6 marshmallows!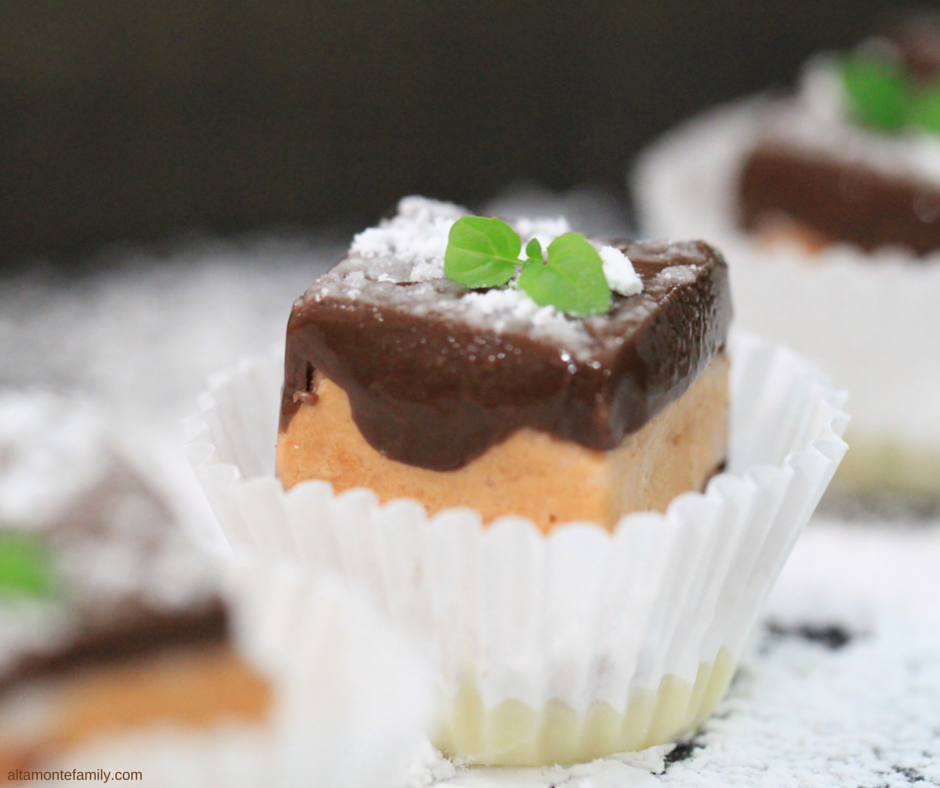 Recipe: Chocolate Caramel Pumpkin Spice Delight
Making these delightful Fall treats is really simple and easy–it's just a matter of layering them in a candy mold (and finally, presenting them in a mini baking cup). We provided step-by-step instructions, in case you had any questions along the way–but really, you could get as creative as you want with these treats, layer by layer.
Servings: 6
Active Time: 10-15 minutes
Inactive Time: 120 minutes
Total Time: 2 hours 15 minutes
Tools:
So let's talk about the tools we used…
Microwave-safe silicone candy mold
Mini muffin tin
Mini baking cups
Deep Bowl (for melting the marshmallows)
Bowl (for melting the caramel bits)
Spoons
Pastry brush (optional–for greasing the tools)
Ingredients:
6 pcs JET-PUFFED Pumpkin Spice Mallows
6 pcs BAKER'S White Chocolate
KRAFT Caramel Bits (we melted half of the 11 oz bag and didn't need to use all of it)
Himalayan sea salt (to salt the caramel)
Chocolate fudge (the one used as an ice cream topping)
Shortening or cooking spray (we used organic, cold-pressed extra virgin coconut oil)
Powdered sugar
Mint leaves (optional–for garnish)
Instructions:
Step 1:  Place marshmallows in a lightly greased, deep bowl and microwave for 15 seconds. Gently stir with a greased spoon.
Important: Remember to use a deep bowl when melting marshmallows in the microwave as marshmallows expand when heated. To prevent the marshmallows from sticking on our fingers, we lightly greased our fingers as well as the bowl and spoon with coconut oil.
Step 2:  Scoop a small amount of melted marshmallows into a candy mold that's been lightly dusted with powdered sugar.
Tip:  The powdered sugar makes the marshmallows easier to remove from the candy mold after they've been chilled.
Step 3:  Chill the melted marshmallows for at least 1 hour in the refrigerator.
Step 4:  Place the caramel bits in a lightly greased bowl and melt in the microwave per package instructions. Gently stir in between, using a lightly greased spoon.
Step 5:  Using a lightly greased spoon, scoop some melted caramel bits on top of the chilled marshmallows.
Step 6:  Sprinkle some Himalayan sea salt on top of the caramel.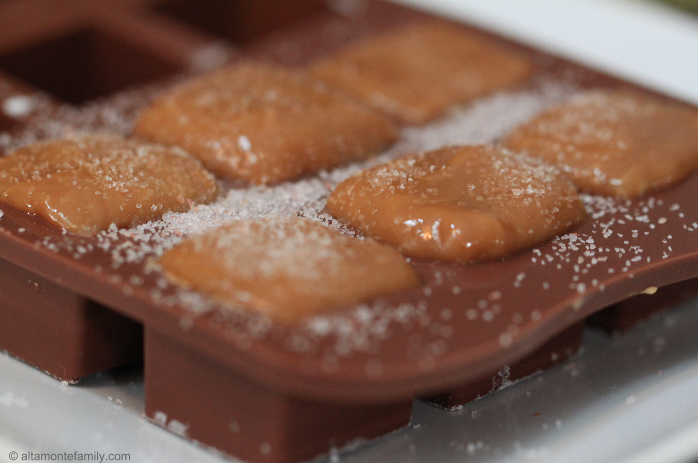 Step 7:  Chill the mixture for at least 30 minutes in the refrigerator.
Step 8:  Carefully remove the chilled mixture from the candy mold. Set aside.
Step 9:  Using the same candy mold, pour a little bit of chocolate fudge into 6 of the cavities (approx. 1/4 deep).
Step 10:  Carefully place the marshmallow-caramel mixture partially back into the candy mold cavities (caramel side up).
Important: Do not press the mixture firmly back into the mold to keep the chocolate fudge from spilling over.
Step 11:  Chill the mixture for 15 minutes (or more) in the refrigerator.
Step 12:  Melt the white chocolate in a lightly greased bowl following package directions.
Step 13:  Scoop the melted white chocolate into a mini muffin tin that's been lined with mini baking cups.
Step 14: Remove the chilled marshmallow-caramel-chocolate-fudge mixture from the candy old and place each one on top of the melted white chocolate (chocolate fudge side up).
Step 15:  Chill for at least 10-15 minutes in the refrigerator before serving.
When ready to serve, garnish with powdered sugar and mint leaves as desired. Serve immediately!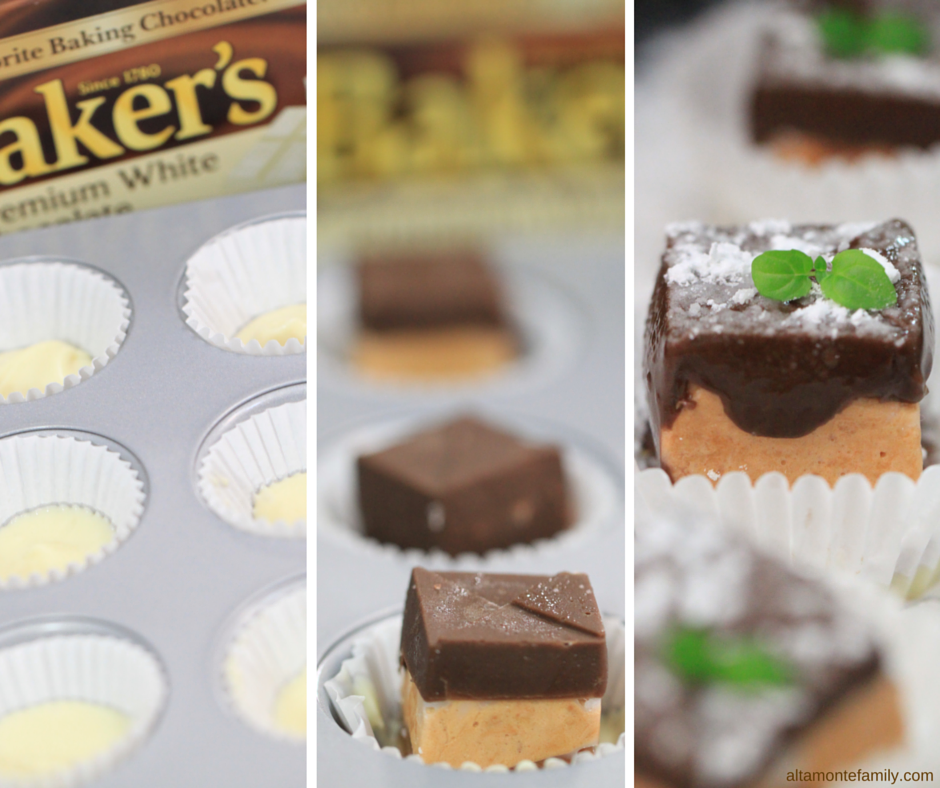 Once you get the hang of how easy it is to make these treats, they'll probably turn into one of your favorite in-between activities while cooking up a main or side dish for Thanksgiving. Raise your hand if you're also one of those people who like to multi-task in the kitchen! 😉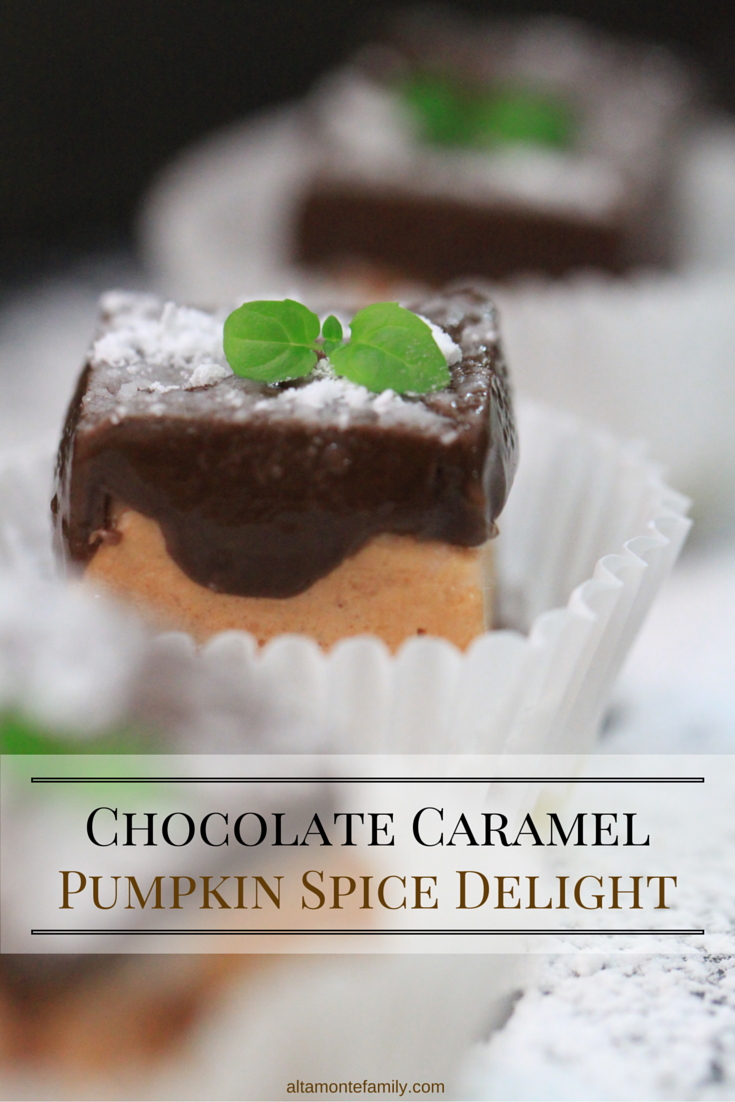 So, are you ready to get creative with these fancy-but-super-easy-to-make Fall desserts? Head on over to the Walmart Bake Center to find budget-friendly items to make some delightful holiday treats!
What will you make with our favorite chocolate, caramel, and pumpkin ingredients?