This post has been sponsored by SheSpeaks, Inc. and The Coca-Cola Company.
All thoughts and opinions are my own.
---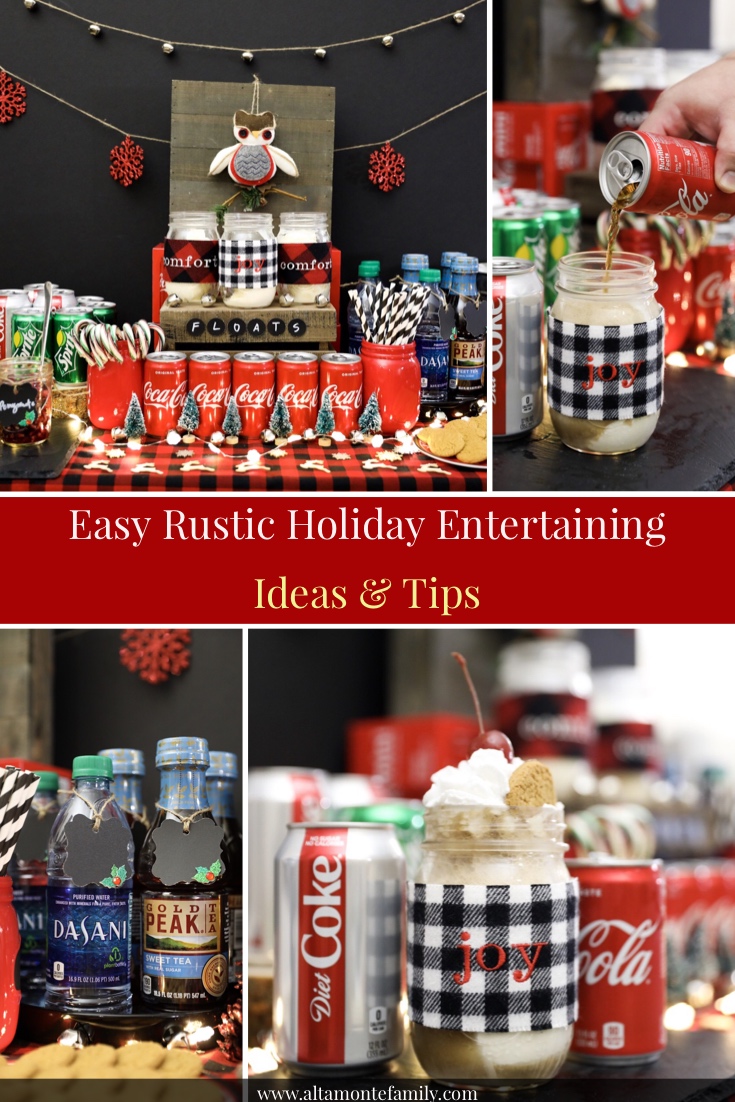 The holiday season is here–and we're here to share how (and why) we chose a rustic theme to keep holiday prep as stress-free as possible. We hope to keep the spirit of "comfort and joy" smoothly flowing from prep to the big day (and through the post-cleanup days that follow). If you're looking for some easy rustic holiday entertaining ideas, you're in the right place.
5 Easy Rustic Holiday Entertaining Ideas & Tips
To give you a little background, we're a family of 6 (not counting our four-legged family members and 2 fish) and yours truly is a mother to four boys! We put together the following holiday prep and entertaining tips with our family dynamic in mind (and house full of family and friends we've all been waiting to see)!
Tip #1

: Choose a decorating theme that uses fewer breakables.

For us, this means using disposable paper goods (for easier post-celebration cleanup) as well as choosing a holiday decorating theme that uses glass, minimally. The first thing that came to our mind was, "rustic"! Plaid or buffalo check goes nicely with either fall or winter holidays, and it tends to create a very laid back, casual, ambience (especially before and during the party).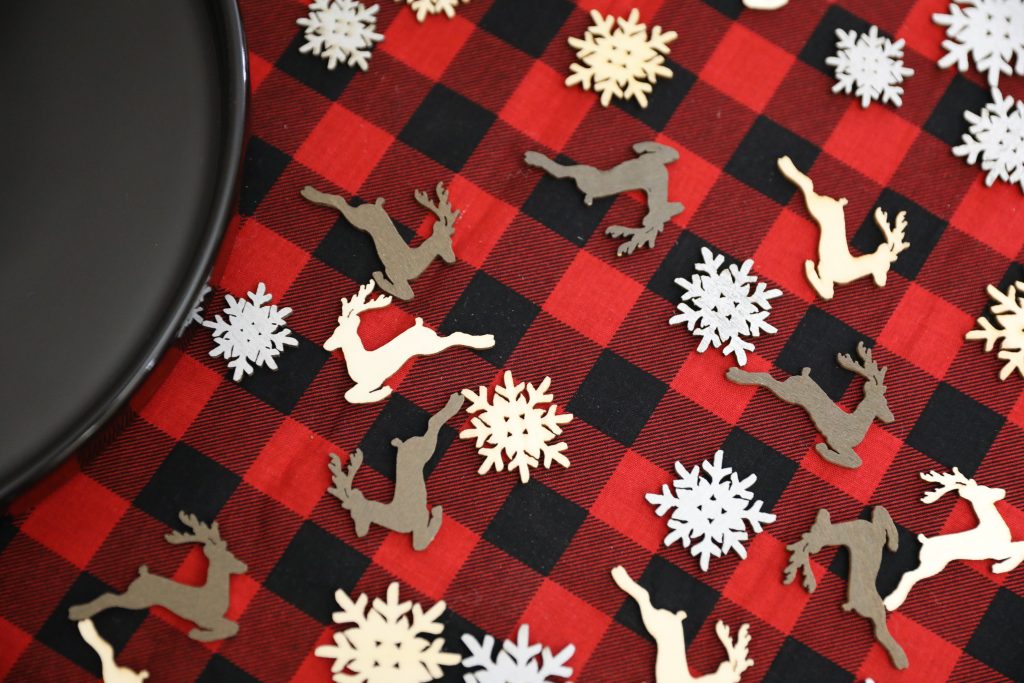 We're pretty sure you can easily find plaid or buffalo check tablecloths during the holiday shopping season. We happened to learn how to sew somewhere between the time we started this blog (2015) and now, so we found a high quality cotton print that we liked and finished off the edges (this can be done with a sewing machine or a serger–we've never heard of the latter until we actually started taking sewing lessons).
One of our children thought that adding these laser-cut wood pieces (reindeer and snowflakes) added a nice accent and contrast to the table. He also suggested adding an owl made with wool felt. We think he's pretty spot-on!
Tip #2

: Choose pre-packaged beverages in various sizes (including minis).

We would often use beverage dispensers for guests who prefer a smaller serving, but this holiday season is going to be different! We were excited to find these sip sized servings of Sprite® Mini Cans (they're new to Sam's Club this holiday season), and we've even shared a recipe with you in a previous post!

Note: In case you're wondering, Coca-Cola® Mini Cans are also conveniently available. Of course, we had to have them both (plus, having a combination of the red and green cans is one of the easiest ways to add festive colors to your holiday table).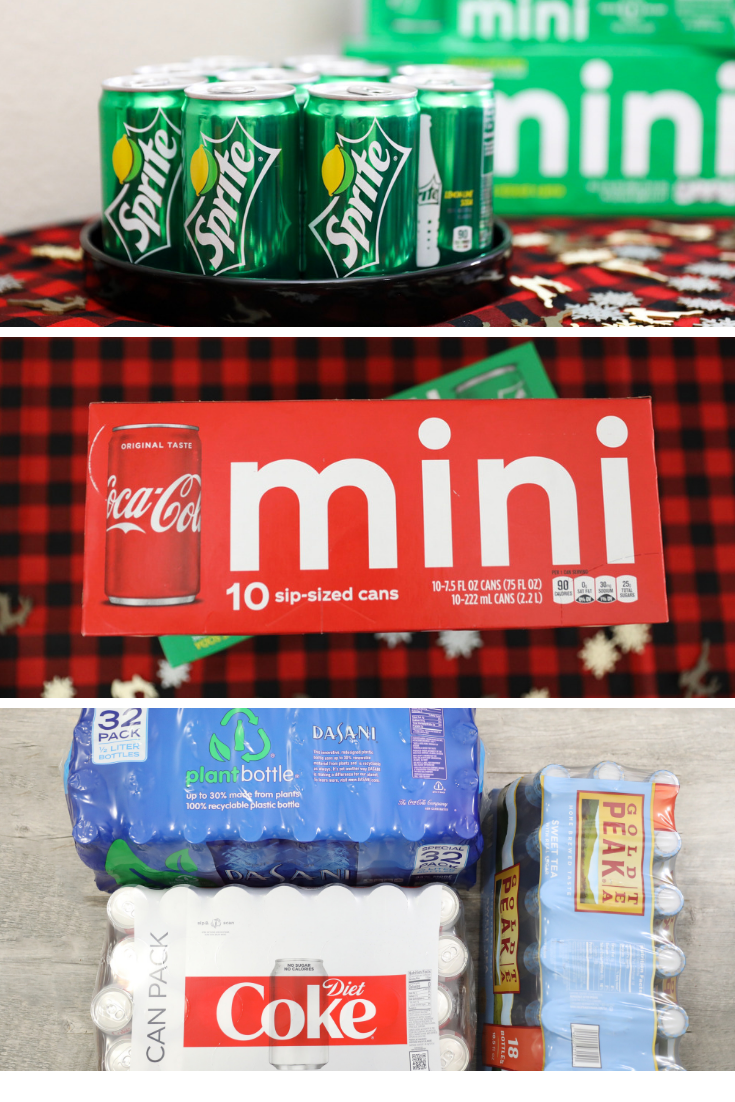 Tip #3

: Beat the holiday shopping crowd and opt for Club Pickup!

As a busy parent who typically shops with all of our children in tow, part of our stress-free holiday planning includes stress-free holiday shopping! With Club Pickup at Sam's Club, we simply order online and the items will be ready for us to pickup in club. This is especially convenient when we're purchasing larger items by the pack, like these beverages. Besides the Sprite® and Coca-Cola® Mini Cans (they come in a pack of 30), we also purchased Gold Peak® Sweet Tea, Dasani® drinking water, and Diet Coke®. We wanted to make sure there's something for everyone, and we got them at a good value!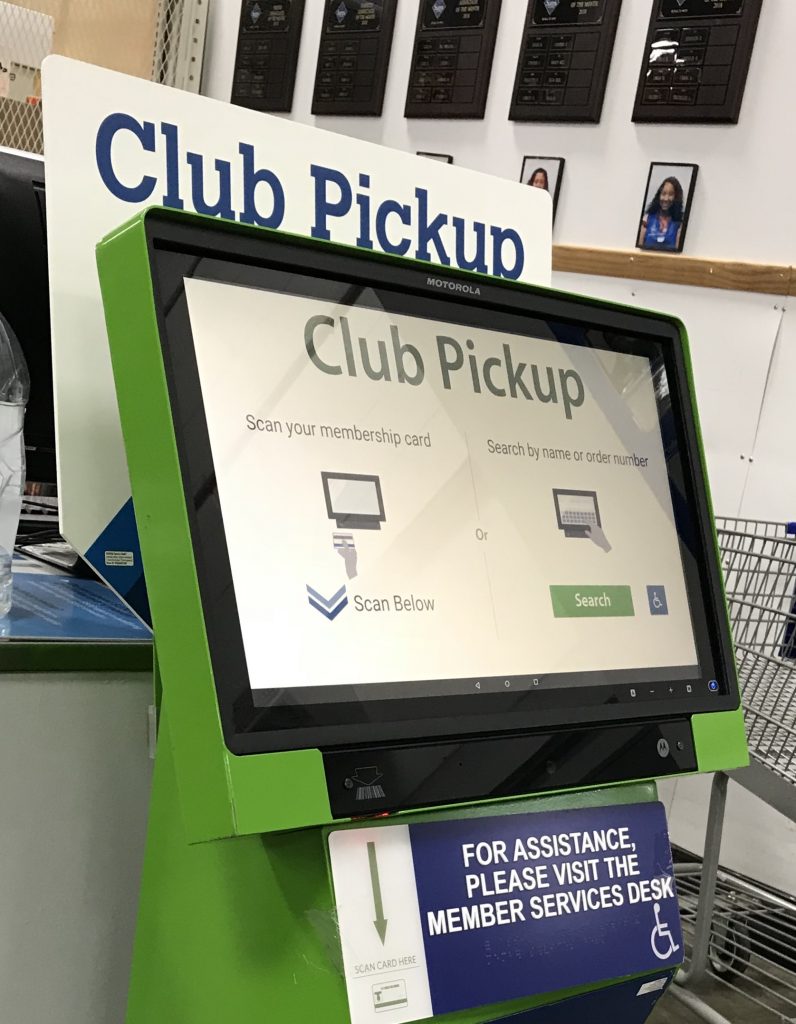 Tip #4

: Dress up the mason jars (and beverages)!

We know we talked about using breakables minimally, but we can't imagine a rustic holiday without mason jars! They're relatively low maintenance and oh so versatile! We dressed them up with some chalkboard card stock (we used a craft punch to shape them), jute twine, and festive stickers (we keep a stash of stickers for all the different holidays so we don't have to go panic-shopping for them when we're expecting company).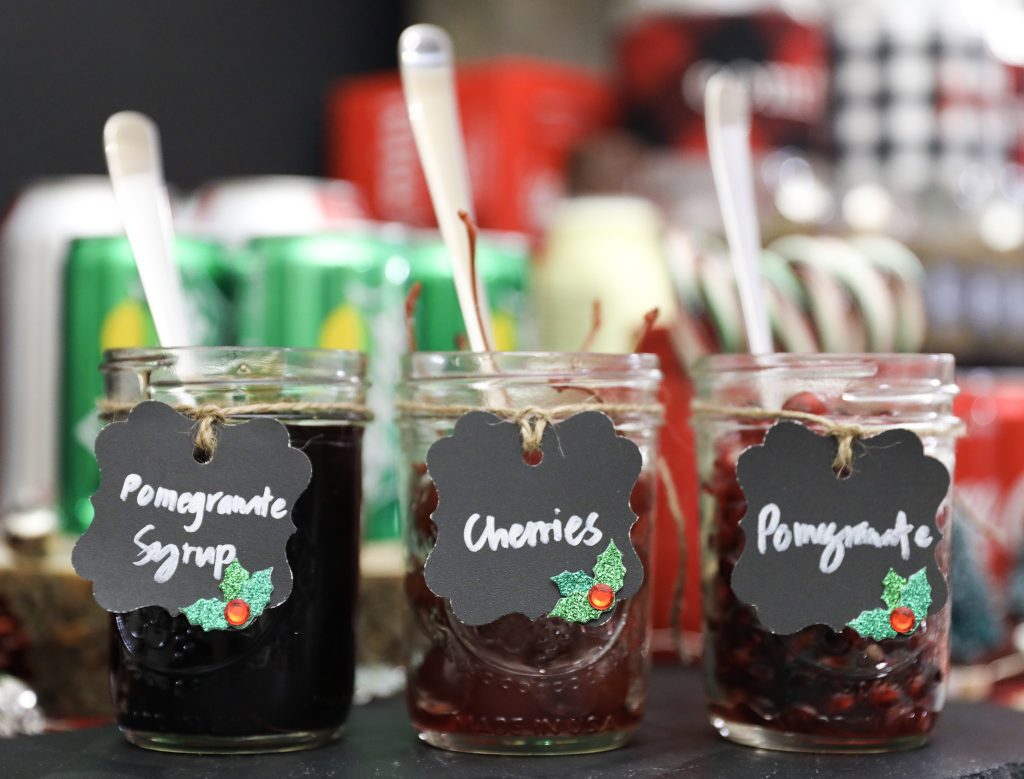 We used the same design to make the festive (and simple) beverage labels, below. From what we've seen, beverage labels are often overlooked at parties both big and small.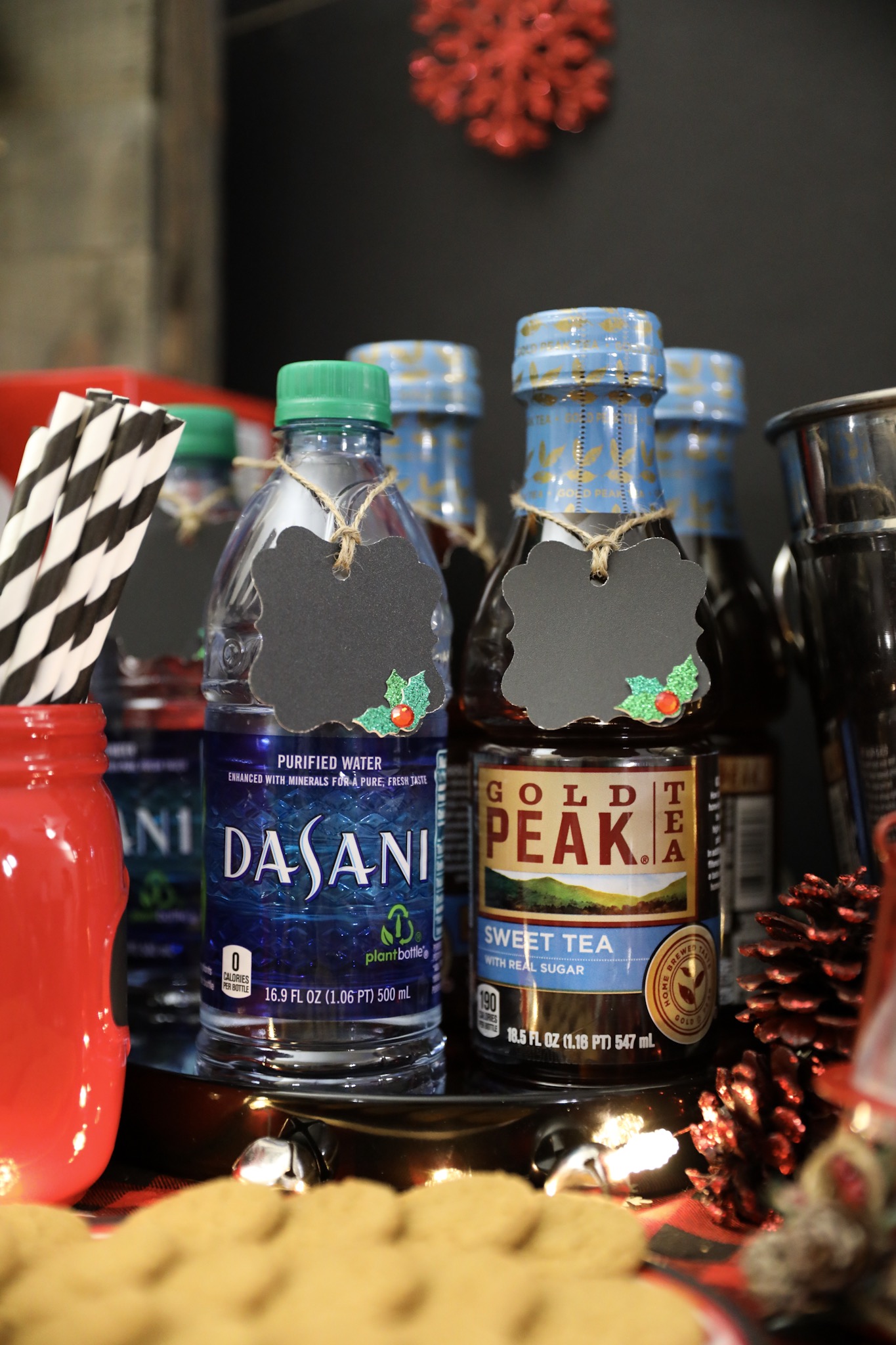 Aren't these mason jar cozies cute?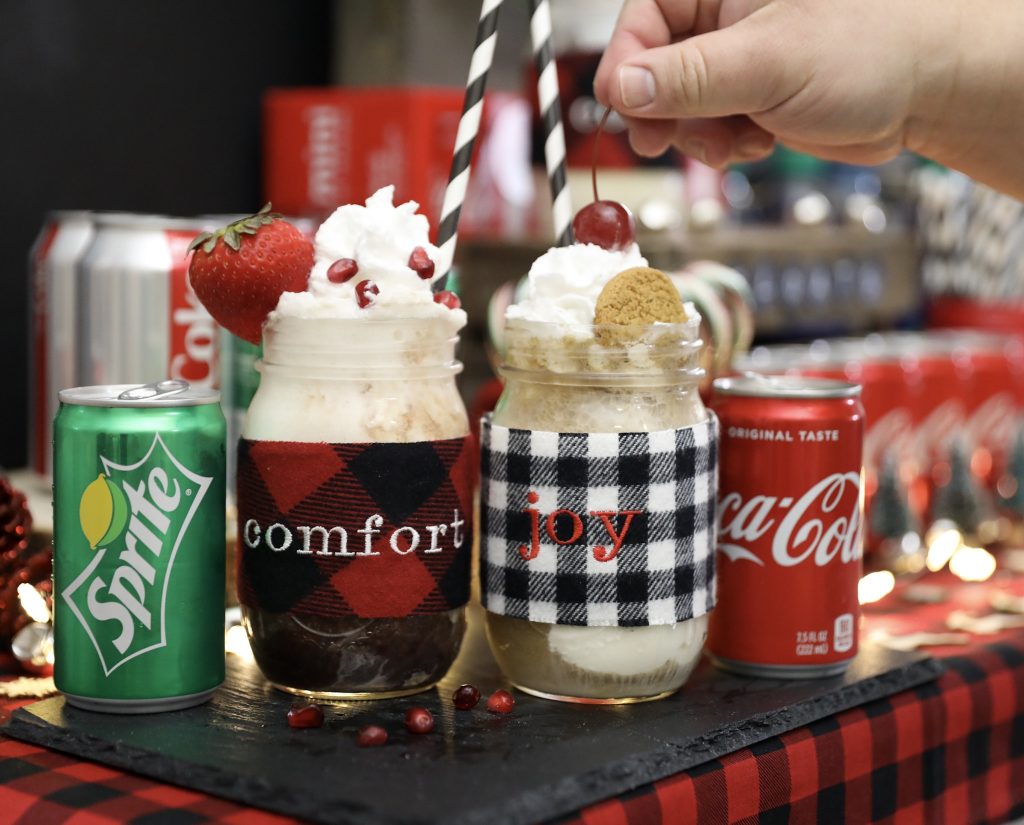 We felt like embroidering "comfort" and "joy" on them, because we thought those words accurately described what's inside! We used them to hold our traditional and non-traditional ice cream floats! Please click here for the recipe.
Tip #5

: Fill in the spaces with festive accents.

From wood slices to festive lights to laser-cut wood "confetti" and everything in between, you can find a lot of fun ways to fill in the gap and bring your decor altogether. For us, rustic means the following elements, at minimum:
Plaid / buffalo check
Wood pieces
Metal accents
Mason Jars
Chalkboard
Lights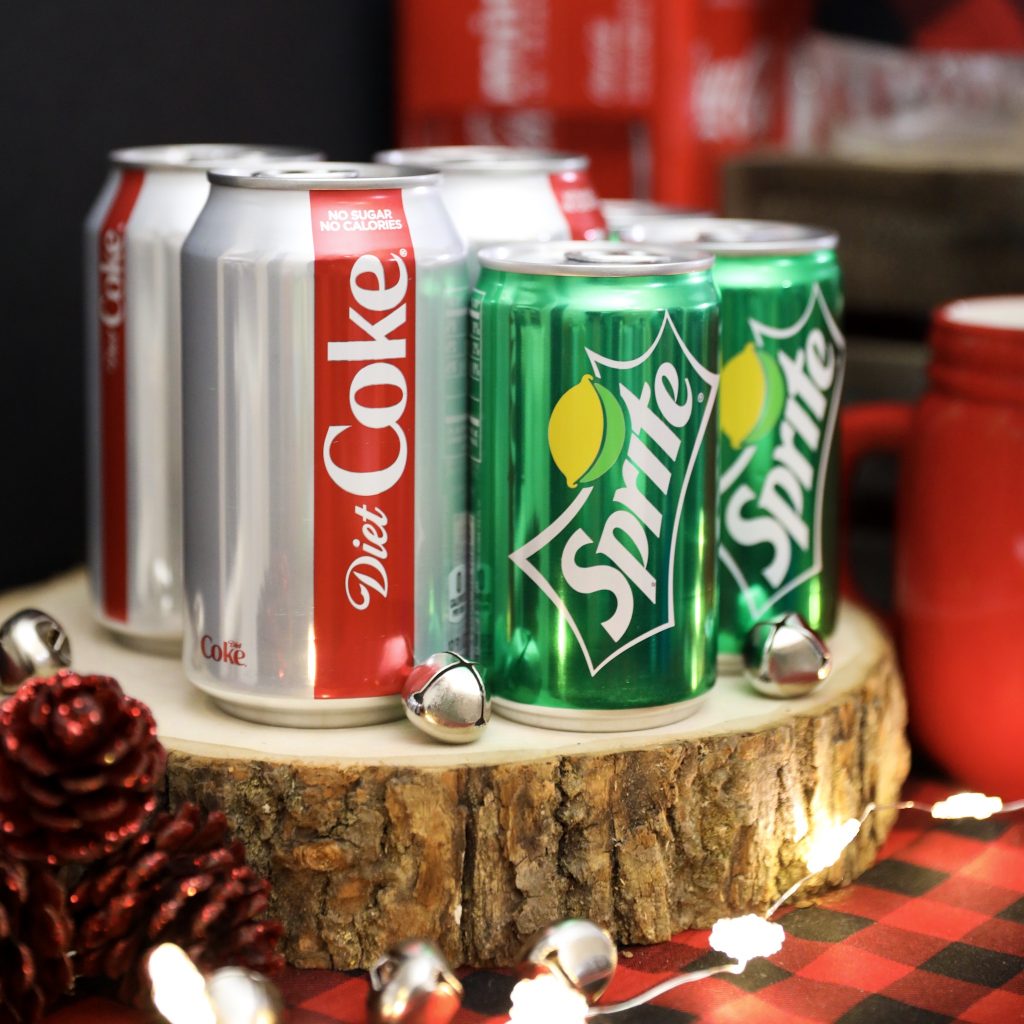 We really love how the Coca-Cola® beverages blend in nicely with the rustic theme! It really gives it that "classic" look!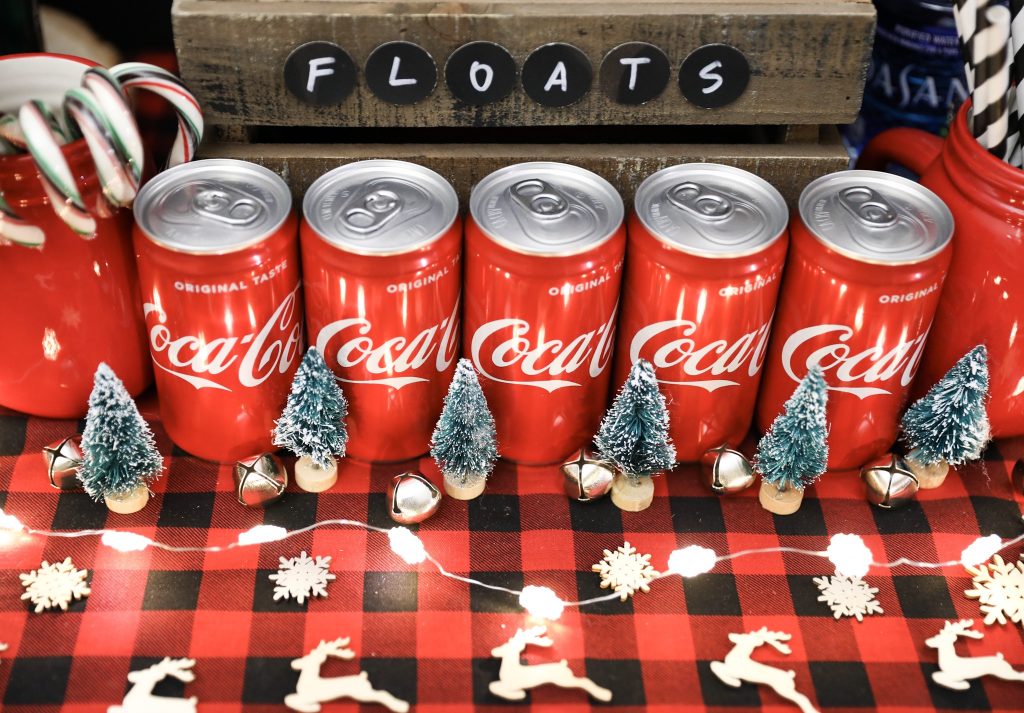 We hope you've enjoyed reading about our easy rustic holiday entertaining tips and ideas!
We hope these tips will give you a head start on your holiday planning and shopping! Don't forget to shop online at Sam's Club and take advantage of their time-saving Club Pickup option! Learn more about the products at Sam's Club here.