This post was sponsored by Doctor On Demand as part of an Influencer Activation
for Influence Central. All opinions are my own.
---
We never thought we'd be excited to talk about a recent doctor visit. This has got to be one of the most painless doctor visits in terms of convenience, speed, and comfort (no waiting room needed)! We all know that scheduling a doctor's appointment in and of itself is a hassle. Waiting to see one is another story (gasp–what's the wait time in your local ER or urgent care clinic?). Oh, let's not forget about the logistics like childcare, juggling between schedules, etc. Well, we didn't have any of those challenges during this doctor appointment… and the visit happened after hours! You guys, you gotta check out Doctor On Demand! Seriously. We are blown away! It's the fastest, most convenient way to see a doctor from the comfort of your home–or, in our case, our mobile office!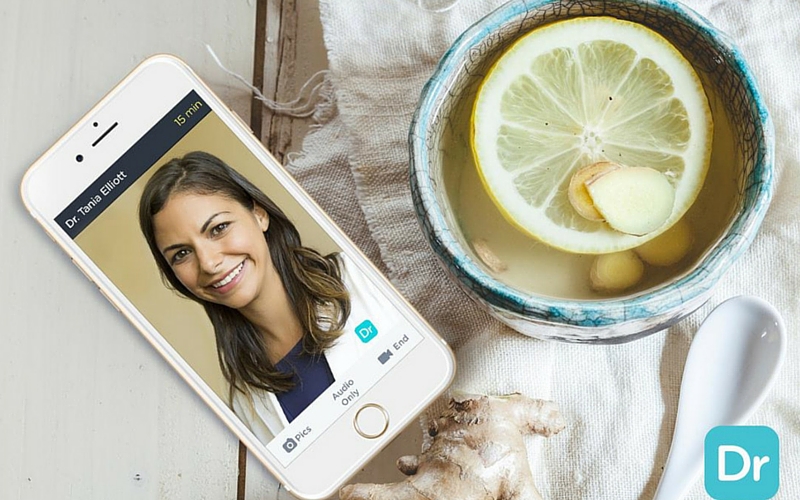 Let's talk about wait time
The average wait time to see a Doctor On Demand physician is only 3 minutes. Since we scheduled an appointment, we didn't have any wait time. We had a 15-minute appointment window, instead. Our doctor called us right on time. Pretty amazing! By the way, we made our appointment less than 24 hours earlier. The national average wait time to see a primary care physician is 3 weeks.
Seamless registration, cost, and insurance
Our online registration–which is equivalent to "patient registration" in brick-and-mortar clinics–was super easy and fast. We registered using our Android smartphone and we were done within minutes (while having to take phone calls from other people in between). We didn't make an appointment until hours later, after deciding on a time that was good for us (which was well after hours). If we wanted, we could have scheduled an appointment as early as 5:00AM! There's also the option to see a medical doctor (online) right away!
You can also register online (using a desktop, laptop, or Chromebook) if you prefer not to use your smart phone or tablet to download the Doctor On Demand app. After that, you simply will need to provide a list of your symptoms and current medications (if applicable), and then you're instantly connected for a video visit (unless you choose to schedule an appointment). This online telemedicine service is pretty affordable at just $40 or less, per medical visit. As a matter of fact, Doctor On Demand is now covered by most health plans, so you might want to double check if your visit could be fully or partially covered by your health plan or employer.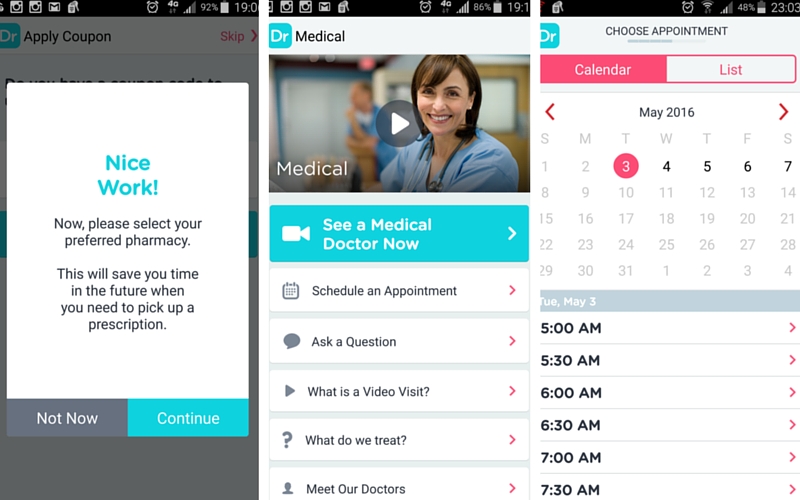 There are only good things to say about the whole process integration. From the patient perspective, we think that Doctor On Demand has given us the ability to manage our own healthcare right from our… stylus (can't help it). It's undoubtedly a great alternative to urgent care and emergency room visits for most common medical conditions.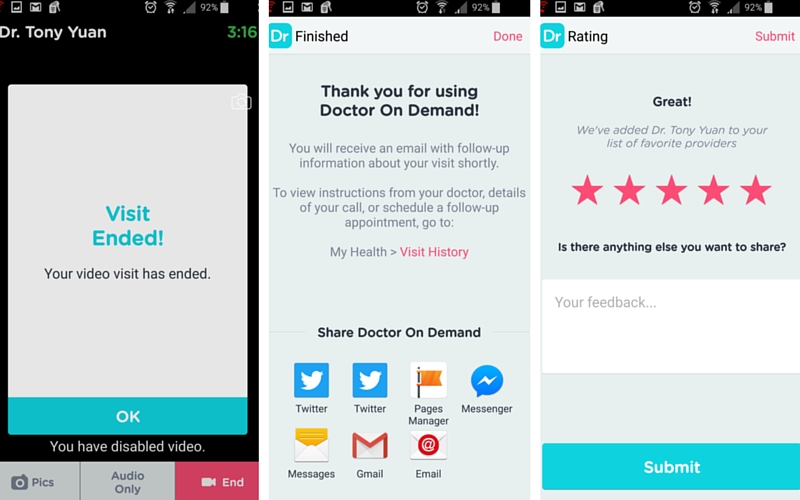 Doctor On Demand Video Visit Review
Dr. Tony Yuan contacted the phone directly via the Android app (Doctor On Demand sent a text message just minutes before the visit to make sure that the app was turned on). This came as a surprise to us–no triage nurse, no survey or questionnaire, and no other gatekeeper. There were no barriers to immediate and direct access to a well-qualified doctor (all Doctor On Demand doctors are board-certified and state-licensed).
Good to know: Doctor On Demand provides video visits with board-certified physicians and psychiatrists as well as doctorate-level psychologists via smartphones, tablets, and computers.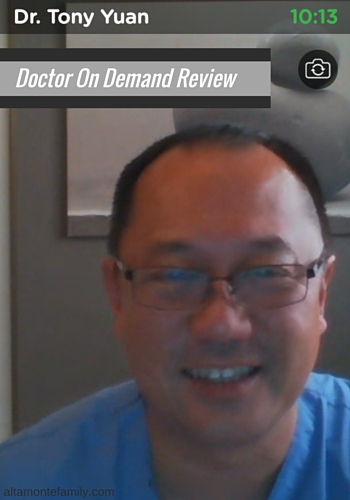 The video visit lasted approximately 15 minutes. Dr. Yuan thoroughly asked questions, taking down patient history and precise review of systems. He was very cordial, professional, and extremely helpful, especially when it came to ordering a prescription refill that he deemed clinically appropriate. He arranged to have the prescription sent electronically to the nearest pharmacy and even promptly followed up with an email with all of the necessary prescription information, post-visit.
We are very pleased that Doctor On Demand physicians can write prescription refills! This is a winner in our book–a very valuable service for time-strapped, busy individuals and families! When we downloaded the app, we were prompted to select the pharmacy of our choice / nearest us. This saved us time during the video visit, making it super convenient for all parties involved.
Good to know: Besides prescription refills, did you know that Doctor On Demand also offers solutions for specific conditions like allergies and acne?
Grab the Doctor On Demand coupon!
Need to see a doctor soon? Consider Doctor On Demand! To help you get started, use the coupon code FAMILY10 to receive $10 off your first Doctor On Demand visit. Follow them on Facebook or Twitter to stay up-to-date!

---
We're Social! If you liked today's post, feel free to share, bookmark, or pin it! Follow us on Pinterest, Facebook, and Instagram for more updates on our latest projects and adventures.