This shop has been compensated by Collective Bias, Inc. and its advertiser.
All opinions are mine alone. #DesignedMega #CollectiveBias
---
If you've got a lot of teacher friends like we do, you'll know that "back to school" is already on the forefront of their minds! We're not too far behind them–before you know it, the first day of school would've crept up to bite you in the ankle had you not been prepared! Ever spent hours at the store shopping for back to school stuff only to realize that you had forgotten to buy something–something really important but you can't put your finger on it–just after you had pulled into your garage? Yeah, that used to be us–and the forgotten item was toilet paper. Annoying, right? Since then, we've developed a system that not only gives us a visual cue of our toilet paper supply levels but also lessens our need to make frequent trips to the store to restock on such "forgotten but important things". Part of this system is the use of DIY Toilet Paper Storage Baskets!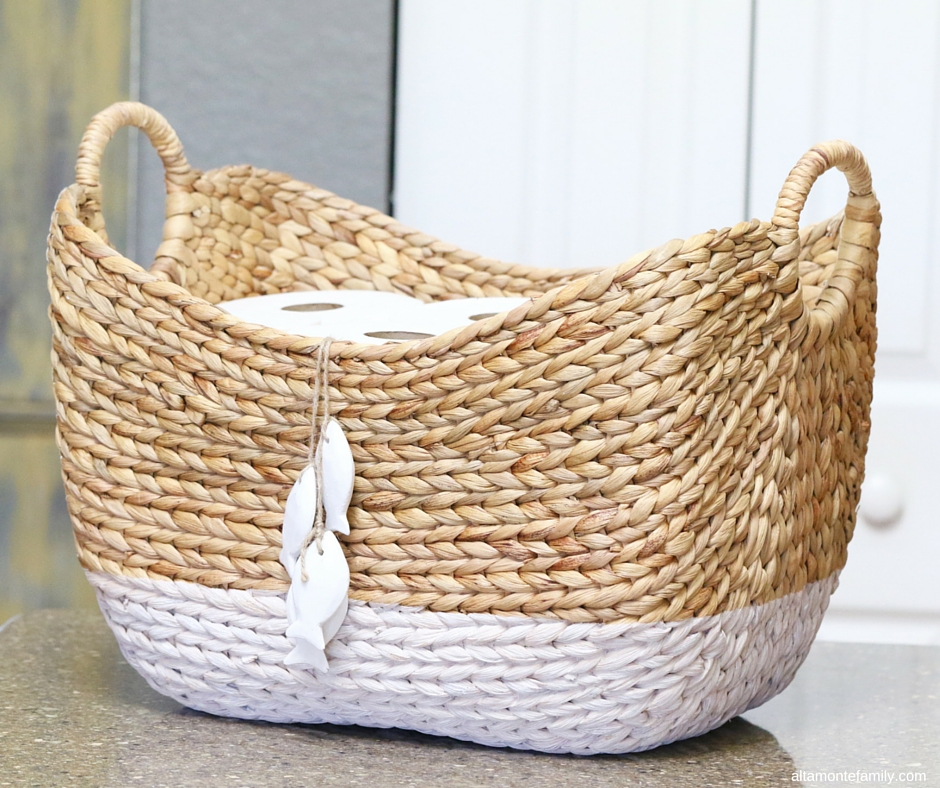 There are those who prefer to discreetly hide their toilet paper stash while others prefer, say, a more open privacy setting when it comes to storing their extra toilet paper (that'd be us). We have our reasons 🙂
Of, course–there's always this reason:  because we had always run into the out-of-sight-out-of-mind situation–resulting in the forgotten toilet paper late night run errand. Then, there's also THIS reason: because the sight of fully stocked toilet paper is always reassuring to the host, their kids, and their guests. Oh, and we also love using cute storage baskets solutions that complement our home decor (psstt— calling them "solutions" helps to justify the purchase–at least in this blogger's mind)!
We use two different storage baskets–one large, one small–and fill each of them with Quilted Northern Ultra Soft & Strong® (Mega Rolls). Yup, go big or go home! These "4 in 1 mega rolls" have four times more sheets, which makes them four times bigger (and every bit as comfortable) so we can forget having to refill the roll for longer periods of time.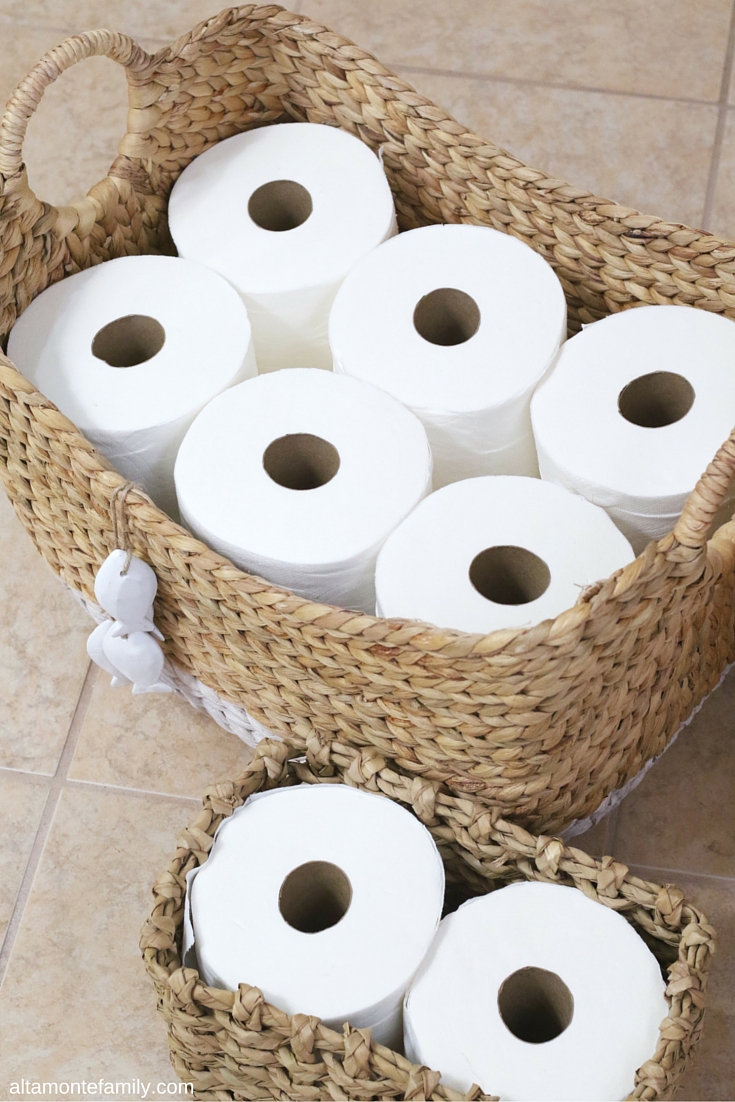 So, why two different storage baskets?
We call the small basket "the backup" and the large one "the backup to the backup", and this is how it works (at least for us): As we refill "the backup" from the "backup to the backup" stash, we're always prompted to look at current supply levels as a whole. In case we lost you at "backup", here's what we meant to say: we keep the small basket in the bathroom and the large basket in the closet (and we only take from the large basket whenever we need to refill the small basket). This assembly-line-ish process is what gives us the "visual cue" that we were talking about. Then again, we don't have to worry so much about keeping up because we use a subscription service that saves us time and money. Have you tried the Target Subscription service yet?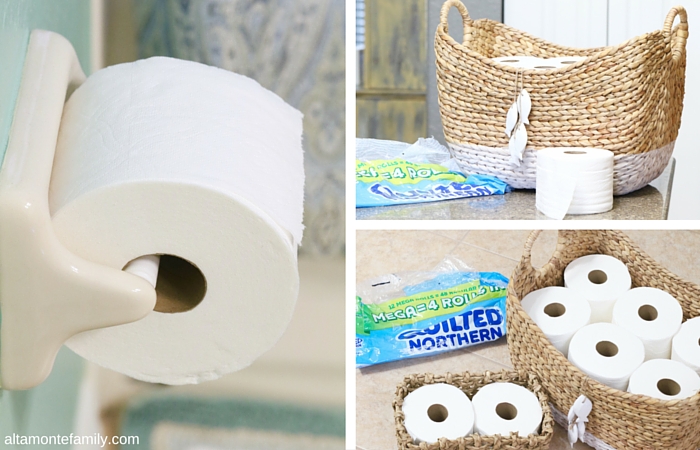 Anyway, with a family of six, our bathrooms get to experience a whole lot more traffic during the Summer–the same way our freeways here in Central Florida get extra packed as visitors rush to see The Mouse. Okay, maybe I was exaggerating. We don't have any road construction going on in our bathrooms–just small updates with Mega impact for a refreshed bath that's ready for back to school! Cute wall decor + cute storage basket filled with toilet paper that's always in style (and  designed to give you more for long-lasting comfort)? Yes, please!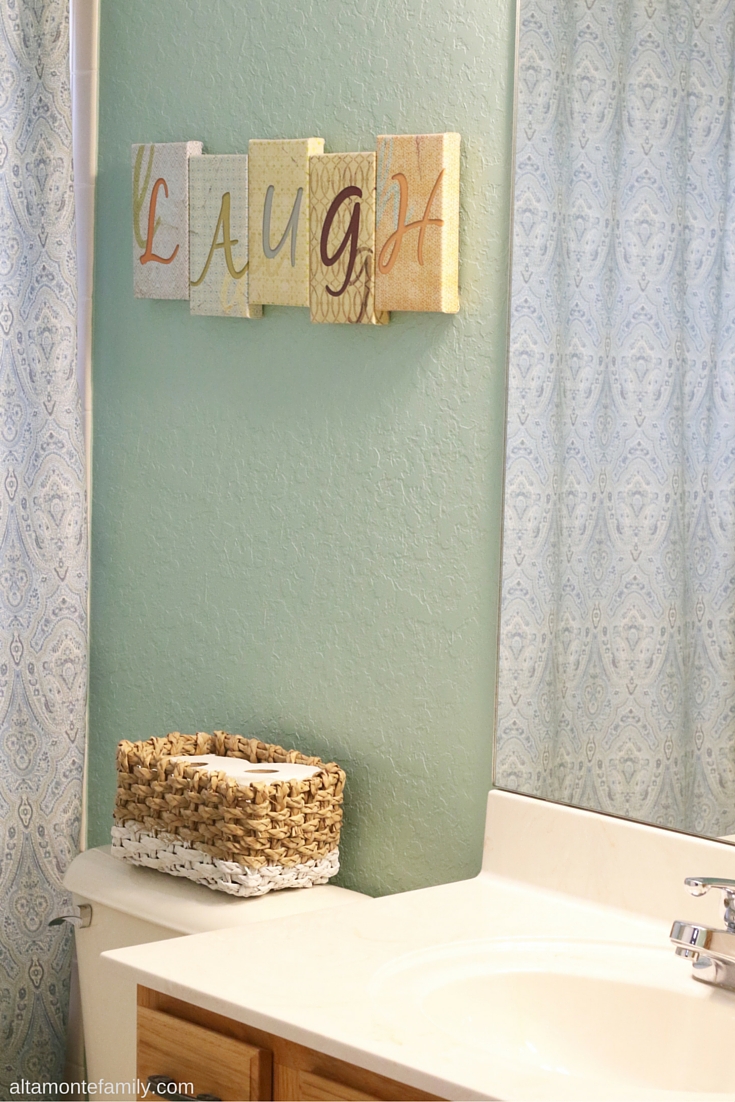 DIY Toilet Paper Storage Basket
For this DIY project, we decided to give milk paint a try, because we wanted a fast-drying, nontoxic solution. So, we gathered just a few supplies along with the toilet paper packaging that we had saved and started painting away! We really like the coastal feel of the white, flat finish.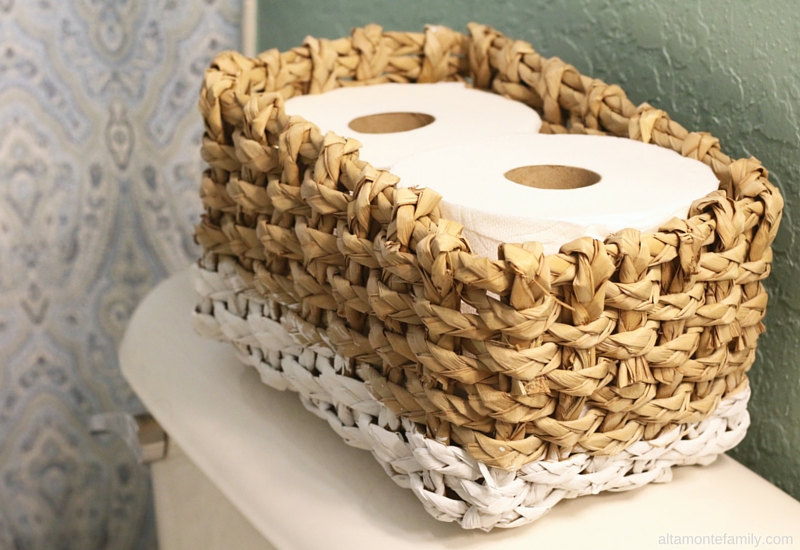 Supplies Needed
Any woven basket of your choice
Paint brush
Milk paint
Protective covering for your work surface (we just repurposed the Quilted Northern® packaging)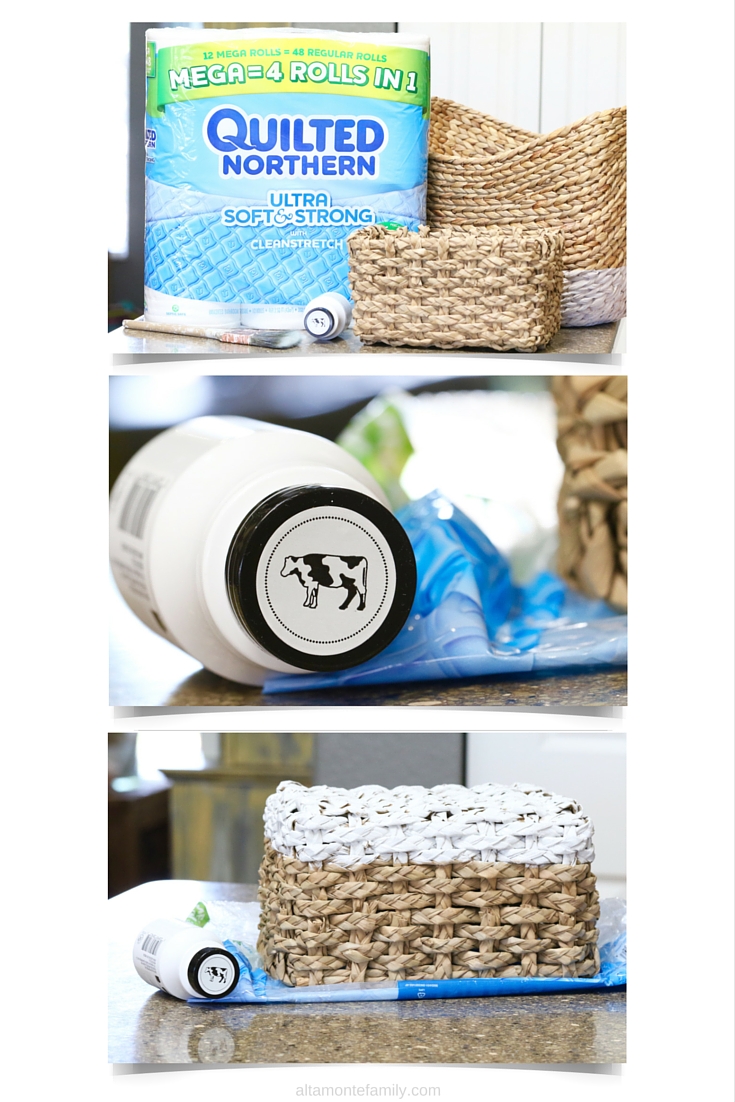 Instructions
Simply brush milk paint around the sides and on the bottom of the basket for that rustic, "dipped" look. Turn the basket upside down and let it dry. Super easy, right?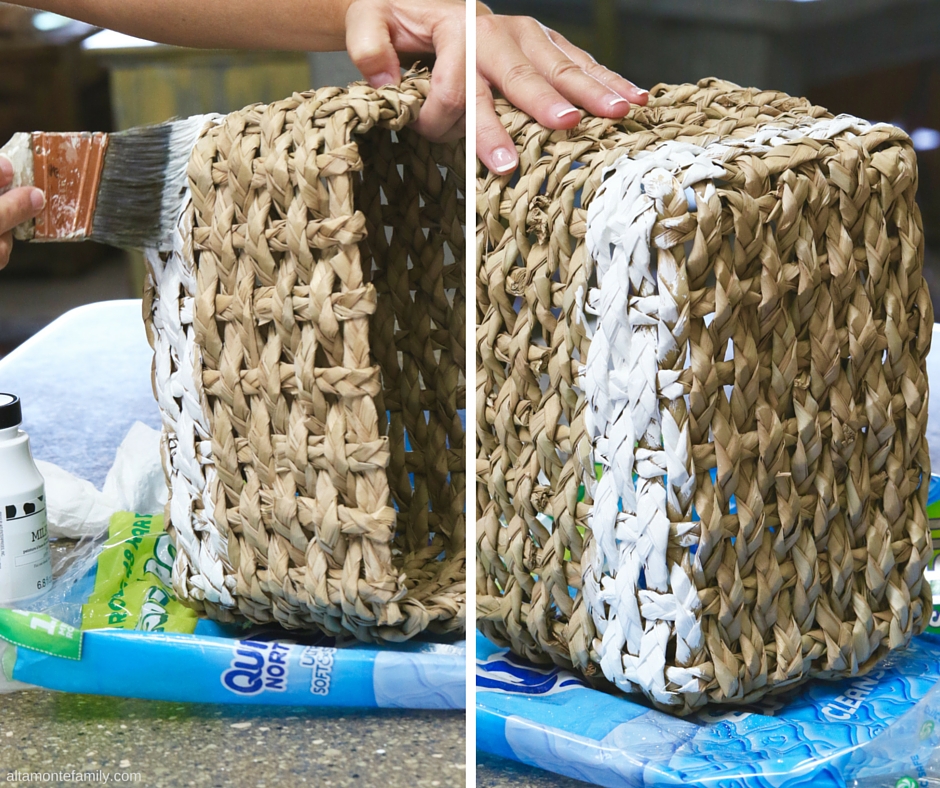 Preparing Your Home For Back To School
Since I'm more of a visual and tactile learner, I prefer to write down the things I have to do to prepare our home for Back To School. If you'd like to get this free printable planner page, head on over to our Back To School Printables page!
Here are some of the other things we do to prepare our home (and our minds) for the upcoming school year:
Refresh bathroom and stock up on toilet paper and cleaning supplies
Refresh medicine cabinet, check expiration dates, and stock up on over-the-counter essentials
Reorganize and restock pantry with easy, on-the-go snacks
Reorganize and restock refrigerator and freezer
Refresh and restock school supply storage cabinet
Designate a new homework station (to change things up a bit)
Clean vehicle and get a car wash (and get it detailed, as needed)
Adjust meal planning (translation: lighter kitchen load)
Buy.More.Socks.
Throw a Back To School Party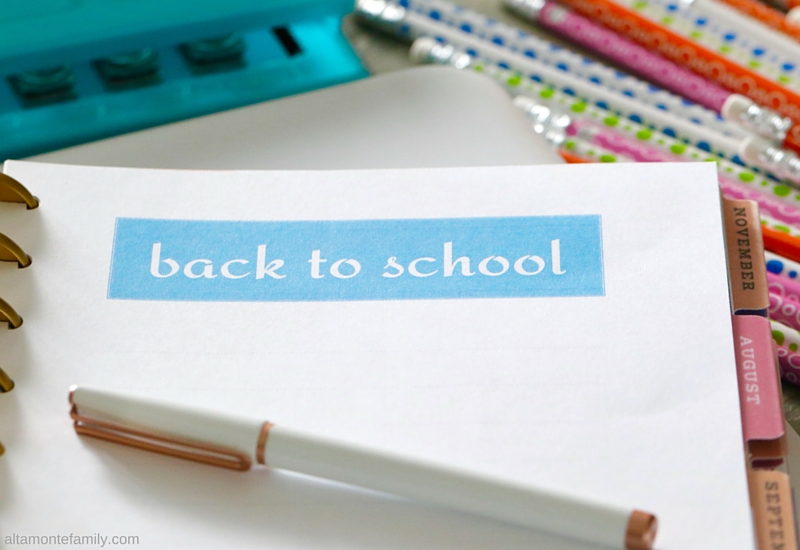 How do you prepare your home for Back To School?
Savings Alert: Make sure to add this Target Cartwheel offer to save on your next purchase of Quilted Northern Ultra Soft & Strong Mega Rolls! Enter for the chance to win a $50 Target Gift Card(TM)!
#DesignedMega Quilted Northern Sweepstakes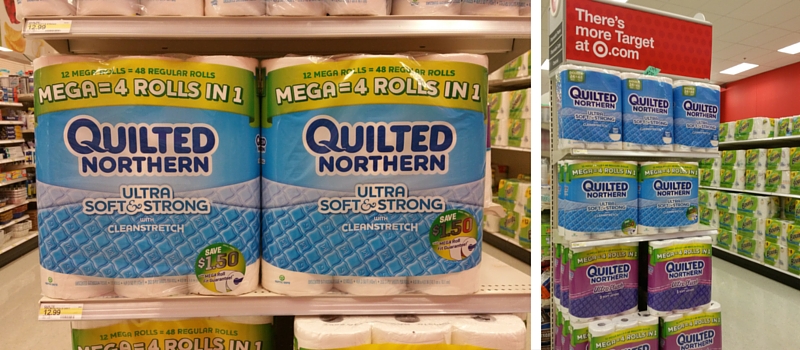 Enjoy the rest of your Summer!
---
We're Social! If you liked today's post, feel free to share, bookmark, or pin it! Follow us on Pinterest, Facebook, and Instagram for more updates on our latest projects and adventures.