This shop has been compensated by Collective Bias, Inc. and its advertiser.
All opinions are mine alone. #DayMaid #CollectiveBias
---
As parents, we're always looking for new and fun ways to get everyone in the family excited about our meals and snacks, and this includes what we pack along with us while we're traveling! To keep things interesting, we like to change up how we pack our breakfast and snacks from time to time. So, in keeping up with the Summer season, we designed a colorful DIY Snack Tote that's perfect for travel. Take it with you to the beach, the park, or wherever else your summer adventures carry you! Don't forget to fill it up with deliciously fun breakfast and snack options that the whole family will love! Keep on reading to get the DIY Snack Tote tutorial + free template + breakfast and snack ideas that are perfect for families on the go!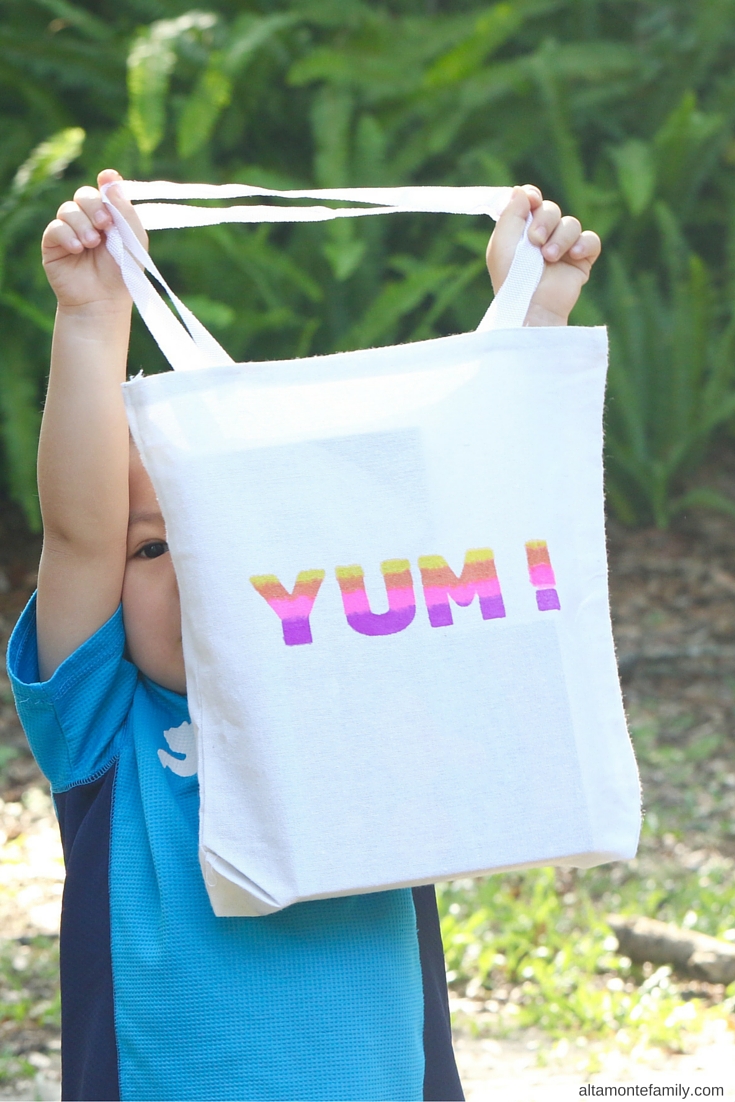 Deliciously Fun Breakfast & Snack Ideas
We can't be more excited about these new products for our kids (and for us), especially since they're the perfect "breakfast for you, treats for them" solution! Win-win!
Have you tried the new belVita Breakfast Sandwiches? Think about a yummy + wholesome breakfast sandwich with a smooth, creamy layer of Peanut Butter or Dark Chocolate Cream! We love that it provides 4 hours of nutritious, steady energy and 15g of whole grain!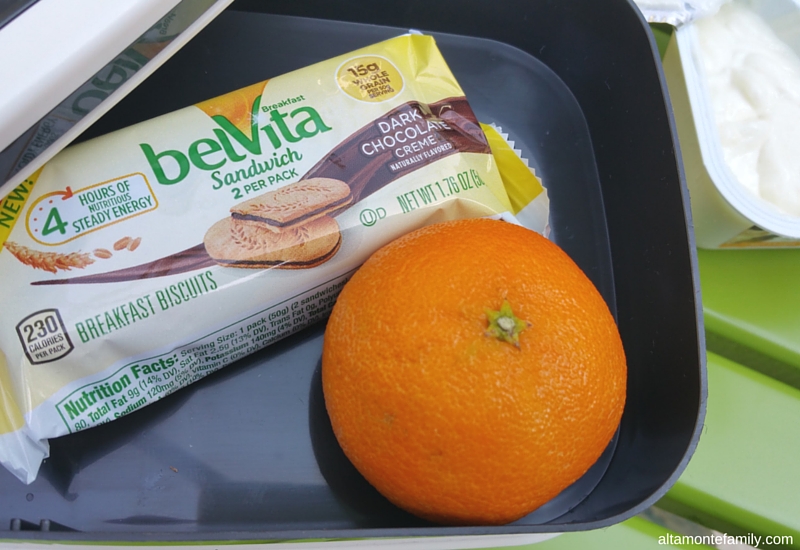 Then, we have the new Honey Maid Dippers: talk about convenient portions for dipping on the go! They're really delicious when dipped, and you can get really creative with the dips! Think peanut butter, yogurt, chocolate, hazelnut… (pssstttt— the Honey Maid Dippers Honey go really well with the lilikoi butter and jelly that we brought back from the Big Island of Hawaii)! Oh, and in case you're wondering, lilikoi = passion fruit.
Our son loves to dip Honey Maid Dippers Chocolate in yogurt!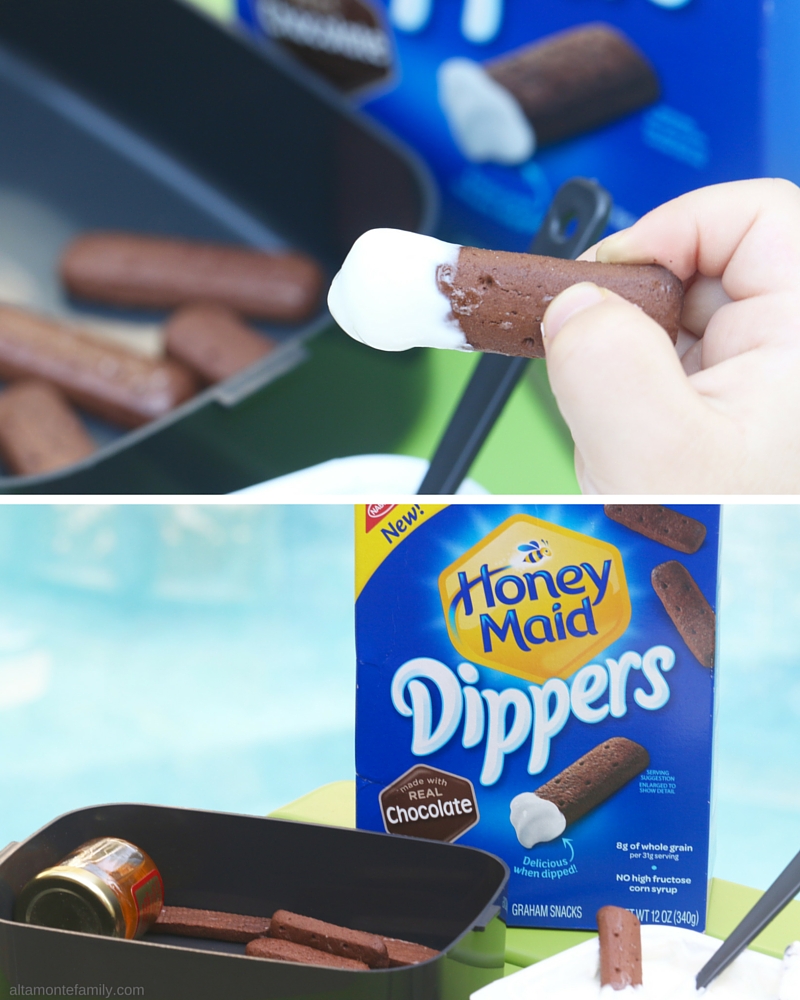 We like to pack these along with some low-fat Greek yogurt + fresh fruit for a delicious, balanced breakfast on the go!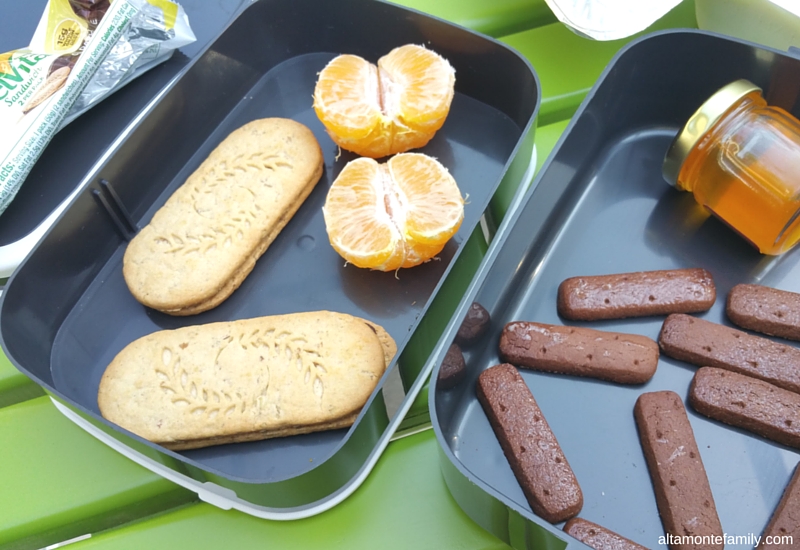 This wholesome combination is perfect for day trips, road trips, or even as a quick and easy breakfast solution at home (especially for those crazy-busy mornings).
DIY Snack Tote Tutorial + Free YUM! Template
Now that we know what's going in our snack tote, it's time to add some fun and color to a plain DIY tote bag! We found a bunch of fabric markers on clearance but if you've got fabric paint, those will work well, too! Note that we used an inexpensive, adhesive-backed shelf liner instead of a traditional stencil–the adhesive on the back of the shelf liner prevents it from shifting during the coloring / painting process.
Supplies Needed
Plain DIY tote bag (we used a white one)
Fabric markers or fabric paint (in different colors of your choice)
Adhesive-backed shelf liner (to make the stencil)
Design template (feel free to grab our free YUM! template at the bottom of this post)
Utility knife or electric die-cutting machine (to cut out your template)
Directions
Step 1.  Determine the size of your "shelf liner stencil", then using a utility knife or electric die cutting machine, cut out the letters / pattern from shelf liner.
Note: We used our Cricut Machine and turned the dial to the "iron-on vinyl" setting so that the machine will "kiss-cut" the pattern, leaving the backing in tact. We also added an additional rectangular shape on top of the letters / pattern and then "sliced" the 2 images, giving us even edges for a more polished look (translation: just because).
Step 2.  Discard the letter cut-outs (or set aside for a different project), then attach the negative onto the tote bag.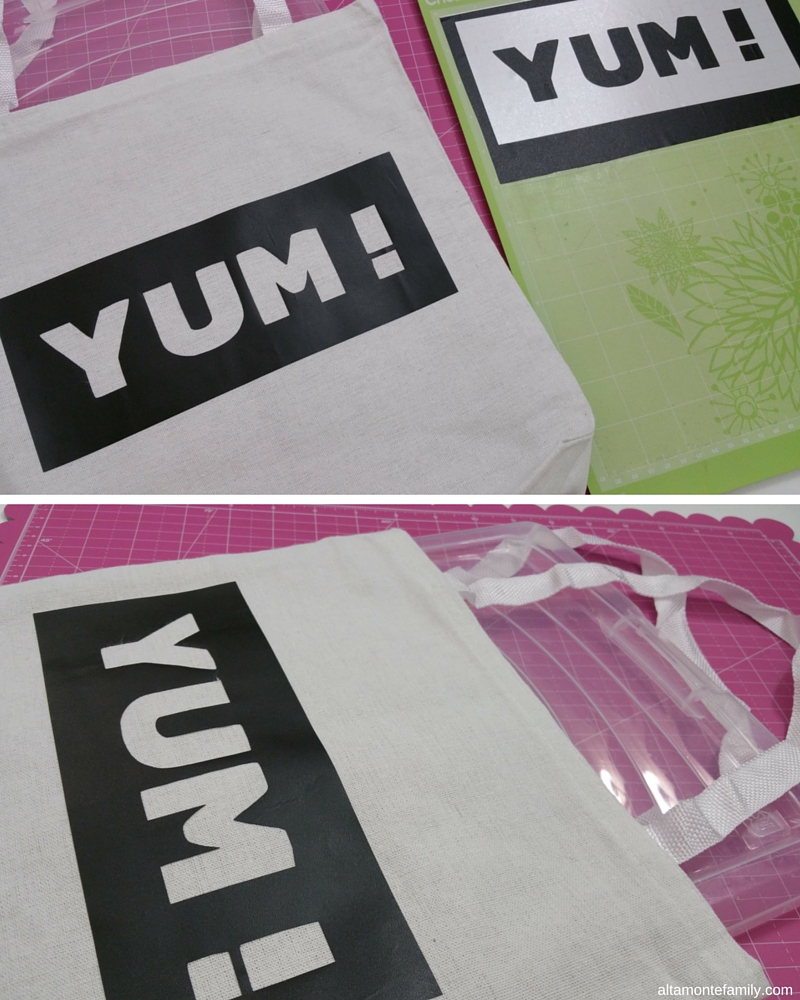 Step 3.  Choose your fabric marker or fabric paint colors then start coloring in your "shelf liner stencil".
Step 4.  Carefully peel off the "shelf liner stencil" then allow to dry following instructions on your fabric markers or fabric paint.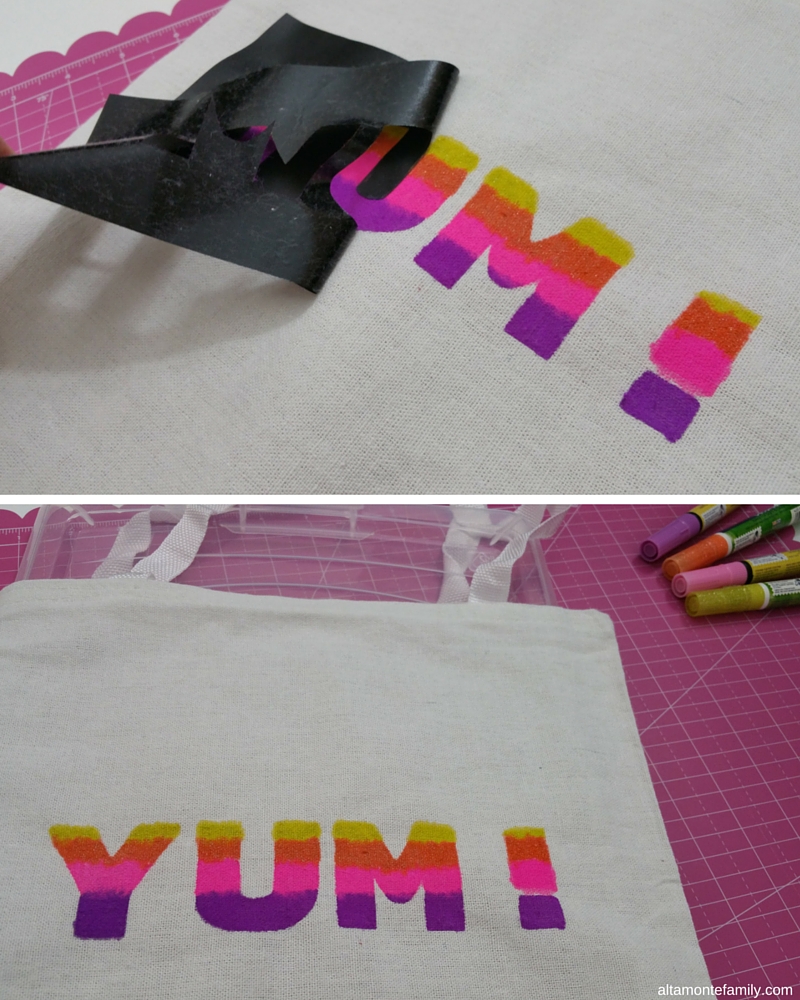 That's it!
TIP:  You can easily personalize the snack totes (we like to call them YUM! bags) following the same process.
Once dry, our DIY Snack Tote is ready to hold our bento boxes filled with the delicious breakfast and snack options that we picked up at Walmart:
belVita Breakfast Sandwiches Dark Chocolate Crème (also available in belVita Breakfast Sandwiches Peanut Butter)
Honey Maid Dippers Chocolate and Honey Maid Dippers Honey
Fresh fruit (apples, bananas, oranges are great options)
Low-fat Greek yogurt (don't forget to store these in a cooler if your kids won't be eating them right away)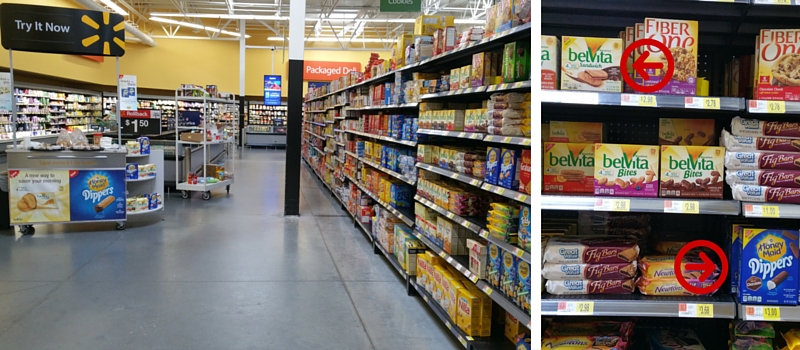 Savings alert: By the way, there's an Instant Rebate Coupon on Honey Maid Dippers for .50 off 1 starting on 6/6 (available in store on product packaging)
Looking for more creative inspiration?
See what our fellow bloggers are doing when it comes to on the go breakfast and snacking solutions and be inspired!
---
Grab Our Free Template
Feel free to grab our free YUM! template to make your own DIY Snack Tote!
For Personal Use Only: We created this free template / pattern for your personal, non-commercial use only. Please do not alter in any way. Kindly read our full Terms of Use.
---
We're Social! If you liked today's post, feel free to share, bookmark, or pin it! Follow us on Pinterest, Facebook, and Instagram for more updates on our latest projects and adventures.