This shop has been compensated by Collective Bias, Inc. and its advertiser.
All opinions are mine alone. #GiveExtraGetExtra #Target #CollectiveBias
---
Aloha! If you've been following us on Instagram, you probably noticed that we've been going on quite a bit of travel adventures since the beginning of this month, most notably, the [offroading] trip going up the Mauna Kea summit on the Big Island of Hawaii. Watching the sunset from above the clouds atop the highest peak in the world (from the base of the ocean) is by far one of the most awesome thrills we've shared as a family during this trip! Going down the mountain is another story in and of itself–the rain, thick fog, and utter darkness made the winding road very challenging. As our 4×4 vehicle approached the friendlier terrain, I whipped out a 35-stick pack of Extra® Gum Spearmint to share with our big family (by the way, if you like to maximize your savings at Target like we do, there's a Cartwheel offer for 10% savings on the new Extra® 35-stick pack in February). Anyway…. the durable, recycled packaging contains more gum (which makes it great for sharing or splitting between my desk, my purse, and our car) and is also the perfect size for my latest crafty project–a DIY no-sew leather travel pouch to hold my passport, boarding pass, and gum–things that could get easily "lost" in my purse.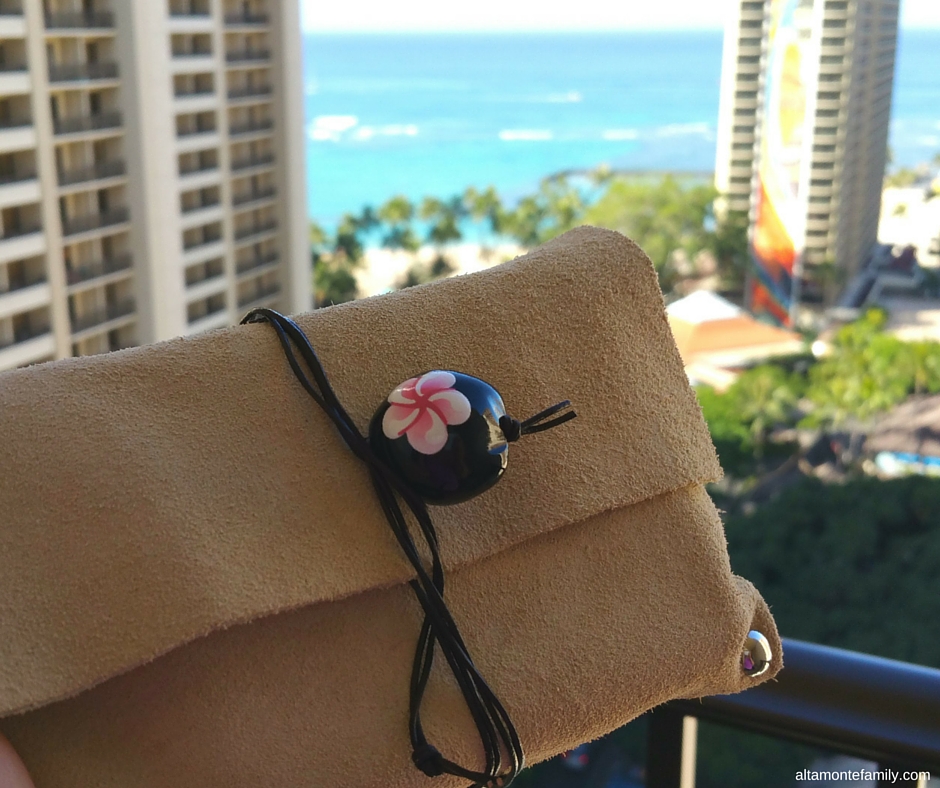 This DIY no-sew leather travel pouch is so easy to make, I made it while relaxing on our balcony at the resort yesterday morning (yes, I've been crafting while on vacation)! I wanted the design to have a Hawaiian / tropical theme;  alternatively, you can style your own DIY no-sew leather travel pouch with different kinds of beads (or kukui nuts), leather, lacing leather / ribbon, and embellishments.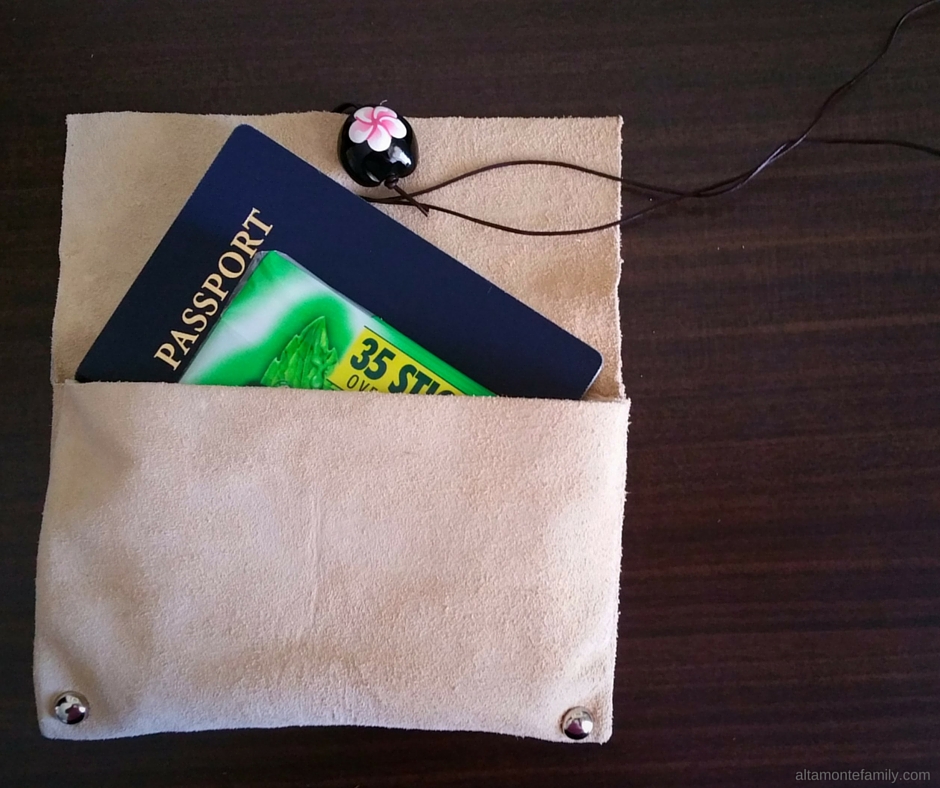 Supplies
Here's our list of supplies to make this no-sew leather travel pouch:
Trim craft leather or suede (both are pictured below but we will use suede for demo purposes)
Rotary leather punch
Round nickel spots
Fabric scissors
Pen / Pencil (to mark where you will be punching holes)
Bead (or kukui nut)
String (leather, ribbon, etc.)
I used my passport and the Extra® Gum Polar Ice® 35-stick pack as my "guide" to determine how big to make the leather travel pouch. Feel free to adjust the size according to your preferences.
DIY No-Sew Leather Travel Pouch Tutorial
Step 1.  Determine the size of your finished product.
I knew I wanted to use this leather travel pouch for holding my passport, boarding pass, and gum, so I used those items to determine the size of my finished product.
Step 2. Fold the bottom flap up (as if you're making an envelope) and position round nickel spots as placeholders.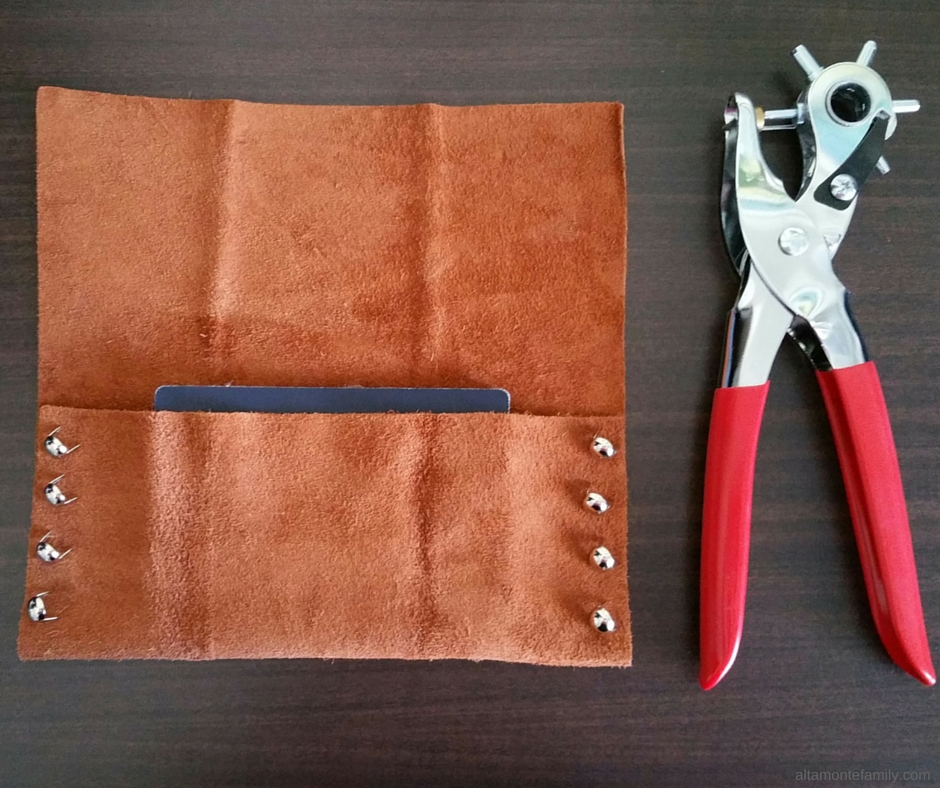 Step 3. Use a pen / pencil to mark areas to be hole-punched then punch holes through both layers.
Tip: Instead of stitching / lacing leather together, use round spots (I used nickel round spots) as an alternative to fastening the edges on the reverse side of the pouch.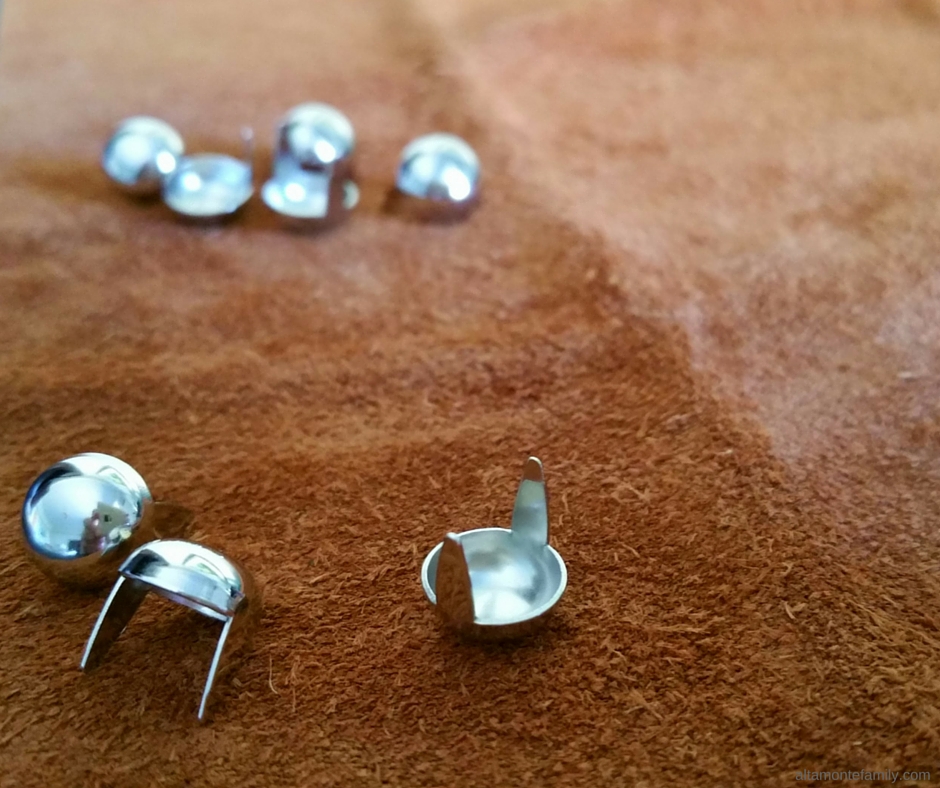 Step 4. Fasten nickel round spots.
Tip: Save time by fastening the round spots onto the leather while it's inside out.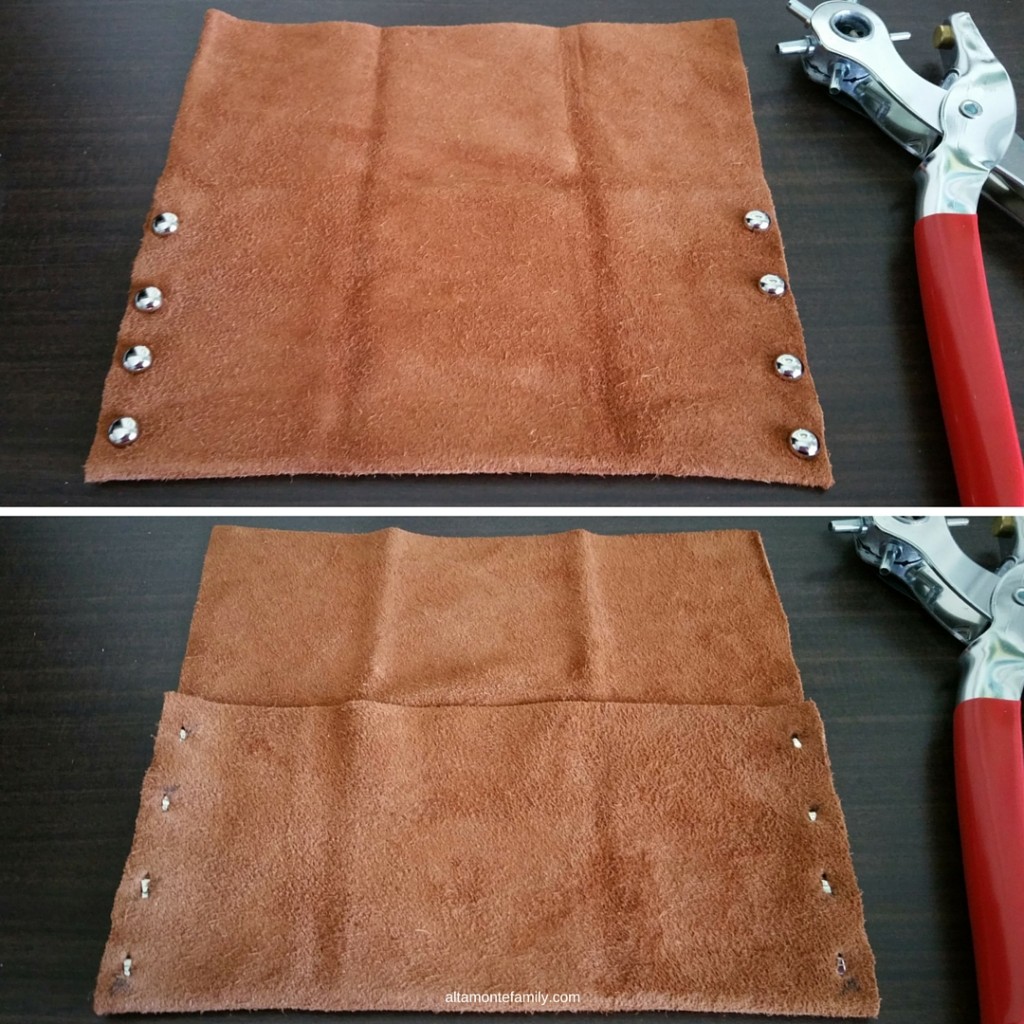 Step 5. Bring out the opposite side of the leather so that the seams are right side in, then trim off excess leather on top flap.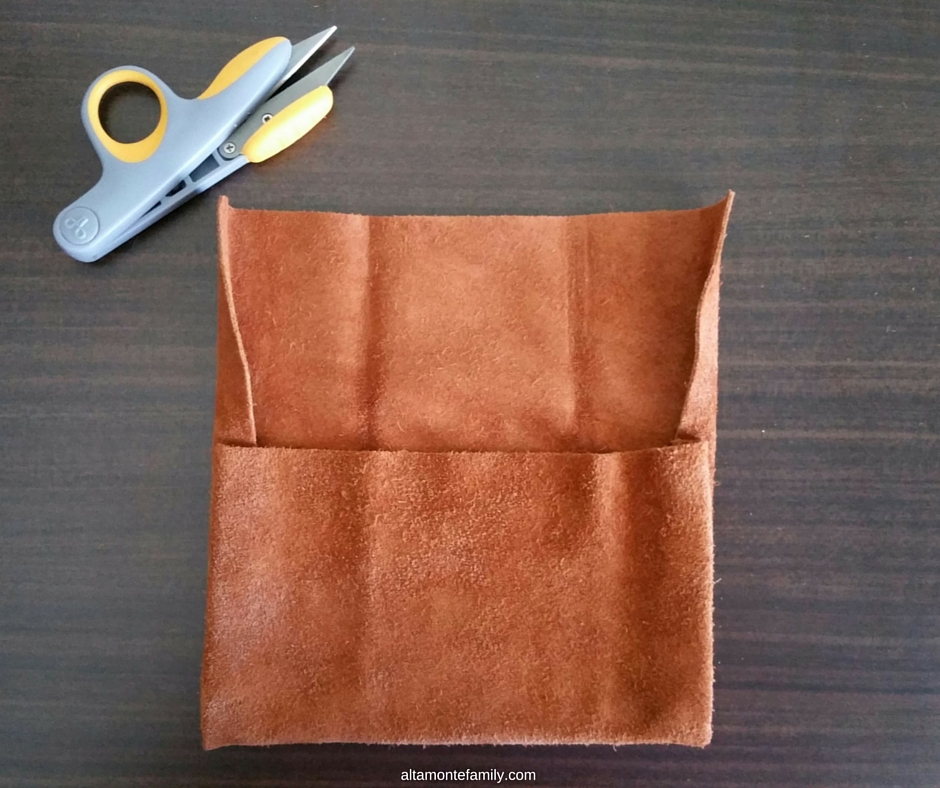 Step 6. For closure, simply add a snap or punch a hole through the middle of the top flap and string ribbon or leather with a bead (or kukui nut) on the end.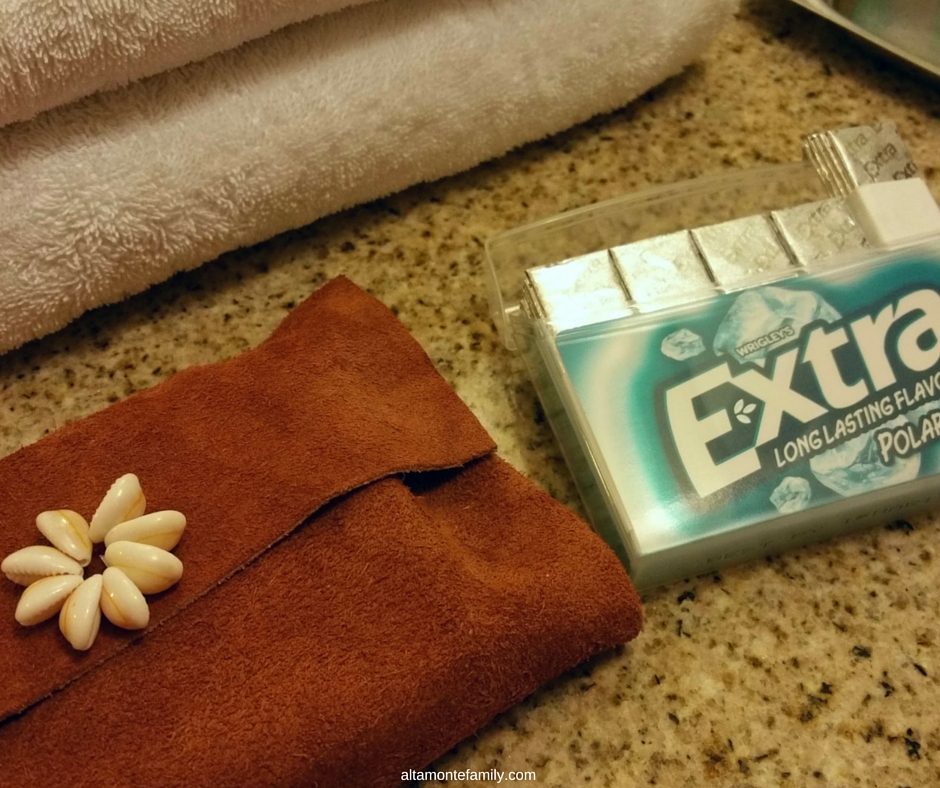 That's it!
The leather pouch below is my favorite by far. I added nickel round spots on each side, just because.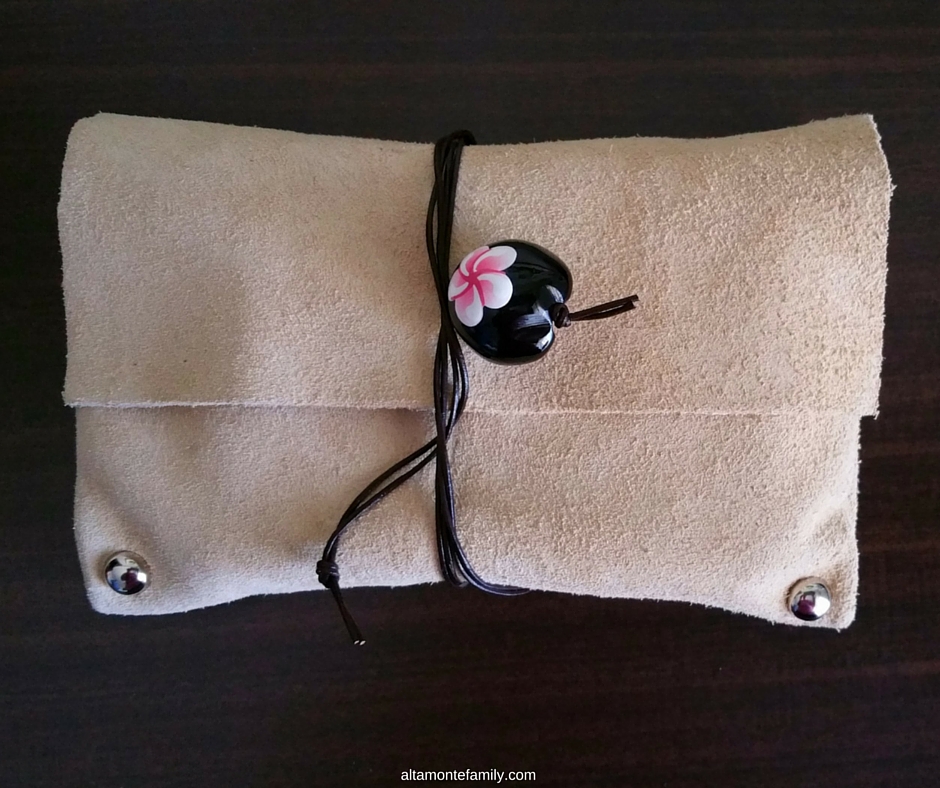 This cute pouch doubles up as an organization tool and makes finding things in my purse-turned-diaper-bag a breeze. I no longer have to worry about my passport, boarding pass, or gum getting lost in the "shuffle" (too many hands in the diaper bag). I get to "Give Extra, Get Extra"!
If you're wondering where we found the new Extra® 35-stick pack, it's pretty easy to spot in the checkout line at Target.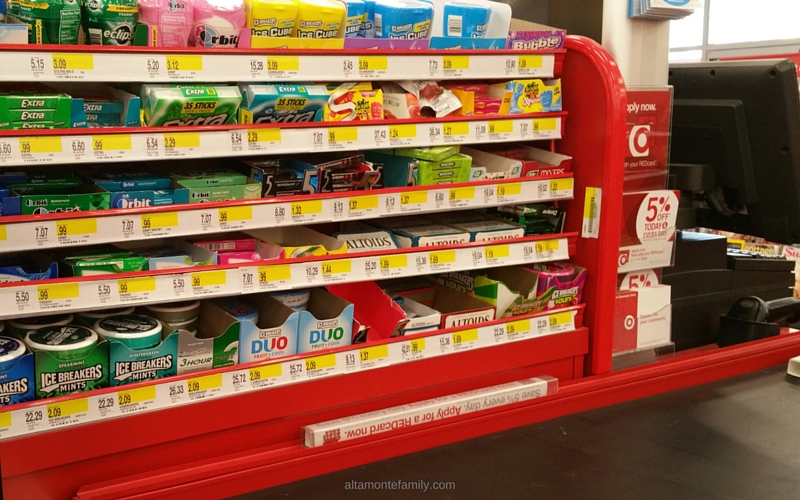 Check out more ideas and creative inspiration on how to "Give Extra, Get Extra"! What will you do with the new Extra® 35-stick pack?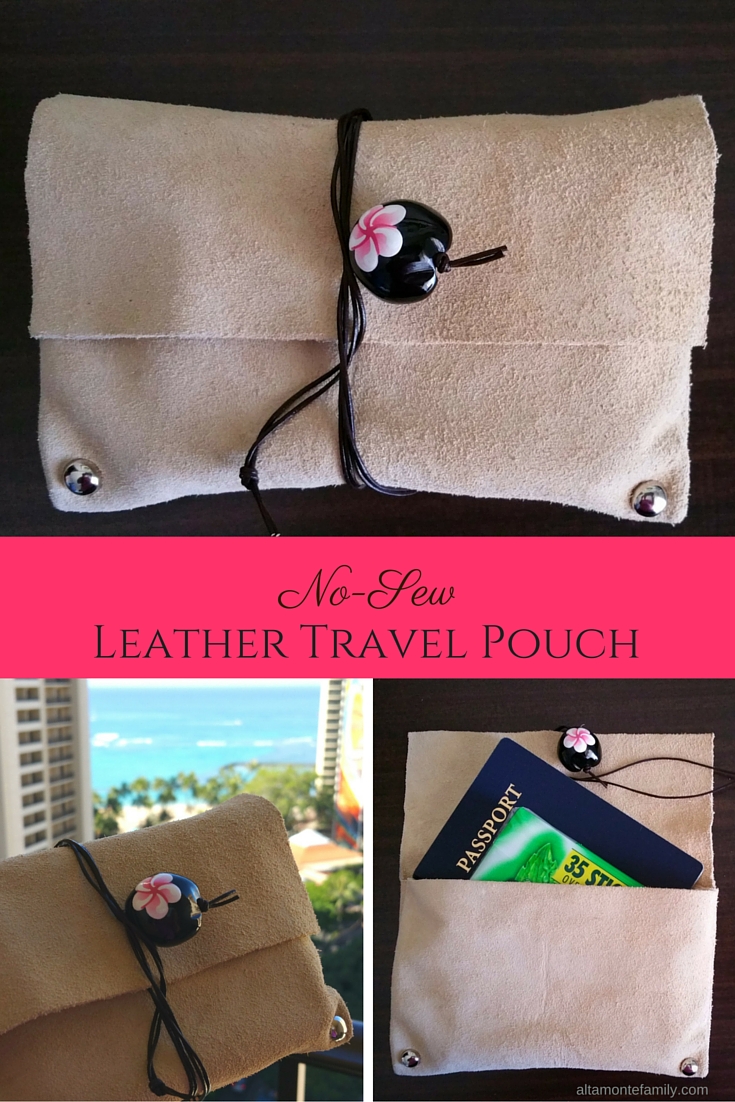 ---
We're Social! If you liked today's post, feel free to share, bookmark, or pin it! Follow us on Pinterest, Facebook, and Instagram for more updates on our latest projects and adventures.