Have you ever purchased a crafting tool because you were really intrigued with what it can do, and more importantly, because it was on SALE? We'd like to think we're not alone: we've owned 2 of the Cinch bookbinding tools by We R Memory Keepers for over a year now and didn't get to unbox either of them until last week. Yes, it has taken us that long. Yes, we got it at a really good price. Yes, we've been meaning to use it for many projects. Yes, we were a bit intimidated–but that's just because we have never owned a bookbinding tool before. Then came the Back To School Sales all across the country! We purchased a bunch of index cards that were on sale and thought that it would be the perfect opportunity to test out the Cinch!
Easy DIY Mini Notebooks With The Cinch Using Index Cards
We purchased 3×5 and 4×6 index cards, both ruled and unruled. The younger children love to doodle so the unruled index cards worked out perfectly for them!
We wanted to create handwritten Scripture cards bound together in a 50-page Scripture mini notebook to give to each of our children when they're older. We would write down a verse or two on an index card based on a specific passage that God uses to touch our heart about a specific child.
Note:  Photographed below are notebook covers made from an information card (the size of a postcard) about the Hubble's 25th birthday (courtesy of the Kennedy Space Center) and a variety of leftover scrapbooking paper.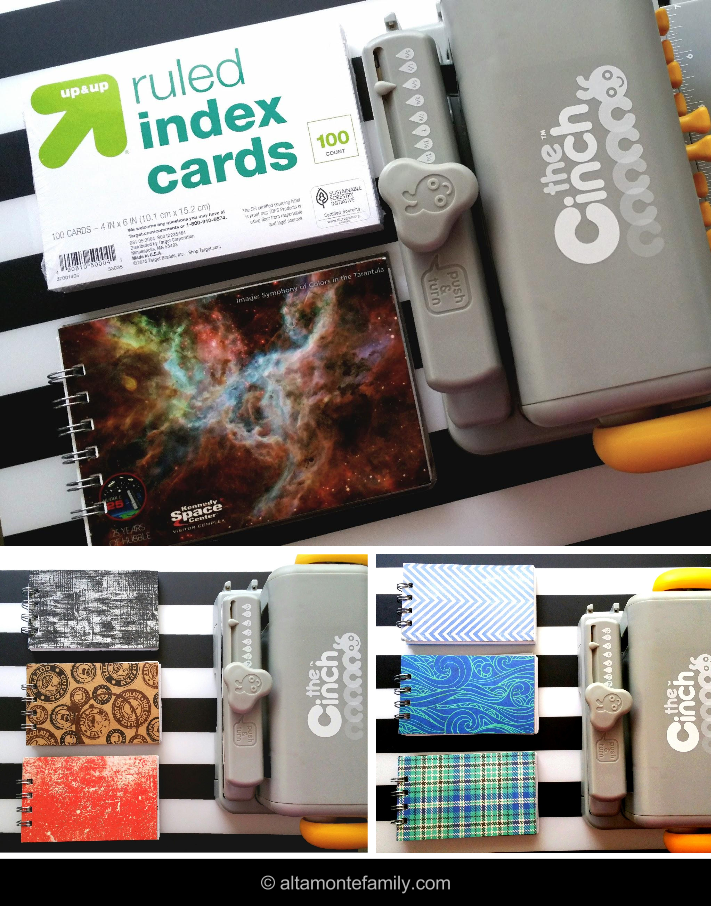 The size of the Cinch may be huge in relation to these mini notebooks–and that's the beauty of it! The large handle makes punching the holes and "cinching" the bookbinding wires super easy! The sliding guide / ruler allows ample room to make notebooks / books in all kinds of sizes.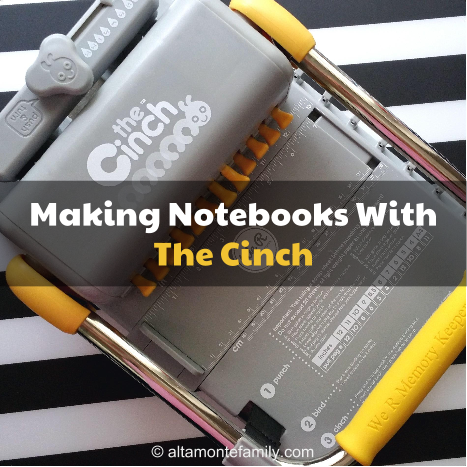 The Supplies
Besides your most basic crafting tools and supplies like scissors and glue, you will need:
A notebook cover that's about the same size as your index cards (this could be a photo, a postcard, card stock, scrapbooking paper, or anything trimmed down to size and thin enough to go through the hole puncher side of the Cinch)
Index Cards
The Cinch (square or round hole works just fine, it's just a matter of preference)
Wire Clipper (we used an inexpensive one from Michael's that we no longer use for making jewelry)
Bookbinding Wires (they come in different sizes and colors)
Chipboard (to make thick notebook covers)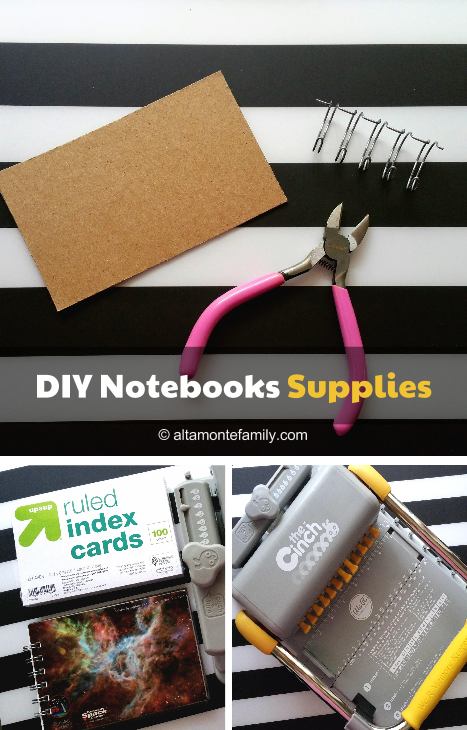 DIY Mini Notebooks With The Cinch: Using Postcards
We love how we can repurpose postcards into souvenir notebooks! Earlier this year, we picked up these information cards about the Hubble's 25th birthday at the Kennedy Space Center. One of our younger children insists that he "wants to become an astronaut" so we thought we'd use this information card (the size of a postcard) as the notebook cover. We laminated it and then added 50 sheets of ruled 4×6 index cards. For a more detailed tutorial (with photos) on how to use The Cinch, head on over to our other post where we shared how we created a 30-day Thanksgiving journal.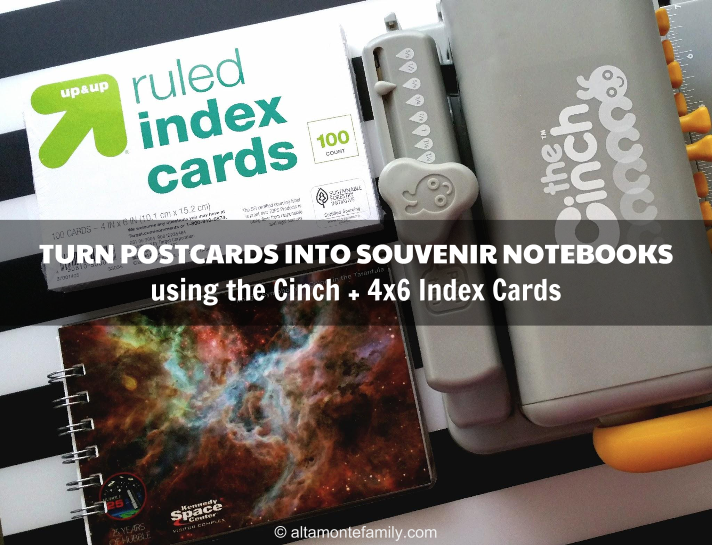 We picked up the postcard with the dinosaur exhibit of Sue during a recent visit to the Florida Museum of Natural History. The real exhibit is in Chicago but the replica will be standing tall in Gainesville through September 13th. Now the kids are begging to take a road trip to Chicago to see the real Sue!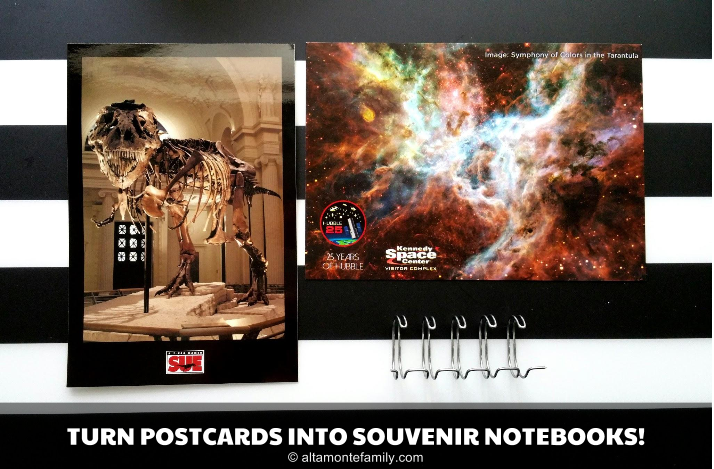 Anyway, Florida is filled with attractions so collecting postcards for notebook covers is easy! We plan on creating a whole bunch of these mini notebooks to send to friends and family to get them to come visit us more often 😉
DIY Mini Notebooks With The Cinch: Using Leftover Scrapbooking Paper
Leftover scrapbooking paper: we couldn't bring ourselves to just throw them all away yet we also couldn't manage to keep 'em all!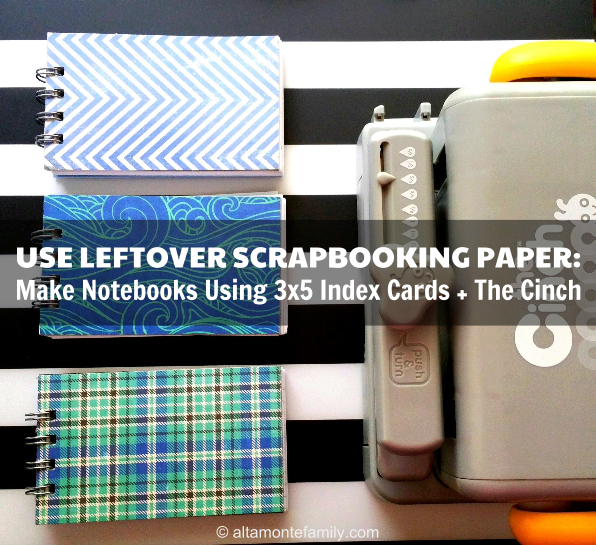 A Note About Organizing Leftover Scrapbooking Paper:  We learned to "salvage" pieces of leftover scrapbooking paper as long as they met a specific criteria: in this case, if they're at least 3×5 (the size of a small index card). We would pre-cut the leftovers before storing them away; anything that doesn't fit the bill (no matter how cute or potentially useful) gets thrown in the trash.
We're really happy with how this project came together! Not only were we finally able to use the Cinch, we were able to use index cards (that were on sale) and some nice (salvaged) scrapbooking paper to make mini notebooks for our children!
If you like this project, feel free to pin it, bookmark it, and share it!
Don't forget to follow us on Pinterest,Facebook, and Instagram for updates. Have fun making your own notebooks at home!
Disclosure: As of the time of writing this post, AltamonteFamily.com is by no means affiliated with any of the companies or organizations mentioned in this article. AltamonteFamily.com has not been compensated in any way nor has AltamonteFamily.com been influenced to write about these products. This post is a result of the personal observations and independent research of members of AltamonteFamily.com. All opinions solely belong to AltamonteFamily.com.