When we attended the Country Living Fair presented by Country Living Magazine in Stone Mountain Park, Georgia, last month, we were inspired by the practicality and beauty of creating a tablescape with what we already have. We designed with that concept in mind when we shared our Fall tablescape ideas with you. We used most of the supplies and Fall decorations that we had taken out from storage from the previous year. The thought of using the milk bottles as a focal point piqued our curiosity. Strands of raffia later, we came up with this simple, DIY Fall Centerpiece!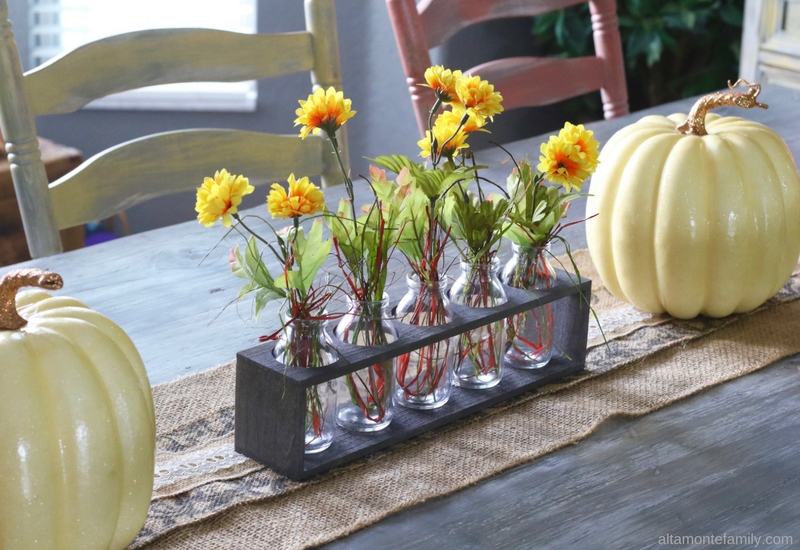 While at the Country Living Fair, we saw a booth that's sponsored by Great American Country Flea Market Flip. Do you guys like to watch that show, too? Well, they were accepting auditions during the fair. While I personally don't see myself being on TV, I decided to audition, anyway, as the encouragement from the friendly booth attendants was just too hard to resist. Let's just say I did it for the fun of it.
The challenge involved choosing an item or two that you'd normally see at the flea market, and–with the camera rolling–you're supposed to tell your viewers what you will be doing to transform them. If memory serves me right, you will have a hypothetical carpenter and welder on your team. It was fun! Salt and pepper shakers, an antique accent chair, trunk chest, and floor lamp with a glass-stained lamp shade, were among the items of choice.
Anyway, back to our DIY Fall centerpiece.
It's awesome how such a simple centerpiece can make for a gorgeous backdrop for dishes (as seen above) and they complement the sweet tea and mason jars really nicely!
The handmade burlap and lace table runner created a sense of continuity and the alternating colors of the faux pumpkins carried on the color theme across the dining table. If you don't have any faux pumpkins, you can also decorate with real pumpkins from the fresh produce section! The small, long-stemmed ones are our favorite. When dinner is ready, simply remove the pumpkins and replace with your signature Fall / Thanksgiving dish!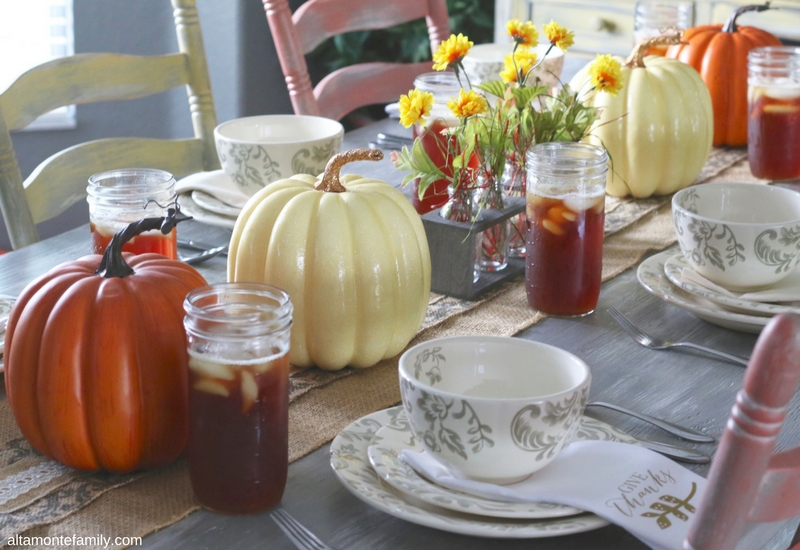 DIY Fall Centerpiece
We just love the versatility of this DIY Fall Centerpiece and how it brightens up our table setting! Use it for Fall entertaining, Thanksgiving, or to give your home that nice, country feel.
Supplies
Small to medium-sized milk bottles (or any tapered glass bottle)
Bottle holder (or any rectangular platter will do)
Raffia in different colors
Faux flowers in Fall colors
Wire cutter
Scissors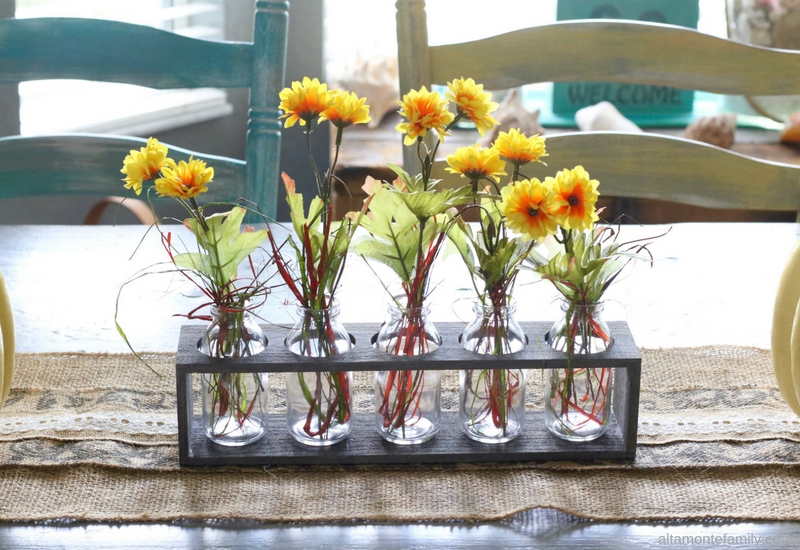 Step 1.  Using a wire cutter, trim the stems of your faux flowers down to your desired length (note the varying stem lengths above)
Step 2.  Cut up a few strands of raffia in different colors to almost match the length of your faux flower stems
Step 3.  Split the raffia strands to make thinner pieces (this gives them a more whimsical appearance, if you will)
Step 4.  Place faux flowers and raffia in each milk bottle and place them in a bottle holder (or rectangular platter)
That's it!
A little can go a long way!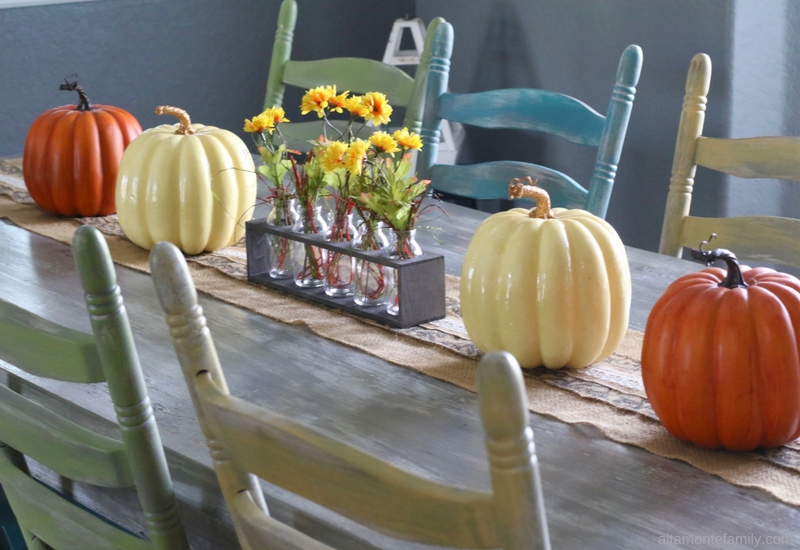 We hope we've inspired you to design a DIY Fall centerpiece and tablescape with what you already have, especially with Thanksgiving just around the corner.
What do you have in your creative stash that you can turn into a DIY Fall centerpiece? Check out last year's DIY Thanksgiving centerpiece made with coffee beans!
Have an awesome Thanksgiving!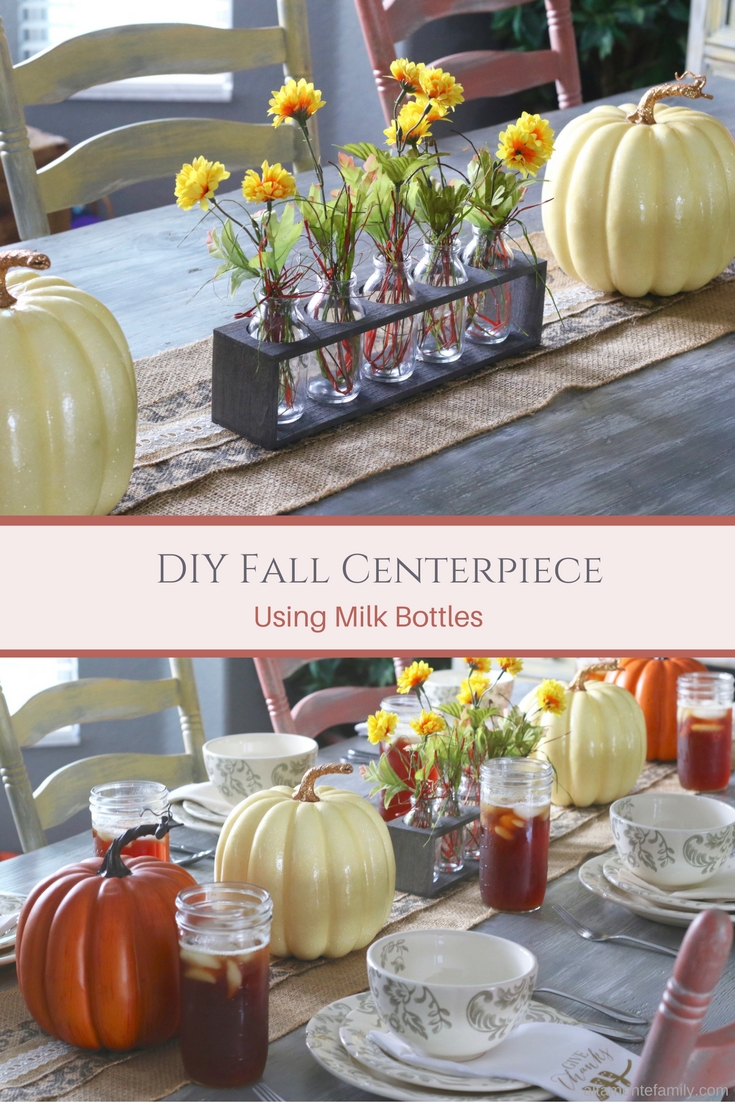 ---
We're Social! If you liked today's post, feel free to share, bookmark, or pin it! Follow us on Pinterest, Facebook, and Instagram for more updates on our latest projects and adventures.