This shop has been compensated by Collective Bias, Inc. and its advertiser.
All opinions are mine alone. #GoldfishMix #Walmart #CollectiveBias
---
Happy March! It's nice to be home after a much needed getaway! While our family vacation officially ended yesterday, the fun doesn't have to stop there. We love celebrating "the everyday", and it's always a blessing when we get to share smiles, create fun memories, and Keep Kids in the Mix™ in our kitchen! Today, we're sharing a fun snack idea that we made with our kids using Goldfish® crackers (pssttt–they are one of our secrets for jazzing up our kids' snacking and mealtime recipes). We made an exciting assortment of Dark Chocolate Banana Pops to celebrate the start and end of our vacation!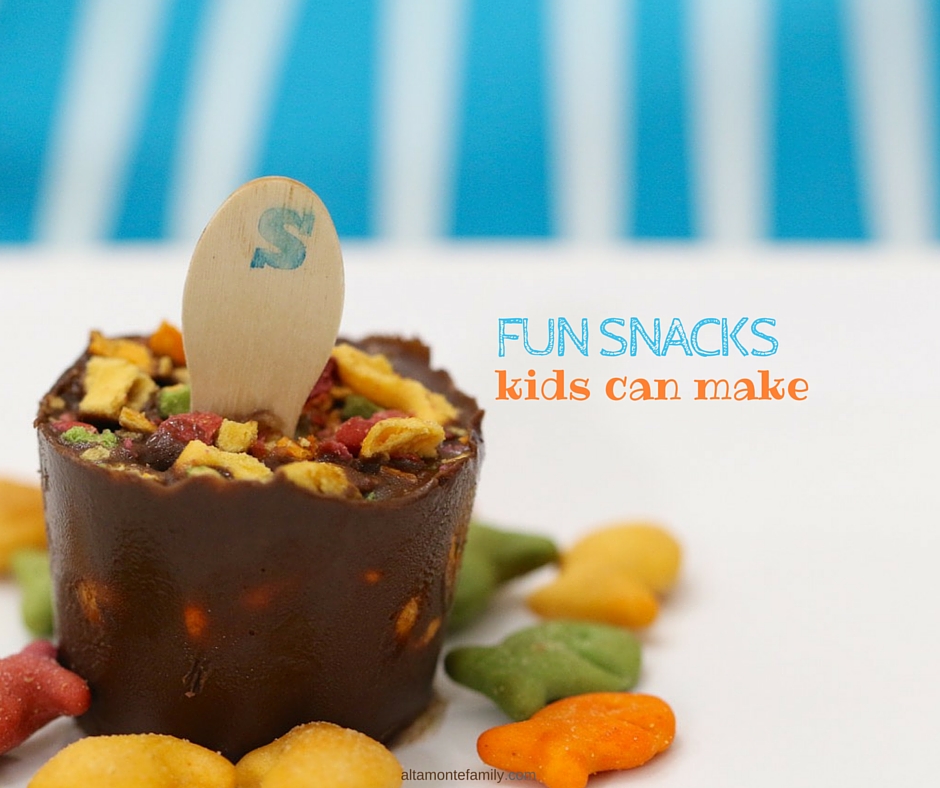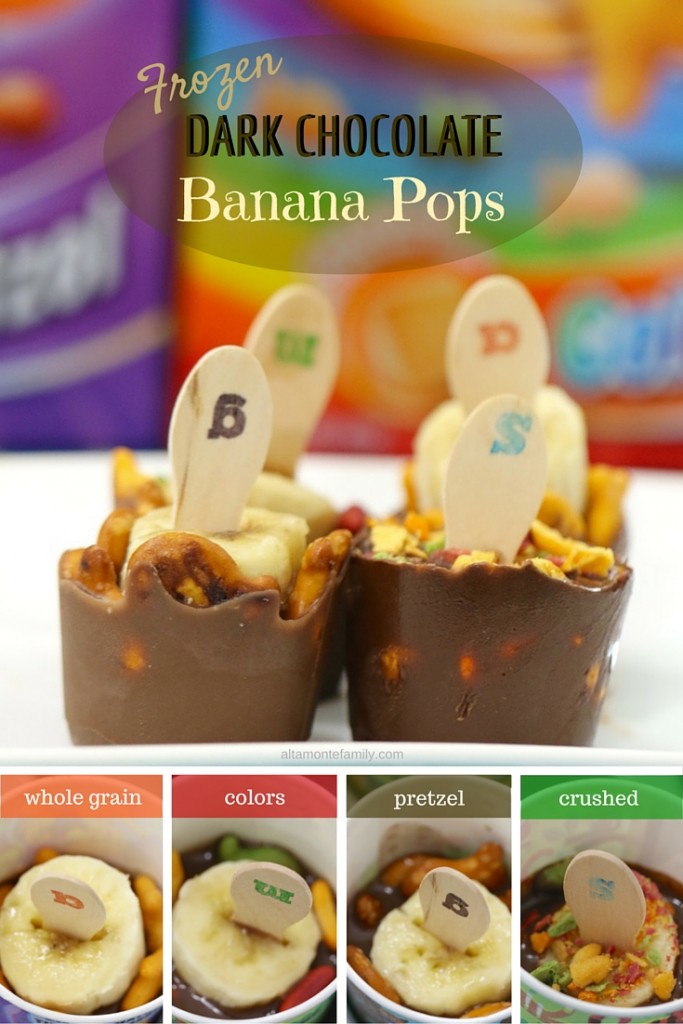 We used bananas because they're our kids' favorite fruit, but you can most certainly use other fruits to make these mini snacks.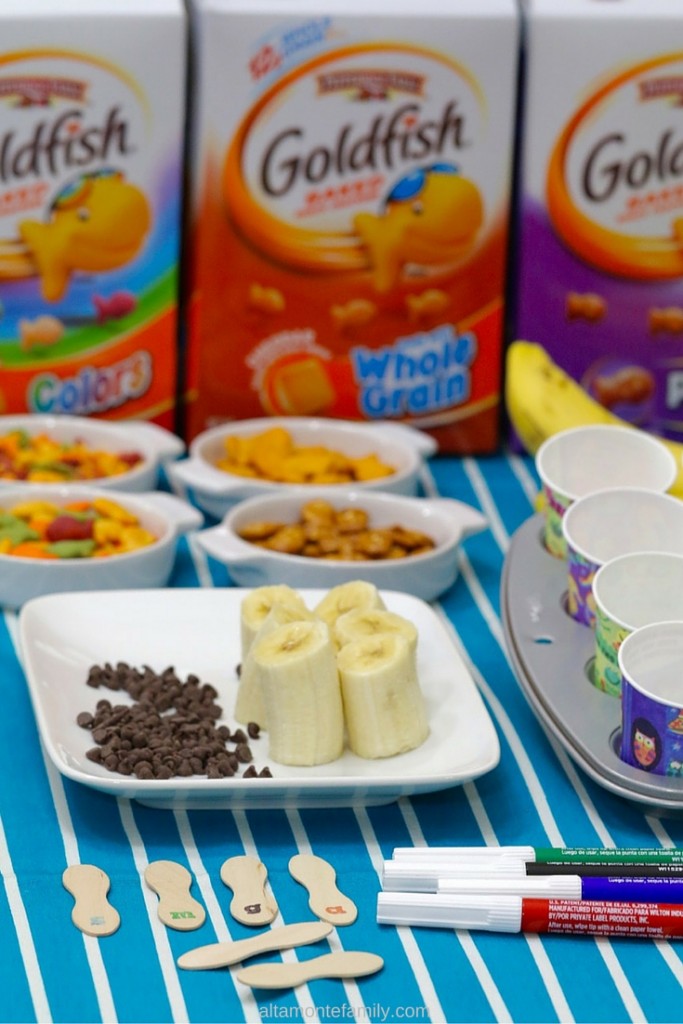 The Goldfish cracker toppings really brought the ingredients together…and we'll never forget the smiles on our kids' faces as our freezer "unveiled" the finished product! After all, Goldfish crackers are all about sparking joy, one smile at a time! As we all know, there's something very powerful behind a little smile (which can happen even during life's little moments).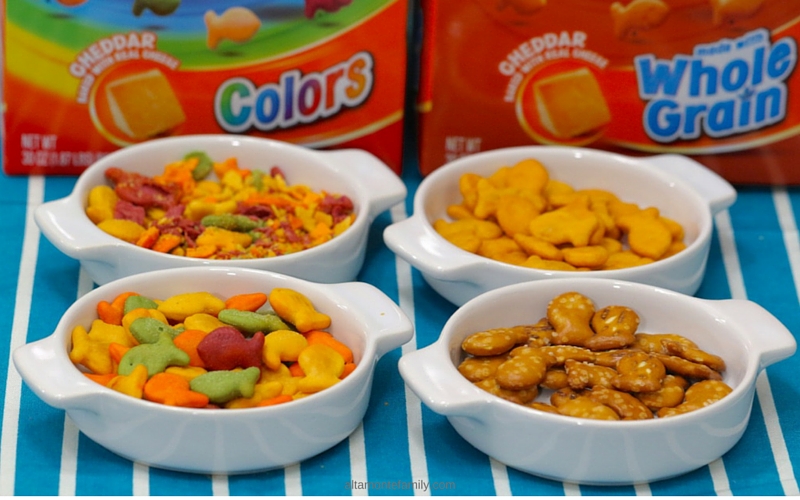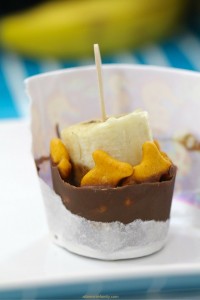 One of the finishing touches involved removing the paper cup mold: it was like unwrapping a present!
Using small 3 oz paper cups to shape and mold these dark chocolate banana pops made it the perfect project for little hands! The paper cups fit perfectly into our mini muffin tin (which held them nicely in the freezer).
Personalizing the wooden sticks with the kids' initials was also a big hit! Instead of using a regular stamp pad, the kids simply colored in the alphabet rubber stamps using edible markers before stamping them onto the basswood ice cream sticks.
Important: For food safety purposes, we did not use regular stamping ink pads and only used food-grade, nontoxic ink).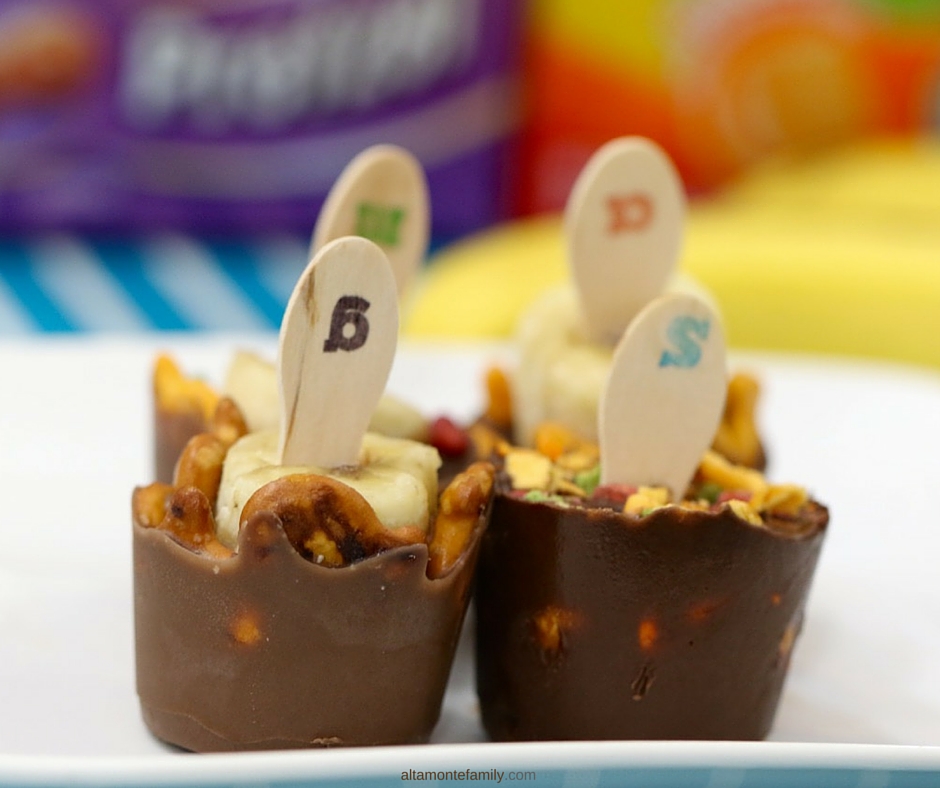 Recipe: Dark Chocolate Banana Pops
Servings: 4-6
Prep Time: 15 minutes
Inactive Time: 4 hours
Total Time: 4 hours 15 minutes
Supplies:
4 – 6 pcs 3 oz paper cups
4 – 6 pcs basswood ice cream sticks (spoons)
Edible markers in assorted colors
Alphabet rubber stamps, small
1 mini muffin tin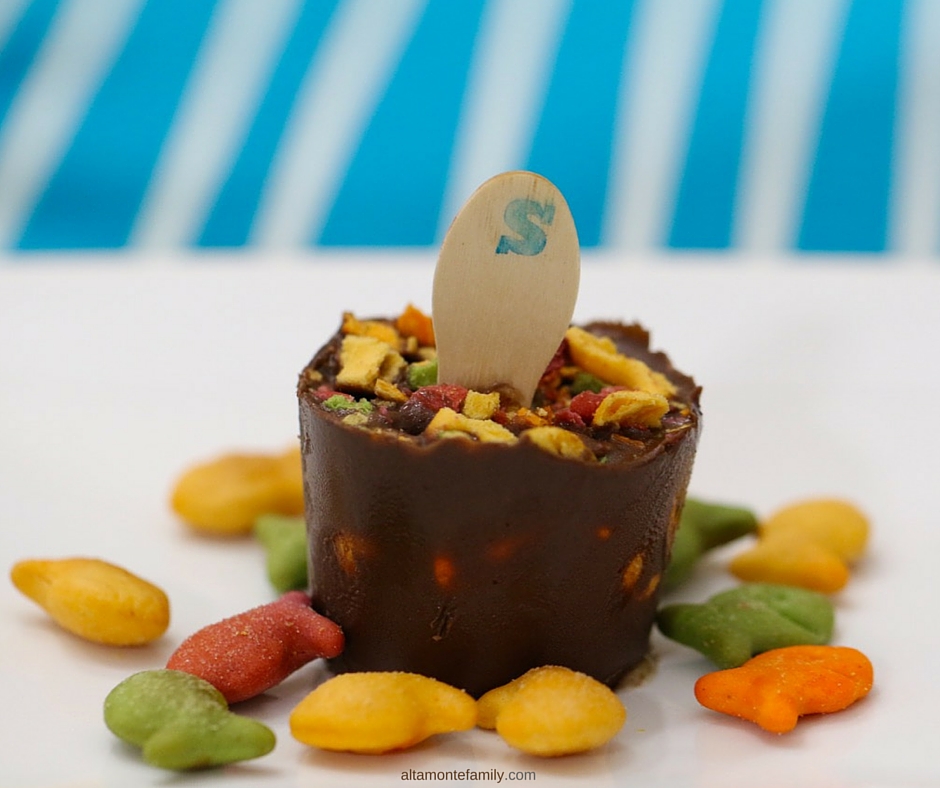 Ingredients:
2 medium bananas, each chopped into thirds (ends removed)
1 cup semisweet chocolate chips
1 tsp organic cold-pressed extra virgin coconut oil
For the topping: 1 cup assorted Goldfish crackers*
*For variety, we broke our toppings into ¼ cup Goldfish Made with Whole Grain Cheddar, ¼ cup Goldfish Colors, ¼ cup Goldfish Pretzel, and ¼ cup Goldfish Colors, crushed)
Instructions:
(If you prefer visual illustrations, we included step-by-step photos at the bottom of these instructions.)
Gather supplies and ingredients with the help of your kids (with supervision, of course)
Personalize and stamp wooden ice cream sticks using alphabet rubber stamps and edible markers
Melt and combine chocolate chips and coconut oil
Fill each paper cup with chocolate, approximately ⅛ up (just enough to cover bananas and toppings), and place in mini muffin tin
Place bananas and toppings in paper cups (we packed in as much fruit and toppings up to ½ of the paper cup)
Carefully stick the wooden ice cream spoon halfway down into the center of the banana
Repeat the process for the desired number of servings then place in freezer for at least 4 hours
Remove from freezer and carefully tear and remove paper cup mold
Serve plain by itself, or
Serve with Goldfish crackers for a burst of fun and colors
That's it!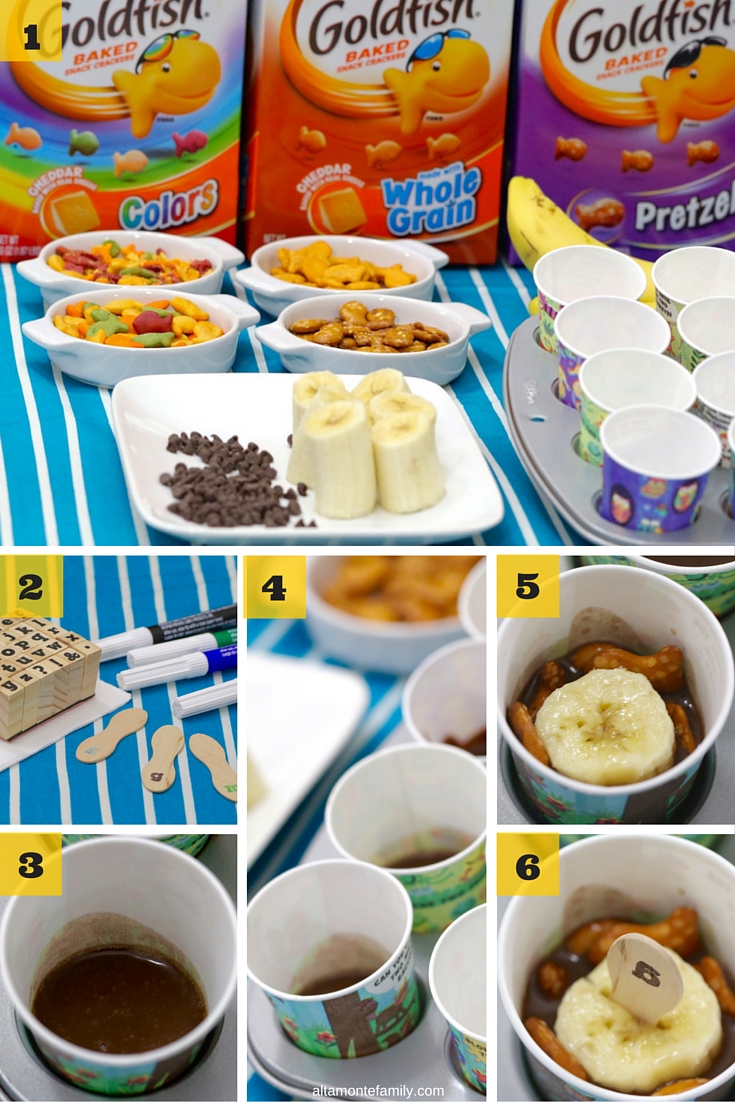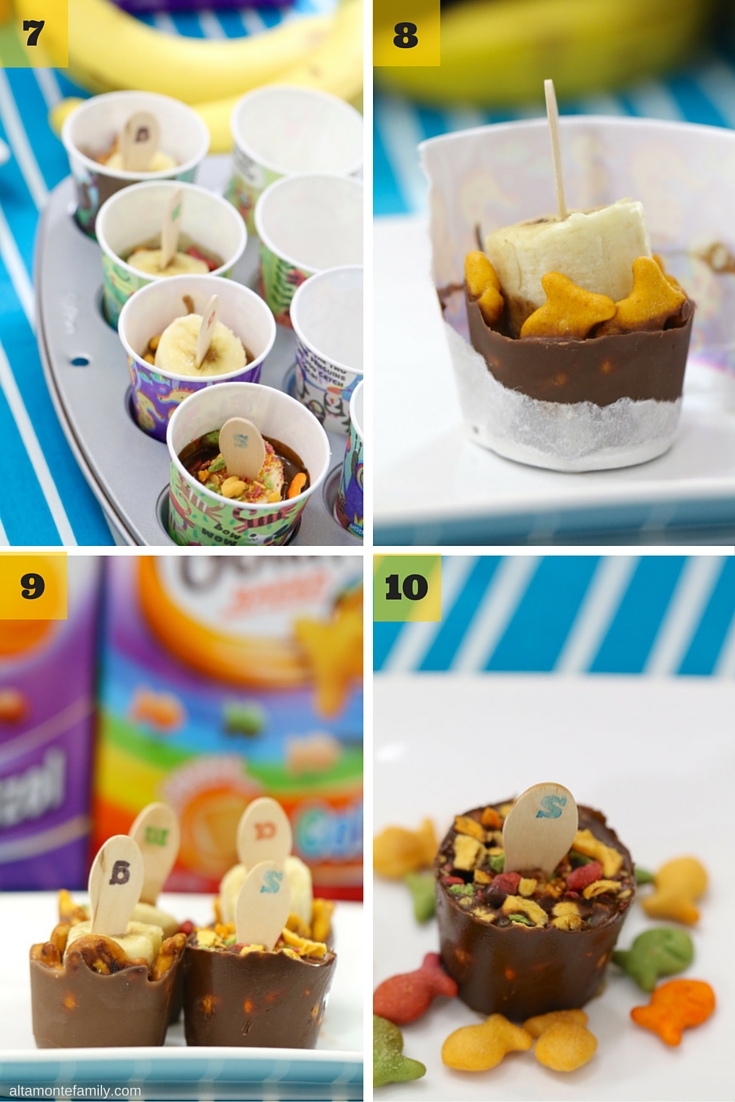 This fun Goldfish cracker recipe is not only a delicious snack, it's also a great activity to Keep Kids in the Mix™! It's a win-win for parents and kids!
So, are you ready to start creating with your kids? Head on over to Walmart (we found ours on rollback)!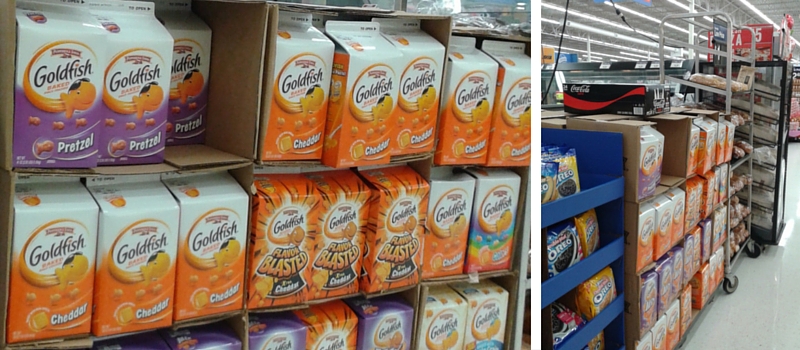 What kind of fun snacks / recipes will you make with your kids using Goldfish crackers?
---
We're Social! If you liked today's post, feel free to share, bookmark, or pin it! Follow us on Pinterest, Facebook, and Instagram for more updates on our latest projects and adventures.