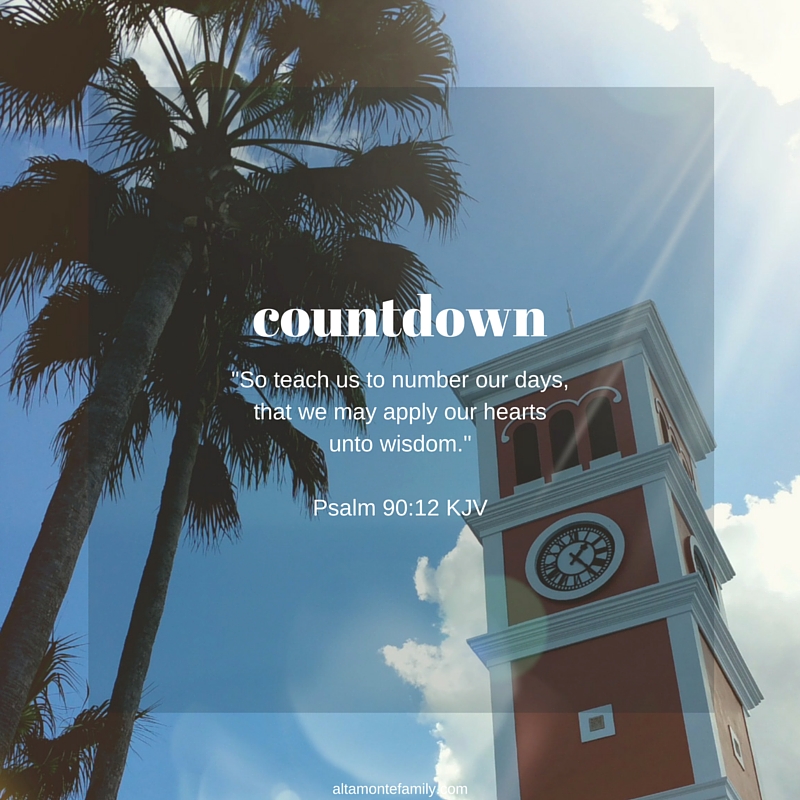 While none of us can really predict the exact time when our time is going to be up, I'm pretty sure that all of us are aware that it involves counting down the days, not counting up. The only time that I've ever experienced "gaining time" is when I travel from the east coast of the United States going west, and all the way to Hawai'i. Then again, I "lose it all back" each time I return home to Florida.
Psalm 90 reminds us that we can most certainly displease God during our time here on earth. The psalmist talks about the fear of the LORD and the power of His wrath:
For we are consumed by thine anger, and by thy wrath are we troubled. Thou hast set our iniquities before thee, our secret sins in the light of thy countenance.

Psalm 90:7-8 KJV

Who knoweth the power of thine anger? even according to thy fear, so is thy wrath.

Psalm 90:11 KJV
It's interesting how the psalmist also noted that we have to be taught to number our days–to make each day count…
… and that he didn't ask just anybody to teach him to "number his days". He asked that God would teach him.
So teach us to number our days, that we may apply our hearts unto wisdom.

Psalm 90:12 KJV
This verse shows us that GOD CAN. King David knew that God can.
God can do anything! This includes teaching us how to use our time wisely. He has given us His Word as a Source of inspiration, instruction, and even correction. He will guide and point us to the right verse, the right message at the right time–so long as we seek Him and ask.
Psalm 90:12 is a great reminder that we shouldn't forget to ask–and that we shouldn't just ask for the big things, we should ask for wisdom even for the day to day. We can find yet another reminder in the book of James:
If any of you lack wisdom, let him ask of God, that giveth to all men liberally, and upbraideth not; and it shall be given him. But let him ask in faith, nothing wavering. For he that wavereth is like a wave of the sea driven with the wind and tossed. For let not that man think that he shall receive any thing of the Lord.

James 1:5-7 KJV
In the busyness of it all, we often forget to ask for His wisdom and guidance for the day to day, seemingly mundane things. I'm personally guilty of forgetting to ask while shuffling between routines. We all know that anything could happen between routines!
We need God at all times. We need His mercy.
O satisfy us early with thy mercy; that we may rejoice and be glad all our days.

Psalm 90:14 KJV
I need to remember to ask for His wisdom and guidance, even in between routines. I need to ask God that His beauty be seen in and through me, even as I go about my routines.
It is often amid my day to day routines that I get frustrated, discouraged, and fail to display the "beauty of the Lord our God" in my life.
Let thy work appear unto thy servants, and thy glory unto their children. And let the beauty of the Lord our God be upon us: and establish thou the work of our hands upon us; yea, the work of our hands establish thou it.

Psalm 90:16-17 KJV
Let us remember to ask God for His wisdom to make each moment count, including the every day, so that others–especially our children–will see God's beauty and glory shine in anything that we do.
---
Take action: Examine your day to day routines. Have you included God in these routines? Have you invited Him to fill your heart? If not, He is waiting for you to let Him in. He is waiting to bring about a beautiful change in your life. This page shows you how you can get started with God.