This shop has been compensated by Collective Bias, Inc. and its advertiser.
All opinions are mine alone. #CarnationSweepstakes #BetterBreakfast #CollectiveBias
---
Happy Monday! I hope you guys had a wonderful and enjoyable weekend! Are you all pumped about starting the work week or jazzed about the new month (don't forget, we've got 29 days in February this year)! Anyway, if you've been following our posts on Instagram, you probably already know by now that we've been sick all weekend. While we love what we do, there's just something about Monday that makes us feel as if we could use another "Fall back" adjustment to Daylight Savings Time. Hawaiian time would be better; over there, they're currently 5 hours behind (not for long, though)! Speaking of Hawaii, here's a little bit of Hawaiian-style breakfast inspiration to help you get up and get going! We're super excited to share the recipe for our favorite Coconut Mocha Banana Smoothie!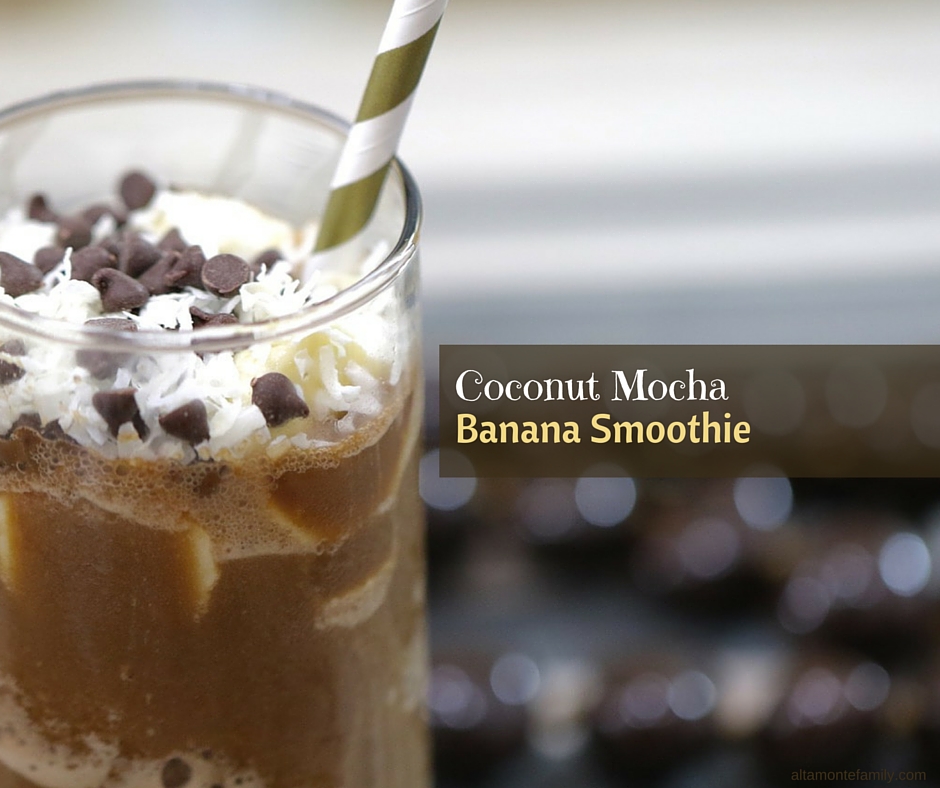 There's a coffee shop over on Oahu that's near and dear to our hearts. We often found ourselves purchasing their Coconut Kona Mocha Frappe, among many other hard-to-resist local flavors, before jumping into the elevator all the way past the 30th floor of an all-glass building and into an office that's overlooking the ocean on one side and the mountains on another.  Since we don't live and work there anymore (yes, we just snapped out of it), it's high time to come up with an alternative–an easy breakfast alternative, mind you–since we love to drink shakes and smoothies to kick start our busy day!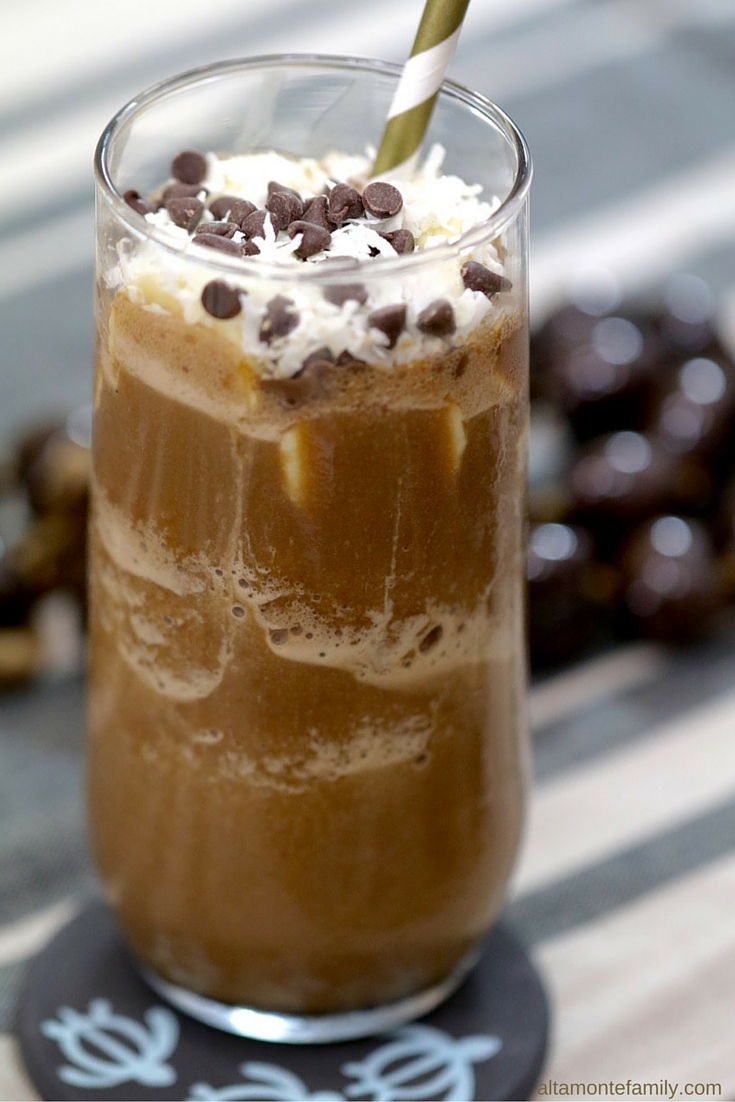 There are many things that can contribute to a better morning:
Do you have a favorite breakfast routine that motivates you to get up in the morning?
How about a proven, go-to workout routine?
For us, the morning hasn't officially arrived until the aroma of coffee starts making its way around the house and into our brains (yay for timers)! It gets even more exciting when you're able to incorporate your favorite coffee flavors into some awesome breakfast recipes, like our Coconut Mocha Banana Smoothie! Let us fill you in on a shortcut to making this delicious, Hawaiian-inspired smoothie (and it comes in at just under 233 calories and 26g sugar per 12 oz serving).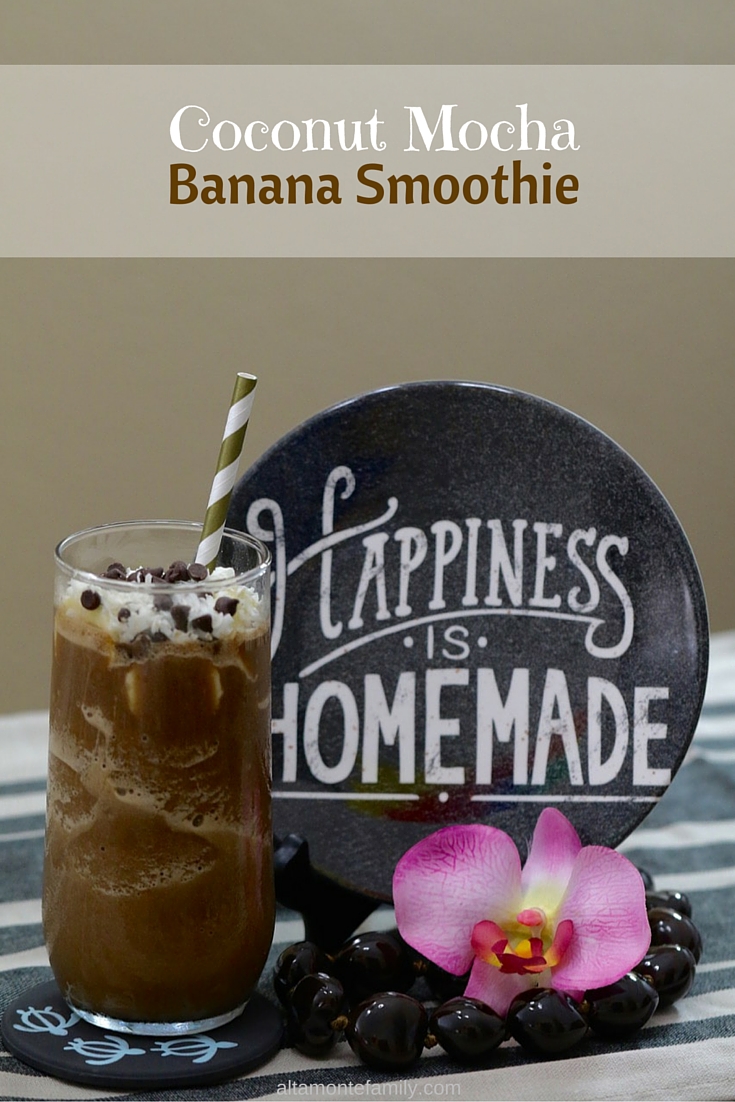 Our secret ingredient is…
Carnation Breakfast Essentials® (in rich milk chocolate flavor)!
This packet of goodness has just the right amount of rich, milk chocolate goodness that we're looking for, without making us go over our daily "budgeted" calories and sugar. It makes adding the rest of the ingredients super easy (which is half of the battle for us)! Just 6 ingredients total (7, if you wish to count the ice cubes–because technically, they count 😉 ).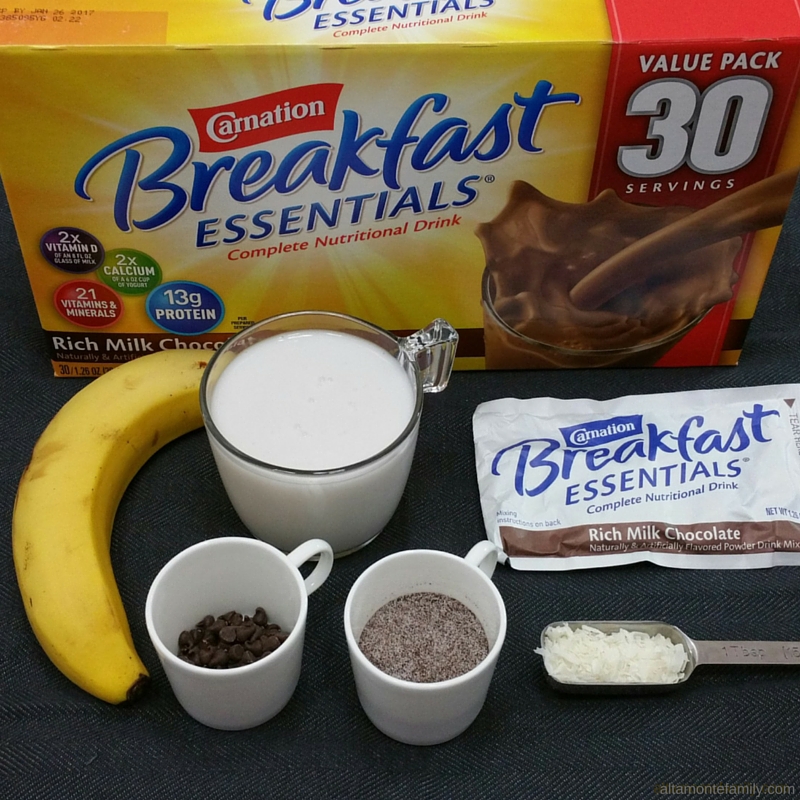 Recipe: Coconut Mocha Banana Smoothie
This delicious, Hawaiian-inspired breakfast smoothie comes with only 232.75 calories and 25.5g sugar, per 12 oz serving.
Adding in banana slices: If you want to add the extra banana toppings for that extra, chunky texture (hiding beneath the shredded, unsweetened coconut and semi-sweet mini chocolate chips), simply slice up another 1/4 medium, ripe banana, for a new total of 259 calories and 29g sugar.
Servings: 2 (12 oz per serving)
Prep Time: 5 minutes
Blend Time: 1 minute
Total Time: 6 minutes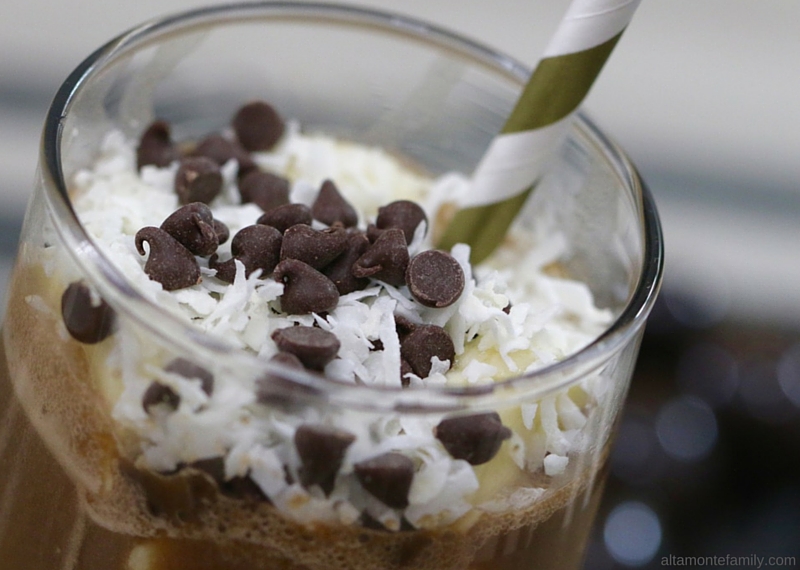 Ingredients:
2 cups ice cubes
1/2 medium, ripe banana (sliced, for easy blending)
1 cup coconut milk
1 packet (27g) instant sweetened iced coffee (packet contains 50 calories, 11g sugar)
1 packet Carnation Breakfast Essentials® (rich milk chocolate powder)
For the topping:
2 tsp semi-sweet mini chocolate chips, divided
2 tbs unsweetened coconut flakes, divided
Instructions:
Combine all ingredients in a blender (following blender directions)
Pour 1 serving (12 oz) into a cup
Top with 1 tsp semi-sweet mini chocolate chips and 1 tbs unsweetened coconut flakes
Optional: Add in a few banana slices (1/4 medium, ripe banana) for a nice chunkier texture
It's delightfully easy and it's super delicious!
We like using Carnation Breakfast Essentials® because of the added protein, calcium, Vitamin D, and other vitamins and minerals–plus, our kids love the taste!
Did you know? Carnation Breakfast Essentials® is encouraging everyone to get into the habit of having a better breakfast! We'll be taking the 7-Day Breakfast Challenge as a family and will enjoy a nutritious breakfast every day for the next 7 days. Will you join us? For a chance to win prizes, each participant will complete simple breakfast missions through the end of February! More details towards the bottom of this post!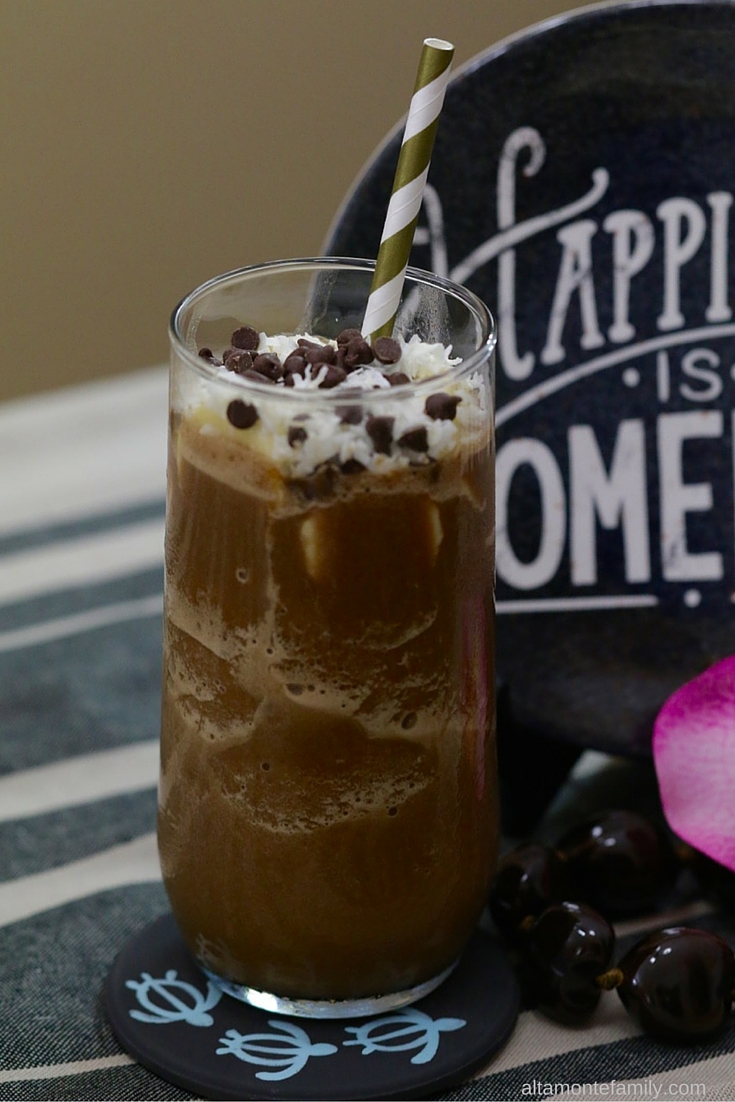 Before we forget: If you don't want your kids to feel left out due to the caffeine in this recipe, don't worry! All you have to do is eliminate the coffee ingredient (it still tastes really good even without the caffeine since you've still got the rich milk chocolate flavor in the Carnation Breakfast Essentials® powdered mix)! It's always a delight when the whole family gets together at the breakfast table in any shape, form, or fashion! Simple and delicious breakfast options like this smoothie recipe will help us pack in more family memories each morning (Hawaiian time or otherwise)!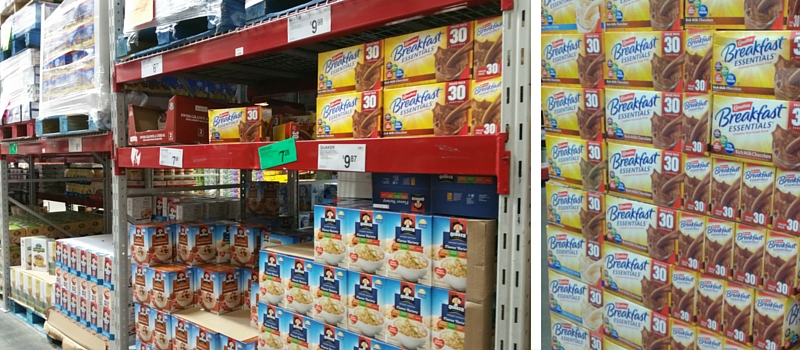 In case you're wondering where we found the 30-pack boxes of Carnation Breakfast Essentials® (powder drink mix) in chocolate or vanilla, they were at Sam's Club where all other breakfast items are located (by the end cap).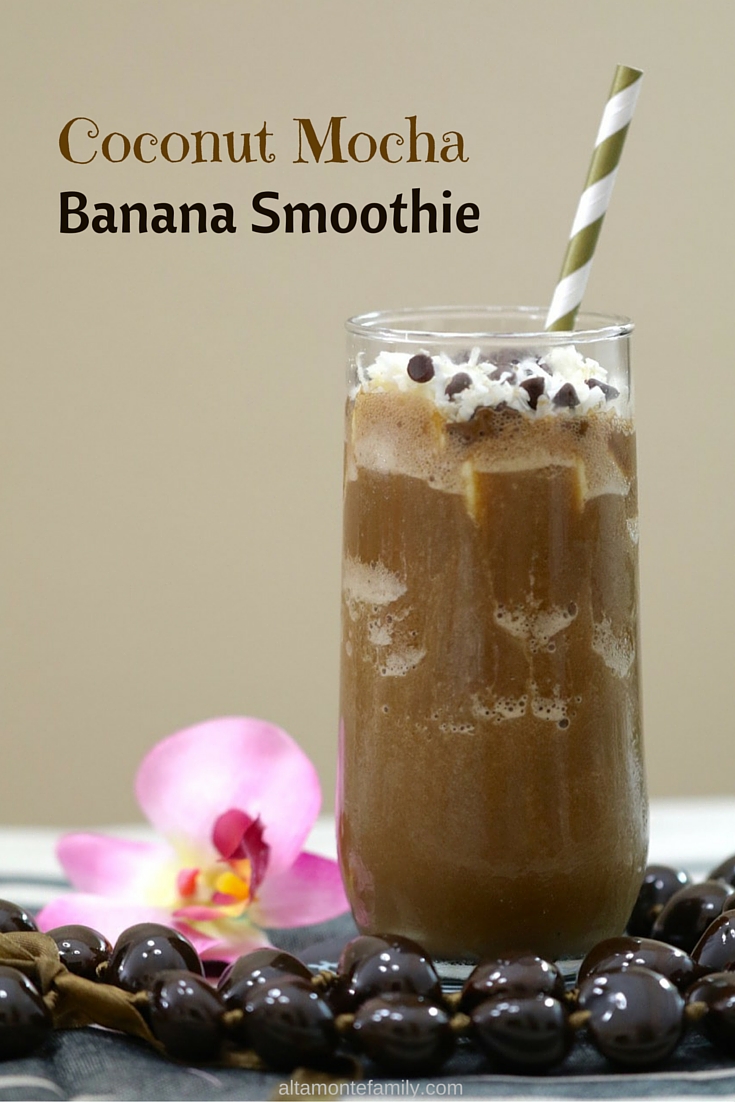 So…. about the 7-Day Breakfast Challenge…
Ready to get started? Follow these easy steps:
Sign up at CarnationBreakfastChallenge.com.
Complete a simple yet fun breakfast mission for a chance to win. New prizes will be revealed every day!
Come back any day in February to complete missions and see new prizes. The prizes range from a Fitbit to a GoPro and other awesome stuff!
Head to your favorite store to purchase a Carnation Breakfast Essentials® Nutritional Product and upload your receipt for five extra entries per day.
---
Share your thoughts! What kind of recipes do you like to make for "better breakfast mornings"?
Feel free to follow the Carnation Breakfast Essentials® Facebook page for more inspiration!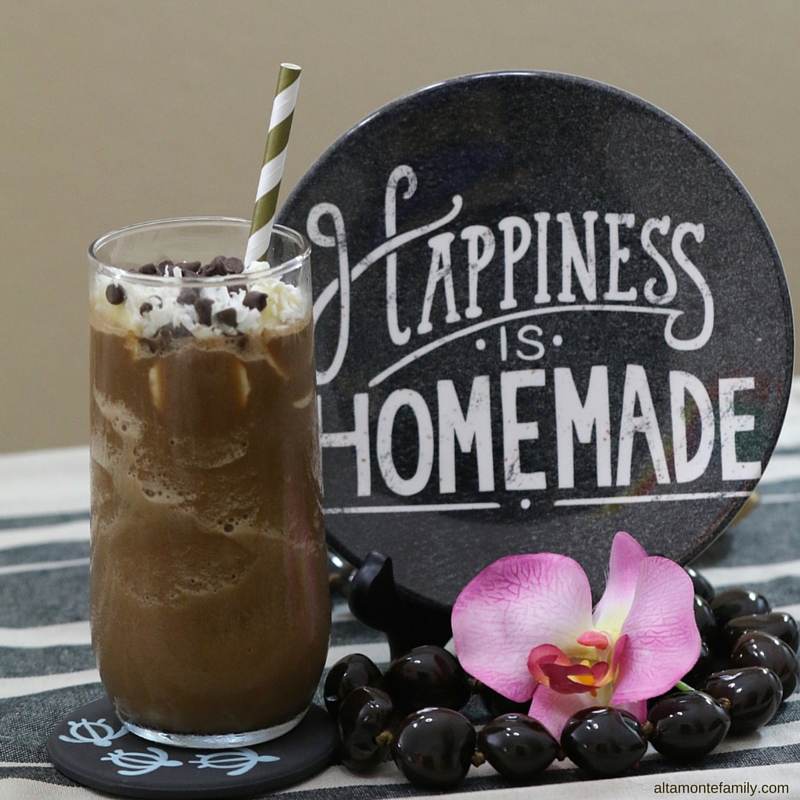 We're Social! If you liked today's post, feel free to share, bookmark, or pin it! Follow us on Pinterest, Facebook, and Instagram for more updates on our latest projects and adventures.