This shop has been compensated by Collective Bias, Inc. and its advertiser.
All opinions are mine alone. #CerealAnytime #CollectiveBias
---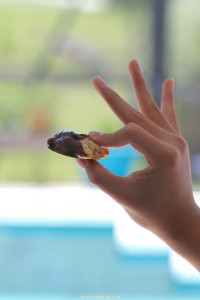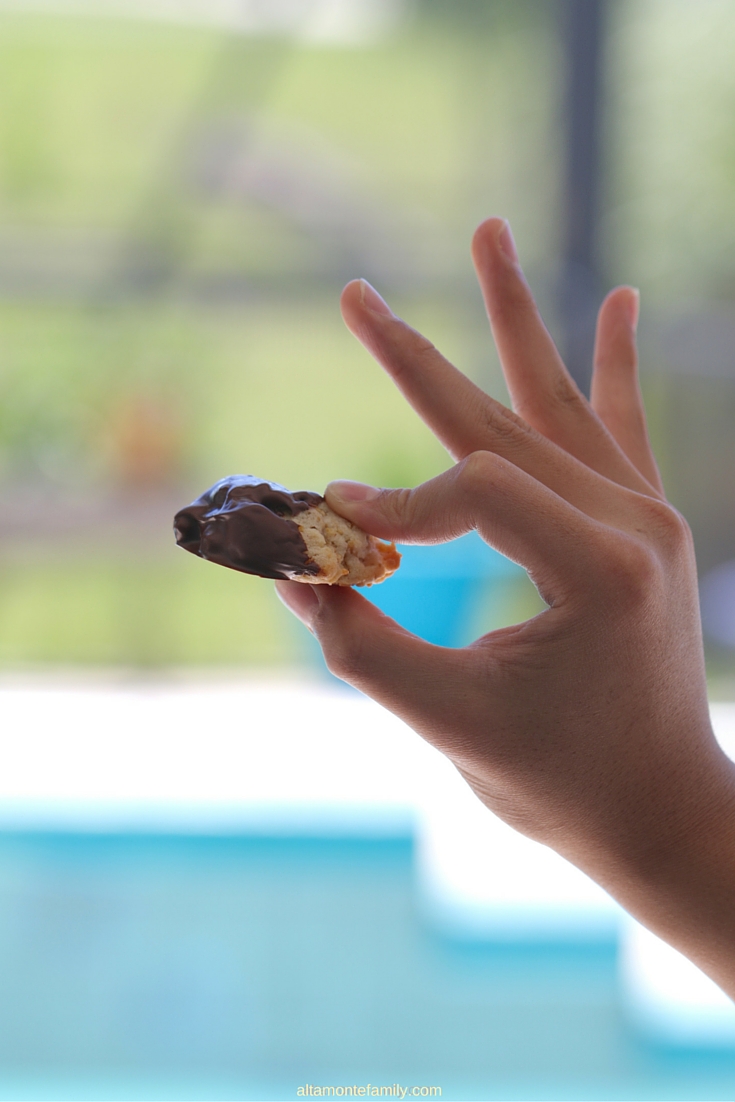 Good morning, Monday! How's your morning been so far? We once saw an internet meme that said "Weekends are a must, Mondays are optional." Ever seen that one? Not all Mondays are created equal, though. We've started doing "evening huddles" as a family so that we know exactly what we need to do the next day (including Monday). So, no more dreaded "morning meetings" at the breakfast table. Yay! We've since added a new morning fun activity: after choosing a flavor from a variety of Post cereals that make all of us happy, we'd brainstorm about the next best snack recipe made with cereal. So, today's winner is… Chocolate-Dipped Honey Almond Cookies!!! YUM!!!
Since we let go of one of our highest-paying work-from-home contracts, life at home has been a lot less complicated, less hurried. We've been able to enjoy more meals at the table, stay a little longer, and even share a few laughs. Breakfast time has been one of our absolute favorites! It really does bring the family together and helps start the day off on a good foot. After doing our daily morning devotions together, we pray, thank God, and then have breakfast.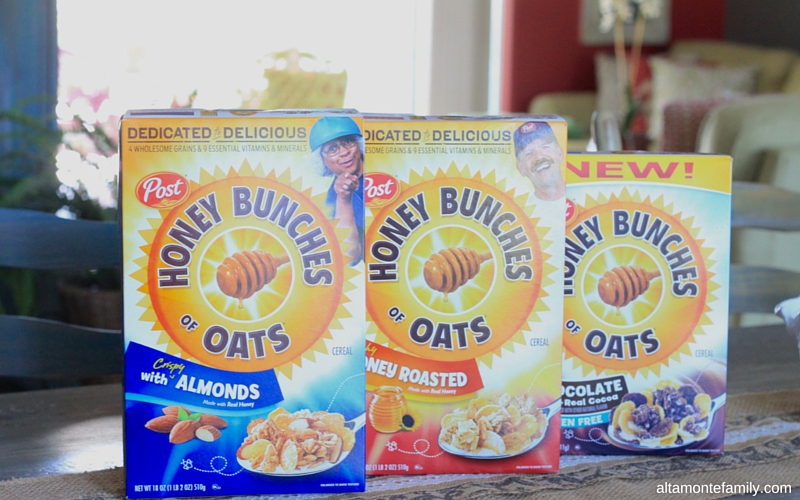 We carve out some time throughout the week to cook / bake with our kids. It's a great teaching opportunity, and we get to celebrate the outcome together (results may vary but that's okay, right?). We like to include our toddler in the process by providing him with kid-sized supplies. It's not only fun for him, it also builds his vocabulary. He is very familiar with a whisk, spatula, and more! He's developed quite a keen eye for shopping for the good stuff at the grocery store. Chances are, he has already memorized the ingredients for our Chocolate-Dipped Honey Almond Cookies! After all, our newly discovered snack is a combination of his favorite sugar cookies + chocolate + breakfast cereal. We've learned that cereal is a great ingredient not just for breakfast but for all kinds of snacks, meals, and occasions.
Recipe: Chocolate-Dipped Honey Almond Cookies
We used a package of sugar cookie mix to make things simpler when baking with kids. You can always swap this out with your preferred sugar cookie recipe. The secret is in the cereal! One more thing – with supervision, the kids can easily make these cookies without an electric mixer. We made our first batch by hand and the second batch (for sharing–yes, we're being defensive) using an electric mixer and they both tasted awesome!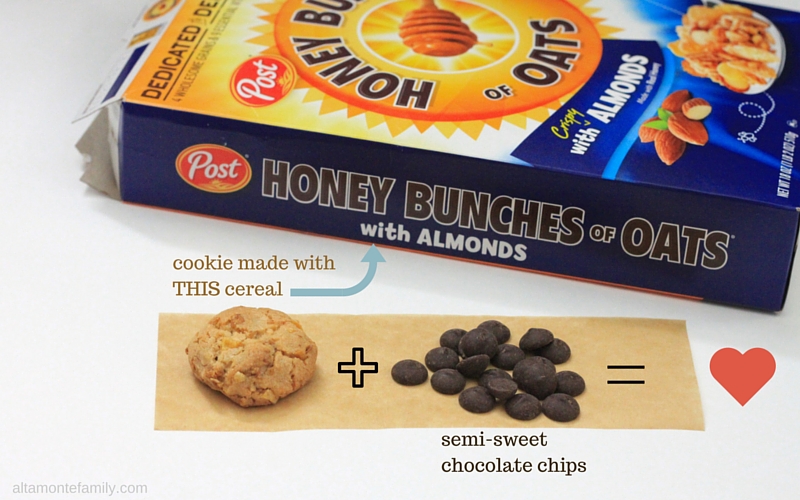 Servings: 36 – 40 cookies
Prep Time: 15 minutes
Bake Time: 8 – 10 minutes
Idle Time (for baking and cooling): 30 minutes
Total Time: 55 minutes
Ingredients:
1 egg
1/2 cup salted butter
1 pkg Sugar Cookie Mix (17.5 oz)
3 cups Post Honey Bunches of Oats with Almonds
For the topping: 5 oz semi-sweet chocolate baking chips, melted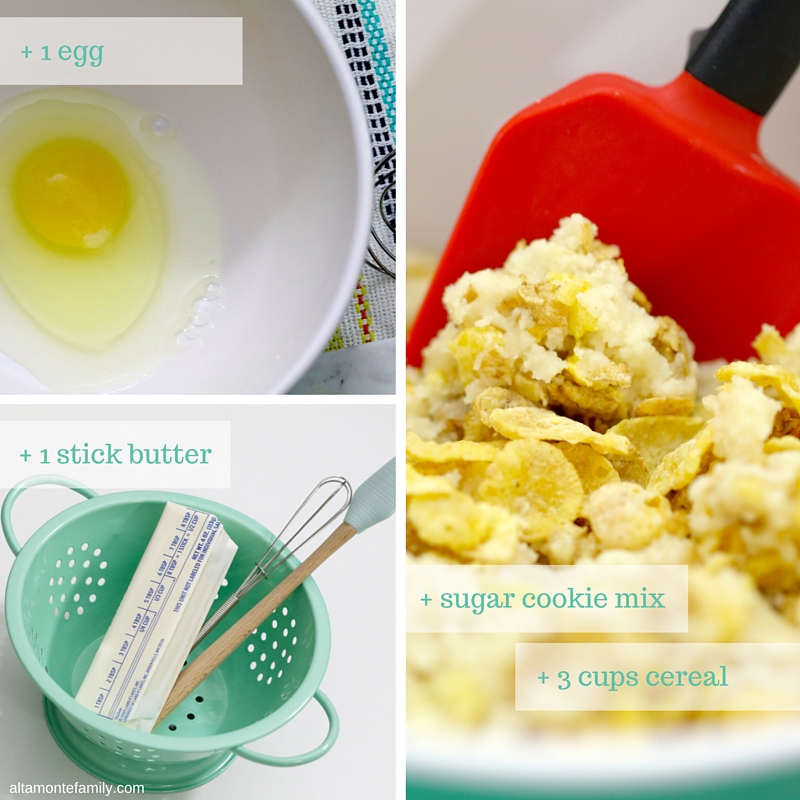 Directions:
***Preheat oven to 350 degrees***
Whisk butter in a large mixing bowl
Stir in egg and cookie mix
Add in cereal
Combine all ingredients in mixer until cereal is lightly crushed
Scoop a tablespoon of dough into round shapes, drop onto ungreased cookie sheet, and bake for 8 – 10 minutes
Place cookies on cooling rack after 1 minute, then let cool for a few minutes
Melt a handful of chocolate chips in microwave in 15-second increments until fully melted, dip cookies halfway through, then carefully place onto wax paper to let cool*
Serve and enjoy
*We refrigerated the cookies to speed things up a bit (just a tip, in case you're surrounded by what seems to be an army of hungry kids… unless you're teaching a lesson on patience).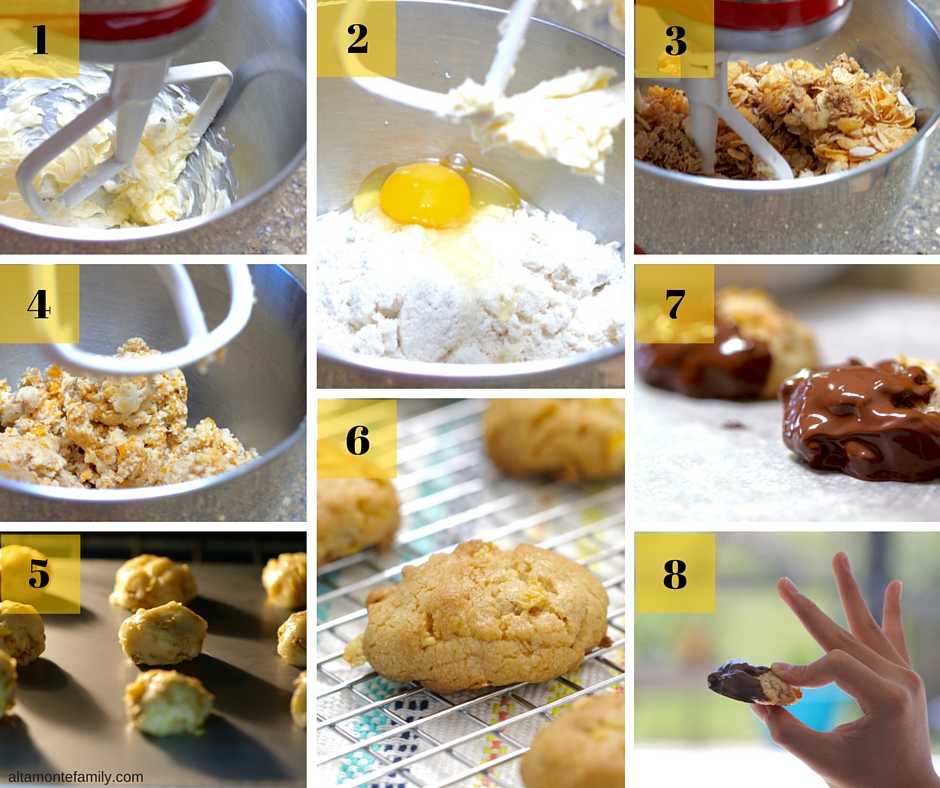 Using a convection oven: If you happen to own a convection oven, you'll enjoy some evenly-baked cookies that are light and crispy on the outside with a hint of chewiness on the inside. If you don't have one, don't worry. We also baked another batch of cookies in a regular oven using the same settings and they turned out just fine. Slightly different texture but same level of deliciousness!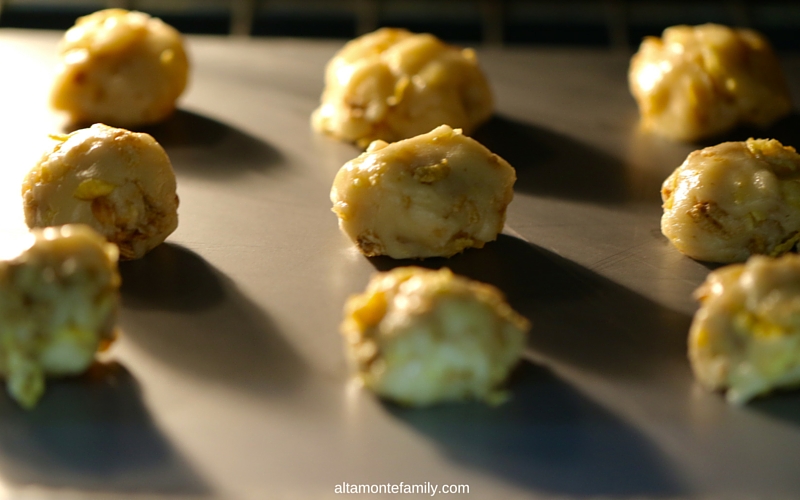 Mmmm…. super good!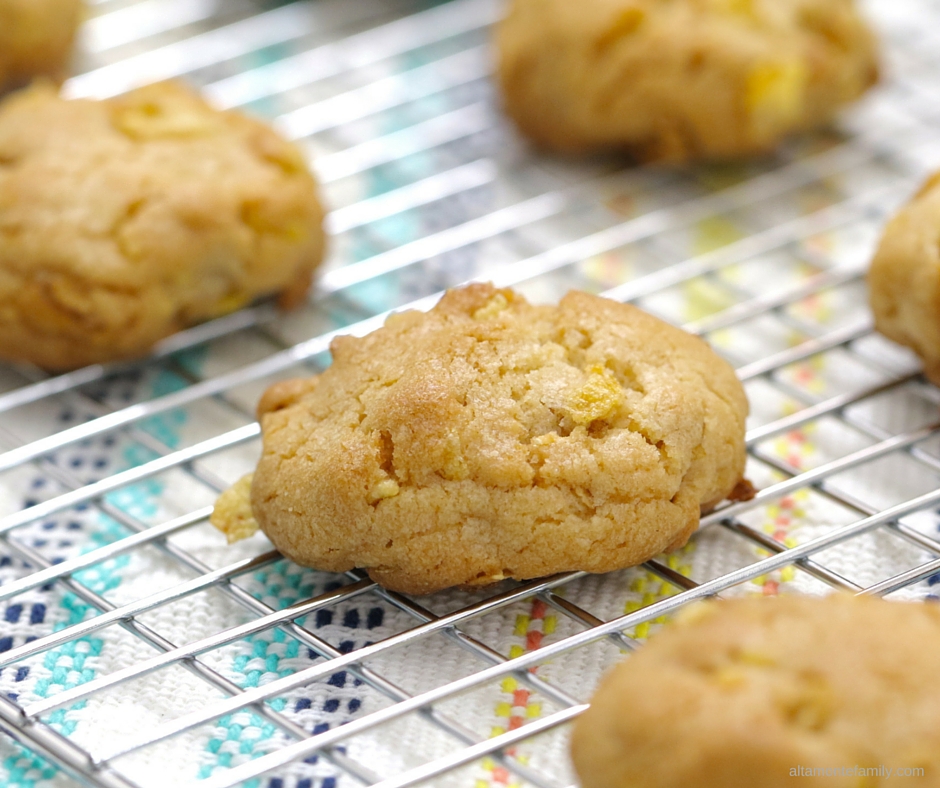 Would you like to try one?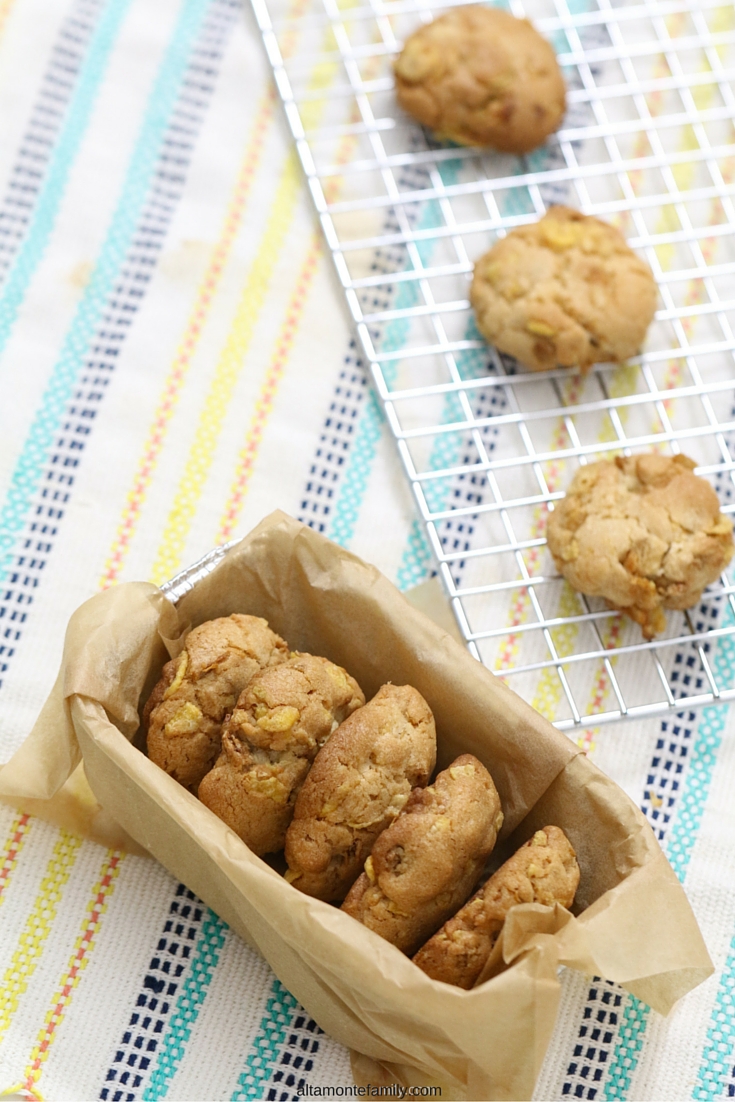 For the chocolate lovers at home, the additional step of dipping the cookies in this melted goodness was well worth the effort.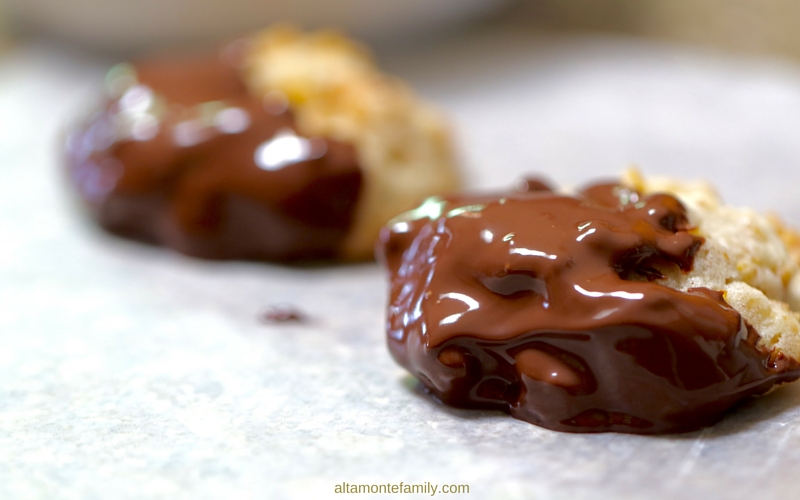 Let's just say that some people decided to "try" the cookies before they completely cooled down…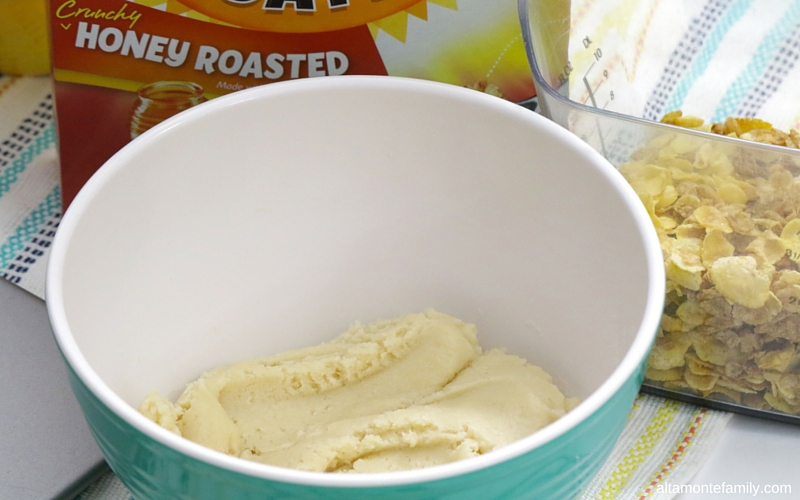 We also tried the same "base recipe" with Post Honey Bunches of Oats Honey Roasted and skipped the chocolate. They were amazing! We can't wait to try them with the other 2 new cereal varieties, Crunch O's and Kung Fu Panda Po Power Crunch.
Here's a fun, homemade gift idea: How about making a batch of these cookies (with or without chocolate) and giving them as a homemade Happy Monday gift to someone today? How about a Happy Friday gift, or an any-other-day-just-because gift? 🙂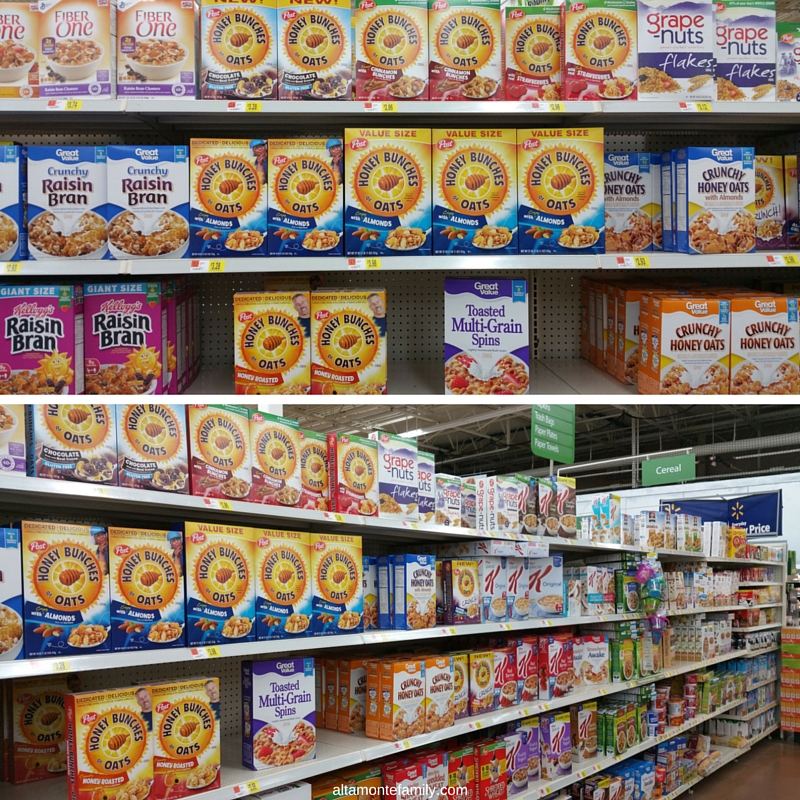 Along with the mini loaf pans (to hold the treats), we bought the 3 different cereal varieties at Walmart: Honey Bunches of Oats with Almonds, Honey Bunches of Oats Honey Roasted, and Honey Bunches of Oats Gluten Free Chocolate (we'll use the new gluten-free chocolate cereal as a substitute for the walnuts in this gluten-free chocolate muffin recipe).
What kind of delicious recipes will you make with these cereal flavors?
---
We're Social! If you liked today's post, feel free to share, bookmark, or pin it! Follow us on Pinterest, Facebook, and Instagram for more updates on our latest projects and adventures.