This shop has been compensated by Collective Bias, Inc. and its advertiser.
All opinions are mine alone. #SplendaHoliday #CollectiveBias
---
'Tis the season for baking, baking, baking–including baking with less added sugar. After having a bout with gestational diabetes earlier this year, our kitchen is humming a little bit differently this holiday season: can you hear,  "SPLENDA® Sweeteners and spice and everything nice"? While we're super grateful to God that the gestational diabetes didn't turn into Type 2 diabetes after the birth of our 4th son, we're doing our part by swapping out some of that sugar with an alternative like SPLENDA®. So, yay! We're still able to snack on these delicious chocolate chestnut mini muffins with a salted caramel glaze during the holidays and enjoy a sweet life without all the calories from added sugar! We'll share the recipe in a bit!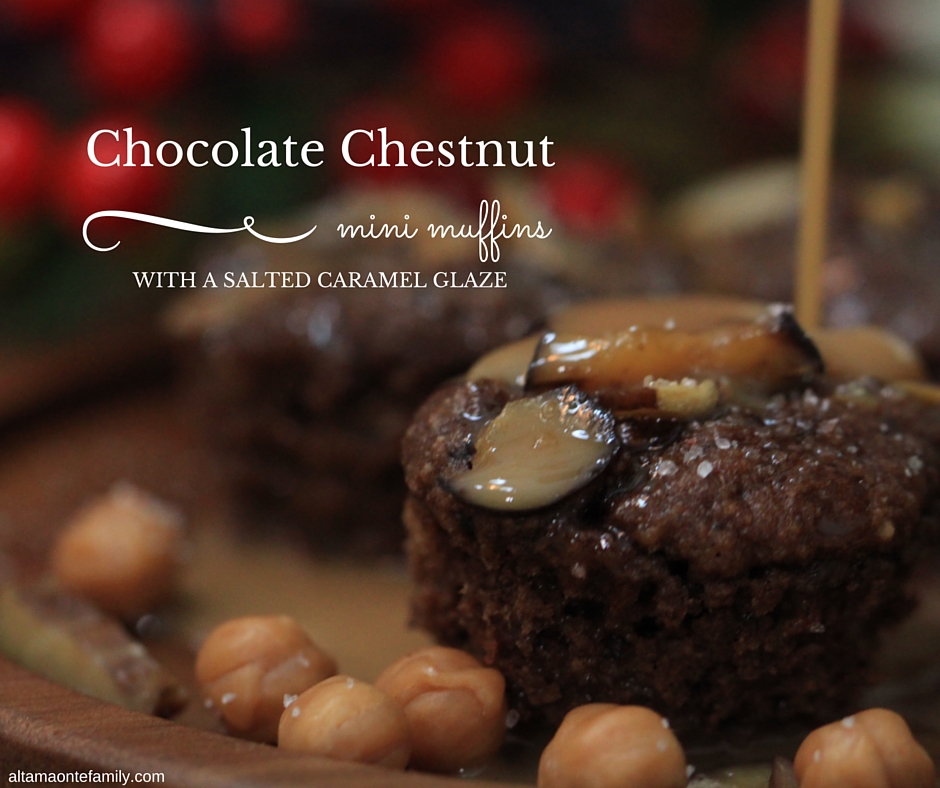 Have you been thinking of cutting back on some of those added sugars and calories, too? Maybe you've heard about the SPLENDA® SWEET SWAPS™ Initiative. If not, maybe we can help. We went to the SPLENDA® SWEET SWAPS™ website and found some tips, tricks, and recipes on how to creatively save calories by swapping out full sugar for SPLENDA® Sweetener products. If you like working with numbers, you'll probably appreciate knowing that you can save more than 600 calories by switching out one cup of sugar with one cup of SPLENDA® No Calorie Sweetener, Granulated.
Application: For us, 600 calories means a lot of treadmill or brisk walking time! Our smartwatch was nice enough to give us the calculations (more like, the interpretation, to drive the statistics "home").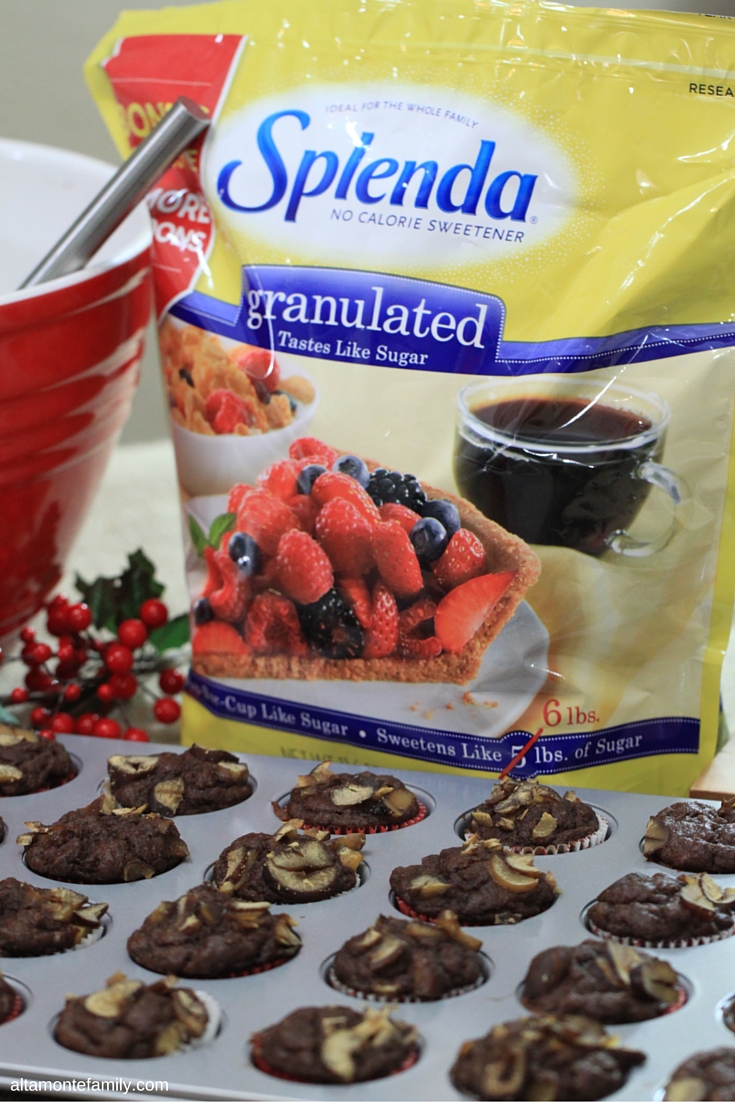 If we were only honest with our smart watch, it would most likely tell us that we're part of a population that consumes more than 22 teaspoons of added sugar per day. You probably figured out by now that we're talking about the average American. Now, 22 teaspoons sounds like a lot, doesn't it? You betcha! That startling number is more than triple the recommended amount for women and more than double the recommended amount for men. We haven't forgotten: more sugar = more calories = more treadmill time.
So, are you ready to swap out that sugar with some SPLENDA®? Let's get to the baking part!
Recipe: Flourless Chocolate Chestnut Mini Muffins With Salted Caramel Glaze
We've traditionally made these muffins with macadamia nuts (and in a larger size). This year, we're going smaller and using chestnuts, instead. This way, we wouldn't have to worry so much about our toddler choking on them (but we still do need to keep a watchful eye because he can even choke on air).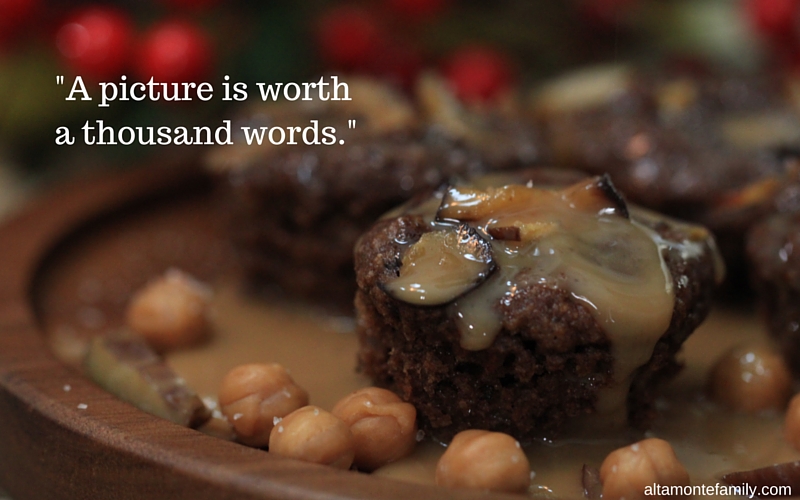 Servings: Makes approx. 48 mini muffins if using a 24-count mini muffin tin
Prep Time: 15 minutes
Bake Time: 15 minutes
Total Time: 30 minutes (if using 2 mini muffin tins at the same time)
Ingredients:
2 cups blanched almond flour
1/4 cup organic raw cacao powder
4 tbsp SPLENDA® No Calorie Sweetener, Granulated
1/2 tsp sea salt
1 tsp baking soda
1 cup roasted chestnuts, chopped
3 large eggs
3 large bananas, mashed
1 tbsp pure vanilla extract
1/4 cup organic, cold pressed, extra virgin coconut oil
For the topping / glaze:
1 part caramel bits
1 part unsweetened coconut milk
Pinch of Himalayan sea salt
Directions:
Pre-heat oven to 350° Fahrenheit.
Combine bananas, eggs, vanilla, and coconut oil, then whisk them together.
Add in the dry ingredients, then fold in the chestnuts, last*.
Carefully scoop batter into a mini muffin tin lined with baking cups.
Bake at 350° for approx. 15 minutes.
Remove from oven and let cool.
For the topping, heat the milk in the microwave for 15 seconds (if using 1/4 cup).
Add the caramel to the milk, stir, and heat in microwave for another 15 seconds. Stir.
Repeat the melting process until all of the caramel bits have completely melted, then add a very small pinch of salt.
Drizzle over mini muffins and serve.
The 1:1 ratio of unsweetened coconut milk to caramel bits is what makes the salted caramel sauce soooo delicious. It's not too overbearing (or too sweet), and it's not too sticky for the little hands.
*If you would like to achieve a chewier, roasted texture for the chestnuts, do not fold them in with the batter. Instead, simply add them on top of each muffin just before placing them in the oven.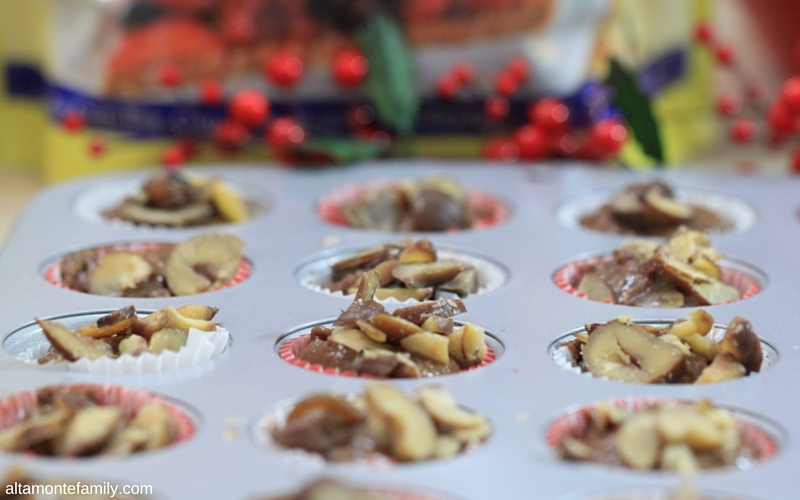 Love love love the chewiness of the slightly roasted chestnuts. Keep an eye on them, though, and make sure they don't stay too long in the oven.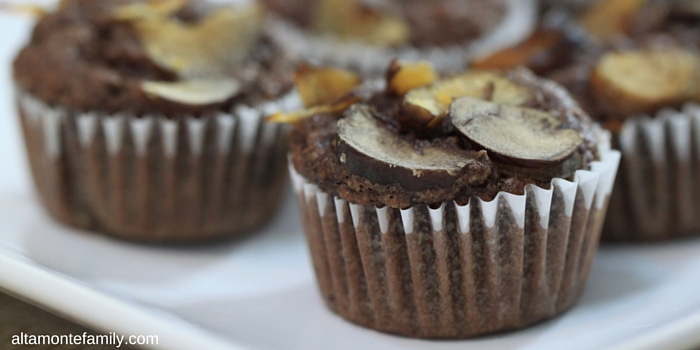 Anyway, we purchased our bag of SPLENDA® No Calorie Sweetener, Granulated, from Walmart, and as you can see, it appears that we're not the only ones who are looking to save on the calories!

So, are you ready to bake without all the calories from added sugar? Head on over to your local Walmart and take a look at the SPLENDA® SWEET SWAPS™ website for inspiration and to learn more about making smarter, balanced decisions for a healthy lifestyle.