This shop has been compensated by Collective Bias, Inc. and its advertiser.
All opinions are mine alone. #DeliciousDinners #CollectiveBias
---
In our family of six, there's just something about having "Kielbasa sausage for dinner" that makes eyes beam with delight! There's also something to be said about having "kale on the menu" that makes some spirits sink in despair. Then, one day, Kale met Kielbasa… and they lived happily ever after! Fairy tale aside, allow us to explain. Simply put, smoked sausage and kale make a great pair. Inspired by the traditional Cheesy Beef Casserole, we'd like to introduce you to our version of a Cheesy Kielbasa Kale Casserole. With just a few simple tweaks, we're able to make an old recipe new again!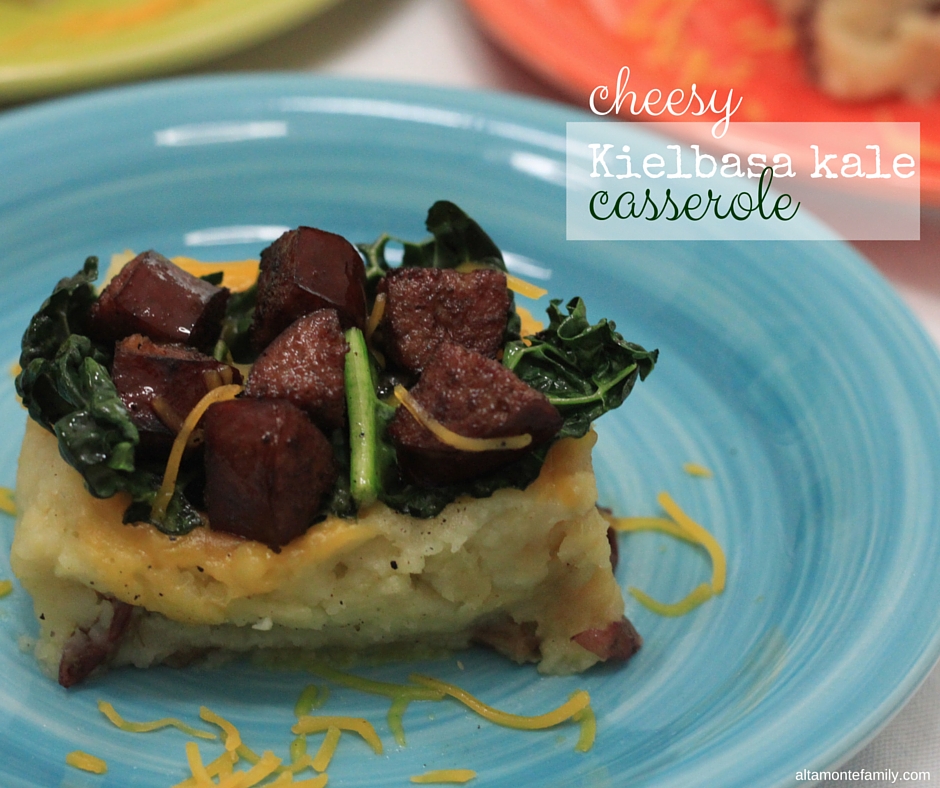 Yup, pictured above is our "Loaded Mashed Potatoes" a.k.a. Cheesy Kielbasa Kale Casserole! Can you tell that we love to shake things up and add some variety to our family meals? We simply replaced one of our traditional recipes with Hillshire Farm® Rope Sausage, and suddenly, we get a "Wow! That looks really good!" as hungry eyes walked past the kitchen. Two simple changes (Kielbasa sausage and kale) = one new meal.
Today's random thought: This concept would probably work with loaded baked potatoes, also. Move over, bacon. It's time for some Hillshire Farm® Beef Polska Kielbasa–fully cooked, premium cuts of perfectly seasoned meat!
Recipe: Cheesy Kielbasa Kale Casserole
Servings: Approx. 12
Prep Time: 5 minutes
Cook Time: 20 minutes*
Total Time: 25 minutes
*Assuming the mashed potatoes are already made (otherwise, please see our recipe for mashed potatoes, below).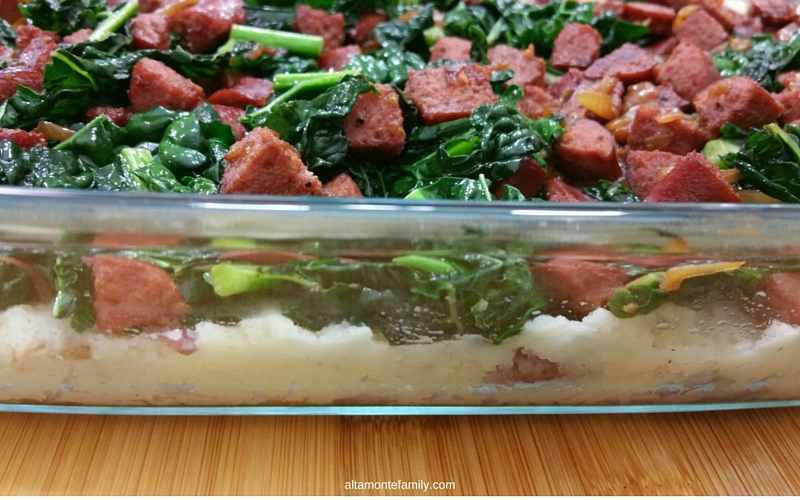 This recipe is so easy, you can easily use leftover mashed potatoes or simply use a mashed potato mix. If you'd like to try our mashed potato recipe without the butter, feel free to substitute 0.375 cups of organic cold pressed extra virgin olive oil.
Skin-On, Slow-Cooked Mashed Potatoes
To save time, we prefer to leave the skin on and throw in 10 honey gold potatoes + 10 petite red potatoes + 4 oz unsalted butter + 12 oz water + 1/2 tbs sea salt + pinch of pepper in a slow cooker and set in on high for 2 hours. Then, we use a potato masher until the potatoes are smooth. Easy enough, right?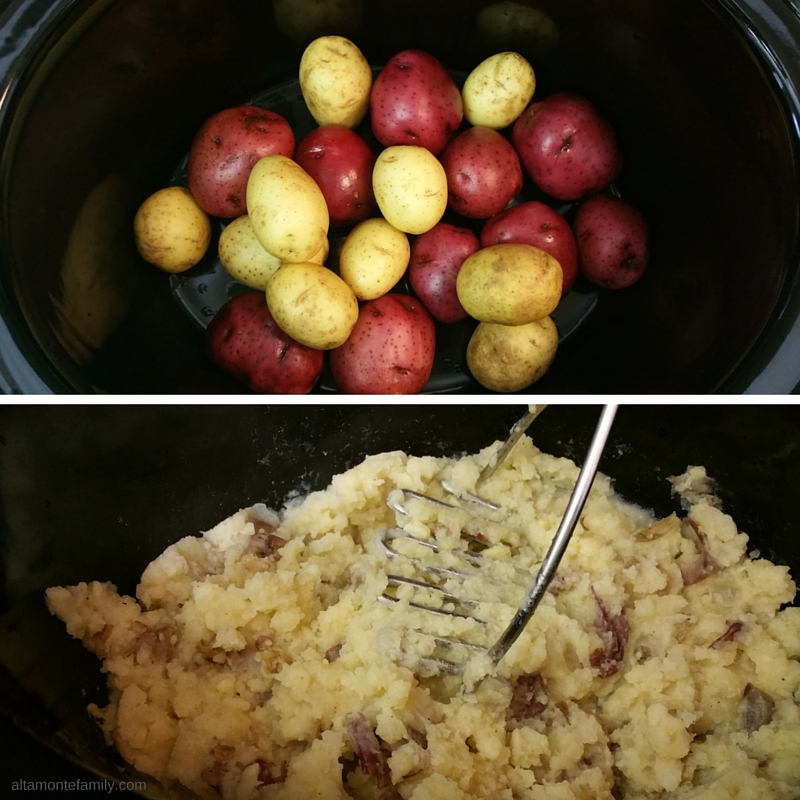 Okay, let's talk about the flavors and ingredients that add life to our simple, slow-cooked mashed potatoes…
The Hillshire Farm® Beef Polska Kielbasa sausages are perfect for easy smoked sausage power recipes. The smoked flavor really goes well with the crunchiness and strong flavor of organic lacinato kale (we prefer this specific kale variety because of the added crunch and texture). The sweetness of caramelized onions throughout makes for a balance of smoky, bitter, and sweet.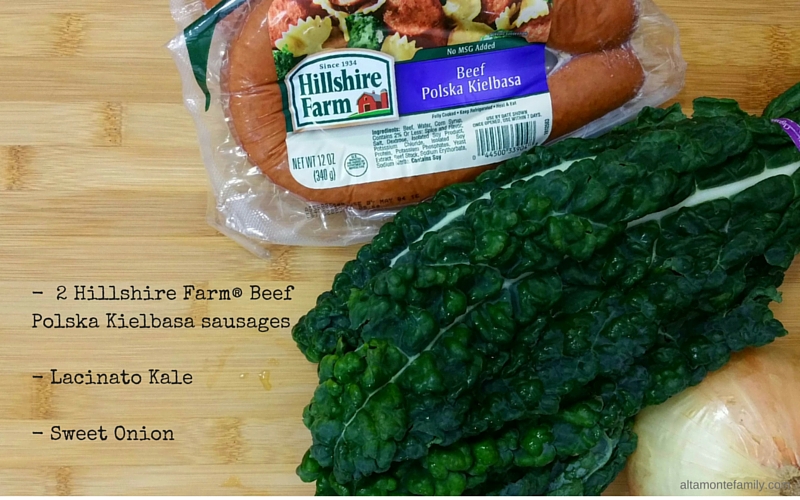 Ingredients:
2 Hillshire Farm® Beef Polska Kielbasa sausages, cubed

6 cups lacinato kale, roughly chopped

1 sweet onion, thinly sliced

For topping the mashed potatoes

: 1 cup shredded sharp cheddar and shredded Asiago cheese, combined (if you don't have any Asiago cheese, going "all cheddar" is fine, too)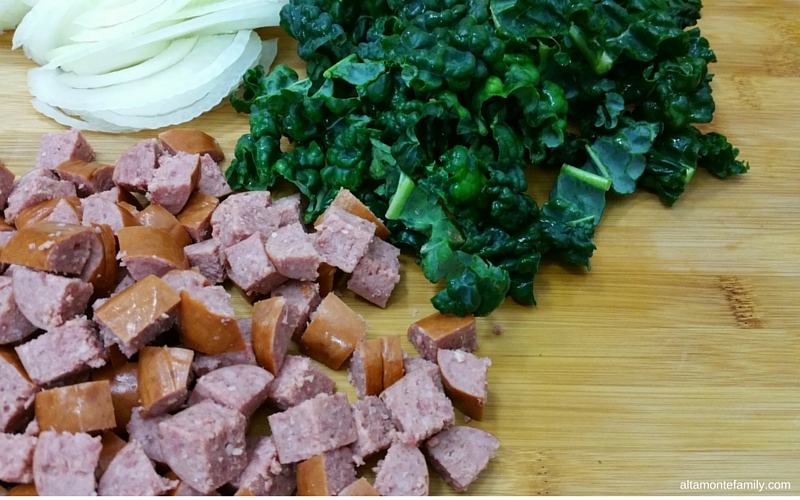 Instructions:
In a cast iron skillet, caramelize onions over medium high heat for 5 – 7 minutes until brown and tender

Reduce heat to medium and fold in the Kielbasa sausages, gently mixing for 10 minutes (to make sure you get that smoked sausage flavor infused with caramelized onion goodness in every bite)

Reduce heat to low and throw in the kale for 2 – 3 minutes then set aside




Preheat oven to 350 degrees

In a 13 x 9 baking dish, make a layer of mashed potatoes (if using our recipe above, please note that we only used half of that mixture)

Top mashed potatoes with shredded cheese

Top with Kielbasa kale mixture

Bake uncovered for 20 minutes just before serving
That's it!
For our recipe, we went to Walmart and picked up 2 Hillshire Farm® Beef Polska Kielbasa sausages. Hillshire Farm® makes it easy to deliver farmhouse goodness to any table (including ours!), and Hillshire Farm® Rope Sausage is one our easy meal planning solutions for changing things up on the menu.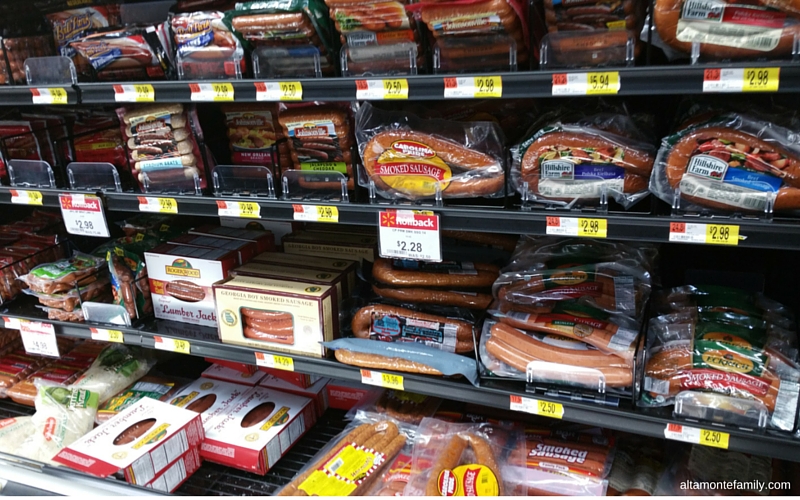 How will you be changing things up on the menu this month? Here are some amazing Kielbasa sausage recipe ideas to inspire you! Enjoy!
---
We're Social! If you liked today's post, feel free to share, bookmark, or pin it! Follow us on Pinterest, Facebook, and Instagram for more updates on our latest projects and adventures.