Perhaps you're wondering why I'm using imagery of fresh garlic placed inside a granite mortar and pestle. In the process of attempting to recreate an Asian dish from my childhood, the aroma of freshly minced garlic brought me back to so many childhood memories and lessons that eventually led to this devotional post.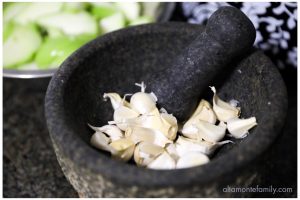 My brethren, count it all joy when ye fall into divers temptations; Knowing this, that the trying of your faith worketh patience. But let patience have her perfect work, that ye may be perfect and entire, wanting nothing. If any of you lack wisdom, let him ask of God, that giveth to all men liberally, and upbraideth not; and it shall be given him. But let him ask in faith, nothing wavering. For he that wavereth is like a wave of the sea driven with the wind and tossed.

James 1:2-6 KJV
In an era where "instant gratification" and an abundance of options are the norm, we have become conditioned to expect minced garlic to arrive in at least 4 different forms:
Instant minced garlic (in the form of pre-packaged, pre-minced garlic in a bottle or tube)
Pre-peeled garlic (ready to be minced on demand)
Head of garlic (ready for "manual processing" either by electric or hand tools)
Garlic from seed (a much longer process that we won't cover here, since we don't have much of a green thumb)
The first two forms, while the most convenient and least "painful" to work with, come with the least flavor. The third form, working with a head of garlic, can be accomplished in at least two ways, both which require a little bit of elbow grease. The interesting thing is — while both processes start with the same product (head of garlic), the resulting flavor and look are noticeably different!
I've never really had the opportunity to notice this difference until yesterday!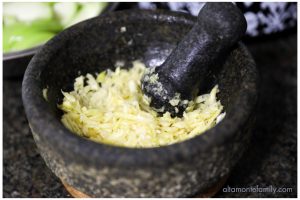 After peeling and "rough-mincing" the fresh garlic using a traditional mortar and pestle, I'd hear my mother and brother tell me,
Smash it some more!
Doesn't this scenario remind you so much of life when the going gets tough?
Just when you think you've had enough, done enough, more smashing comes your way!
As a child (who was being "admonished" and given the chore to smash garlic), I couldn't quite understand why I had needed to smash the garlic some more. It looked great to me–besides, I reasoned to myself, its' going to get cooked, anyway, and no one will notice the difference!
Little did I know at the time (and only now am I starting to see and appreciate this), at the heart of traditional Southeast Asian cooking is the freshness and "fullness" of the flavors packed in its roasted garlic paste! Without such foundational flavors, the dish falls a little flat, if you will.
Now, such a "foundation" seems to be pretty invisible to the eye and the palate (at least, texture wise), unless it's being used as a topper to complete and perfect the dish!
This brings me back to Scripture:
For our light affliction, which is but for a moment, worketh for us a far more exceeding and eternal weight of glory; While we look not at the things which are seen, but at the things which are not seen: for the things which are seen are temporal; but the things which are not seen are eternal.

2 Corinthians 4:17-18 KJV
"Light affliction"?
It certainly doesn't feel like it, does it? But, when we pause to compare our situation to what Christ had gone through to redeem us from our sins, all of our earthly sufferings (combined!) seem very, very, very tiny. After all, why would such a perfect God leave His comfortable spot in Heaven and subject Himself to so much suffering on Earth for such imperfect beings as us? Love. Christ's Perfect Love.
Now let's go back to what's unseen in this stage of the garlic mincing (or smashing) process. My "good enough" version has yet to see its true potential! This is what separates the mortar and pestle minced garlic from its electric-kitchen-tool processed counterparts!
I persevered, heeding the voice of my mother and brother in my head.
Then, it occurred to me, patience occurs on both sides! In the case of the minced garlic, patience is required of the one smashing the garlic and the garlic that's being smashed.
I know for a fact that I have a whole lot of smashing needed to get me where I need to be, spiritually, and it's very humbling and relieving to know that I have a Heavenly Father Who will never give up on me!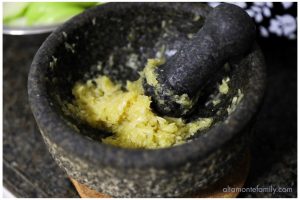 Bringing Out God's Best
As I patiently pounded the garlic on the mortar and pestle, curious to see why my mother and brother would even want to push me to this point in the process (Hint: As a child, I had never made it past the previous stage), my eyes began to widen with excitement as I witnessed the garlic's natural essential oils emerge, making the minced garlic burst with such bold flavors and aroma that no electric kitchen tool can replicate!
Electric kitchen tools "chop" the garlic into tiny pieces so quickly, leaving it with no opportunity to naturally release its amazing essential oil and properties. On the other hand, the time and pressure invested by both the chef (or home cook) and the garlic together make for a very beautiful end product.
The best products are a result of a two-way investment.
God wants to invest so much in us more than we'd be willing and able to do so ourselves. Oftentimes, when we do try to invest in ourselves, we do so "amiss", putting our own wishes and desires before God.
Life isn't all about suffering through the smashing process to become our very best for God. He also gives us the very best.
Delight thyself also in the Lord: and he shall give thee the desires of thine heart.

Psalm 37:4 KJV
and
For the Lord God is a sun and shield: the Lord will give grace and glory: no good thing will he withhold from them that walk uprightly.

Psalm 84:11 KJV
and
But without faith it is impossible to please him: for he that cometh to God must believe that he is, and that he is a rewarder of them that diligently seek him.

Hebrews 11:6 KJV
So, take heart, my friend. God knows exactly what we're going through. Let's abide in Him and trust that He is in control. He will deliver us from whatever "smashing process" we're enduring at the moment.
He will carry you through. He will bring out the very best in you, for His glory!
Know someone who's struggling? Let's encourage them in the LORD! Let's get busy with bringing out God's best in others and ourselves!
---
If you haven't yet trusted Jesus Christ as your personal LORD and Savior, this page tells you how.