This shop has been compensated by Collective Bias, Inc. and its advertiser.
All opinions are mine alone. #CelebrateClean #CollectiveBias
---
The guest bathroom is typically the last place to get updated with seasonal decor around here, so we made it a point to start early this year! If you're looking for some inspiration to brighten up the guest bathroom for the holidays, you're in the right place!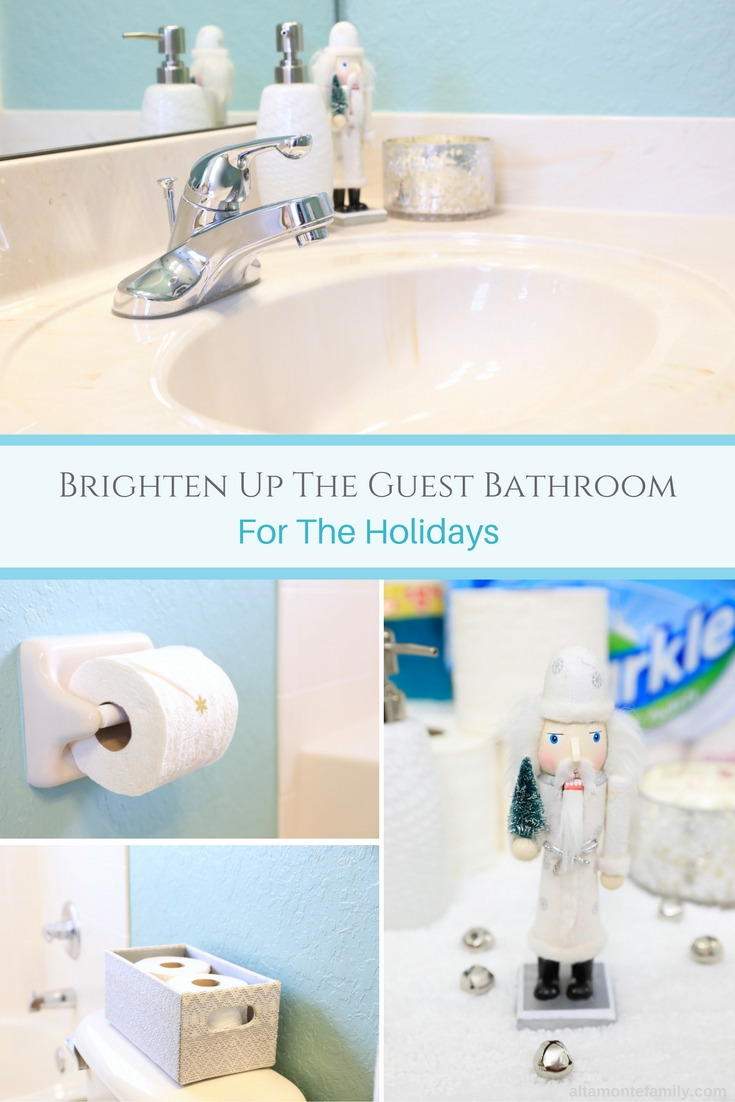 Simple Ways To Brighten Up The Guest Bathroom For The Holidays
While the rest of the house gets to enjoy its final weeks of being adorned with Fall decor, we're transitioning the guest bathroom early. It's one way to make sure that it doesn't get neglected when we're down to the last few days of preparing for our guests' arrival. Keep on reading to get a glimpse of how we brighten up the guest bathroom for the holidays without breaking the bank!
Tip #1:  Stock up on the essentials
Before we start decorating, it's best to get the important stuff all squared away: the essentials. It never hurts to stock up on the essentials and save! During a recent trip to Family Dollar, we saved 50¢ on both Angel Soft® bath tissue 12 Family Roll and Sparkle® paper towel 6 Roll (for a total of $1.00 in savings)!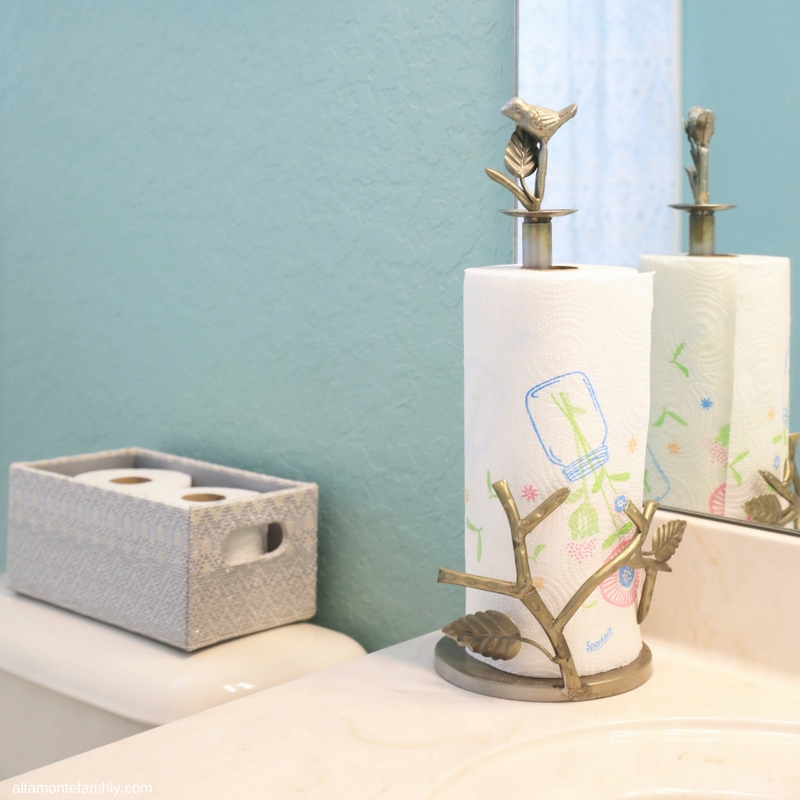 Family Dollar is a convenient place to pick up your holiday entertaining needs at great value!
Coupon Savings Alert: 
These Smart Coupons are valid at Family Dollar from 10/20 – 12/27/2016:
Offer: Save 50¢ off ONE (1) Angel Soft® Bath Tissue, 12 Family Roll or 12 Big Lavender Roll
Offer: Save 50¢ off ONE (1) Sparkle® Paper Towel, 6 Roll
Tip #2:  Dust, clean, and disinfect
This goes without saying, it deserves its own post! Key areas include the floor, shower / tub, toilet, sink /vanity, countertops, handles, fixtures, and mirror. Obviously, decorating a clean bathroom is much more satisfying 😉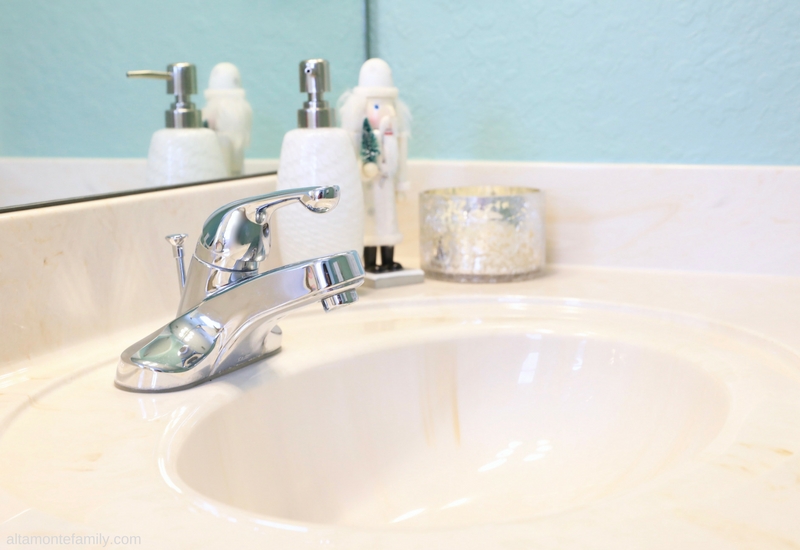 It does help to have all of the cleaning essentials readily available (and all in one place) before getting started. Our other favorites besides the basic cleaning supplies are…
Sparkle® paper towel (they're great for getting the job done at a good price)
Disinfecting wipes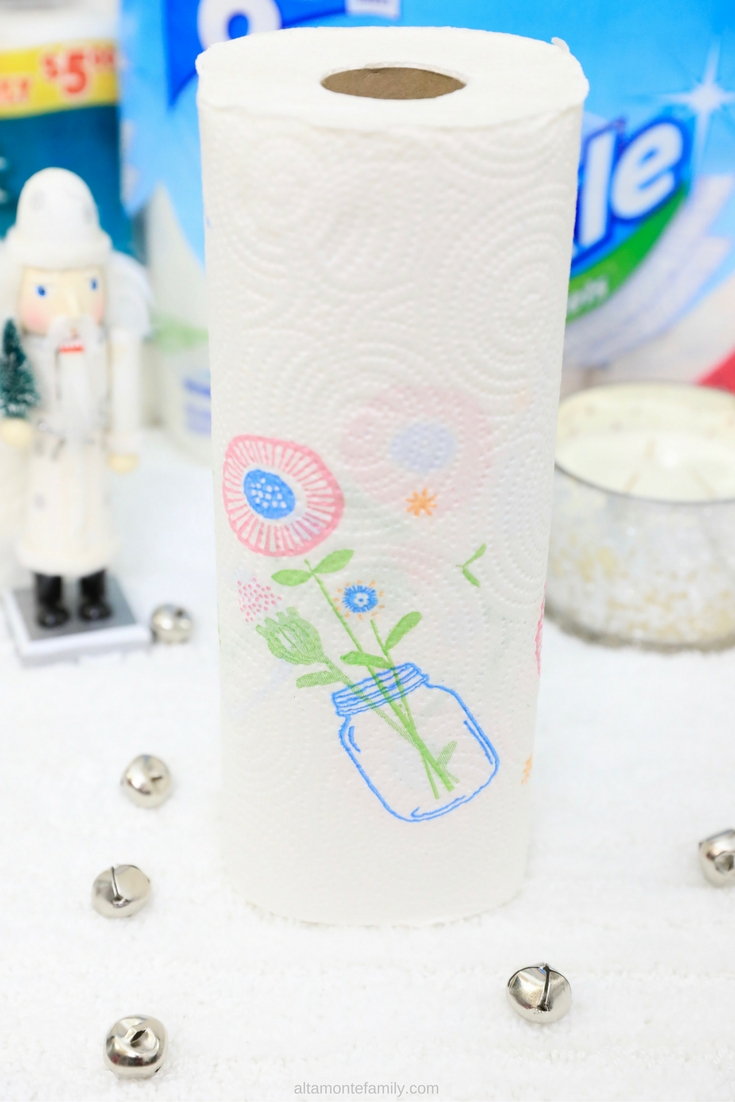 Tip #3:  Replace and replenish
We switched out the hand towels and bath rug to our go-to white ones. We just love the versatility of white, it can go easily with any season or occasion! Plus, it adds brightness to the overall feel! White gives the feeling of fresh, clean, and cozy!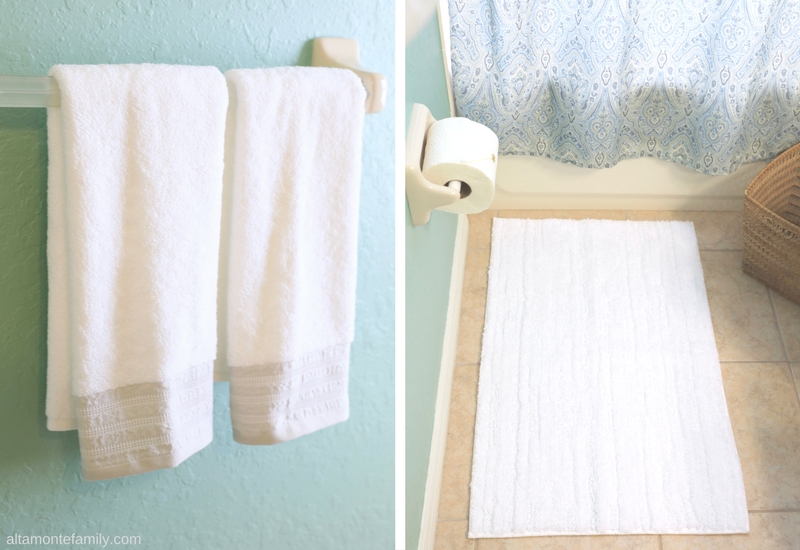 For that extra touch of hospitality, we also like to replace the toilet paper roll with a brand new one. Angel Soft® bath tissue has the right balance of softness and strength that won't break the bank!
Tip #4:  Embrace the little details
While we're still on the topic of toilet paper, I just wanted to share a hospitality technique that I picked up from staying at one of our favorite luxury resorts. It's one of those things that you're probably accustomed to seeing when staying at hotels but not when visiting other people's homes (at least, not typically)…
That sticker! Isn't it cute?
We simply added a glittery gold poinsettia sticker onto the folded ends of a new roll of Angel Soft® bath tissue. Boom!
Tip #5:  Use light, bright, and festive decor
We found a miniature Nutcracker that matches the light and bright colors that we were aiming for, and we complemented him with a white soap dispenser and shimmery, festive candle holder. Of course, you can always choose any other light and bright holiday decor (or focal point) that suits your fancy–think deer, snowman, etc.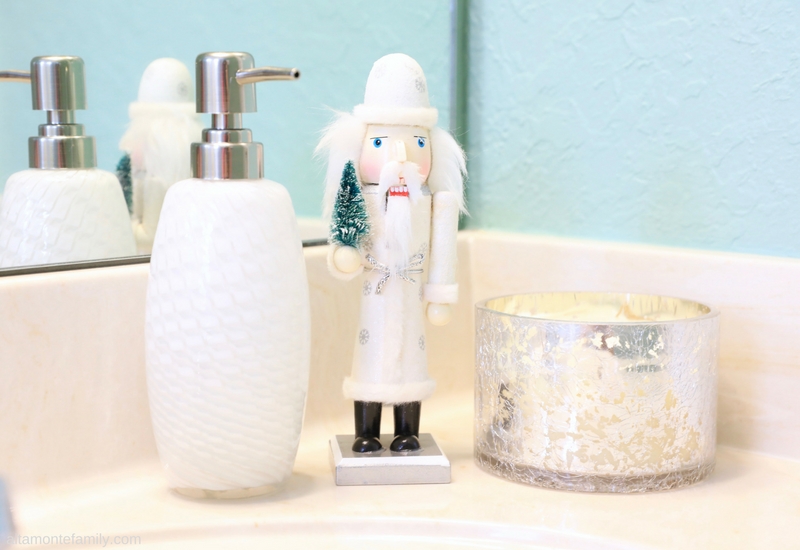 We kept the decor to a minimum not only because of the small counterspace, but also because we prefer it that way. To save time and money, we shopped the house for what we already had. This means less shopping and prep time for us, so we can focus more on what's truly important during the holidays.
Tip #6:  Use decorative storage bins
Storage bins (especially decorative ones) can be beneficial in at least two ways: organizing and decorating! We chose a lightly colored storage bin that has a little shimmer to it (to complement our other decor).
By the way, it's always a good idea to have some extra rolls of Angel Soft® bath tissue when you're expecting company.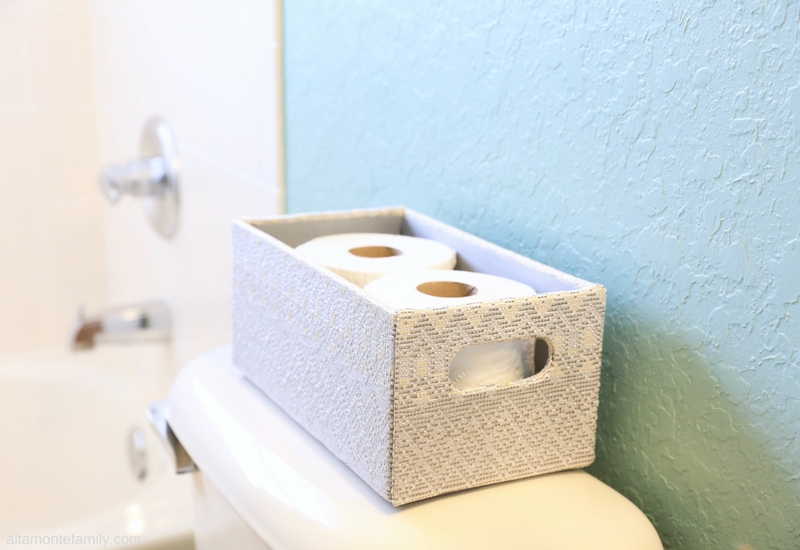 With just a few changes (and seasonal additions), we were able to brighten up the guest bathroom in a few simple steps!
Planning Ahead
What kind of holiday decor do you already have in your home that you could use to brighten up your guest bathroom?
Don't forget to stock up on the essentials before company arrives! Angel Soft® bath tissue and Sparkle® paper towel provide great value for holiday prep and entertaining during this chaotic time of year!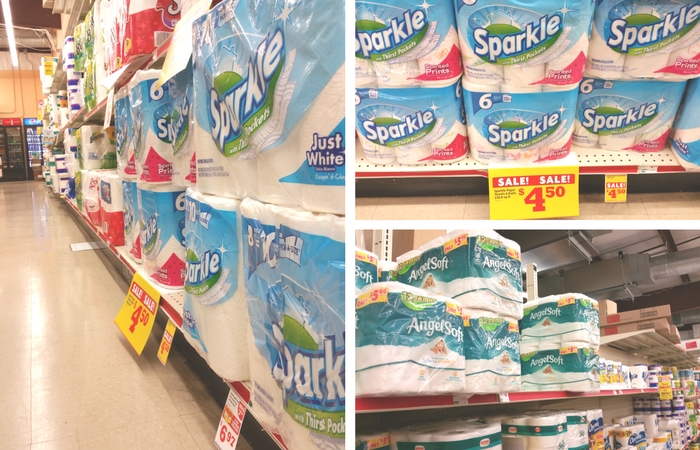 Grab some Angel Soft® Bath Tissue (12 Family Roll or 12 Big Lavender Roll) and Sparkle® Paper Towel 6 Roll from Family Dollar and don't forget to use these Smart Coupons to save!
Happy decorating!
---
We're Social! If you liked today's post, feel free to share, bookmark, or pin it! Follow us on Pinterest, Facebook, and Instagram for more updates on our latest projects and adventures.