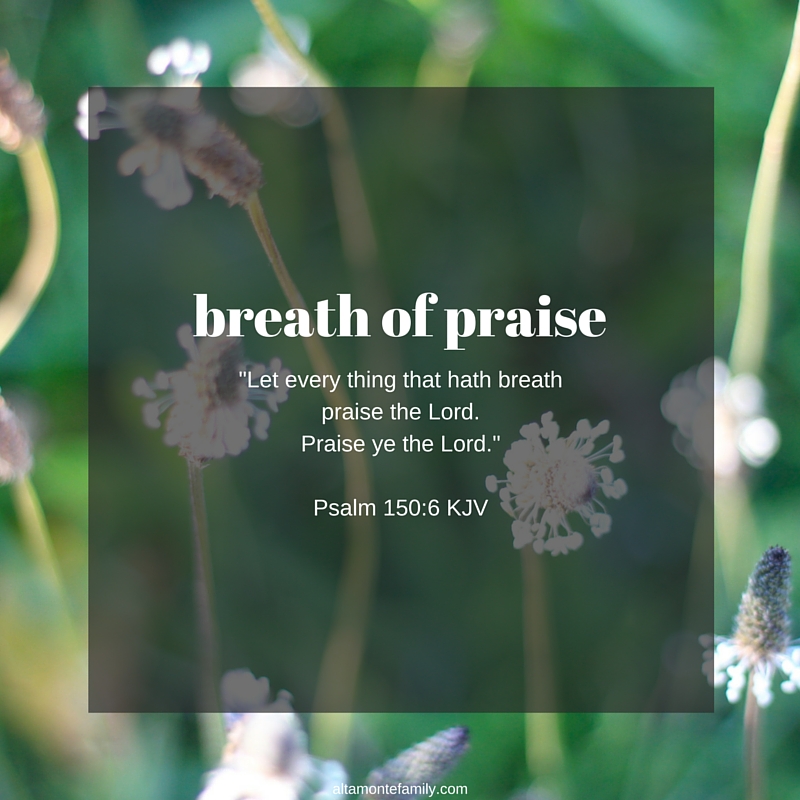 Have you read Psalm 150 lately? It's always great to be reminded that our every breath must give glory back to our Creator.
We ought to give and sing praises to God in every place, for everything, in everything that we do, with everything that we've got–including with our talents.
Psalm 150 is a very short chapter. I encourage you to take a moment to read and meditate on the verses today and throughout the week:
Praise ye the Lord. Praise God in his sanctuary: praise him in the firmament of his power. Praise him for his mighty acts: praise him according to his excellent greatness. Praise him with the sound of the trumpet: praise him with the psaltery and harp. Praise him with the timbrel and dance: praise him with stringed instruments and organs. Praise him upon the loud cymbals: praise him upon the high sounding cymbals. Let every thing that hath breath praise the Lord. Praise ye the Lord.

Psalm 150:1-6 KJV
Let us offer unto Him our breath of praise! In what ways can we give God our utmost praise today?
---
Take action: Let us have a heart of praise, giving thanks to God daily for all that we have, in all that we do, wherever we go, and with all that we've got. Everything we have is because of Him. All the glory, all the praise is due back unto Him. He never fails to bless us daily–as a matter of fact, He "daily loadeth us with benefits" (Psalm 68:19 KJV)! So then, let us be faithful to praise Him profusely every single day of our lives.
God is longing to bless you, my friend. He is waiting for you to make Him a part of your life. He is reaching out to you, knocking at the door of your heart, waiting to be let in. If you haven't yet asked Him to enter into your heart and be your Savior, this page tells you how. Be a part of God's family today!