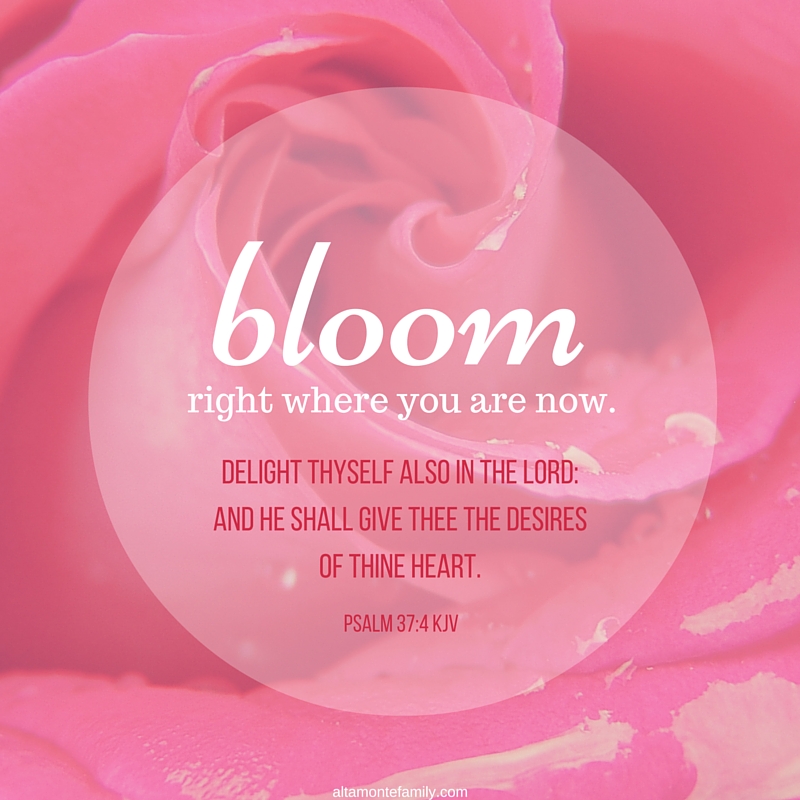 Do you sometimes feel as if you're stuck in a rut? Or, have you found yourself missing your old life, wishing that things would go back to the way they used to be? Perhaps, you feel as if other people or circumstances are holding you back from reaching your highest potential. I'm not here to judge. Trust me, I've felt these emotions before and they like to visit me from time to time. They're even hitting me right now while I'm in the process of writing this devotion. These are negative whispers from the enemy. These are lies. These are designed to discourage us. The truth is, God's Word sheds light and provides encouragement on how you can bloom right where you are now.
Bloom Right Where You Are Now
Have you ever seen a beautiful flower shooting out from the most unexpected places? It's always great to marvel at such a thing–a miracle–so much so that your mind shifts and you no longer focus on the negative surroundings. Instead, you're struck with amazement, trying to wrap your head around how the flower must have done it. As we all know, the flower couldn't have survived and conquered such a feat without adequate light, water, and other conditions.
If you look closely, you'll probably notice that the flower has turned its body towards the light.
If you dig deeper, you'll find that it has positioned its roots to tap into the best possible source of water.
What a great analogy for us! Even in the most discouraging and disappointing moments, we have hope! We can turn our body towards the Light. We can position our roots to draw from a well of Living Water.
Our Source of Light
This verse from Scripture comes to mind regarding finding our Source of Light:
Thy word is a lamp unto my feet, and a light unto my path. 

Psalm 119:105 KJV
The Source of Living Water
These are a few passages from Scripture that talk about drinking from the springs of Living Water.
In the last day, that great day of the feast, Jesus stood and cried, saying, If any man thirst, let him come unto me, and drink. He that believeth on me, as the scripture hath said, out of his belly shall flow rivers of living water.

John 7:37-38 KJV

But whosoever drinketh of the water that I shall give him shall never thirst; but the water that I shall give him shall be in him a well of water springing up into everlasting life.

John 4:14 KJV
It's alarming how we could be easily distracted, tempted, and drawn away from counting our blessings and giving the glory to God. We could go from a thankful and full heart to a discouraged and empty heart in a matter of minutes. Evidently, someone doesn't want us to sing and give praises to God. Don't believe his lies. Don't be deceived. As soon as those negative thoughts start infiltrating your mind, do this:
Submit yourselves therefore to God. Resist the devil, and he will flee from you.

James 4:7 KJV

Be careful for nothing; but in every thing by prayer and supplication with thanksgiving let your requests be made known unto God. And the peace of God, which passeth all understanding, shall keep your hearts and minds through Christ Jesus.

Philippians 4:6-7 KJV
Psalm 37 is a great passage in the Bible that teaches us how we can turn to the Light and tap into the Source of Living Water. Here are at least 7 tips that I was able to take away from my devotions today:
Fret not (this phrase is mentioned several times in Psalm 37)
Trust in the LORD
Delight in the LORD
Commit your way unto the LORD
Rest in the LORD
Wait patiently on the LORD
Cease from anger and forsake wrath
Take a moment to take these 7 tips to heart. God is looking at your heart right now and He can't wait to work a beautiful miracle in you!
---
Application
Swimming in a sea of discouraging thoughts won't help our situation. God is in control. He is never late, although it may seem too late for us. Let's turn our bodies towards the Light, drink from His well of Living Water, and receive the peace which "passeth all understanding" (Philippians 4:7 KJV).
Take action: Psalm 37 is filled with encouraging verses. If you haven't had a chance to read it, why not take action and spend some time to do so today?  If you would like to get to know God personally and know what it's like to drink from the springs of Living Water, this page shows you how.
---
If you're feeling down, discouraged, or disappointed, it's the best time for an attitude change. Let's turn away from the darkness, look up, and turn our body towards the light! In doing so, God will show us that we can definitely bloom right where we are now!