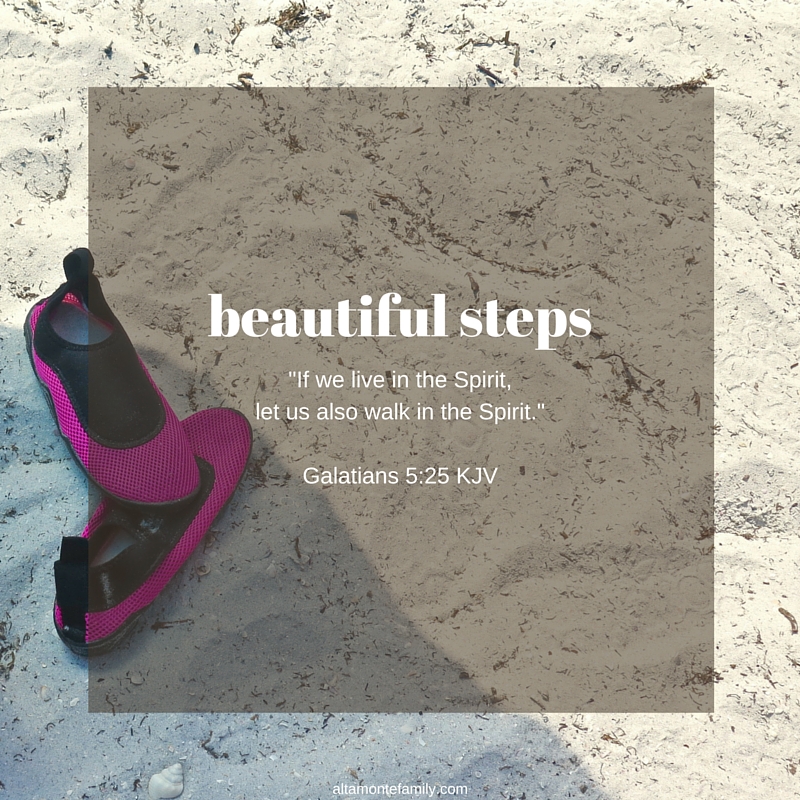 Longing to find those beautiful steps or that pep in your step that you once had?
It's been a long week for me and quite frankly, if I were to let my flesh, my feelings, my thoughts, my fatigue get the best of me, I'd literally be dragging my feet (perhaps others around me are already noticing it and just not saying anything to me… yet). But notice how the sentence that preceded this one is just "full of me".
Attitude check: "It's not about me".
It's about God.
It's about allowing myself to be filled with the Spirit so I can then, by His grace, manifest the fruit of the Spirit:
But the fruit of the Spirit is love, joy, peace, longsuffering, gentleness, goodness, faith, Meekness, temperance: against such there is no law. 

Galatians 5:22 – 23 KJV
The chapter goes on and talks about "crucifying my flesh":
And they that are Christ's have crucified the flesh with the affections and lusts.

Galatians 5:24 KJV
Despite the overwhelming fatigue, I must remember to crucify my flesh.
I will press on, by His grace, His power, and will ask for His wisdom, His guidance, His provision…
Don't be discouraged, my friend. Let's press on together, in Christ.
Let's get that pep in our step, those beautiful steps–let's log those beautiful steps in the LORD (and for the LORD)!
If we live in the Spirit, let us also walk in the Spirit.

Galatians 5:25 KJV
---
Take action: When we're feeling overwhelmed, let's turn our focus away from ourselves and back on God. Perhaps you're in a spot where you've been feeling very discouraged about your life, your situation. Look up and turn to God. Hold out your hand, and ask for His help! Receive His gift, His wonderful gift of salvation–the gift of His Son. Believe on Him, believe that He alone can save you, believe that He can and will redeem you! This page tells you how He has already delivered you from the worst yet, and all you need to do is receive Him into your heart so that you, too, can receive such wonderful deliverance.
Let's live knowing that He has already redeemed us!