The Summer is swinging by really quickly this year, and if you're looking to throw a Back To School Party and happen to have kids who like superheroes, then you're in for a treat! This party was really easy to put together with a little help from Oriental Trading* (plus, we made the Superhero wall decorations ahead of time). So, choose a side (red team or blue team?) and get ready to celebrate the end of the Summer season with a Back To School Superhero Party!
Back To School Superhero Party Tips & Ideas
Feel free to use any or all of these tips and ideas when planning your next Back To School Superhero Party (these would work well with any Superhero-themed party as well)!
Tip #1:  Make your party decor pop with these fun, Superhero straws!
These straws aren't just decorative, they're also functional! Bunch them up in these pint-sized mason jars (and arrange them by color, especially if you're doing teams) to keep things organized on your party table.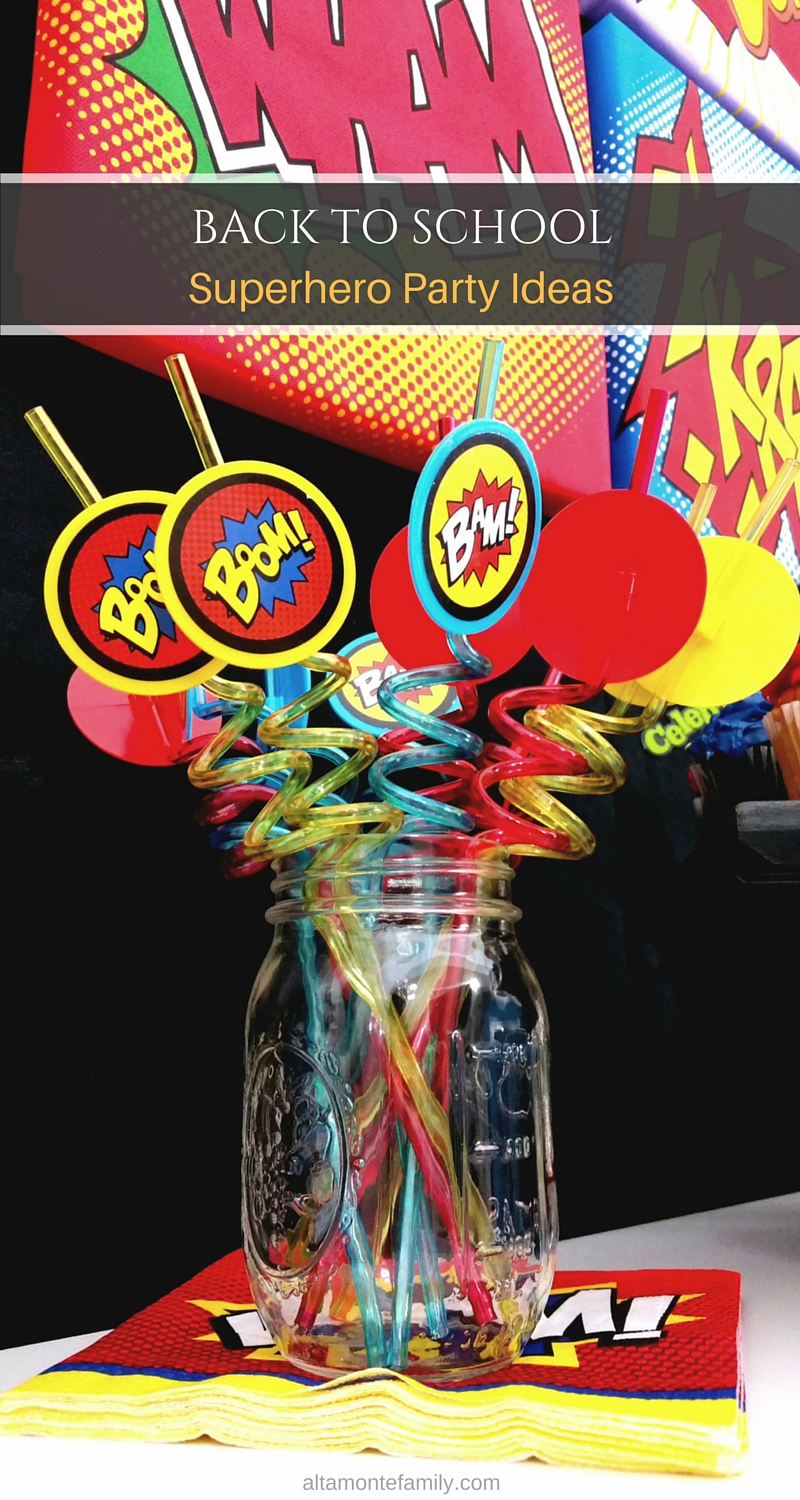 Tip #2:  Make a quick trip to the bakery to pick up some party cupcakes that are ready to go!
Choose cupcakes that match your party's color scheme–these red and blue cupcakes with rainbow sprinkles did the trick! We love how they already came with party toppers!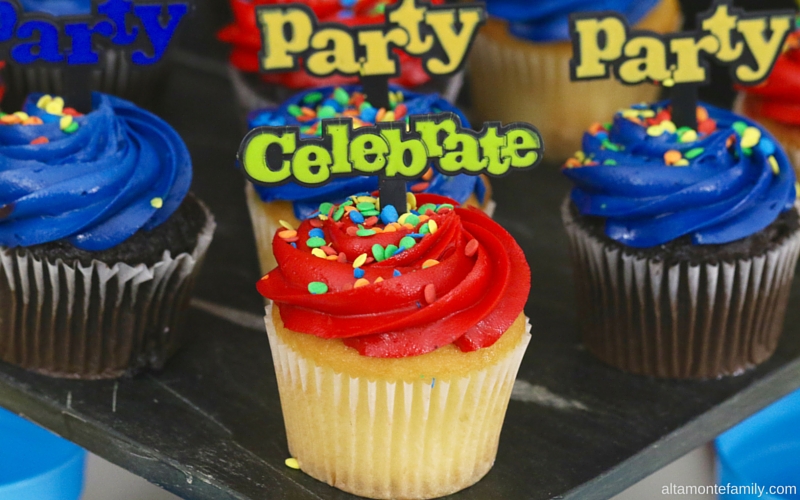 Tip #3:  Add a touch of uniqueness to your wall decor with some repurposed tote bags turned Superhero tiles!
These large Superhero tote bags not only make for super cool party favors, they also look awesome on our wall! Check out our DIY Superhero Wall Decor post to get the tutorial!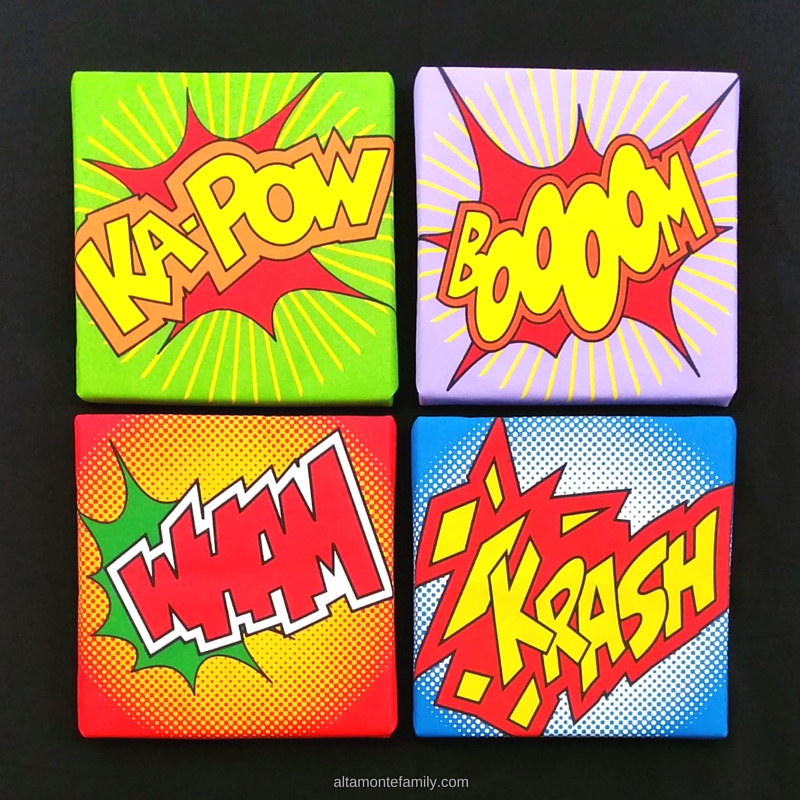 Tip #4:  Have some games and activities ready!
Divide the kids up into teams and see which team could build the Superhero pyramid formation the fastest (or make the biggest, tallest, meanest formation)! Or, play a game of hacky sack with these Superhero mini kick balls!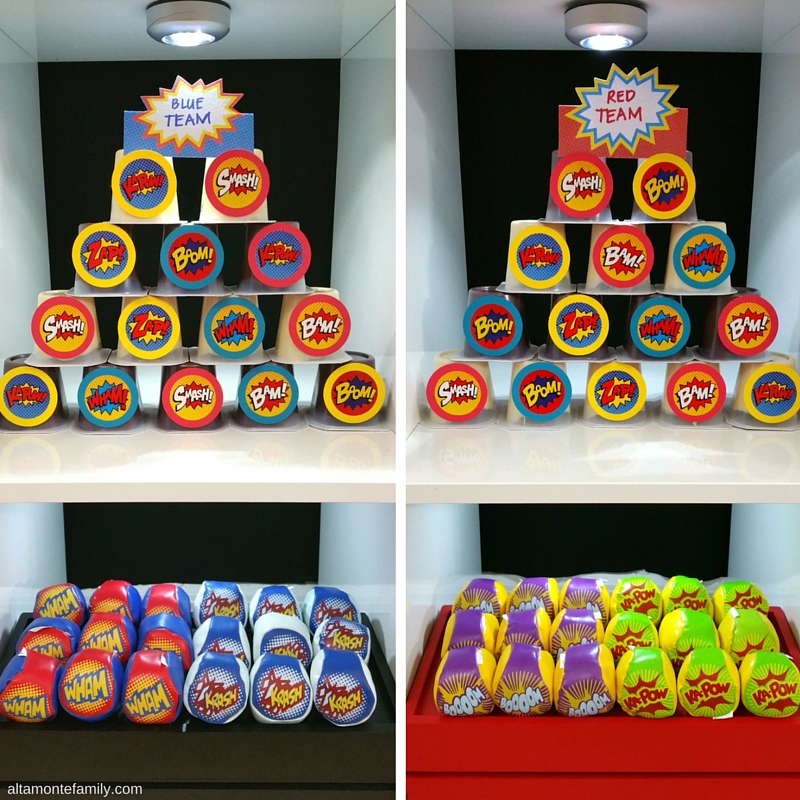 Tip #5:  Have a little fun with decorating these back to school snacks!
With just a few supplies like a 2-inch circle punch, mini adhesive dots, card stock (we used red, yellow, and blue to match the Superhero colors), and a roll of Superhero stickers, we were able to transform these back to school snacks into a fun, Superhero pyramid formation!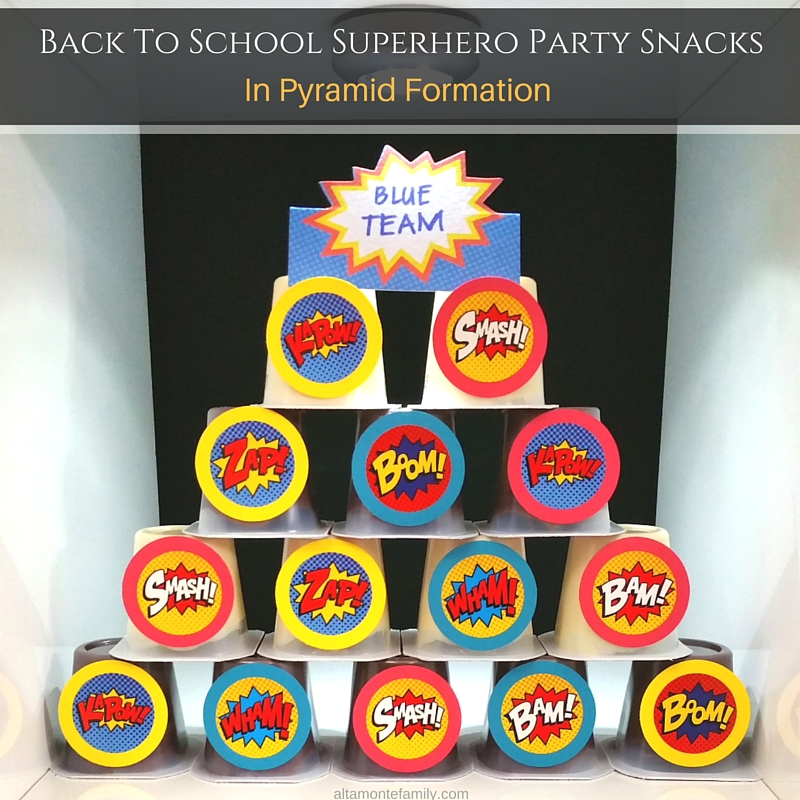 Simply add the Superhero stickers to the red, yellow, or blue 2-inch circles (made with card stock and cut out using a 2-inch circle punch) and glue them onto the snacks (we used mini adhesive dots because it's just so much easier).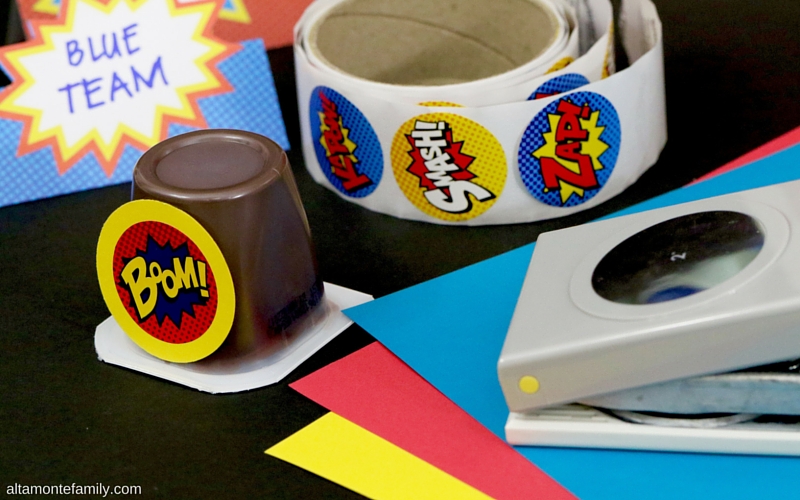 Tip:  This technique also works great for making your own cupcake toppers! Simply attach the circles onto food picks and add to the frosted cupcakes of your choice!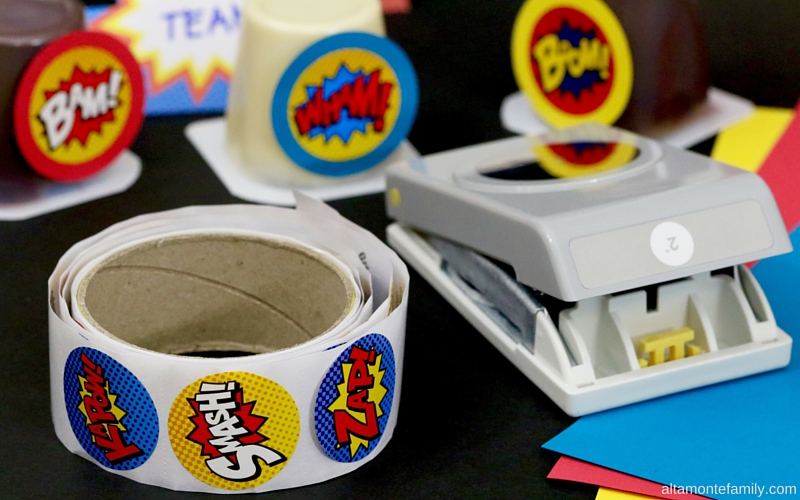 Ready to plan your Back To School Superhero Party?
Grab a pen (or your phone, tablet, laptop, or whatever) and start planning! To help you get started, here's a list of the party supplies that we used…
Back To School Superhero Party Supplies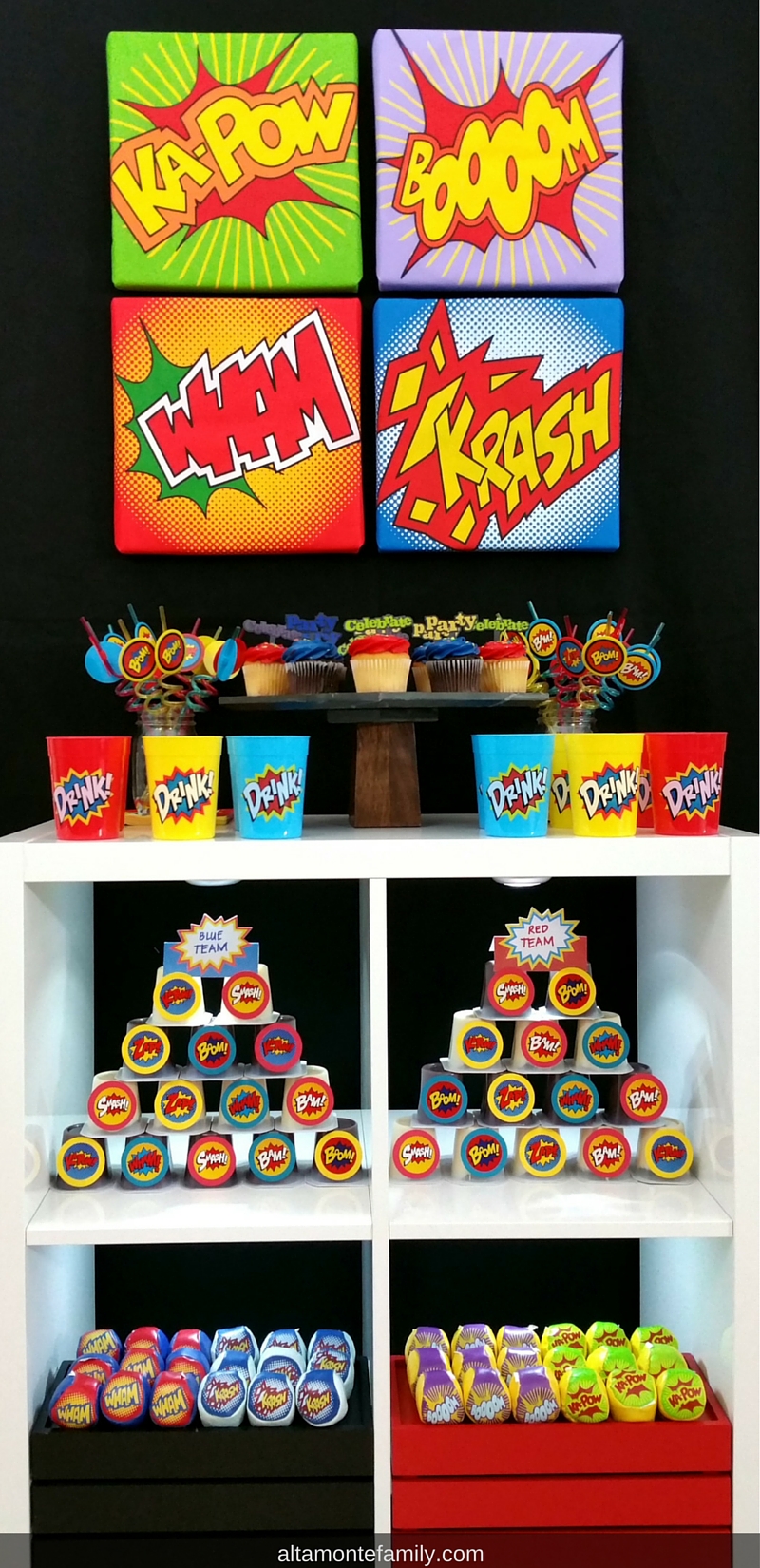 Have an awesome party and a super start to your school year!
*Special thanks to Oriental Trading for providing us sample products free of charge in exchange for our honest review. No other type of compensation was received. All opinions are my own.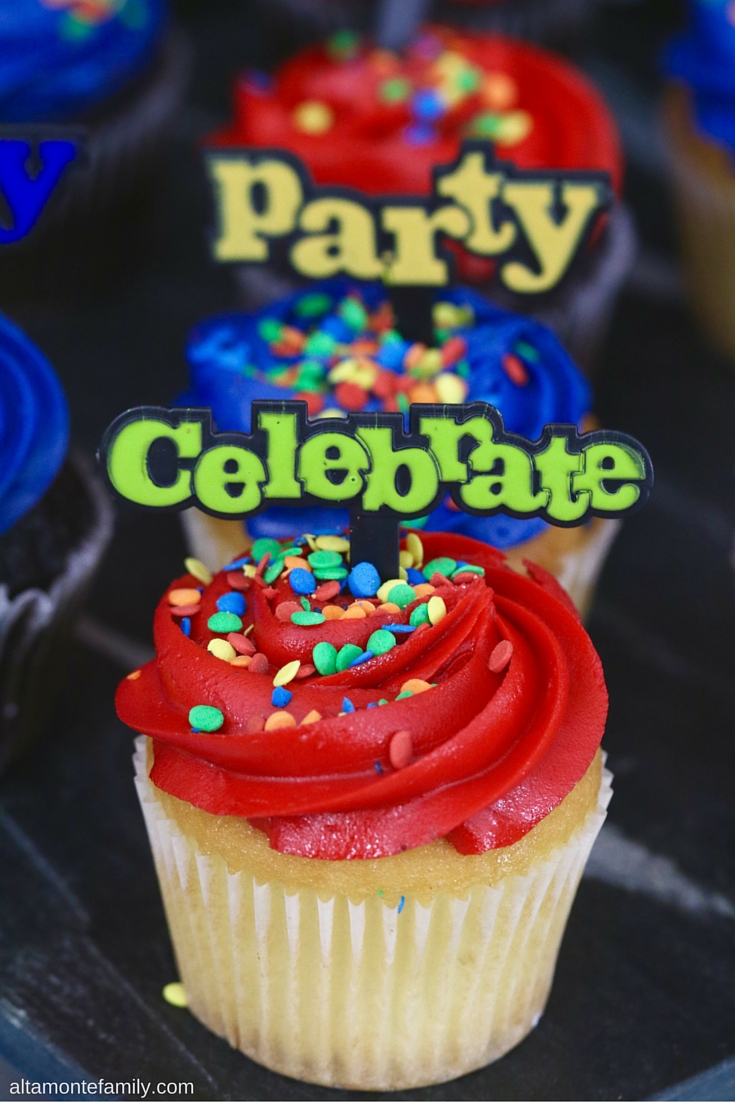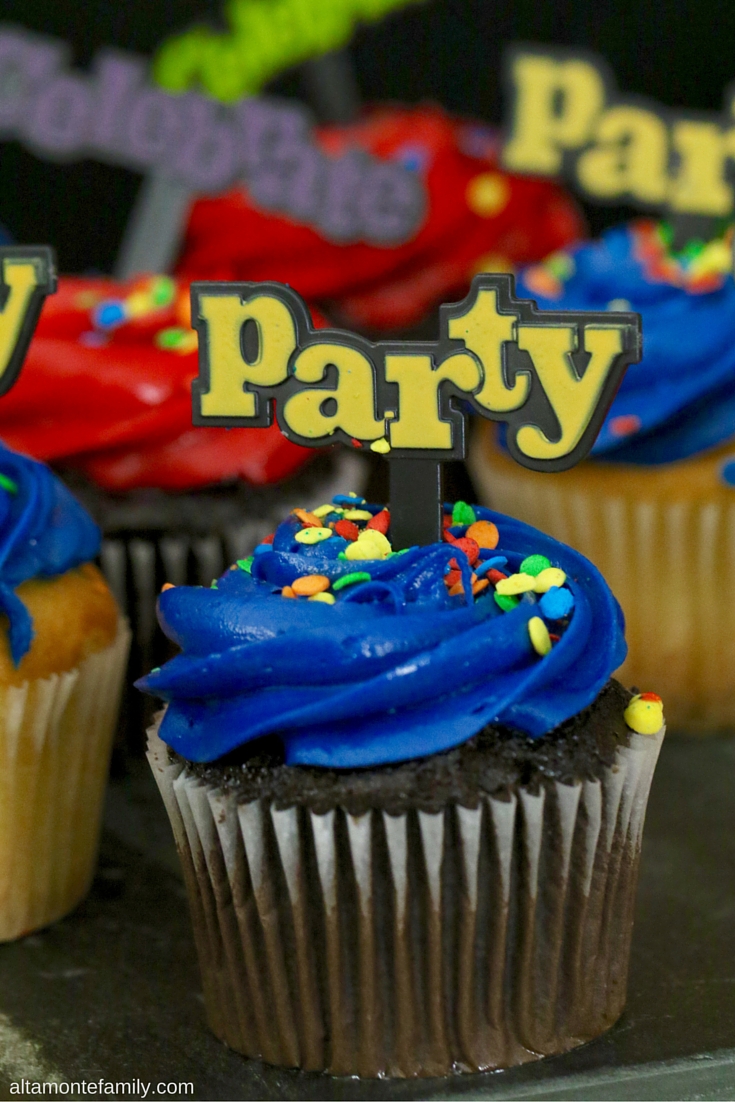 ---
We're Social! If you liked today's post, feel free to share, bookmark, or pin it! Follow us on Pinterest, Facebook, and Instagram for more updates on our latest projects and adventures.