This shop has been compensated by Collective Bias, Inc. and its advertiser.
All opinions are mine alone. #CoffeehouseBlend #CollectiveBias
---
Coffee is such a staple in our home–so much so that it happily resides on our breakfast cart. With the heat kicking up even more so here in Florida (it's not even the Summer, yet, but it sure feels like it), we like our coffee nice and cold… with our favorite toppings, of course. It's even better when we're able to add in avocado to help manage hunger! Combine these two breakfast essentials to make a delicious Avocado Coffee Smoothie that starts smooth and finishes with a bold, distinct taste! By the way, we're sharing a reduced sugar version as well as a sweeter (almost like dessert) version.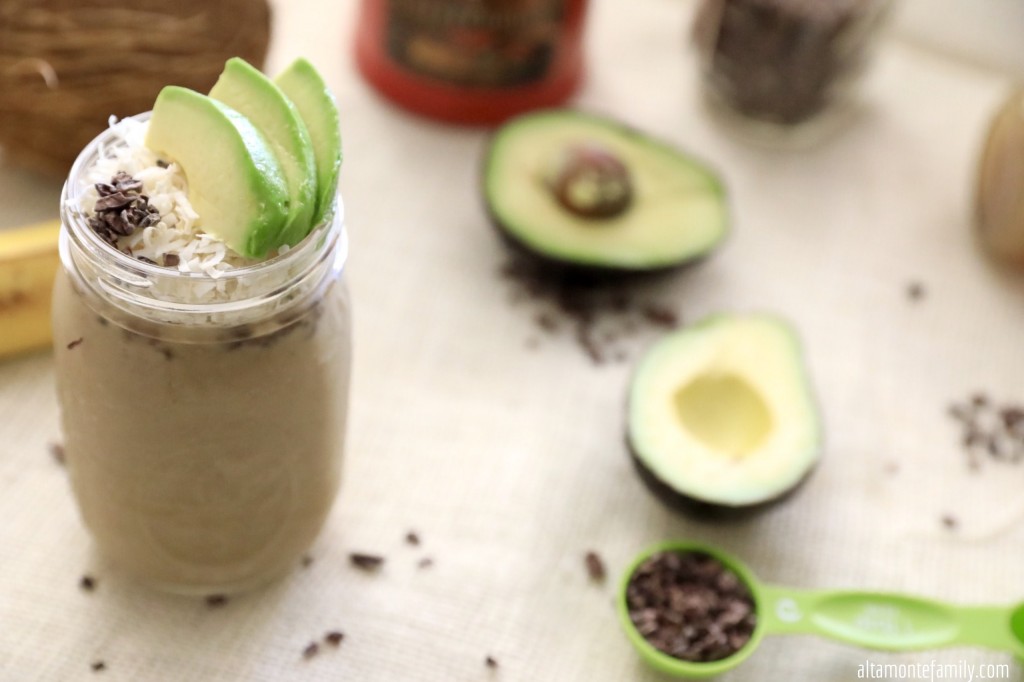 Alongside Folgers® Coffeehouse Blend, the blender, and the French press, our breakfast cart has our favorite toppings in a mason jar (think unsweetened and/or toasted coconut flakes, raw cacao nibs, etc.). Our setup wouldn't be complete without "fresh fruit to-go"; in most cases, they're great for blending, especially when used to make our refreshing caffeinated beverage! Avocados and bananas are great for this!
Case in point: Our Avocado Coffee Smoothie has coffee (made in a French press) + avocado + banana as the main ingredients.
We use Folgers® Coffeehouse Blend because it's a Medium-Dark roast that's perfect for French press, cold brew, and brew over ice. It has an exciting coffee taste that does not get overpowered by the use of coffee additives (e.g. creamers, sugars, etc.). As a matter of fact, the flavor clearly stands out even after we've added avocado, banana, sweetener, and lots of toppings, to make our Avocado Coffee Smoothie!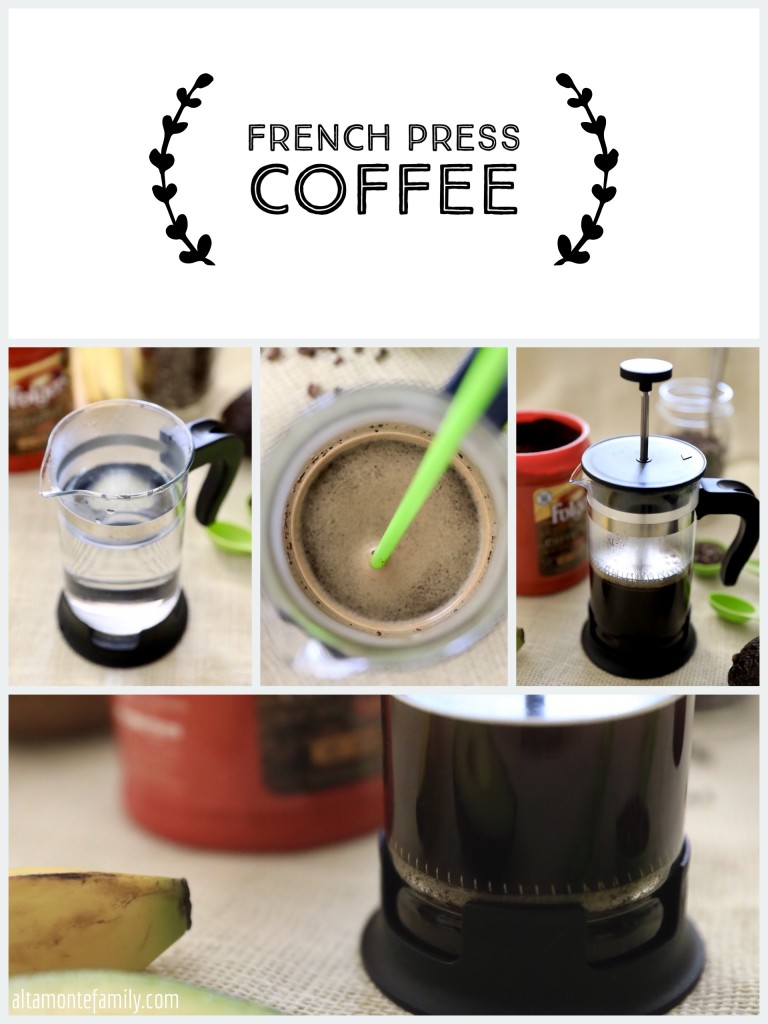 So, let's talk about making French Press Coffee for a moment; if you're already familiar with the process, feel free to skip to the Avocado Coffee Smoothie recipe!
How To Make French Press Coffee At Home
You will need:
French press
2 tbs ground coffee (we use two tbs coffee per 1 cup water)
1 cup hot water (between 195 – 205F)
Wooden stirrers (or chopsticks)*
Stop watch / watch / timer mobile app
*We use non-metal stirrers to avoid cracking the glass on the French press while stirring.
Directions:
***Optional*** If you prefer a hotter brew, pour hot water into French press to get it started (discard water before proceeding to next step).
Add ground coffee (we use Folgers® Coffeehouse Blend) to French Press, start the timer, then pour hot water over it (approximately 1/4 cup, just enough to completely cover the coffee).
Wait approximately 20 – 30 seconds, then start stirring carefully but thoroughly (this is called the "bloom").
Once most of the grounds have sunk (do skim the top, if needed), pour in the remaining hot water into the French press, then cover (with lid and plunger).
Gently move the plunger (lid) down to the top of the liquid, then wait at least 4 minutes (or a little more, if you prefer a stronger brew) before pushing the plunger all the way down (do this very slowly and evenly, as accidentally tilting the plunger may cause the coffee grounds to "escape").
Immediately transfer the coffee into a cup, then discard the used coffee grounds that remain in the French press.
That's it!
That's how we make French press coffee at home. Most likely, you'll hear about varying techniques along the way; it's really up to you and how you prefer to enjoy your coffee!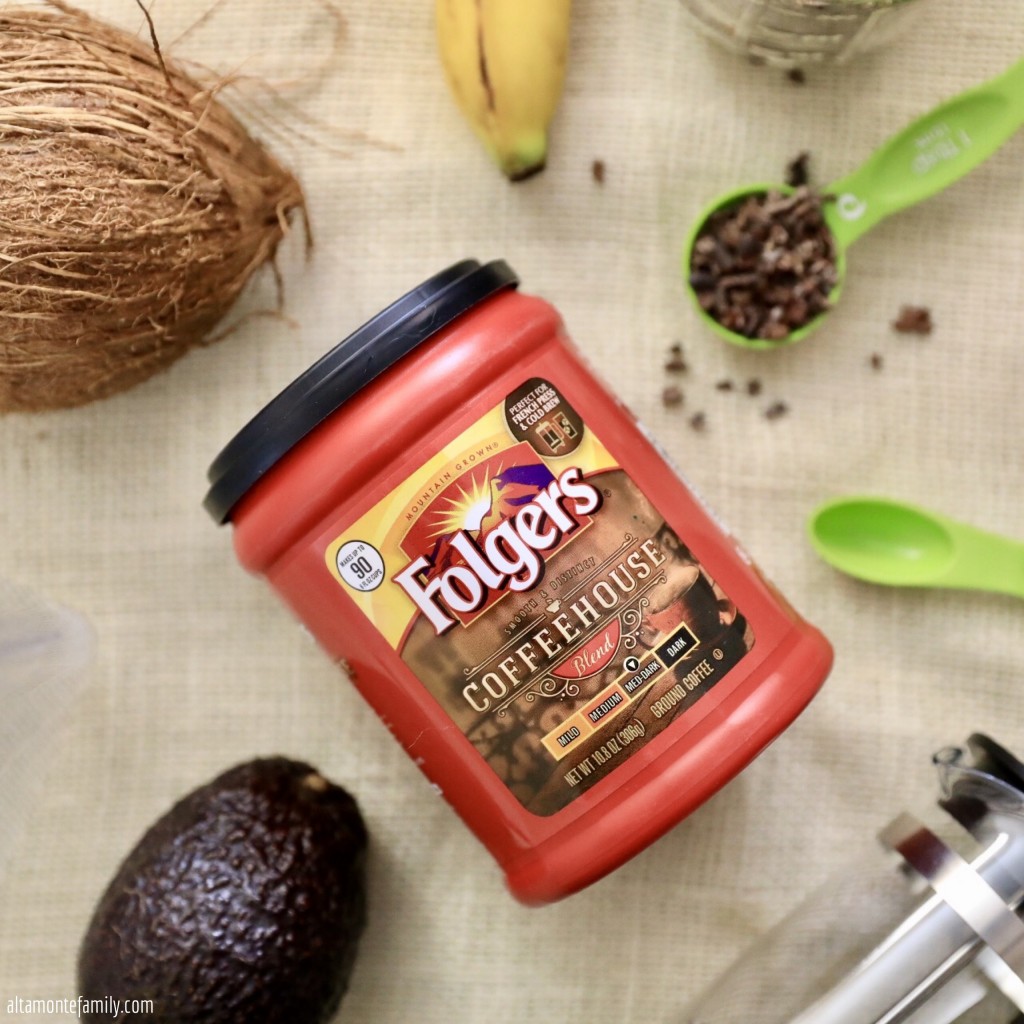 Now, it's time to kick that cup of French press coffee up a notch–let's make an Avocado Coffee Smoothie!
Recipe: Avocado Coffee Smoothie
Servings:       Makes 3 cups
Prep Time:    5 minutes (or less)
Brew Time:   4 – 5 minutes
Total Time:   10 minutes
Ingredients
1 cup French press coffee (see directions above)
1/2 ripe avocado
1/2 ripe medium banana
3 tsp agave nectar, honey, or maple syrup (or see below for substitution)
Ice cubes (enough to fill the blender up to the 3 cup mark)
Toppings of your choice (we used organic unsweetened coconut flakes and raw cacao nibs)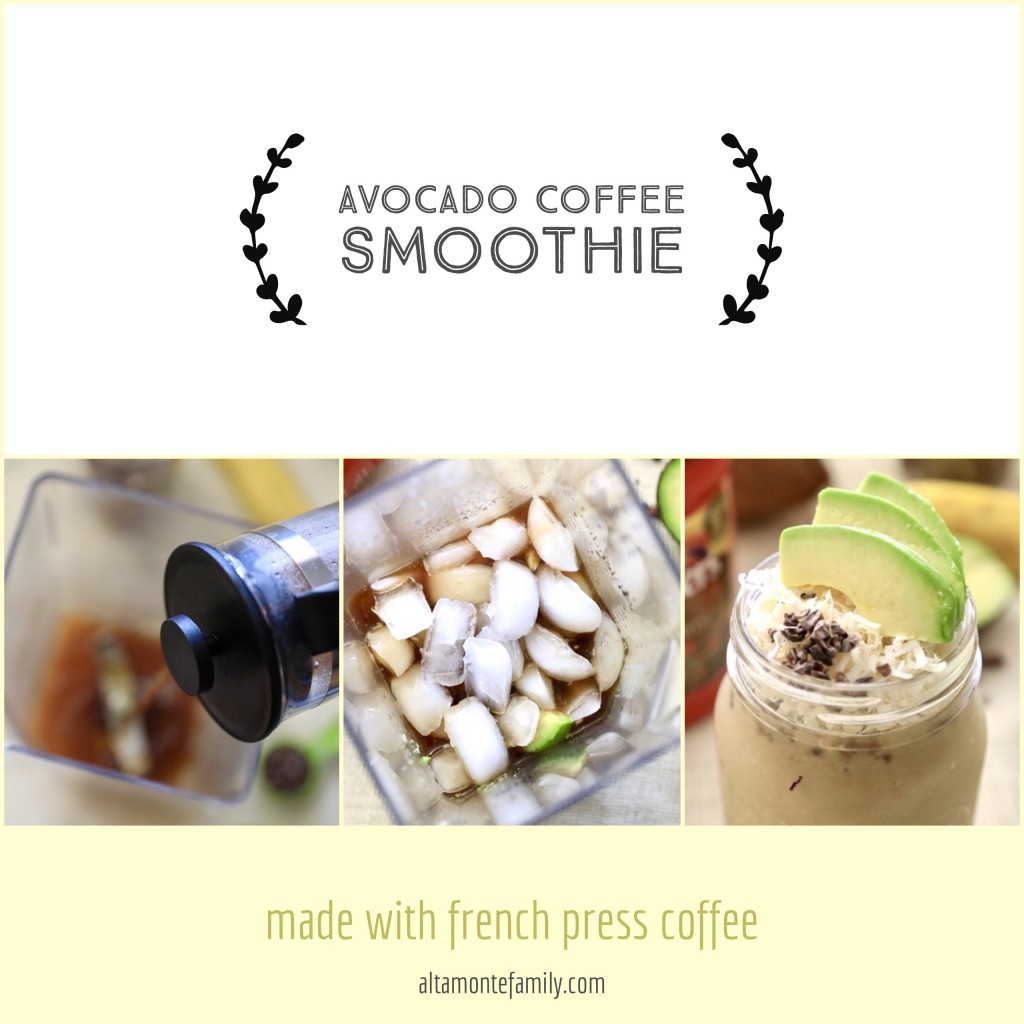 Directions
Follow instructions above to make French press coffee (1 cup).
Pour coffee into blender.
Add in avocado, banana, and sweetener of choice.
Add enough ice cubes to fill the blender to the 3 cup mark.
Blend according to manufacturer instructions (we used the "Smoothies" setting).
Add toppings, if desired.
Enjoy!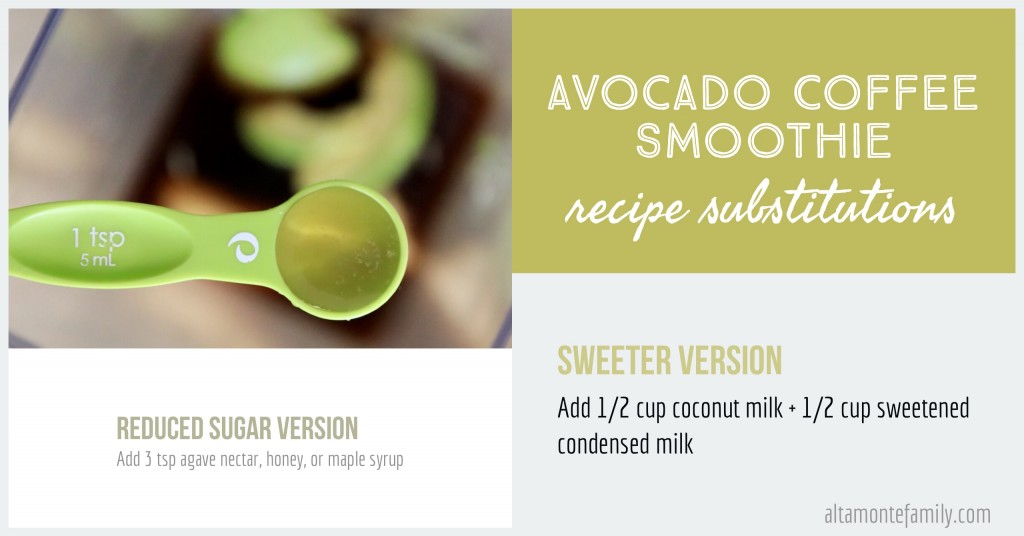 Now, if you prefer the sweeter version…
You can substitute the sweetener with 1/2 cup coconut milk (or vanilla almond milk) + 1/2 cup sweetened condensed milk (some people prefer to use up to 1/3 cup sweetened condensed milk while skipping the banana and lessening the coconut milk).
You be the judge…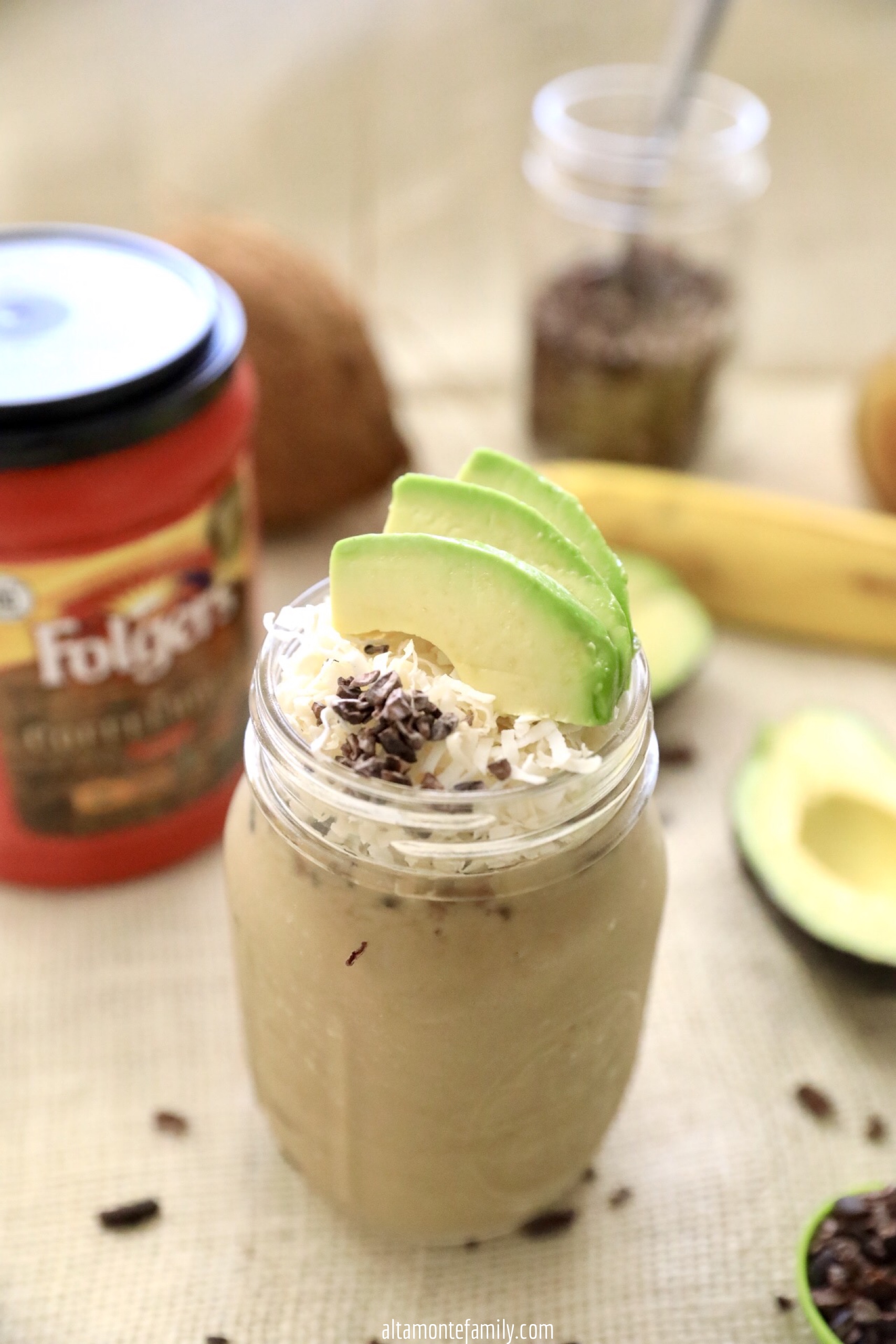 Regardless of how you like to make your Avocado Coffee Smoothie (reduced sugar vs. sweet), you'll enjoy the great coffee taste of Folgers® Coffeehouse Blend–it's the secret behind that smooth start with a bold finish!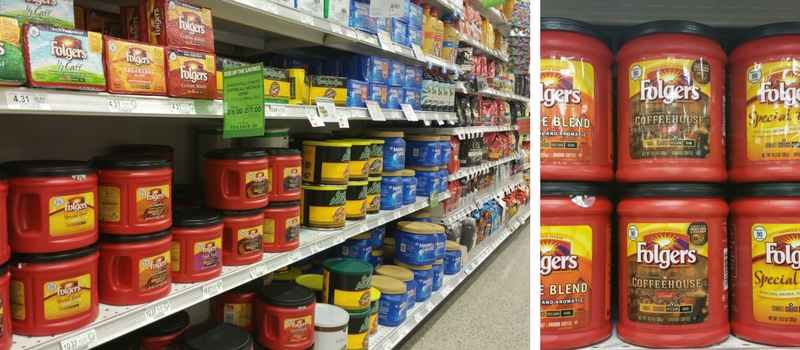 The Folgers® Coffeehouse Blend is a new product at Publix; we found it in the coffee aisle. It's available in two different sizes: 25.4 oz and 10.8 oz.
Discover the difference
Click here to discover the difference and learn more about Folgers® Coffeehouse Blend.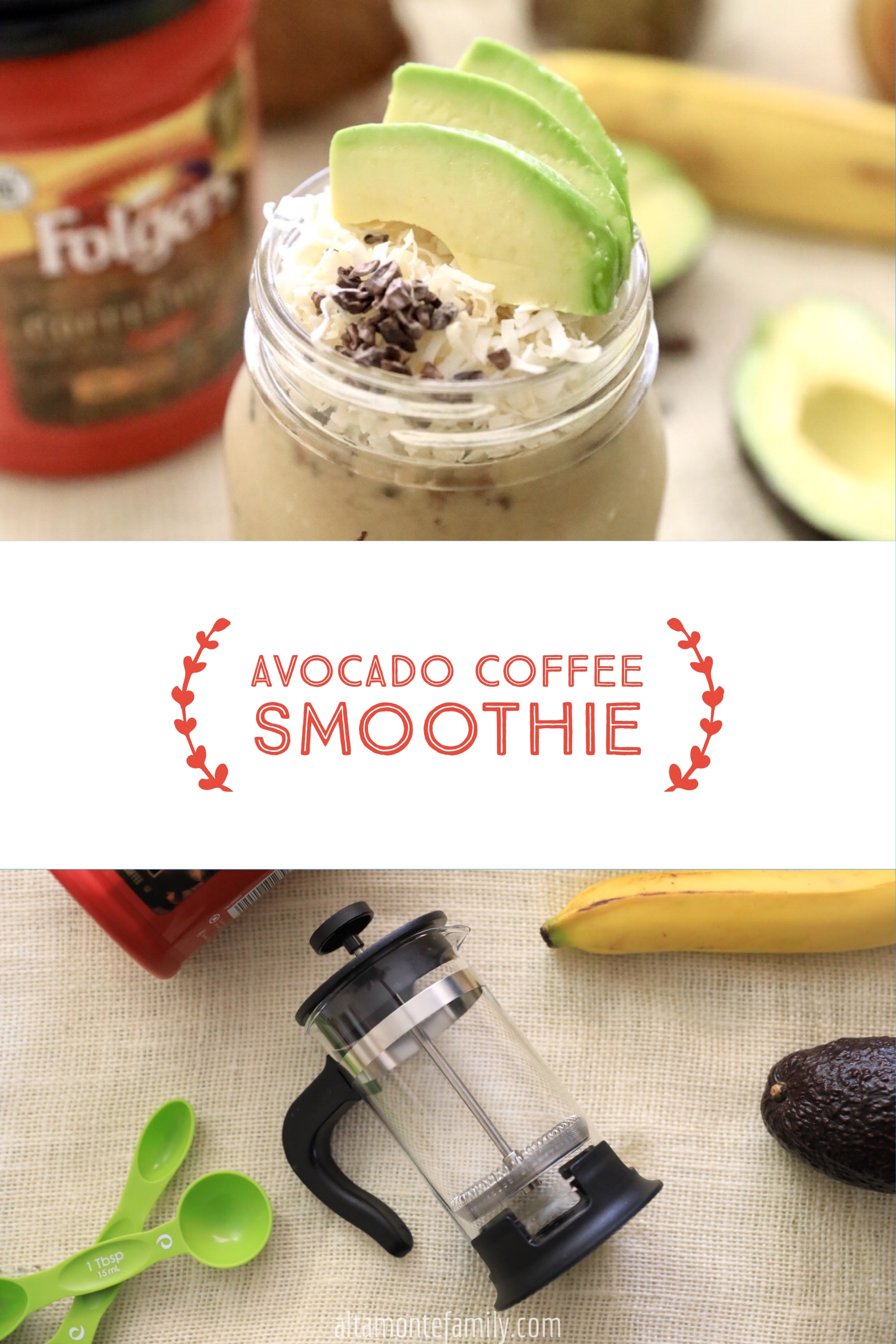 ---
We're Social! If you liked today's post, feel free to share, bookmark, or pin it! Follow us on Pinterest, Facebook, and Instagram for more updates on our latest projects and adventures.