This shop has been compensated by Collective Bias, Inc. and its advertiser,
Walmart Family Mobile. All opinions are mine alone. #AngryForSavings #CollectiveBias
---
Have you seen The Angry Birds Movie, yet? If you missed it in theaters, the good news is, it's now available to be viewed from the comfort of your own home. That's exactly what we did! One of the things we love about family movie nights is the ability to decorate and have fun with the family before the movie even starts. For our Angry Birds Movie Night, we decided to make an Angrified Snack Station with matching Angrified Treat Boxes!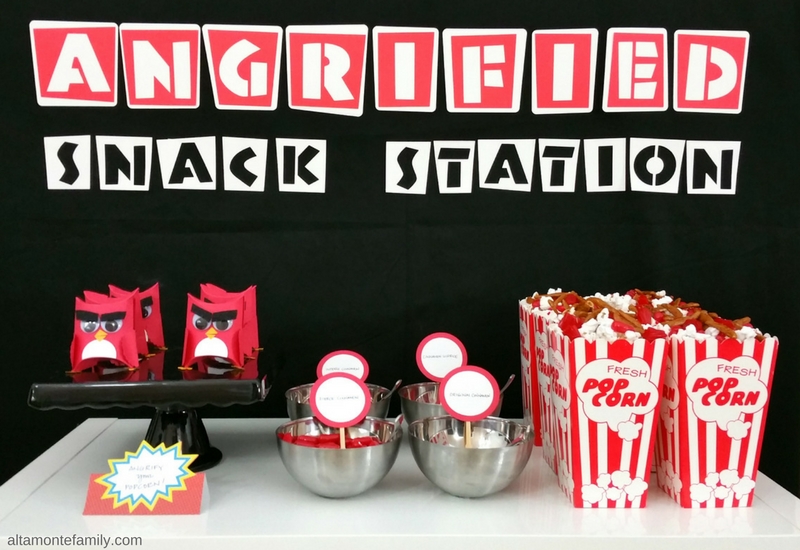 Because we get a free movie on VUDU per month (for each line) with our Walmart Family Mobile PLUS Plan, planning for our next family movie night never gets old. We love watching movies from our own TV (you can use your free VUDU rentals to have family movie nights on a TV, like on a Smart TV, Roku, Chromecast, etc.), and besides, who doesn't like free movies? It's an awesome perk to have (a $7 value, same as a new release rental), especially when you're already enjoying unlimited talk, text, and data up to 10GB of 4G LTE with the Walmart Family Mobile PLUS Plan for only $49.88* per month! Those 10GB of 4G LTE is perfect for us–a great solution for our data-heavy lifestyle which includes telecommuting, blogging, streaming music and video, and sharing multimedia content while on the go! We haven't run out of data since we switched to this new plan, and–quite frankly–we've gotten kinda spoiled with more data at such a great value!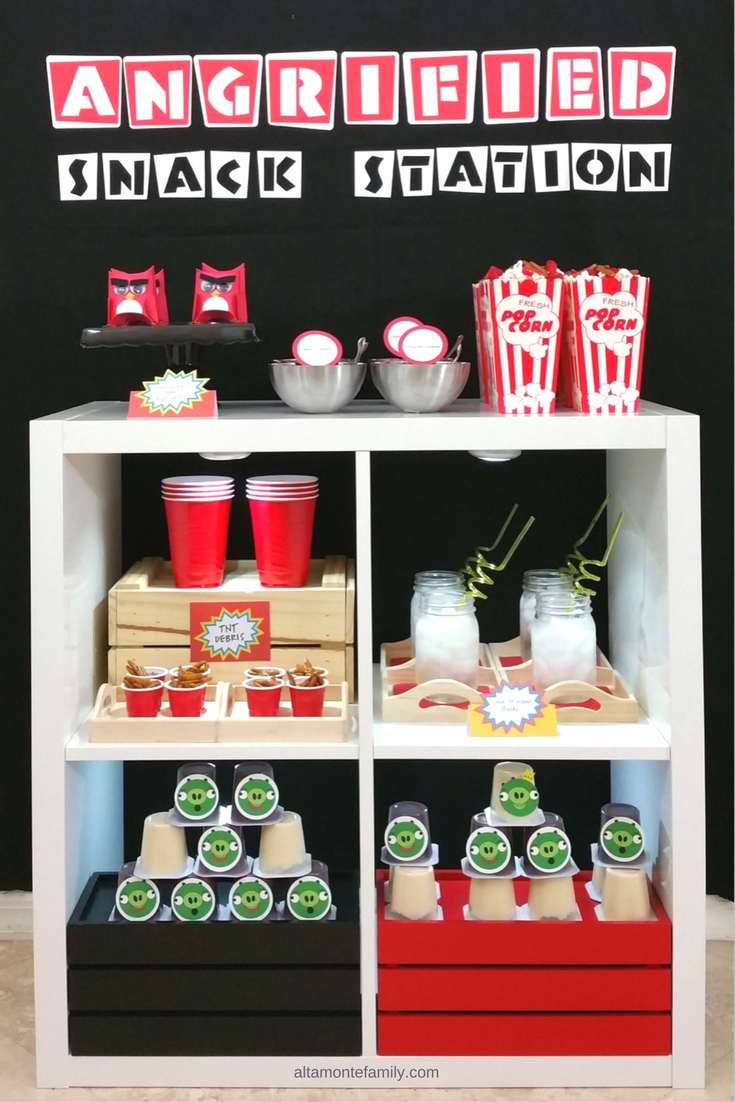 Okay, let's talk about the movie…
Obviously, this week's movie pick was The Angry Birds Movie. Since we find Red to be both relatable and entertaining (we love his creative streak), you'll find lots of "red, hot, and angry" touches in our decor. We kinda recreated a scene from the movie over here (when Red was talking to the pigs during a "creative painting session") while setting up our new Samsung Galaxy On5 (we got it for $119* at Walmart) and assembling our Angrified Treat Boxes (do you also like to multitask like we do?).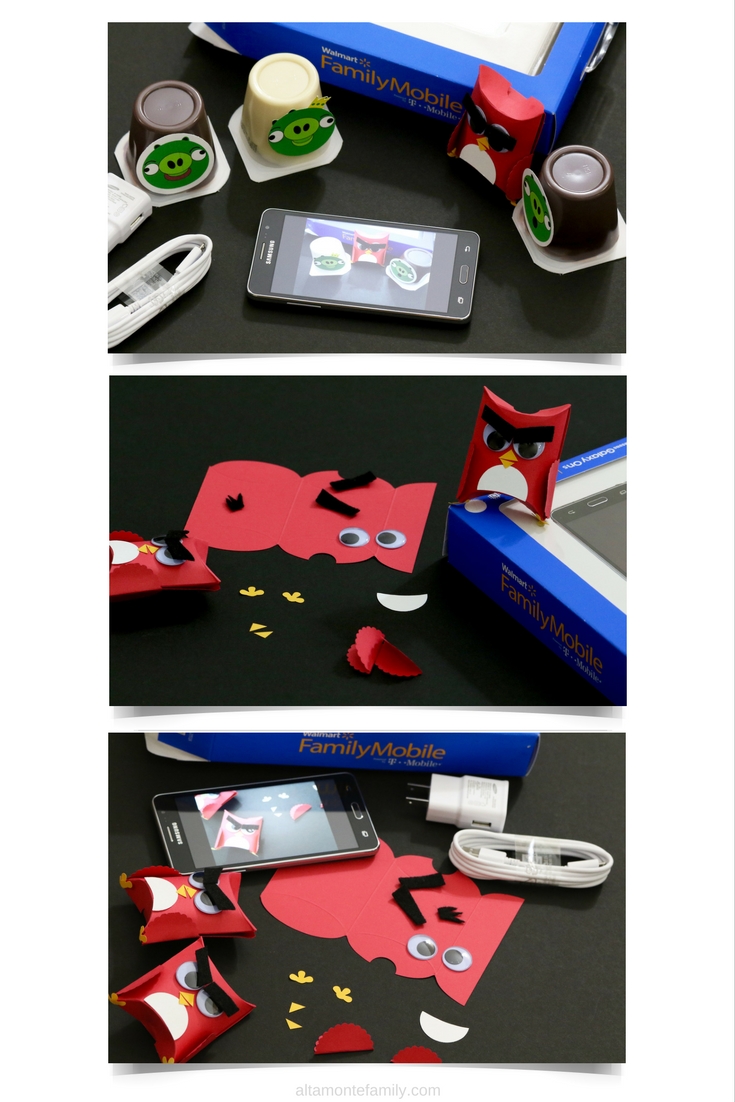 We had fun taking pictures of Red and the pigs with our new phone as if they were in our own movie set! Notice how Red appears to be telling us what to do (how to get the new phone and Angrified Treat Boxes all set up)!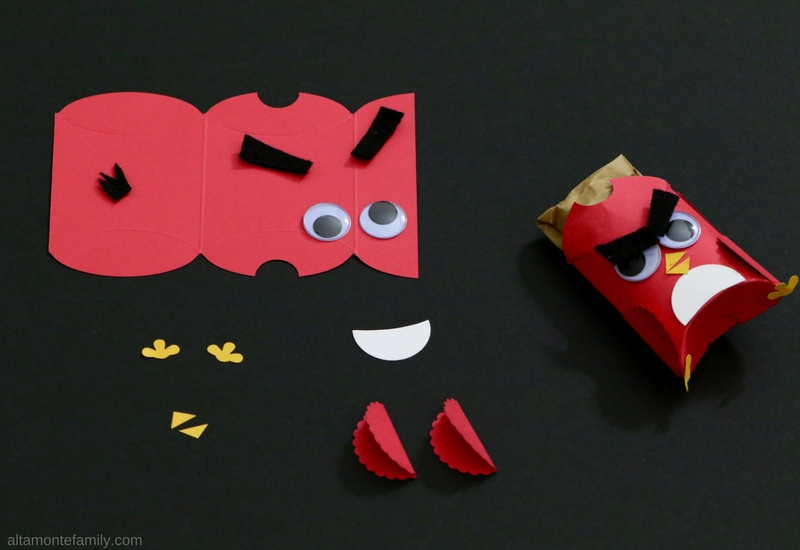 How To Make Angrified Treat Boxes
If we got you thinking about making these Angrified Treat Boxes for your next family movie night, party, or crafting activity, we've got you covered with an easy peasy tutorial!
Supplies
Pillow Box Punch Board
4″ x 6″ red card stock (for each treat box)
Black felt (for the eyebrows and tail)
Googly eyes
Yellow-orange card stock (for the beak and feet)
White card stock (for the stomach)
1 1/4″ circle punch (for the stomach)
1 1/2″ scallop punch (for the wings)
Mini flower punch (for the feet)
Scissors
Adhesive tape
Adhesive dots
Parchment paper (for wrapping the treats before placing them inside the treat boxes)
Instructions
Using the 4″ x 6″ red card stock, create a pillow box following provided manufacturer instructions (use glue or adhesive tape to secure)
Make the wings (using a scallop punch) by punching out two scallop circles (each folded in half) and attaching them onto each side of the pillow box (use adhesive dots for a more secure hold)
Make the feet (using a mini flower punch) by punching out two flowers, cutting out the two "extra" petals, and using adhesive dots to attach each foot onto the base of the pillow box
Attach two googly eyes then cut out two small rectangular pieces of black felt (for the eyebrows) and another small piece (somewhat shaped into a "W") to make the tail
Attach eyebrows (on top of the googly eyes) and tail (onto the back)
Make the stomach by using the circle punch and slightly trimming off a portion of it (use adhesive tape to attach onto the front of the pillow box)
Cut out two small triangles (it doesn't have to be perfect) to make the beak (use adhesive tape / sticker maker to secure)
Optional:  Add adhesive dots to the bottom of the feet to make it stand.
That's it!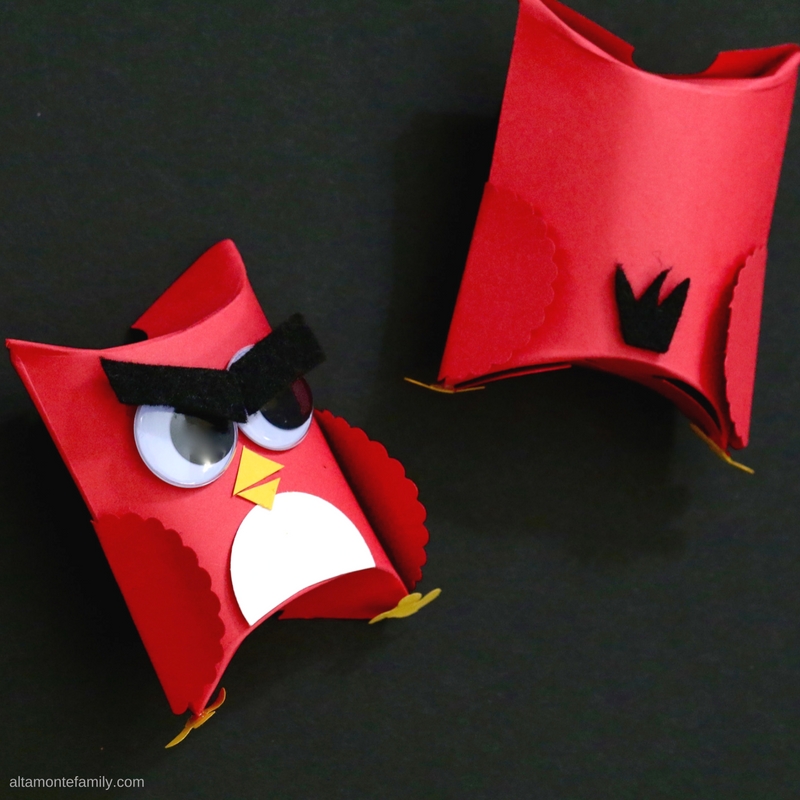 Once you have your Angrified Treat Boxes ready, your Angry Birds / movie enthusiasts will be inspired to fill them up with all kinds of red, hot, and angry treats! We had an assortment of red, chewy candy in the following flavors:
Fierce Cinnamon
Intense Cinnamon
Original Cinnamon
Cinnamon Licorice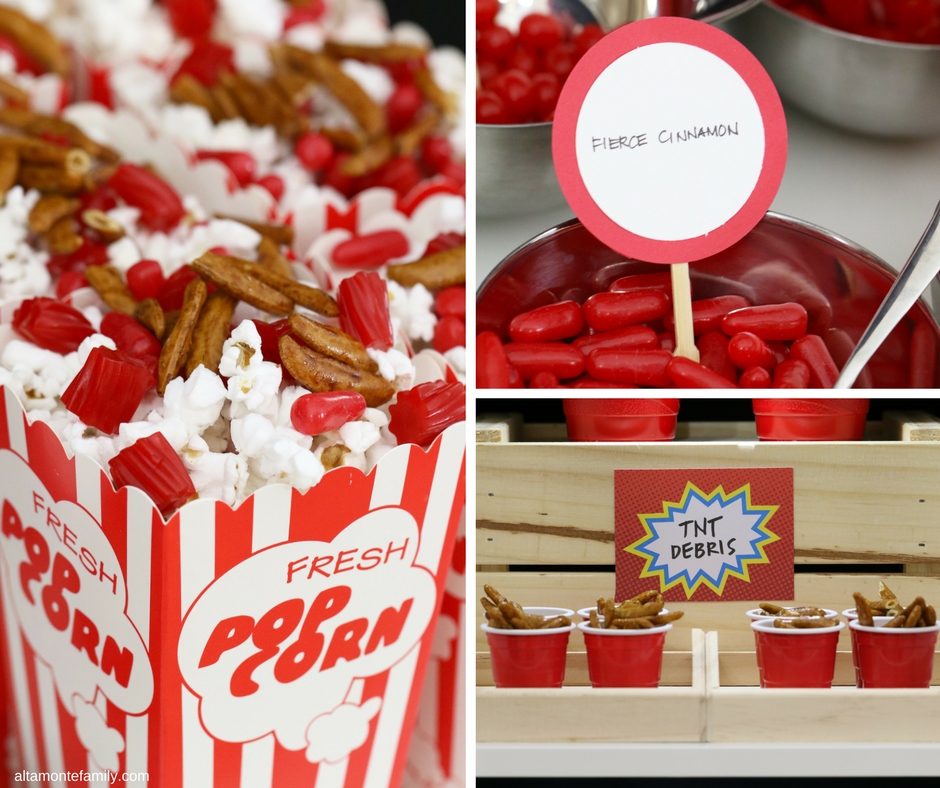 Our kids "angrified" the popcorn with their own selection of red, chewy cinnamon candy + "TNT Debris" (Japanese rice crackers a.k.a. "arare" or "kaki mochi"–it's how we enjoy our popcorn in Hawai'i). They also suggested serving drinks from the Lake Of Wisdom. You be the judge…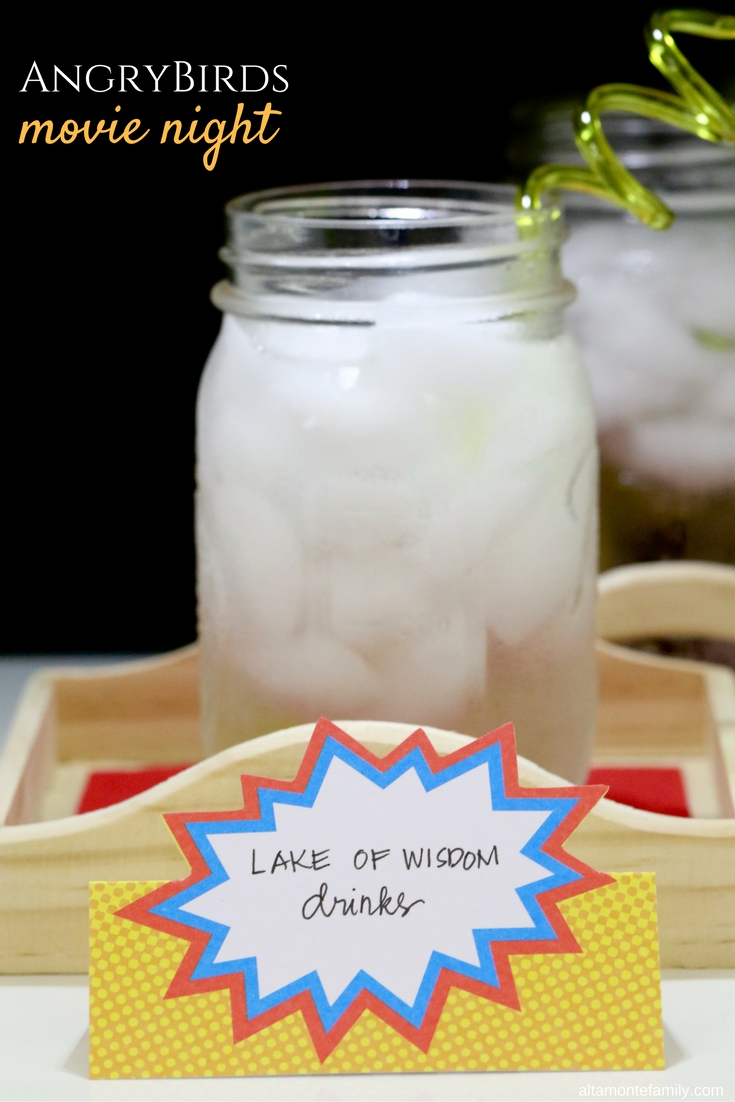 Evidently, our kids are huge fans of the Mighty Eagle!
By the way, if you or any of your kids would like to get a free power up for the Endless Runner Game on the Angry Birds Action! app, click here to find an in-store event and meet with a Walmart Family Mobile rep! The event will have a code that you can scan to get that free power up!!
You can also scan the Angry Birds code on the displays to unlock a selfie augmented reality experience with the Hatchlings. Don't you think the Hatchlings are soooo cute? Oh, and all of us agreed that Red was pretty cute when he was younger…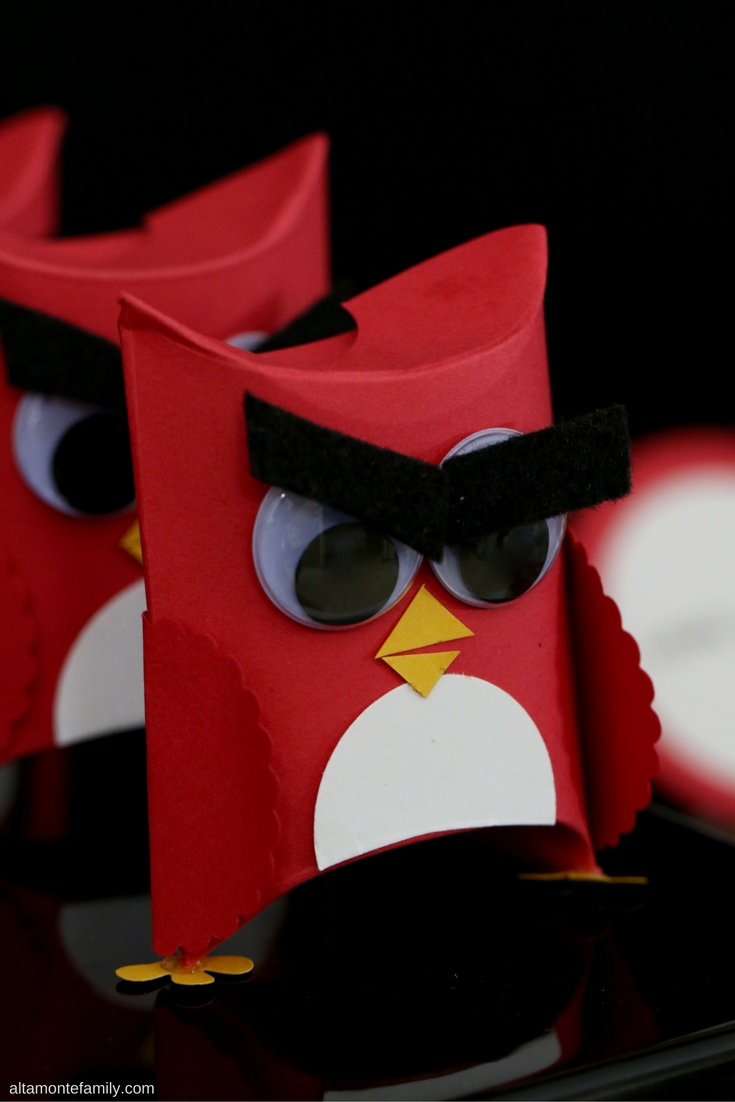 Speaking of Red (again), it was actually pretty cool to see him gracing the Walmart Family Mobile aisles at Walmart (okay–maybe he wasn't necessarily gracing the aisles because he looked kinda… well… angry). Let's just say he was "angry for savings"! It was also nice to see the Starter Kit on rollback for $19.88* (from $25). My husband pointed out the extra savings and that he was happy to see it on rollback for the first time ever! Since Family Mobile bills you later, you now only have to pay $19.88 when you sign up. Now, that's a sweet deal–or shall we say, "angry deal"!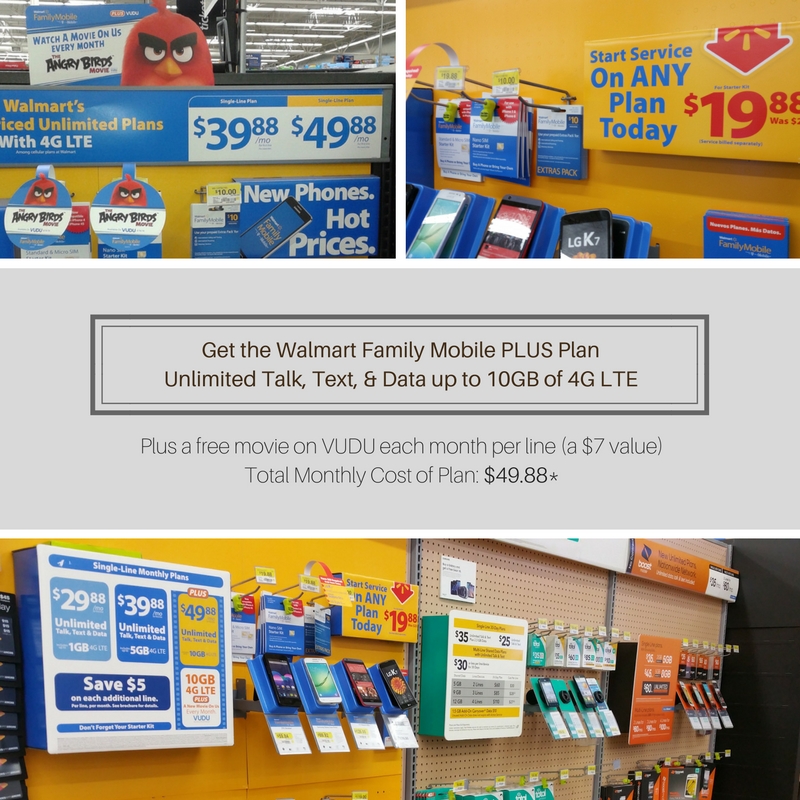 Anyway, we hope we inspired you with our Angry Birds Movie Night, Angrified Snack Station, and Angrified Treat Boxes! Stick around and feel free to check out our party ideas and family movie nights for more fun stuff!
Looking for more Angry Birds crafts?
Check out our DIY Finger Puppet Kit inspired by Angry Birds!
So, tell us how you would angrify your movie night treats! With fireball candy? Chili nuts? We'd love to hear your ideas and how you're "angry for savings"!
*Disclaimer: All prices for phones and plans included in this post are accurate as of the date of posting; however, these prices are subject to change. Please refer to http://cbi.as/4q-u1 or your local Walmart for current pricing.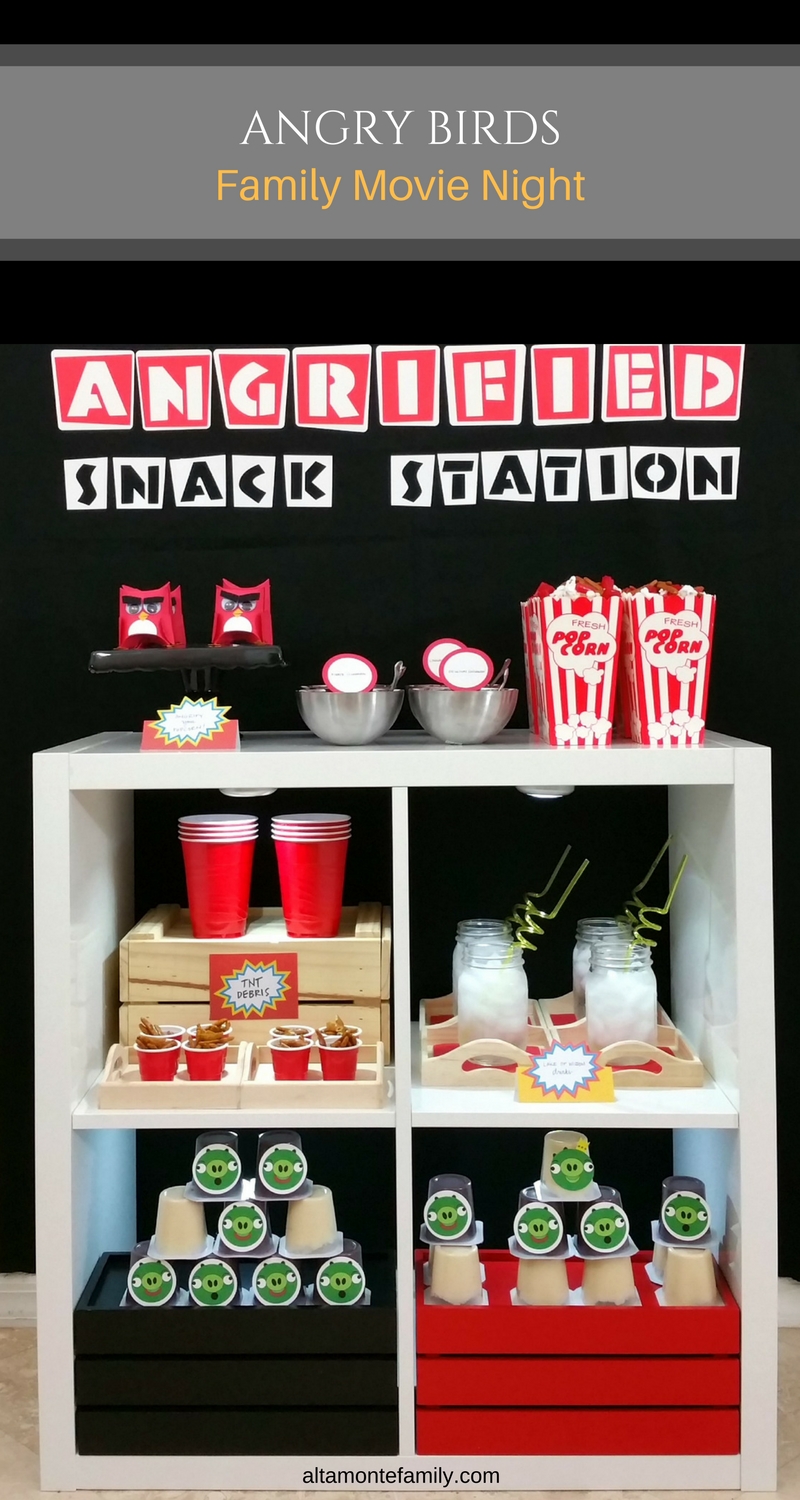 ---
We're Social! If you liked today's post, feel free to share, bookmark, or pin it! Follow us on Pinterest, Facebook, and Instagram for more updates on our latest projects and adventures.