When we made these free printable devotion sheets for pet lovers last week, we were in the middle of studying the word "acceptable", particularly "acceptable words in God's sight".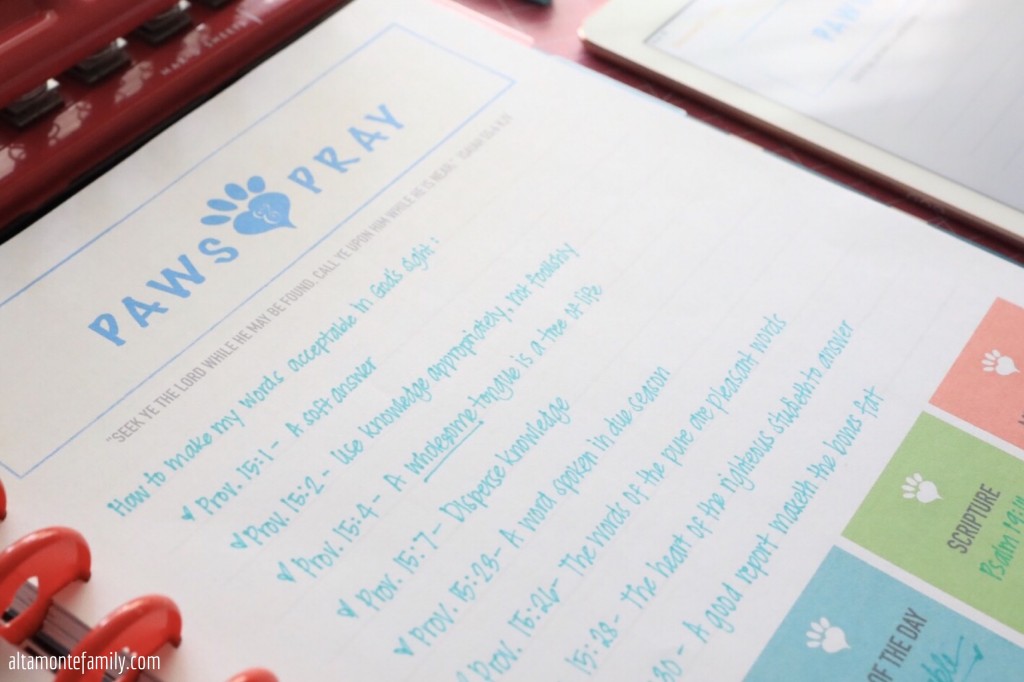 As we shared, the word "acceptable" is used many times in Scripture, and Psalm 19:14 KJV is one of those places:
Let the words of my mouth, and the meditation of my heart, be acceptable in thy sight, O Lord, my strength, and my redeemer.

Psalm 19:14 KJV
This verse alone talks about "acceptable words" and "acceptable meditation of my heart". We decided to study "acceptable words", first, and the first verse that came to mind was,
A soft answer turneth away wrath: but grievous words stir up anger.

Proverbs 15:1 KJV
Proverbs 15 alone has several verses which discuss what's acceptable AND what's not.
Note: There are many more verses in Scripture which talk about "acceptable words", but we will go about this process bit by bit.
Acceptable Words In God's Sight From Proverbs 15
We prayerfully read through Proverbs 15 KJV and took down some notes on "acceptable words" using our Paws & Pray printable devotion sheet:
Proverbs 15:1: "a soft answer"
Proverbs 15:2: "use knowledge sparingly, not foolishly
Proverbs 15:4: "a wholesome tongue is a tree of life"
Proverbs 15:7:  "the lips of the wise disperse knowledge"
Proverbs 15:23: "a word spoken in due season"
Proverbs 15:26: "the words of the pure are pleasant words"
Proverbs 15:28: "the heart of the righteous studieth to answer"
Proverbs 15:30: "a good report maketh the bones fat"
Now, it's your turn!
Which verse(s) comes to mind when you think of "acceptable words"?
When you read the context / entire chapter where that verse is located, are you able to find other verses which touch upon–or directly speak to–"acceptable words"?
How has God challenged you with what you found in Scripture regarding "acceptable words"?
Have you been sowing "acceptable words" sparingly or bountifully?
---
Take action: Purpose in your heart to speak more acceptable words this week. Pray and set goals on how you will be accomplishing that. Will you be sending notes of encouragement or thankfulness? Will you be emailing or texting a Scripture verse to encourage someone today? Will you be using a "soft answer" when provoked? Will you use acceptable words to make right with someone you've wronged? Or, will you be using acceptable words to reach out to someone who has wronged you? These are but a few examples on how we can use acceptable words in God's sight.
My friend, if you feel this is impossible–or if you don't know where to start–fear not. God has given us a solution! Change is possible! Healing is possible!
If you have accepted Jesus Christ into your heart as your LORD and Savior, know that He has gifted you with the indwelling of the Holy Spirit! When our lives are filled with the Holy Spirit, He empowers us to produce His fruit (Galatians 5:22-23 KJV). Such fruit brings about change.
If you haven't yet accepted Christ into your heart as your LORD and Savior, this page shows you how.