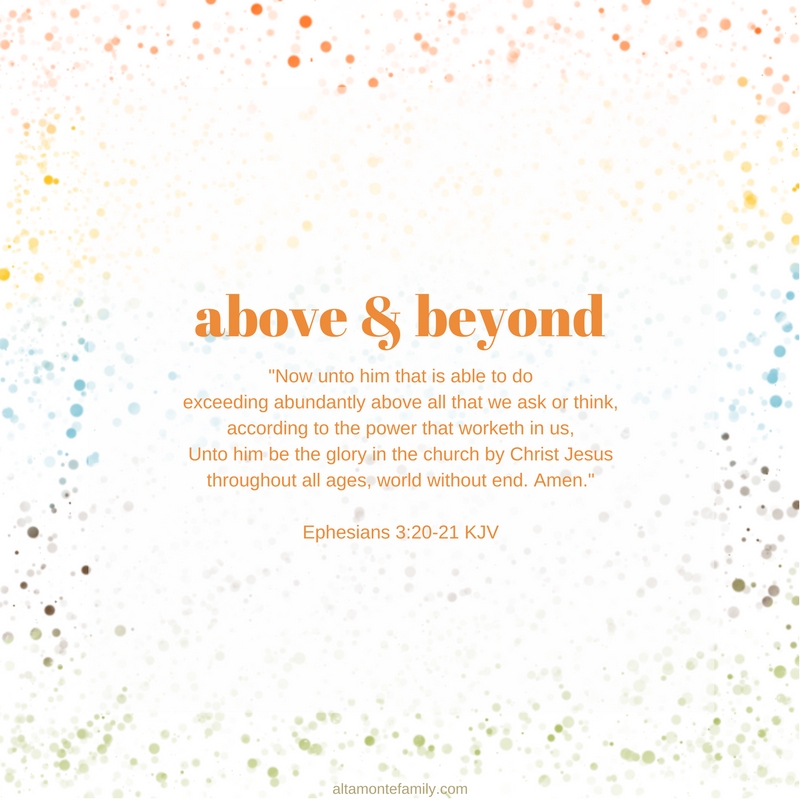 What do you do when you feel as if the pressure is building up in your life, whether it be at home, at work, at school, or even at church? Do you feel the urge to work harder, think smarter, strategize more, despite the fact that you're already struggling to keep up? Do you start shutting down, feeling all overwhelmed and not knowing where to start? Or, do you become indifferent, seemingly numb, just floating along without any assurance of hope or help? Perhaps, you tend to lean on the more positive side, managing to stay calm while hoping for the best.
If you have already accepted Christ into your heart, then you know that His power works within you! Most times, however, I'm guilty of hindering that power to work in my life. I'm often detached from the Power Source, while busily trying to muster up my own strength, my own knowledge, my own understanding. I'd reason,
If only I had more time…

If only I could work a few extra hours…

If only I had some quiet time so I could concentrate…

If only I had family nearby to help me…

If only I were more plugged in…
The list is endless. It's amazing how we're able to create multiple versions of "if only's" when we're surrounded by challenges.
The thing is, "if only's" only add noise.
Dear Christian Friend…
Pray.
Be careful for nothing; but in every thing by prayer and supplication with thanksgiving let your requests be made known unto God. And the peace of God, which passeth all understanding, shall keep your hearts and minds through Christ Jesus.

Philippians 4:6-7 KJV
Be still.
Be still, and know that I am God: I will be exalted among the heathen, I will be exalted in the earth.

Psalm 46:10 KJV
Trust.
Trust in the Lord with all thine heart; and lean not unto thine own understanding. In all thy ways acknowledge him, and he shall direct thy paths.

Proverbs 3:5-6 KJV
Wait.
Wait on the Lord: be of good courage, and he shall strengthen thine heart: wait, I say, on the Lord.

Psalm 27:14 KJV
Rest.
Rest in the Lord, and wait patiently for him:

Psalm 37:7 KJV

Come unto me, all ye that labour and are heavy laden, and I will give you rest.

Matthew 11:28 KJV
Fear not.
Fear thou not; for I am with thee: be not dismayed; for I am thy God: I will strengthen thee; yea, I will help thee; yea, I will uphold thee with the right hand of my righteousness.

Isaiah 41:10 KJV
Have faith.
But without faith it is impossible to please him: for he that cometh to God must believe that he is, and that he is a rewarder of them that diligently seek him.

Hebrews 11:6 KJV
Hope.
Rejoicing in hope; patient in tribulation; continuing instant in prayer;

Romans 12:12 KJV
My friend, you may be down to your last drop of food, like the widow in 1 Kings 17…
So he arose and went to Zarephath. And when he came to the gate of the city, behold, the widow woman was there gathering of sticks: and he called to her, and said, Fetch me, I pray thee, a little water in a vessel, that I may drink. And as she was going to fetch it, he called to her, and said, Bring me, I pray thee, a morsel of bread in thine hand. And she said, As the Lord thy God liveth, I have not a cake, but an handful of meal in a barrel, and a little oil in a cruse: and, behold, I am gathering two sticks, that I may go in and dress it for me and my son, that we may eat it, and die.

1 Kings 17:10-12 KJV
Be assured that, we need not fear, because we have the power of Christ working in us!
The story of the widow continues,
And Elijah said unto her, Fear not; go and do as thou hast said: but make me thereof a little cake first, and bring it unto me, and after make for thee and for thy son. For thus saith the Lord God of Israel, The barrel of meal shall not waste, neither shall the cruse of oil fail, until the day that the Lord sendeth rain upon the earth. And she went and did according to the saying of Elijah: and she, and he, and her house, did eat many days. And the barrel of meal wasted not, neither did the cruse of oil fail, according to the word of the Lord, which he spake by Elijah. 

1 Kings 17:13-16 KJV
There are times when God asks for our obedience in the midst of our biggest need, our most powerful storm. But, God is bigger than any storm, and He is able to meet our biggest needs "exceeding abundantly above all that we ask or think"!
Now unto him that is able to do exceeding abundantly above all that we ask or think, according to the power that worketh in us, Unto him be glory in the church by Christ Jesus throughout all ages, world without end. Amen.

Ephesians 3:20-21 KJV
My friend, in our deepest struggle, let's remember to seek God's face. Don't be distracted! Don't shut down. Don't try to do it all on your own! Let's turn to Him, first! And, if, during that time of prayer, He speaks to your heart and asks you to do something beyond your own ability or resources–even if you may be on your last dime–remember to obey. Let's offer that last dime to Him. Let Him take it! Let us wait and watch as He turns that dime into something above and beyond our imagination– "exceeding abundantly above all that we ask or think"!
With God, we can be assured that we can "rejoice in hope", knowing that He will take care of His children.
I have been young, and now am old; yet have I not seen the righteous forsaken, nor his seed begging bread.

Psalm 37:25
God will provide! He is faithful! Don't miss the opportunity to obey Him!
Call unto me, and I will answer thee, and show thee great and mighty things, which thou knowest not.

Jeremiah 33:3 KJV
---
Take action: If you've been under a lot of pressure lately, remember to spend some time to reconnect with God, the One True Power Source! Don't hinder His power and blessings from flowing in and through your life! If you haven't yet experienced God's power working within you and haven't yet accepted Him into your heart as your personal Savior and Heavenly Father, this page shows you how.