We were tickled pink when we got our very first 2-pound crayon from The Crayola Store at The Florida Mall!!!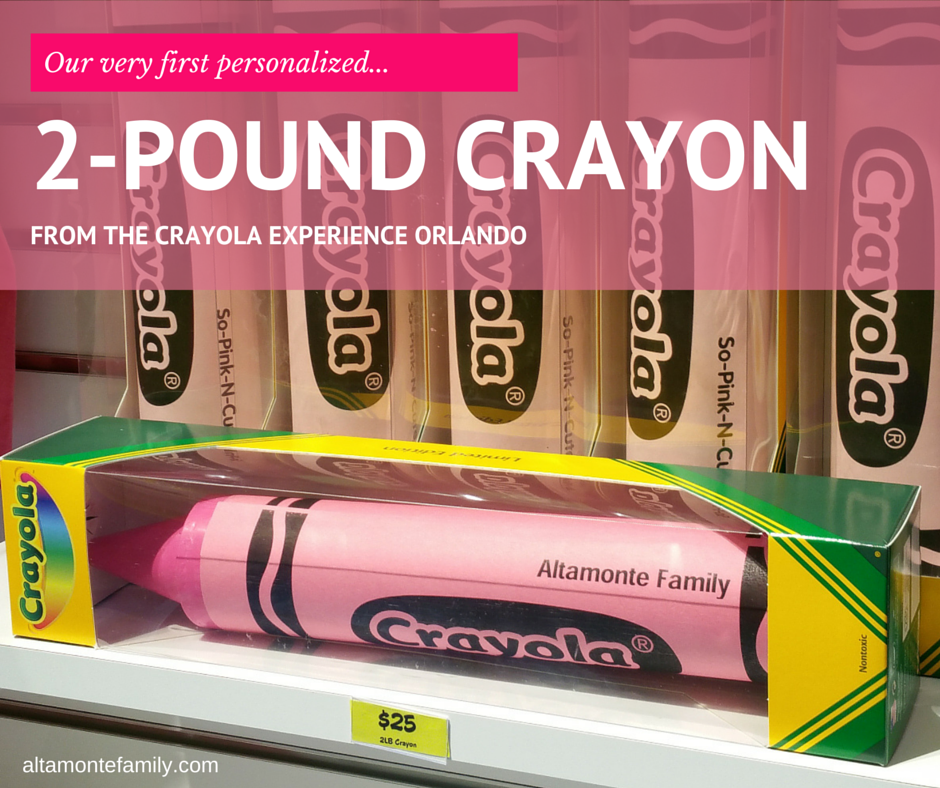 Featuring The Crayola 2-Pound Crayon
We found 2-pound crayons in pink, purple, black, orange, red, yellow, green, and blue.
Hopefully, Crayola would give us the option to customize and personalize our own 2-pound crayon colors in the near future! (Pssstttt—we heard we could do just that with the regular-size crayons once the attraction opens.)
Announcing The Crayola Experience Orlando's Grand Opening – Summer 2015
Say, what?! A Crayola attraction???
Like, Orlando doesn't have enough theme park attractions already?
YES!!! We're sooooo excited to tell you that Orlando will have its very own Crayola Experience Orlando attraction this coming Summer!!! Can't wait!
The Crayola Store Orlando – Soft Opening
In case you didn't already know, Crayola had a soft opening at The Florida Mall last week. This place is going to be a mad house when the attraction officially opens up in July!
Fortunately for us, it wasn't packed when we got there during the weekday evening hours.
We even got to see the crayons hard at work as they were still putting up the store signage <wink>.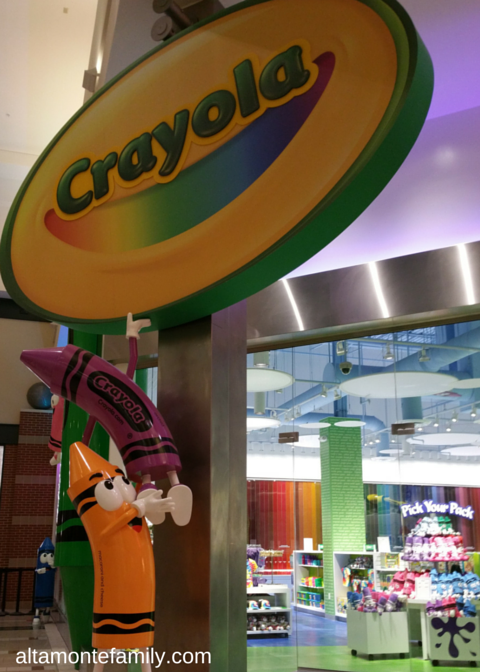 We ID'd one of the Crayola "construction crayons" and his name is Mac and Cheese! He said we can call him "Mac" for short.
It did seem as if these construction crayons were prudent enough to apply good workplace safety practices.
Looks like they're also wearing steel-toe shoes (to protect them from overpacked crayon / marker tins landing on their toes)!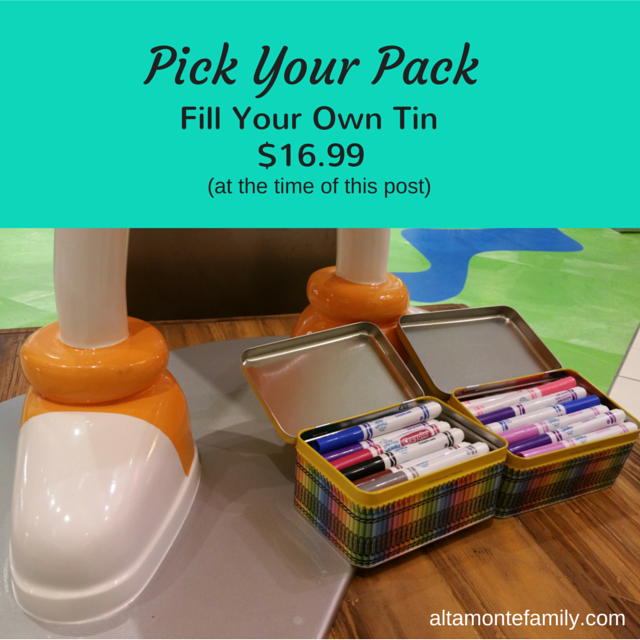 We did, however, catch one of them goofing off on the job…evidently, she made a huge mess with those big splashes!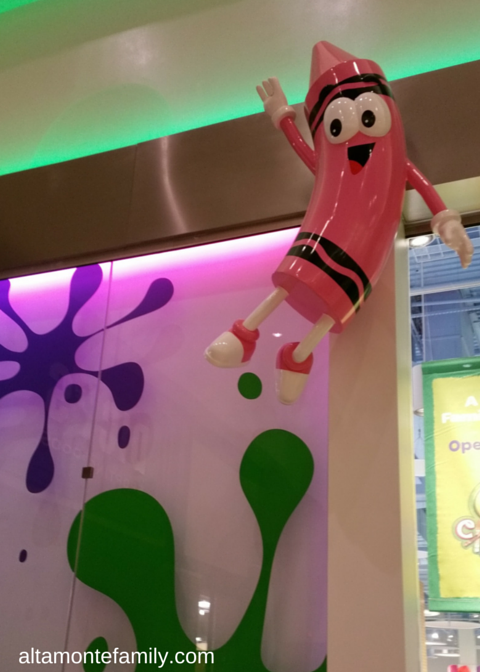 One of them even wanted to dance with us!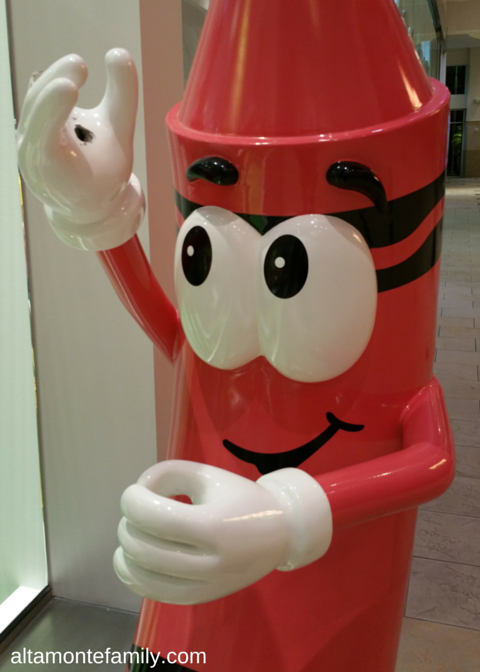 And one of them offered to help us carry our bags on our way out!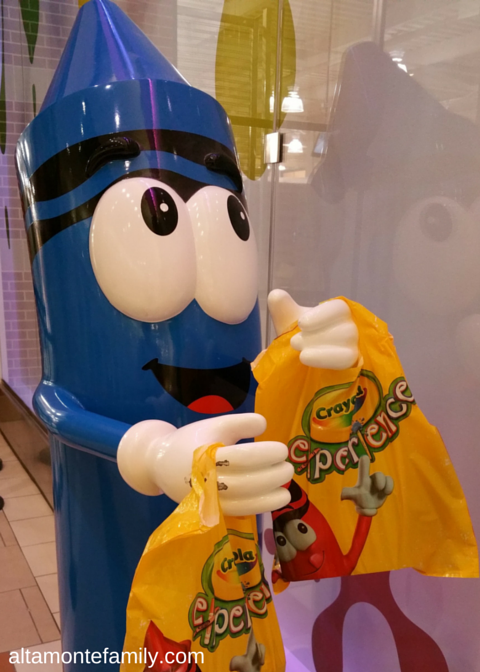 Seriously the BEST crayons ever!!!
Finding The Crayola Store in Orlando
We're glad that The Florida Mall did a good job with the directional signs, given that we had to drive ALL THE WAY AROUND the parking lot just to find it…at night (we turned into August Ln from US-441–maybe there's a better way). Even our GPS got lost!
It was a relief to find the Crayola Store right by one of the mall entrances (close to Bucca di Beppo, if we remember correctly). We didn't have to navigate through a maze and get lost in the crowd just to find it.
The Crayola Store Orlando Staff
The staff was really nice and friendly, despite us having to stay there past store hours while waiting for our personalized crayon label to be printed out (it didn't take very long, we just happened to arrive minutes before closing). We ended up buying a lot of other stuff (it felt as if we were in a candy store) and filled out one of their entry forms for a chance to win a free admission ticket!
The 9,000-Piece Crayon Masterpiece
While at the counter, we noticed a beautiful, artistic display of crayons just beneath each glass surface. A team member proudly explained that their managers assembled it themselves, and each of them were made out of 9,000 crayons!
Here's a photo of one of their masterpieces…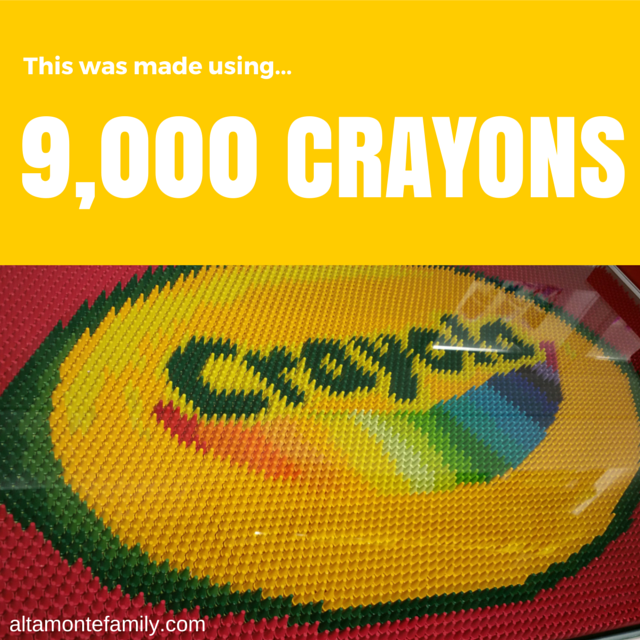 We'll definitely be back to pick up some more 2-pound crayons…and of course, to check out the Crayola Experience Orlando attraction when it opens! Hopefully, it will open just before we give birth to our son, as their grand opening will be happening right around that same time!!!
In the meantime, here are photos of some of the things you can find inside the Store…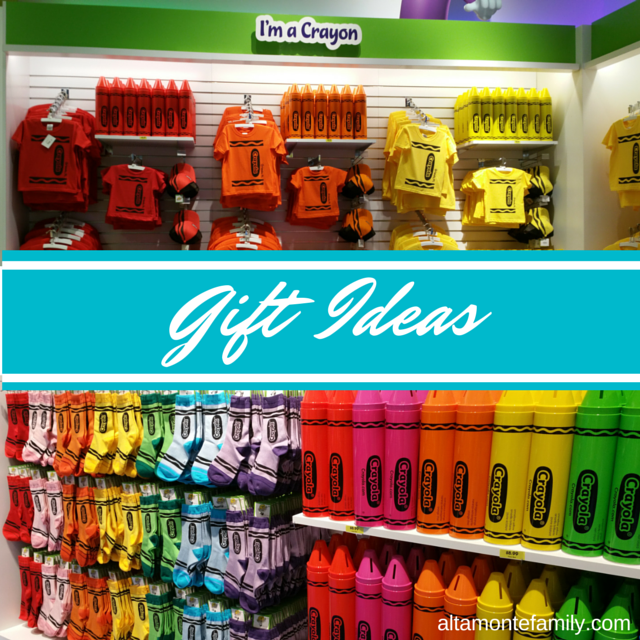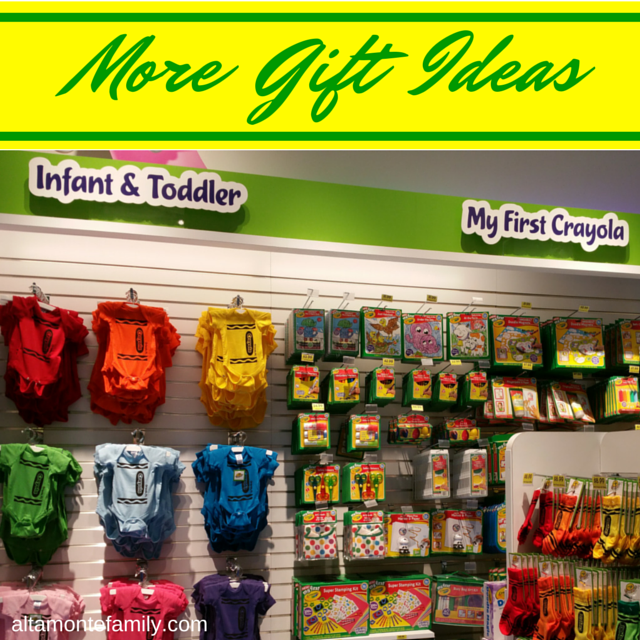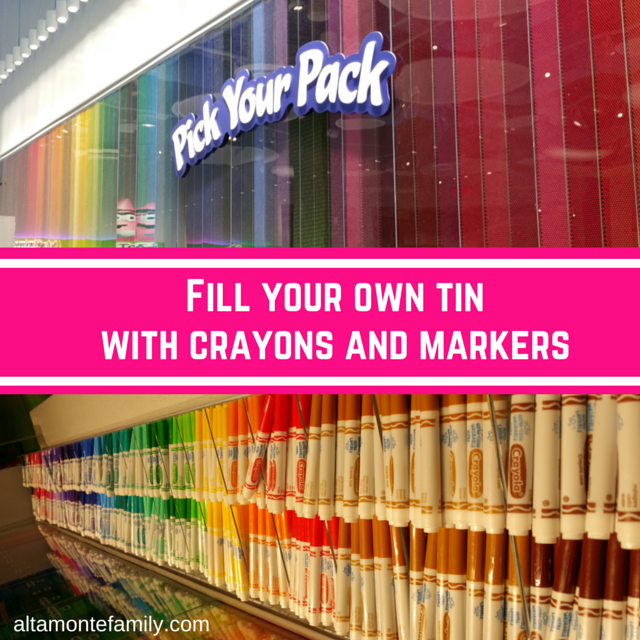 Happy coloring!!!
Disclosure: As of the time of writing this post, AltamonteFamily.com is by no means affiliated with any of the companies or organizations mentioned in this article. AltamonteFamily.com has not been compensated in any way nor has AltamonteFamily.com been influenced to write about these products. This post is a result of the personal observations and independent research of members of AltamonteFamily.com. All opinions solely belong to AltamonteFamily.com.